From Frank Ocean to FlyLo: is the west ripping anime from its roots?
Last week, Flying Lotus dropped his psychedelic, interstellar music video for 'More' featuring Anderson Paak and directed by none other than the king of contemporary anime himself —Shinichirō Watanabe. With the trend of anime music videos showing no signs of slowing, INDIE explores the evolving identity of anime in the west. 
The phrase "lo-fi hip-hop mix to study/chill/relax to" has birthed a million memes and has been burned into the minds of most millennials favouring downbeats. But the memorability of the famed ambient YouTube radio really comes from its aesthetic—a tranquil anime loop of a girl studiously taking notes. And just one nosedive into the trip-hop or vaporwave section of YouTube brings up a deluge of kindred visuals. It might seem inconsequential that lo-fi hip-hop—what some might brand as the elevator jazz of the hip-hop realm—has taken up this blanket aesthetic, but the rehashing goes far beyond vaporwave. When it comes to anime-inspired music videos—official or otherwise—Flying Lotus' new track is just the tip of the iceberg. The west's absorption of anime has become boundless, and the fan-made a e s t h e t i c videos are now just a reflection of our watching and consumption habits at large.
But it hasn't always been that way. If we cast our minds back to the mid '00s, those of us in high school  knew that hidden manga magazines were the ultimate calling card of the teenage outcast. Before every English speaking household owned some semblance of Totoro memorabilia, anime was just another example of western teenagers regarding niche or geographically 'other' culture with trepidation—or sometimes downright animosity. Anime was relatively unknown, as was hentai, although kids knew just enough about hentai to think the two were interchangeable. Thus every small town teenager whose love for Pokemon had grown into a Naruto fascination was branded as having a freakish fetish for octopus tentacles. That all changed when the list of anime backers extended to A-listers—the likes of Frank Ocean, Kanye West, Lil Uzi Vert, Snoop Dog, and Childish Gambino—who have all infused the word anime with some kind of ineffable alt, underground cool. Simultaneously, content controllers like Netflix jumped on the bandwagon, prying relatively obscure animes from the periphery and onto western laptop screens, for profit. With revenue for the Japanese anime industry up by ten percent—pulling in $17.7 billion last year alone—it's no secret that anime is catapulting across popular culture. Even the historically eschewed hentai, or seijin-anime, boasts a substantial following these days—in 2017, the term hentai got more searches in the US than the words Marvel, the New York Times, Obama or gay porn.
Expectedly, the heavyweights of Hollywood are taking note. Anime's rise has culminated in a slew of recent western reboots from Alita: Battle Angel through to Pokemon Detective Pikachu (the Scarlett Johansson Ghost in the Shell monstrosity apparently didn't dampen the industry's infatuation.) Thankfully, it's not all whitewashing, poorly conceived live action and mutilated CGI; last month Netflix released David Fincher's 'Love, Death and Robots', a curious medley of frenzied sci-fi cartoons and anime. It proves that some western visionaries are feeding into the anime mega machine rather than snatching at its narratives, and the hybrids that work, really work. Although one has to wonder how this phenomenon first became so colossal as to ensure western ticket sales for Japanese intellectual property.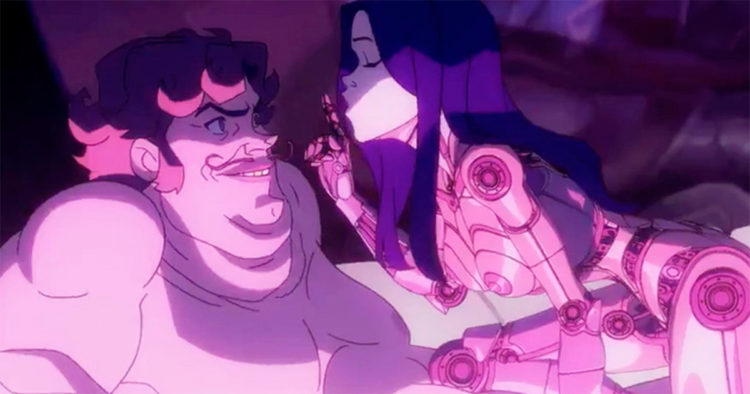 Although anime in Japan has been burning since the '40s, the fire began in the west when the explosive cyberpunk story Akira hit our shores in 1988. The hyperactive creation sparked the first nods of acknowledgment from the west towards anime—plus a fair share of head turns. This, after all, was one of the first inceptions of a decidedly un-PG cartoon on our screens. But Akira, forever mired in the confines of cult status, could never be Japan's breakout star. Although Pokemon, Digimon, and SAGA chipped away at the market throughout the '90s, it wasn't until animation titans Studio Ghibli released the lauded Spirited Away that anime grew beyond Cartoon Network. It possessed the perfect genetic makeup for western success in the '80s: a hint of Disney familiarity, irrefutable visual and narrative brilliance, and a low-level boundary-pushing strangeness—which viewers could chalk down to kids film quirkiness if the artistry became to 'foreign'.
Fast forward almost two decades and anime is unequivocally beyond Ghibli. And, as fashion trends incline towards futurism—think Dior's Sorayama cyborg jewellery and the viral rise of designers like Pierre-Louis Aurvay—we are witnessing it transcend even the screen, as the industry gravitates towards the house of cyberpunk for inspiration. For the runway, this means brands like GCDS sporting Pikachu thigh high boots and manga-esque pigtails for SS19. Anime was even deemed 'hype' enough for a Supreme x Akira reboot in 2017—a streetwear trend so pervasive that BAPE repeated the format the following year with Dragon Ball Z. While these designs rely on seminal anime classics, many brands, including Adidas and Snipes, have taken to creating anime adverts, using the distinctively crisp, stylised 'feel' of the Japanese art form to market new launches. This has largely birthed campaigns which convert timely Instagram icons into anime action figures—examples include ASOS' cartoon rendition of Ugly Worldwide, and an ASICS sneaker-centric samurai anime, featuring rappers Lucci and Princess Nokia, bringing us back to our primary anime advocate—hip-hop.
Just as Harajuku and kawaii culture were appropriated by mid-'00s emo and problematic pop—give it up for Gwen Stefani everyone—anime is becoming synonymous with several strains of hip-hop, electronic music, and streetwear. Perhaps herein lies an issue. As Japanese creations become sewn into the zeitgeist of an era of western culture, the origins and history of the art face the risk of becoming clouded. Although, the coalescence between hip-hop and anime occupies deeper, richer, and more symbiotic territory. Evidence of said love affair has saturated music videos for a while now—Lil Uzi Vert's bug-eyed 'Ps & Qs', Kanye West's Akira-inspired 'Stronger', and Flying Lotus' aforementioned 'More' all riff on the animated form. Daft Punk even once converted an entire album—Discovery—into a feature-length kaleidoscopic trip of an anime. Equally, it's hard to miss the spike in rappers circulating their anime obsessions across social media—our queen and saviour Princess Nokia for one is evidently a fan of Sailor Moon cosplay. Although, this curious sonic and visual synthesis runs deeper than the weeaboo rappers in our midst.
Hip-hop has engaged with comic books, nerd culture, and Japanese mysticism since its inception—attributes which were all vital components in the conception of contemporary anime. In 1997, MF DOOM began his Doom moniker and launched his inaugural cartoon sampled Operation Doomsday—all deriving from his obsession with Marvel villains. Even before this, Wu-Tang Clan began their rap odyssey based upon a fixation with samurai and kung fu films—a genre of Japanese filmmaking which is now arguably best represented in the anime format. Not only has hip-hop's monumental moments originated from Japanese and 'nerd culture' narratives, but the genre has also been giving back to these cultural forms for decades—and the case is no different for anime. Wu Tang's RZA went on to soundtrack 'Afro Samurai', an anime marrying hip-hop and samurai culture, whereas the similar show 'Samurai Champloo'—"Champloo" literally meaning to mix in Japanese—was scored by iconic hip-hop instrumentalist Nujabes. You need only watch one of these animes, or a series like 'The Boondocks', to see the narrative similarities that exist between these two realms—RZA even contends that Dragon Ball Z is a depiction of the black man in America. The visionary iconography of both anime and hip-hop have both been further realised, and further diversified through decades of cultural and narrative sharing.
In 2019, anime continues to resonate with the hip-hop world and a generation of outcasts alike, both for its singular artwork and enduring themes of the outsider, the future, mysticism, and ancestry. As a format who champions the underdog, it is clear that anime and pockets of the west have found a cross-cultural commonality. As the medium steers into the mainstream, let's hope we can continue to feed into anime's limitless artistry—rather than ripping it from its roots.