Say you're in your early twenties, and you're looking back at the past 10 years, remembering 2010 and what followed—on the cusp of your teens. Try and remember what it was back then that you'd hoped to achieve by this point in time. Probably, you had goals you somehow fell short of accomplishing—not because you were lazy, not because you tried and failed, but most likely because, over time, those goals, dreams, wishes (or whatever you'd prefer to call them) have changed. To come of age in a world that's blessed us with the privilege of expressing ourselves (and what we want to do with our lives) more freely than generations before us has brought forward a multitude of easy shifts, back, forth and in between whatever place we intend to carve out for ourselves.
It somehow makes Mahalia's journey over the last decade all the more unfathomable. Now 21, the Leicestershire-born chanteuse began singing at age 11, laying the foundations to becoming one of the most compelling new wave R&B artists—alongside the likes of fellow Brits and former collaborators Little Simz and Ella Mai—before puberty even hit. The Erykah Badu and Lauryn Hill-inspired talent broke out with her magnetic rendition of Sober on Berlin-based COLORS channel back in 2017, and on the Europe-leg of her world tour, the singer-songwriter made halt in the german capital—"one of my favourites",  she admits—to recapitulate for us the 2010s, the exhaustion slash boredom of touring, and her Spotify Wrapped-statistics.
"I've got 10 more days," Mahalia explains. "It's been like 44 shows, then Christmas happens, I'll have 2 weeks off. Then I go to LA for show, then I'm headed to Australia and New Zealand. And then I have 8 weeks to start writing album two." It's non-stop, no time for rest, but this is only the beginning. Collaborating with Burna Boy, Kranium, Ella Mai and Terrace Martin in the last year alone, Mahalia's journey shows no sign of slowing.
But despite her countless memories of off-stage entertainment on tour—such as taking part in Salem's annual Halloween festivities while in Boston—life on the road can get tough. "It does get fucking boring," she tells. "Don't get me wrong, it's fun and I'm so grateful I get to travel so much, but it can be quite isolating, particularly if you're some place you're totally unfamiliar with, can't speak the language or anything", she explains. "The other night my friend came to visit me out on tour. I have this weird thing with friends coming to visit me when I'm out touring. It's already quite a lonely space anyway, a loner existence as people say. I'm always really hesitant about it. I'm like 'I don't want you here'. Because it feels double as hard. When someone you love comes, and then has to leave again. I never thought that with all the highs would come all the lows. And those lows cause pain. I used to see artists complain about being on tour, and be like 'what are you whining about? That is all I want, to ride on a fucking tour bus, with my band, travelling the world', but it's not as easy, and not as fun. But it is what it is. And I do love what I do. I wouldn't change it." 
"I felt like I was coming of age in a vacuum."
The notion of change poses an interesting topic of conversation, considering the person across from me has been intertwined in one of the most peculiar industries imaginable since she was 11—not a teen, but a proper child. "From a work perspective, this decade's been incredible," Mahalia stresses. "I started writing music and playing the guitar when I was 11, that's when I was scouted. The start of the decade was like the start of me. Now, I'm 10 years into the game and I'm here. I got signed, I've done things I never thought I was gonna do, as a musician and a human. It was really, really strange. And it still is. I had eyes on me really early on in life. Eyes as in 'Business Heads'—the industry itself. Trying to grow up and work out who I am—it was a lot. I felt like I was coming of age in a vacuum."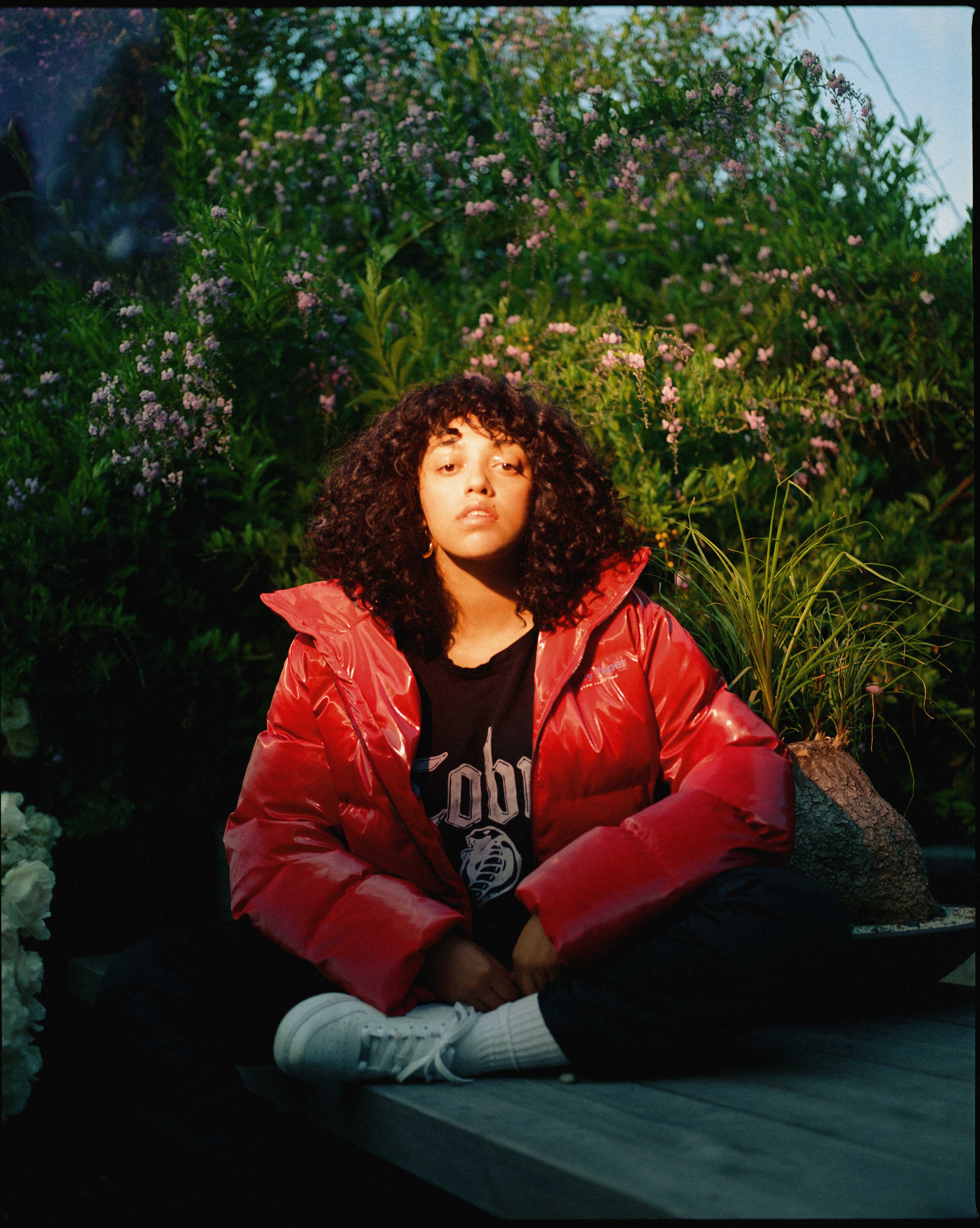 When I ask her if she ever regretted committing to this career so early on in life, without even really having a concept of it, she replies candidly. "When I got to 18, I didn't know what I was doing—all of my friends were going to university, and I didn't really understand what was going on. It was a really strange feeling, to barely be an adult, but have this job, something I always wanted to do, but never really knowing what I was doing and where it was going. I mean, in general, being a young girl of colour, you experience so many pressures from all sides. Dealing with that and then adding on a beast as big as the music business definitely stunted my growth for a while. But, in these most recent couple of years, even though I feel like I lost a lot as a kid, I've reclaimed it for myself. I really feel like my confidence has strengthened so much not in spite, but because of it. All of these experiences, good and bad, I will carry on with me into this new decade."
"being a young girl of colour, you experience so many pressures from all sides."
Nevertheless, within this brief period of doubt, Mahalia was keen to take on new challenges, to prove to herself that this was really what she wanted. "On one hand, I knew that I'd worked for this, and really wanted it, but on the other hand it felt like I never really had a choice. I did have the choice, obviously—I didn't have to sign the contract, and don't get me wrong, my parents were always very supportive and would've never made me do something I didn't want to do" she insists. "But when I took some time off, I was like 'what on earth am I doing?'. I realised that what stalled me was that I didn't know how to be the driver of my own career. And I think no one knows how to do that until they just do it. I had no idea how to be an artist. I hadn't been a struggling artist, trying to make ends meet. I was a kid. I lived at home, had no rent or any other bills to pay."  

"So then I had the stupid idea of buzzing off to London, to struggle. It was brutal. I talk about it in a funny way now. But it wasn't, it was miserable, I was fucked—I was completely out of my depth. I was staying with friends sometimes, but mostly with strangers." It's not a path she recommends to aspiring young musicians. "I find it difficult to sit down in front of kids and tell them 'go do that,'" she admits. "Of course I want to encourage everyone to pursue whatever it is they want to pursue, to make their fantasies realities. But at the same time, you have to be extremely certain that that's a price you're willing to pay. And it's not an easy thing to achieve, this certainty. Even today, every now and then I'll be like 'what am I doing?'. Talking to other artists, you realise it's normal, but it doesn't always feel normal, it feels almost as if you were ungrateful."
After sharing her prognosis as to who she believes will constitute her end of the year playlist—namely Summer Walker, Snoh Aalegra, Lucky Daye, H.E.R., Jeff Buckley and Bon Iver—Mahalia summarises what she expects will influence not only her forthcoming sophomore LP, this year's painfully good Love & Compromise's successor, but this next chapter of life in general: "I think I'm just gonna keep on keeping on. In a personal sense, I want to make some better choices on people. I really feel like I've been a hypocrite at times, in relationships. I'm someone that always talks about how you should be, being strong, knowing who you are, being able to love yourself before anybody else. But I've been disappointed with myself at times, not seeing that through. I think we all do that though, no? Give advice we don't take? I spent the last two years in a really toxic relationship. And it'd be nice to leave that in this decade. The relationship came to an end when the album came to an end. But it'll definitely contribute to my next album. So, speaking on behalf of every aspect of my future: My brain is bubbling!"
All images courtesy of Warner Music