As we near the end of the decade some are dubbing "the Xs" or "the 10s" and many more can't even be bothered to name, "mixed feelings" doesn't even begin to describe our state of mind. Following the decade that birthed Brexit and Trump's presidency and gave us merely one Rihanna album, it's safe to say we're  on to the next one. As the year draws to a close, we're putting faith in the next-gen of creative talent who bring promise—creatively and otherwise—to our future. In alphabetical order, here are 20 INDIE-endorsed artists, musicians and activists to have on your radar as we ring in 2020.
Stalk Ashley
Jamaican prodigy Stalk Ashley is ready to claim her place: A skilled singer and rapper, the young Kingston-native fuses everything we love about trap, R&B and dancehall, adds emancipatory verses of sexual liberty and wraps it in bundles of fun and intriguing music videos. After having become somewhat of an Instagram phenomenon following her take on a social media challenge back in 2018, and guest-starring in Stormzy's performance for BBC Radio 1, Ashley has everything you'd need to break into the business: talent, taste and a large following of over 100k fans, all of whom seem more than ready to receive more gifts of music by this generously capable up-&-comer.
Marko Bakovic
The latter half of the decade saw just about every major designer churning out their version of the seriously overplayed sock boot and chunky sneaker, and we're hoping to see more exciting footwear in the next decade. Marko Bakovic is certainly one to watch. The Amsterdam-based footwear designer updates archetypal models such as the mule and the pump, but there's nothing cookie cutter about these shoes. They feature exaggerated proportions and cutting-edge new designs that are simultaneously bizarre to behold yet inexplicably sexy. He's already collaborated with other industry innovators such as Charles Jeffrey, Stefan Cooke and Charlotte Knowles and we're certainly keen to see more designers collaborating rather than copying in the future. And they're sustainably made to boot! (pun intended)
View this post on Instagram
Amoako Boafo
Last year brought big things for Ghanaian-born, Vienna-based painter Amoako Boafo, but his show-stealing series at Basel Miami was the icing on the cake. Exploring the many complex nuances of black identity, the portraits in his series shine a light on members of the African diaspora—friends and acquaintances alike—as well as tackling toxic masculinity and the idea of learnt behaviours. With dynamic, deliberate brushstrokes, Boafo paints a picture of blackness that's both confident and compassionate.
View this post on Instagram
Tolu Coker
Many emerging designers feel the immense pressure of adhering to trends and following unspoken industry guidelines and lose a sense of identity in the process—Tolu Coker isn't one of them. The British-Nigerian designer embraces her dual heritage and explores the complex nuances of navigating black identity in Western society. Following a stint at a global high-street brand that proved to be taxing but introspective, she refused to be tokenised and have her voice stifled, and it speaks loud and clear through her bold designs which incorporate personal artefacts and document the experiences of members of her community. Excellent craftsmanship aside, it's Coker's use of storytelling that separates her from the rest and garnered praise from within the industry, as well as from celebs including Rihanna, Demi Lovato and Rita Ora.
Dani Coyle
When Dani Coyle was 14 years old, she discovered she was intersex. Despite having "corrective" surgeries, the English-native suffered a years-lasting identity crisis, fearing rejection on all levels. Now a good 10 years older, the Berlin-based artist and activist is using every platform available to raise awareness for the term intersex, as well as all the injustices, misunderstandings and stigmas it is surrounded by to liberate it from societally-instructed, negative connotations. Be it by way of her craft as a graphic designer, an essayist or lead-protester, Coyle has caused a grand stir within and outside of her community, and shows no sign of slowing down any time soon.
View this post on Instagram
Peter Do
Phoebe Philo's departure from Celine left a glaring gap in the market for lovers of understated luxury and unapologetically feminine but functional fashion. It's lucky, then, that she had a protege in Peter Do, who worked under her mentorship at the maison for two years, followed by a stint at Derek Lam before launching his eponymous label. His updated and conceptual takes on tailoring use draping and fitting on the female form as a guideline for the garments, rather than the outdated practice of sketching, to create chic but functional pieces to be worn by real women, something he picked up from Philo. Although some of the pieces are certainly more experimental than traditional, fitting them on the body ensures that they are never impractical. Although the garments themselves are certainly a testament of his talent, Do credits his rapid success with buyers and fashion enthusiasts alike to Instagram and word of mouth. 
Egosex
It's difficult to classify Egosex's sound, but their artist bio does a pretty good job of it. Identifying as "trance jungle blues", the Barcelona-based band make music for a primitive future—sultry electronic seeped in spirituality and inflected with elements of afrobeat. Wekaforé Jibril's haunting vocals are complimented by Hug Bonet's mesmeric guitar and Lluís Campos on drums, and brought to life through a distinctive visual language that's almost as captivating as the music itself. If the steady success that's followed their latest EP, 'Spirit Disco' is anything to go by, 2020 is set to be big.
Frederik Heyman
Belgian multimedia iconoclast Frederik Heyman is bringing fashion campaigns into the future. Using the process of photogrammetry, Heymann creates unsettling but captivating dystopian microcosms in which transhumanism has taken hold and cyborgs clad in the latest ready-to-wear rule. Working at the crossroads of photography, video, and installation, his work is an attempt to preserve the past by rendering it in 3-D and to muse on the future. His list of clients is already impressive and ever growing, and if winning the 2019 Fashion Film Award for Best Animated Brand Film for his work with Gentle Monster is anything to judge by, 2020 is sure to be even bigger. If we're headed towards the apocalypse anyway, we can only hope we're as well dressed as Heyman's characters. 
View this post on Instagram
Ashley James
Last month, Ashley James became the first black curator to hold a full-time position at New York's Guggenheim museum, marking a necessary step toward diversifying the so often whitewashed world of art. The Yale Ph.D. student previously worked at the Brooklyn Museum, and if she continues along the same tangent as the explosive Soul of a Nation: Art in the Age of Black Power exhibition, we're excited to see what more she has in store. 
View this post on Instagram
Nicolas Lecourt Maison
With streetwear dominating the fashion industry in recent years, the fashion world has been asking itself, 'Is couture dead?' If that's the case, Nicolas Lecourt Mansion must be some sort of necromancer because he's breathing new life into classic couture silhouettes. Although they are influenced by the construction and silhouettes of master couturiers Azzedine Alaia and Cristobal Balenciaga, his designs are decidedly modern. After graduating from Paris's esteemed L'Atelier Chardon Savard in 2016, he launched his eponymous label towards the end of 2018, and with less than two years and only four collections behind his back, Lecourt has already seen his garments being sold at prestigious luxury retailers and has won the 2019 ANDAM award, which we're certain will catapult him even further in the near future. 
View this post on Instagram
Jay Lewn
After having landscaped a career behind the scenes as a professional audio engineer for the likes of Gucci Mane and Machine Gun Kelly, 26-year old Jay Lewn plans to commence 2020 with a debut EP of his own. Following a handful of Frank Ocean-, James Blake- and Sampa-reminiscent singles, Lewn is prepping to step into the spotlight after plenty of time spent outside of it. Crossing classic piano instrumentals with wonky electro beats beneath his full voice, the British multi-disciplinarian's sound is just as eclectic as his gender-trespassing sense of fashion.
Patrick McDowell
Most kids would just settle for last year's backpack if their parents refuse to buy them a new one, but not 13 year old Patrick McDowell who fashioned himself a brand new bag every week of the school year by upcycling old materials. Fast forward to now and sustainability is still at the core of his eponymous label's ethos. The Central Saint Martins grad and former Burberry intern is amongst a class of young designers that are acutely aware of the industry's devastating impact on the environment and creating garments that prove that sustainable fashion can be fun, not harmful to the planet, and setting a new standard for the next generation of fashion designers. With presentations at several international Fashion Weeks and a growing list of celeb clientele under his belt, his star is only just beginning to rise. 
View this post on Instagram
Gem Nwanne
If you were born around the turn of this decade, you've probably used it, and if you're a social-media active millennial you've definitely at least seen some of the cringe-y, hilarious and/or informative videos that have come out of video-sharing platform TikTok. While you may have a laugh at the millions of videos of tweens badly lip synching to charts hits, there's a generation of young leftists brewing up a revolution on and off the platform, and Gem Nwanne is one of the voices calling to action. Their simple but clever video compilations are covering the bases of social issues that would otherwise be difficult to dissect and espousing the tenets of socialism for a generation that probably hasn't read Marx or Engels, and in a way that's clearly resonating—their videos have amassed hundreds of thousands of views. As they so aptly captioned one of their posts: "TikTok as a tool for political education, community accountability & archive of collective joy." With social media becoming a breeding ground for fake news, bullying and annoying animal videos, maybe TikTok and users like Nwanne are the future?
View this post on Instagram
Sinéad O'Dwyer
Sinéad O'Dwyer is tackling her personal struggles with body dysmorphia which are shared with so many women through her designs which marry fashion and sculpture. The fragile relationship that many women have with their bodies is enforced by the fashion industry with its unrealistic and unrepresentative sizing and beauty standards and its continued celebration of certain body types above others. The RCA MA alumnus used her friends who have experienced similar struggles as her muses. Rather than camouflaging the parts of the body that are so often policed to create vibrant silicone body casts ornamented with lingerie to celebrate body types that are often overlooked within the industry's narrow frame and proving that every body, and every woman is beautiful.
View this post on Instagram
Cécile Paravina
25 year-old Cécile Paravina didn't always want to be a makeup artist. She studied fashion at the prestigious Royal Academy in Antwerp, and during that time dedicated herself to beauty. Since then, she's collaborated with the likes of Arnaud Lajeunie, Georgia Pendlebury, Patti Wilson and Reto Schmid, effortlessly blending beauty looks with art historical and fashion references. 2019 saw the Paris-based talent sign to Bryant Artists, and so we've no doubt even more greatness is yet to come in the not too distant future.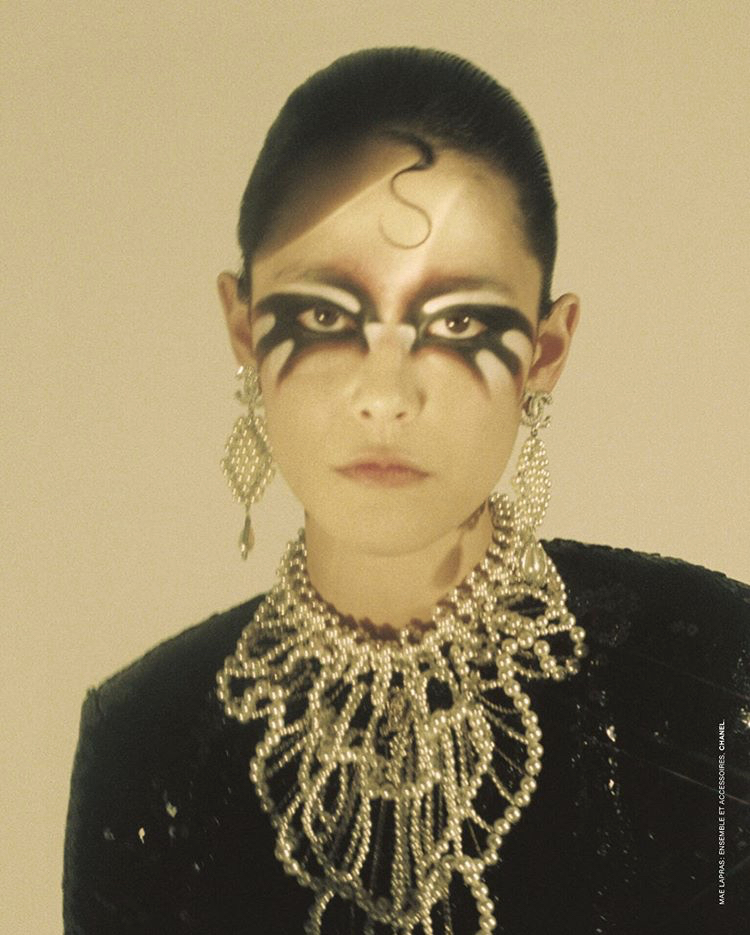 Arlo Parks
19-year old Londoner Arlo Parks just only surfaced this past year, with an album's worth of tracks easter-egg-dropped throughout the decade's closing call that is 2019. A blend of subtle psychedelic rock, heartfelt soul and spoken-word, post-teen wisdoms, Parks' Earl Sweatshirt and Portishead-inspired work is an exploration of her own bisexuality, an attempt at coming to terms with becoming an adult, and a beautiful take on a second wave of genre-bending "emo music" re-popularized by the likes of Billie Eilish and Nilüfer Yanya.
Autumn Peltier
Although the spotlight on young climate activists may shine brightest on 16 year old Greta Thunberg, she's far from being the only young person taking a bold stand by demanding accountability from leaders who would let the world slip into disaster for the next generation. Autumn Peltier of Wikwemikong First Nation, one of Canada's 643 First Nation indigenous peoples, was only 12 years old when she confronted Justin Trudeau face-to-face at the Assembly of First Nations, insisting that he ensures clean water for all Canadian people and criticising his endorsement of pipeline projects which exceptionally endanger First Nations communities, many of which have not had clean drinking water for decades. Since the emotional encounter, the now 15 year old Peltier has addressed the UN twice, been nominated for the 2019 International Children's Peace Prize, and been named Chief Water Commissioner for the Anishinabek Nation, an advocacy group representing over 40 First Nations in Ontario. The state of the world may be looking a little grim at the turn of the decade but it's inspiring to see burgeoning young leaders like Peltier. 
SASSY 009
What started as a three headed band of music-affine classmates by the name of one of their members' Soundcloud handle, has since developed into Oslo-native Sunniva Lindgaard's solo project SASSY 009. Mixing Detroit-style House beats, synth-pop-y steel drums and flute-played melodies, the Norwegian's music reminds of a pre-Visions Grimes, a Witch House-esque catalogue combining ethereal and futuristic, somewhat opposite musings. SASSY 009's latest single features none other than fellow DIY-visionary Clairo, whose airy vocals float effortlessly atop the sad dance floor track. A fresh-off-the-press album, an EP and multiple singles to her name, Lindgaard's destined to protrude as one of the new decade's most promising protagonists of left-of-center club music.
Gwenaelle Trannoy
From humble beginnings as a photography assistant rising up to first assistant working under Harley Weir, photographer Gwenaelle Trannoy has fostered a formidable talent that's completely her own. Born in France and moving to Canada and England in her teens, Trannoys scintillating portraits and fashion shots perfectly encapsulate the personalities of their subjects, tinged with an edge of romanticism—and we could certainly use a bit of romanticism in our lives. With a talent already so adept, we're excited to see where the next years take her. 
View this post on Instagram
Samantha Urbani
Hailing from Brooklyn, we find Samantha Urbani. To call the 32-year old a newcomer would be an understatement: She has worked as a visual artists, model, singer, songwriter and actress, and collaborated with the likes of Ariel Pink, Calvin Klein, Twin Shadow and most notably then-boyfriend Blood Orange. On the latter's sophomore feat Cupid Deluxe, Urbani took over lead vocals for 6 of the 11 tracks. She was also frontwoman to the band Friends, and has dropped a selection of solo singles, soundtrack contributions and an EP throughout this past decade. Present day, the New York City-nightlife heroine hosts regular shows and parties across town, has opened a business for customized leather jackets and recently shared a characteristically 80s-drenched song "Made In Love" – a rumoured hint at more new music in the making –, all of which make her a fierce contender for this list.
Phillip Youmans
If you don't know the name Phillip Youmans, it's time to acquaint yourself. The 19-year-old high schooler made his directorial debut earlier this year with Burning Cane at the Tribeca Film Festival and quickly won the respect of seemingly every trusted critic in the industry. Hailing from Louisiana, but now based in New York (studying at NYU's Tisch school), the young filmmaker is already working on his next movie, based on the New Orleans Black Panthers in 1970.
View this post on Instagram
DISCLAIMER: Ok, so we know it's actually 21, but with talent this promising it's just too hard to cut down. Besides, who likes to play by the rules anyway?