In the foreword to an interview with one of the city's most subversive music collectives, Monopol columnist Anna Gien wrote that Frankfurt "is the city in which I want to be fucked by money. Not metaphorically, but penetrated by fountains of gold coins". Germany's Frankfurt am Main—as is its official title—dates back to when Romans roamed the continent, and is known for many things: Its Airport is ginormous, its skyline and financial district earned it the 'Mainhattan'- and 'Bankfurt'-monickers, and its cost-of-living places it amongst the most expensive regions in the world.
Often reduced to its hyper-capitalist image—being one of the globe's most vital economic epicentres—the lives and works of there-based artists frequently fly just beneath the radar of mainstream attention. While it is home to renowned institutions such as the Städel Museum and the Schirn Gallery, a lot of Frankfurt-bred creativity outsources itself to bigger, more obvious or financially friendlier art hubs across Europe, such as London, Paris or Berlin, respectively. All the more important it seems then to take a closer look at Frankfurt's local players. People who, against all apparent odds, are willing, eager and able to claim and reclaim, establish and elevate their hometown's imaginative energies, counterattacking the money-metropolis-myth headfirst. To prove "FFM" is far more than suits and ties, I spoke to some of these resident trailblazers who elaborated on the riverside city's rich history, present esprit and its both potential- and threat-baring future in light of Brexit.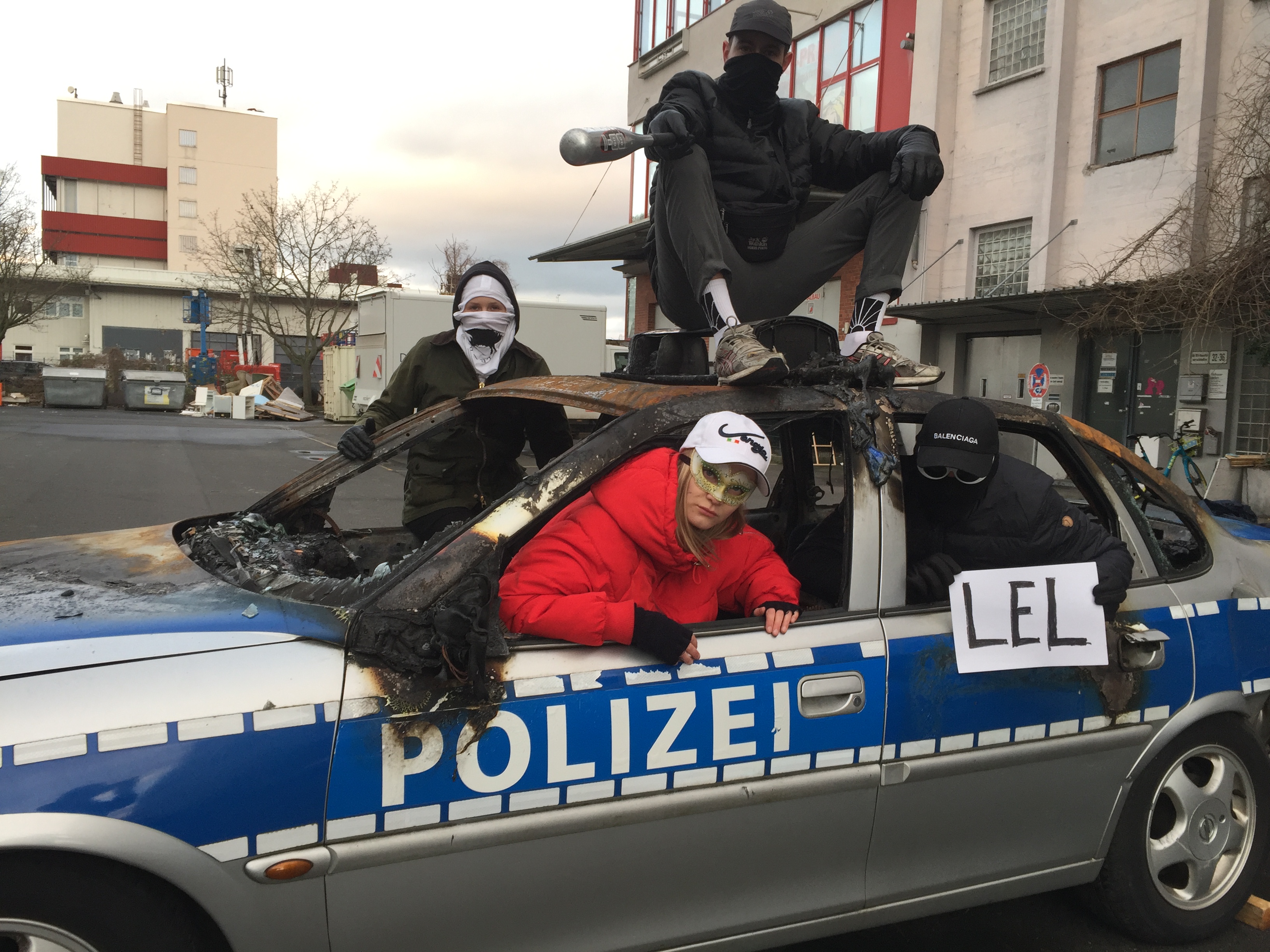 Frankfurter Hauptschule are a 20-piece art collective sassily driven by "money, fame and communism" and offspring of the prestigious Städelschule. With members ranging in age from 17 to 27, the enigmatic group has "been exploring the boundaries of art within the public sphere, creative spaces, social and mass media" since 2013. Their work comes in many shapes, mostly to channel their anger: "In some ways it's self-therapeutic, because most of the work we do results from our hatred against hypocrisy", they explain. As an example for how this notion can end up looking, one could refer to a recent project in which the collective announced they intended to stage a public performance of heroin usage, no less at a gallery located in Frankfurts's Bahnhofsviertel, a somewhat troublesome district neighbouring the city's central station. Here, homelessness, drug abuse and criminality are commonplace.
"Part of our announcement was a direct critique of a group of local politicians and shop owners who aggressively aimed to have junkies removed from the neighbourhood. But they tried to disguise their ambitions as part of a 'cultural initiative'. Following media outcry, public financial support was withdrawn from our art project and the city's regulatory agency considered to ban the performance. This was the first time that an outright ban of an artwork was even discussed in Frankfurt since Rainer Werner Fassbinders play "Der Müll, die Stadt und der Tod" in the seventies. Finally, the gallery had no choice but to cancel the event due to political pressure, and instead the performance took place in the city centre, in front of the mayor's office. In the following months, hundreds of law students at Goethe University Frankfurt wrote an exam on the case. So, in this whole process a lot of people had to show their real faces and that felt quite cleansing."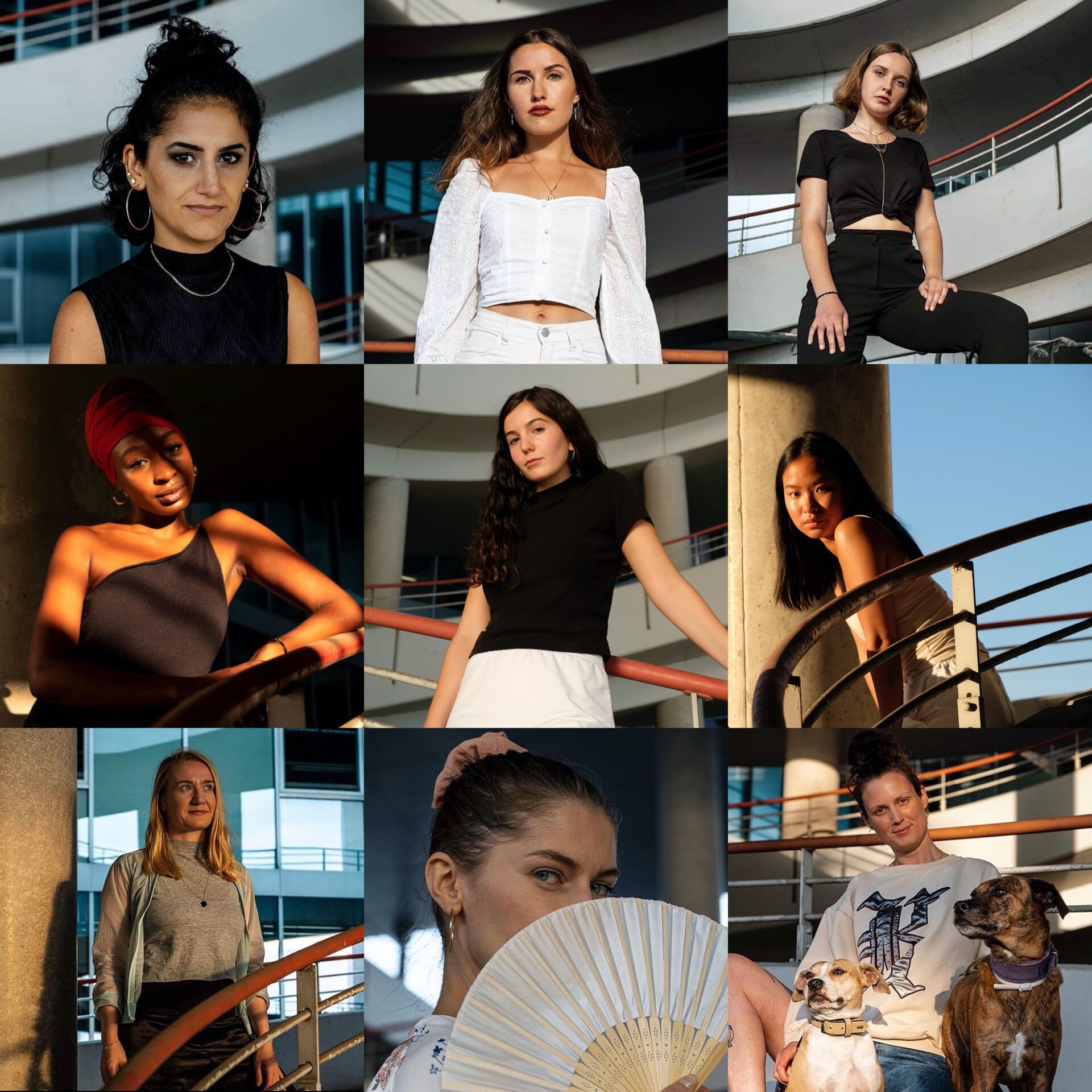 On par with the former's concept of exploiting cumulative fury to disrupt the status quo, are GG VYBE—a relatively new assembly of female turntablists. What started as a series of workshops for women interested in the practice of DJ-ing has since come together as a 15-female-heavy crew of musicians aiming to dismantle the patriarchy within their local music landscape. "Our focus is centred around the visibility of the female DJ scene in male dominated spaces in Frankfurt and also to create representation of PoC in those spaces,"members Meliha aka Miss Control, Clara aka CVL and Jenni Yo explain. "As far as we're concerned, there is a massive lack of female promoters and female club owners, which results in constant male dependency. We want to oppose this, by creating our own events with our emancipatory aspirations."
Not only diverse in line-up, but in terms of genre as well, GG VYBE's intersectional safe spaces want to cater to anyone who feels not attended to, be it musically or 'culturally', so to speak. "We try to be conscious, too, about things like song lyrics, and about not giving problematic artists any kind of spotlight. This includes the venue-aspect as well, as in avoiding places with bouncers who like to exclude certain types of crowds for the wrong reasons."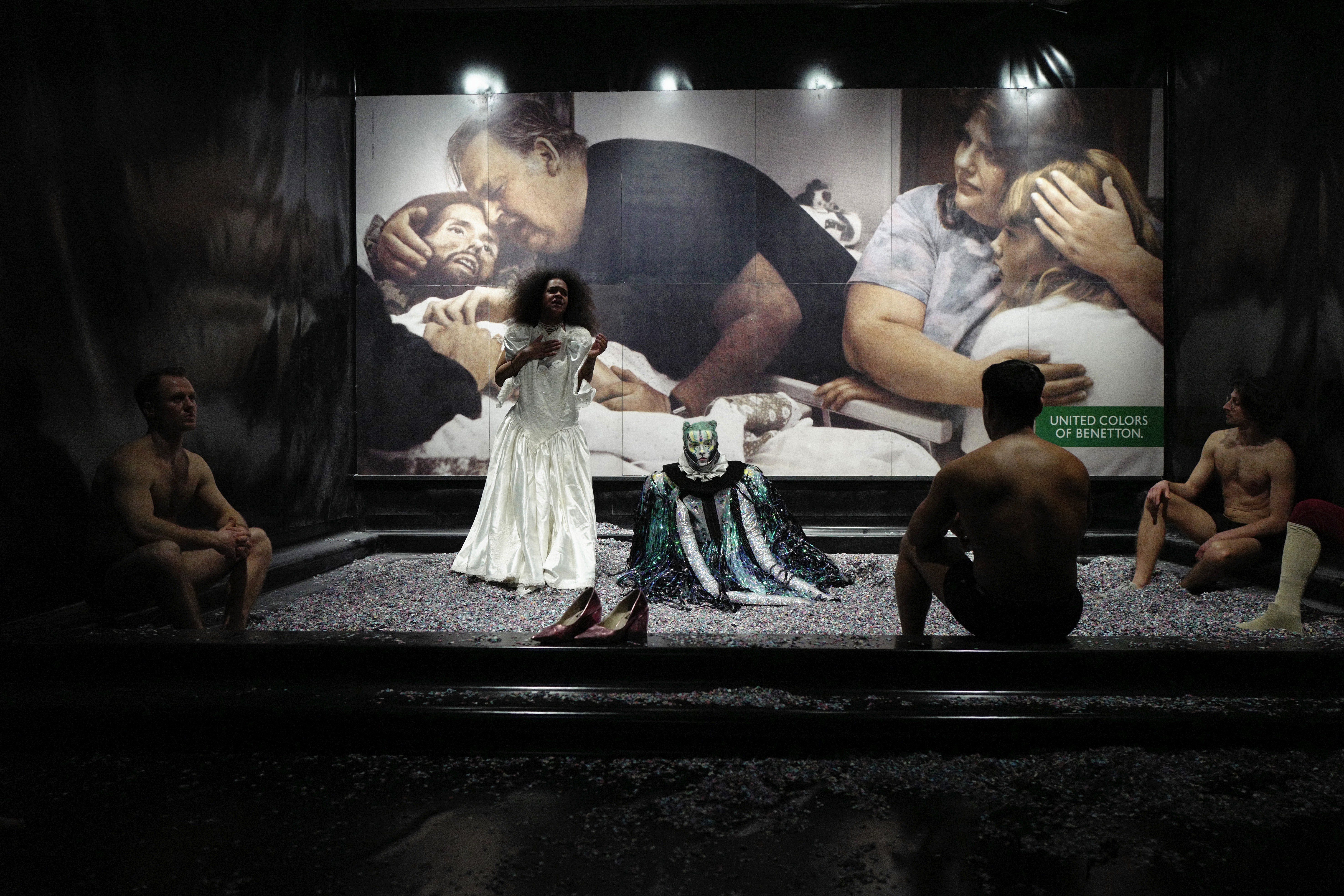 This safe space culture is one that's become a central facet of Berlin's identity, for example—from hedonistic parties to LGBTQ+ inclusive artistic outlets—and it's one that's no less important among Frankfurt's young generation. Self-described as a queer and feminist "hotel" accommodating around and about 15 artists, opencreek was born and named after Frankfurt's unofficial extension—the town of Offenbach (which when split and literally translated into English would make "open" and "creek"). opencreek shownights were birthed out of need for a place of creative collaboration, and in response to Frankfurt's vanishing LGBTQ+-nightlife."We use the stage as our outlet to express something, be it dancing, singing, changing lightbulbs, reciting poems or fucking up patriarchy", I am told. It was co-founded by its alumni and is held mostly in spaces provided through the Art and Design College's (HfG Offenbach's) student body.
Though it objectively reads as a type of drag show, opencreek's makers aim to expand and reimagine the discipline, pointing out that "drag shows have a tendency of finding appreciation through objectification of female bodies and their stereotypes, but there is so much more in between and outside of that realm. We need examinations, we need arguments and we need controversies to locate our contradictions and reject dragulations".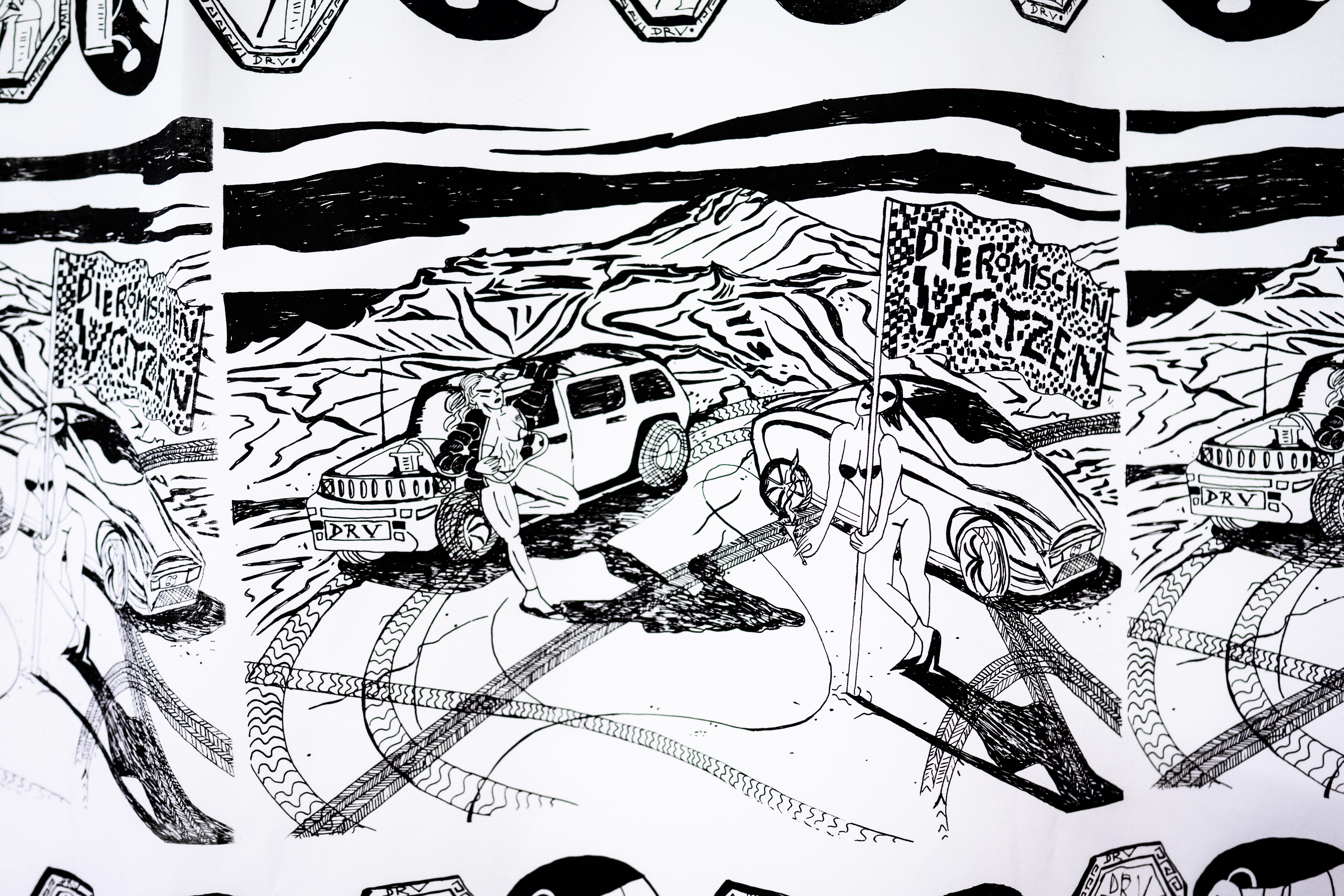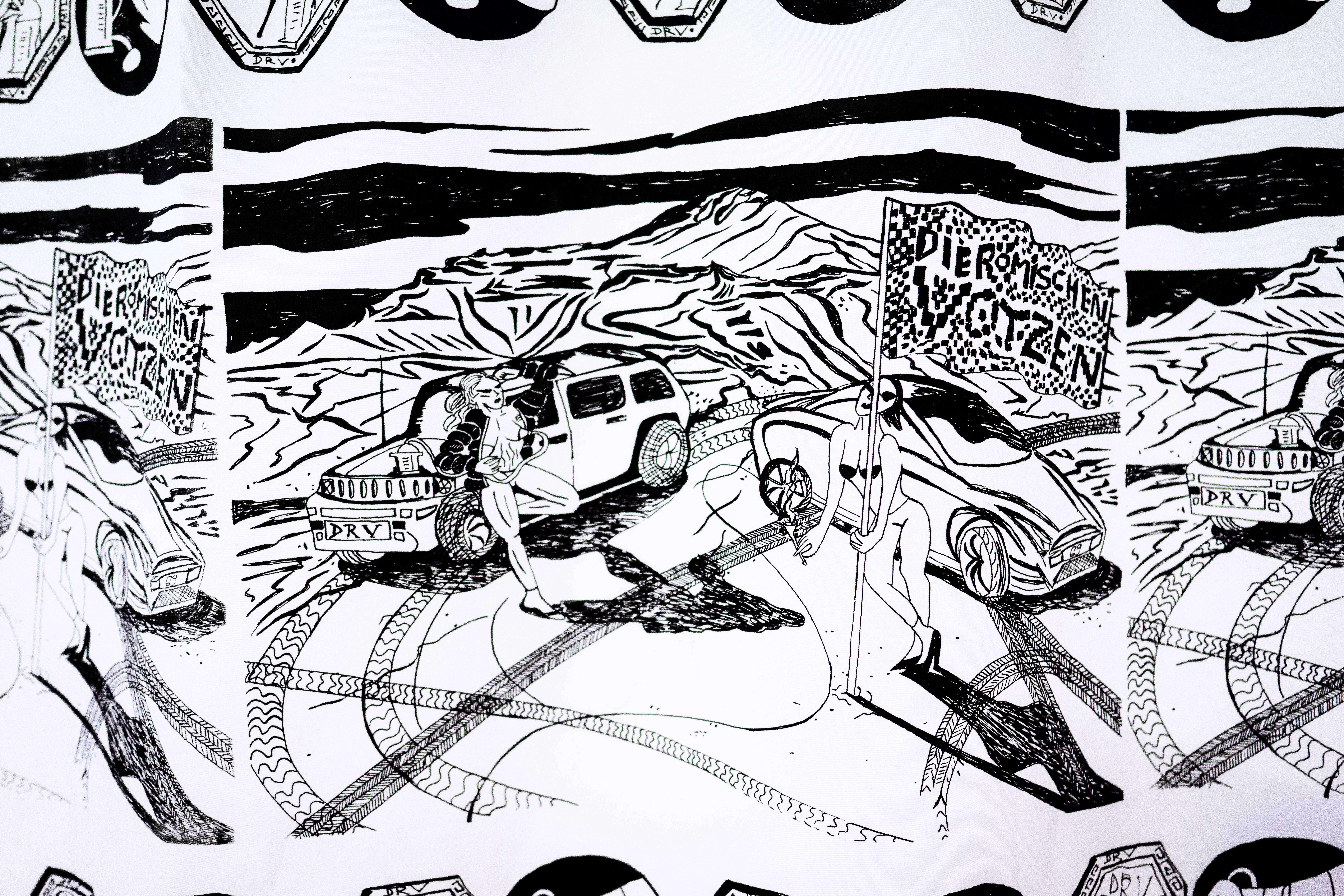 Frankfurt is a city of commuters. 0.75 million people actually live within city bounds, and nearly half a million travel here daily from elsewhere for work—it doubles by day to deflate by night. This, too, adds to the one thing Frankfurt is consistently praised for: its diversity. "Frankfurt is not only called 'Mainhattan' because of its skyscrapers but also because it's a melting pot of many nationalities," says Meliha of GG VYBE. "As a woman of colour with a turkish background, I feel at home and comfortable in this multicultural environment. It combines many things: it's pretty, urban, dirty, hip, political and so much more. It's a city of contrasts. Bankers literally live next to drug addicts." Jenni affirms—"it's trying to use a rusty fork like a silver spoon. To me it represents the thin line our society, consciously and subconsciously, walks on. There is no light without shade". What protrudes here surpasses the concept of diversity or inclusivity, and instead elevates a notion of duality, a clash of somehow opposing forces—those who gentrify versus what they're trying to gentrify.
Die Römischen Votzen remember when, as a result of gentrification, tram line number 14 was scrapped. It used to connect a large number of different, in part suburban sections of town with each other, but its route has since been altered to exclude the not-so-pretty parts in favour of "radically up-spruced neighbourhoods," the trio explain. "And the worst part is, you still see people waiting for the 14 to roll up at its former stops until they realise it's not coming". Closing the gap between visual and sonic art, the band's name alludes to Frankfurt's Roman history, and "Votzen" takes from the German word for "cunts". In combination, the two terms demonstrate the band's aesthetic attitude, pairing their fundamentally deep rooting within the city, its grime and grit, and a love for radical, politically-charged storytelling. "We create images on all sorts of levels. Language is a house of power, gestures are hard-fought and through our game with words we generate moments of freedom", Sonja and Giulietta say. As musicians and painters, writers and illustrators, they aspire "to liberate and de-crust both language and imagery" of archaic, socio-cultural confinements.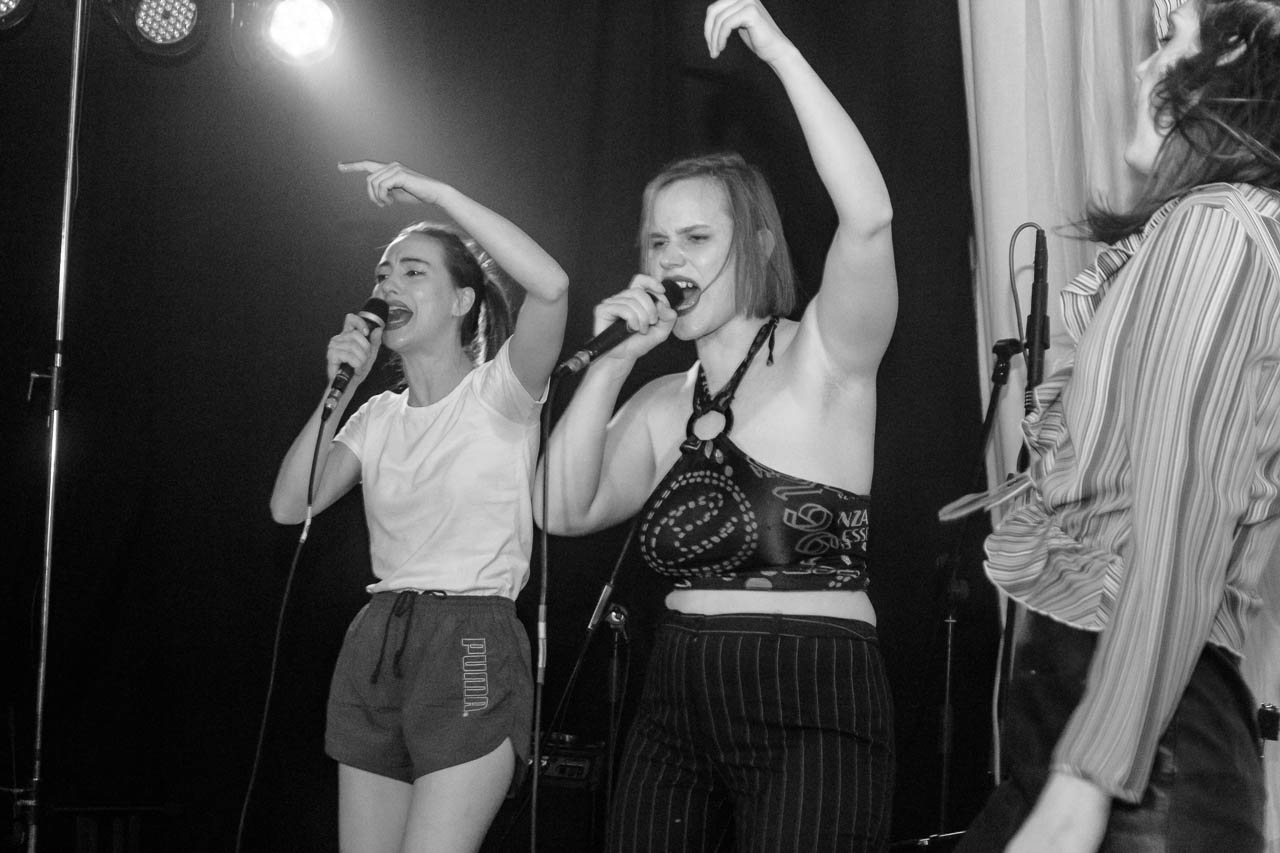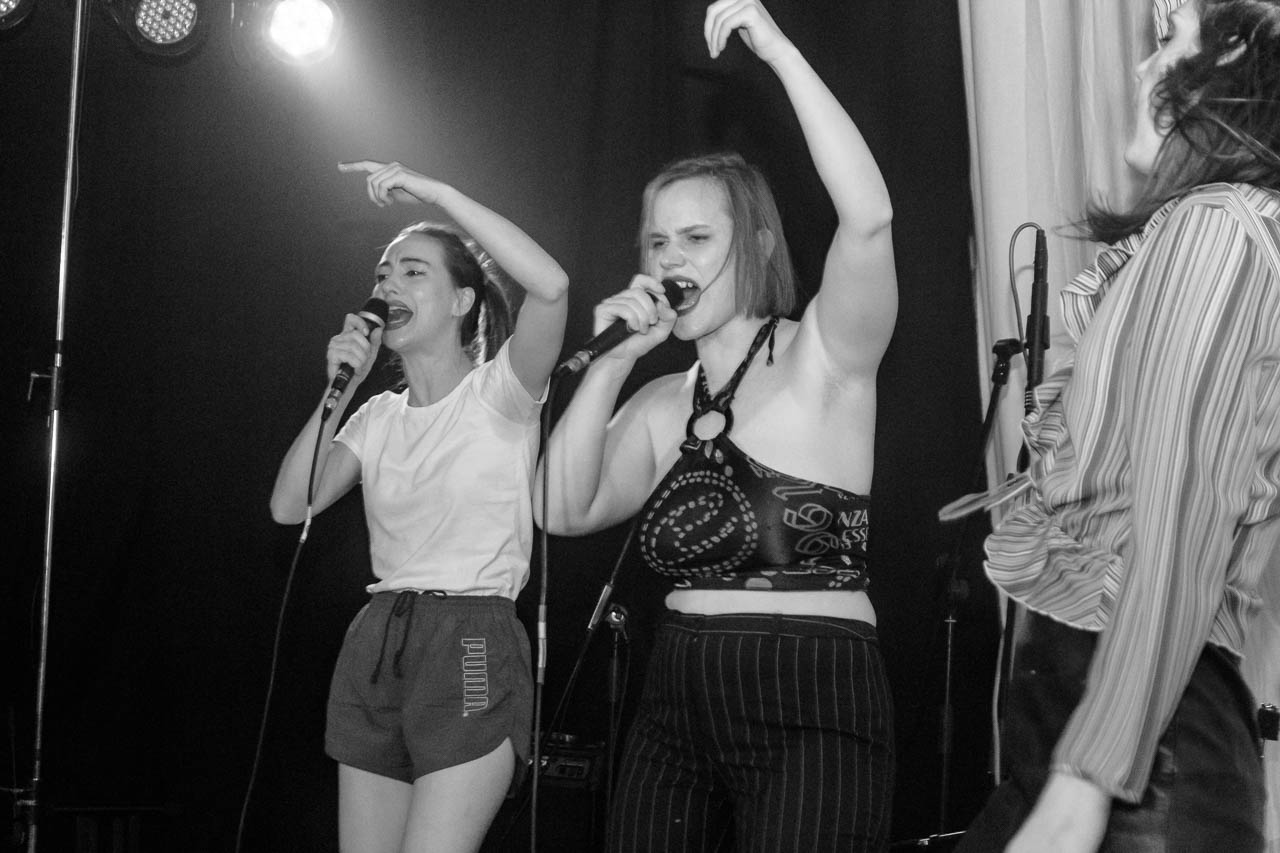 Siobhan Rosewood of opencreek paints another, quite graphic picture, describing to us how "Frankfurt's infrastructure is increasingly being gentrified and privatised. These are the things you feel immediately but understand subsequently: Passing by the very high and glossily shining skyscrapers, you'll strut sidewalks and find needles, condoms and plastic scraping on the aspahlt. Frankfurt is a city of pretense, an extreme display of wealth and an equally extreme display of misery".
Particularly the infamous, above-mentioned Bahnhofsviertel has become an exemplary beacon of how the city is changing, be it for better or for worse. The state of flux it is in, both in regards to its infrastructural significance and the all-encompassing audience it attracts because of it, amplify the neighbourhood's importance for all ends of the public dialogue. "At every corner you've got junkies, bankers, hipsters, artists and prostitutes stepping on each others toes. These contradictions are precious", Frankfurter Hauptschule insists. "Besides increasingly rising rents, it's pretty obvious that there is some kind of almost military-like, strategic action going on to cast out those non-compliant to the agenda. There are definitely some people in powerful positions who want the Bahnhofsviertel to become some kind of neat, white business card for Frankfurt". Streets within – some of which border the wealthy Westend quarter – have become home to "pseudo-fancy, bourgeois coffee shops, restaurants and a lot of assholes. Bahnhofsviertel is one of the very few districts in Frankfurt where people can exist without as much normative pressure as felt in other parts of town. A junkie in Westend isn't a bigger threat to the Westend than the Westend is to him", the collective summarises.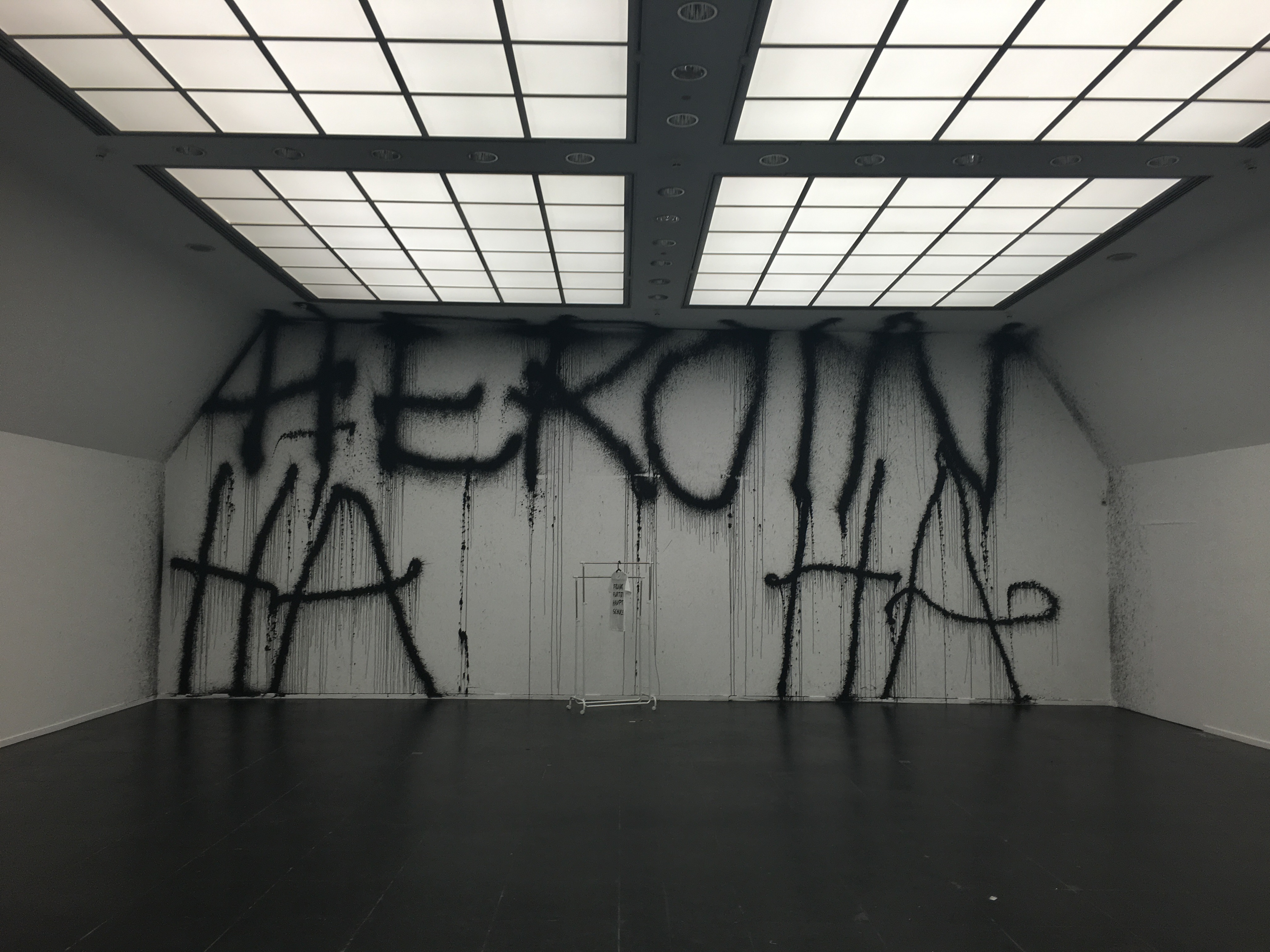 An exhausting, but valid topic of discussion that has been circulating in and outside of the city has been Frankfurt's fate in relation to Brexit. If in fact the UK, and more specifically London were to depart from the EU, it would make way for Frankfurt to become Europe's key finance capital. And while that very well can offer positive prospects to the economy, it also harbours serious perils, many of which have already taken a toll. Continuously lingering just beyond arm's reach, the city's locals have mixed feelings towards the possible future. Naturally, it's the already worrisome increase of costs that's problematic, but seeing as Brexit would attract even more external influence, skyrocketing in prices for both living and independent working spaces feel inevitable and alarming. "It's already hard for us to do the work we do", GG VYBE's Clara says referring to the difficulties of finding affordable venues—difficulties that stretch across all outlets of creative work, further repelling those trying to exist as artists. "Modernising a neighbourhood may seem like a positive development at first sight, but displacing marginalised communities only furthers social injustice," Meliha adds. "We hope for more attention towards these issues, regardless of the Brexit-outcome."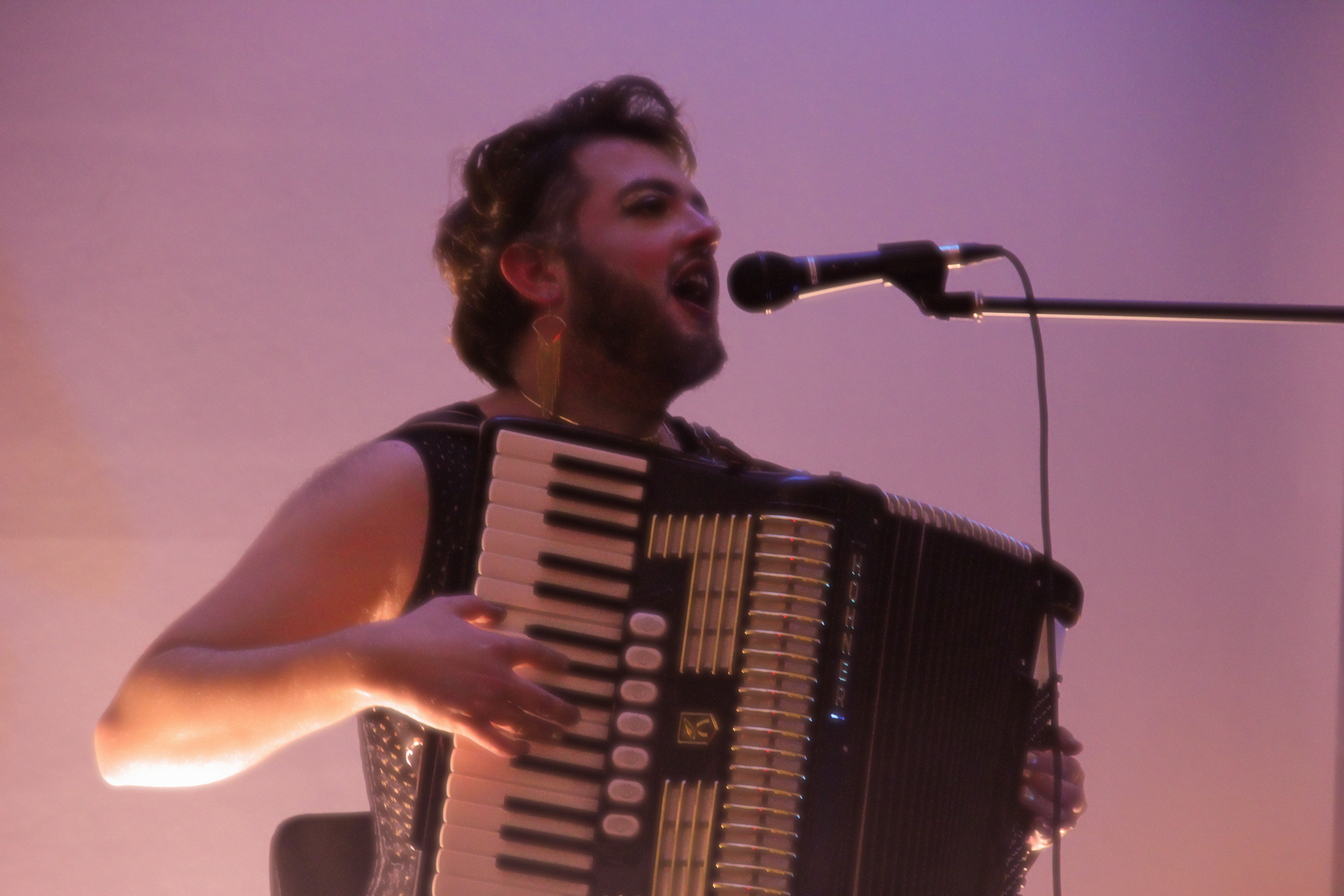 In the end, all negativities aside, what simmers through in every one of the conversations held for this article, is the shared trust in the power of plenty.  "Bell hooks once said, that we are so obsessed with our own liberal individualism that there is no time to think about a world larger than self – one of our biggest confinements is this obsession with ourselves, our own beliefs and our own opinions" opencreek's Siobhan Rosewood recollects, with fellow member Esther Poppe declaring that "community produced labour has an irreplaceable value" within what they do. This awareness seems vital, and fitting as it, too, implies a duality. It emphasizes the relevance and value of activism, especially under the circumstances this world finds itself in right now, be it Frankfurt or elsewhere. "We're not the classical haters who think bankers and their greed are the problem with our current world or society. […] Everyone knows the problem is capitalism itself innately producing crisis and poverty", Frankfurter Hauptschule's members quip. "We say: Let all the bankers come to Frankfurt and build more of these glass facade skyscrapers. We need more canvases to splash our dirty art upon."
Head Image via opencreek, Isis by Jelly Luise