As an upcoming lead—and somewhat unconventional—character in the UK's multifarious music scene, we ask rapper Little Simz to reflect on the ambivalent process of creating a new album, twenty-somethings' tribulations, and single-handedly steering the voyage of her destiny
"This is our story, this is our fate / This is our kingdom, this is our place / This is our freedom, cut off them chains / This is our struggle, this is our pain," Simbi Ajikawo—better known to the public by her stage name, Little Simz—explains within the opening verses of her track, 'Wings', from her 2015 album A Curious Tale of Trials + Persons. Possibly referencing fellow recognition-seeking artists of her native London, or the world for that matter, Simz hereby enters a dialogue not many have the guts to enter so openly and fearlessly address. Music—rap and hip-hop especially—has always held close ties to misfits, to those often misunderstood, oppressed, neglected and marginalised. Great Britain's home-grown grime movement—an eclectic genre rooted deeply in individual documentations of rough urban life, interspersed with elements of ravaged electronica, glitchy garage and confrontational lyrics—particularly holds its hand above provocateurs of mainstream music's barely penetrable status quo. Despite having gained cross-continental popularity through the likes of Drake and A$AP Rocky, the 2000s' subculture–gone–fully fledged force of musical artistry still feels mostly underrated in terms of its undeniable significance, specifically for Black youth. And while often mis-pinned as an MC and key figure in grime, Little Simz still very clearly declares solidarity, by way of 'Wings', to all singers, rappers, writers and dreamers.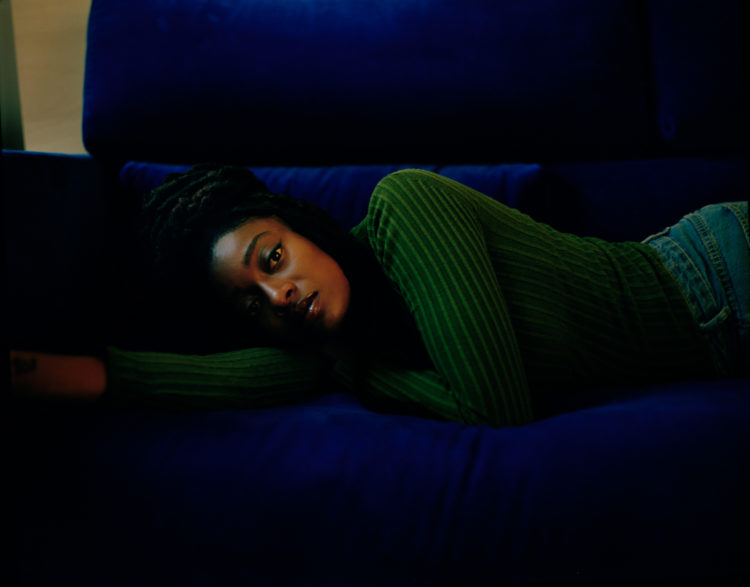 "I was nine years old when I first started rapping. I was always a performing arts kid. Whether it was acting, dancing, singing—I just naturally gravitated towards all of it," she reminisces. Hailing from North London, a daughter to Nigerian parents, Simz spent her adolescence not only devoted to what would later become her professional craft, but also surrounded by like-minded creators."I was very much embedded in a group of close friends. I think that was more so my scene than anything else," she says of her teen years."I grew up on hip hop and grime," she explains."It was an integral part of my upbringing."
But Simz also insists on her emancipation from labelled boxes. Unwillingly considered—or even reduced to—a female equivalent to Skepta or Stormzy, her rich palette of stylistic influences, audaciously on-point flow, and down-to-earth charisma prevent her from being easily aligned with any other contemporary artist. Even though she herself refuses to be pigeonholed as such, there is something to be said about how Simz is often overlooked, a woman of unequalled talent more than capable of not only meeting, but also defying the standards of a coterie historically averse towards female intruders.
Comparing the course of her life to a ride in the rear seat of a cab in 2017's 'Backseat'—one of her most successful tunes so far—Simz implies what initially appears to be a peaceful attempt at resignation, painting a picture of how the ever so disillusioning disparities between expectations and reality can take a toll on one's soul. But her outlook quickly shifts as she promises to rethink, reassemble and return to her confident self. She re-grabs the wheel. A move nowhere near as apparent as in the make-up of her forthcoming third LP, GREY Area. "A collage of all emotions, not particularly dark or happy," the actor-slash-musician deems the record to be "my best work to date, I'm very proud of it."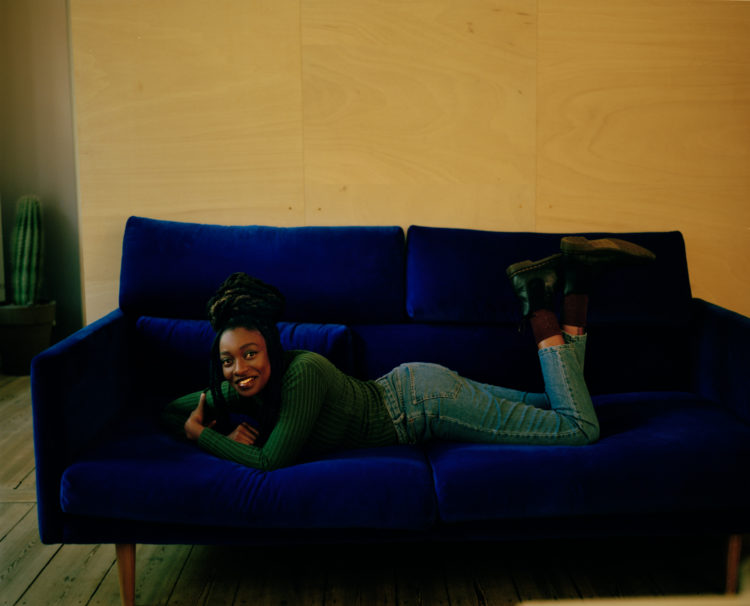 Released this March, Stillness in Wonderland's successor sees Simz slithering through the tumultuous aftermath of extensive touring, moments of heartbeat and heartbreak. "It's me being right in the middle of my twenties, figuring stuff out. Everything I thought I knew about myself was off, or at least different."
"Things I thought I liked I suddenly disliked and vice versa. I guess that's just part of finding yourself, isn't it? Like a second coming-of-age. Nobody prepared me for it, nothing was just black or white anymore—it was grey."
This process, Simz's journey towards finding herself, has been a therapeutic one—and it's outwardly reaffirmed through her output, too."There are so many other girls like me, people in general, that are or have been going through the same things that I've gone through, that are in the same age group trying to figure stuff out. I want them to know that they're not alone, and that I'm not alone. If I can make a record that can heal me, be therapeutic to me, and at the same time have that effect on someone else, then it's win-win—that's what I aim to achieve."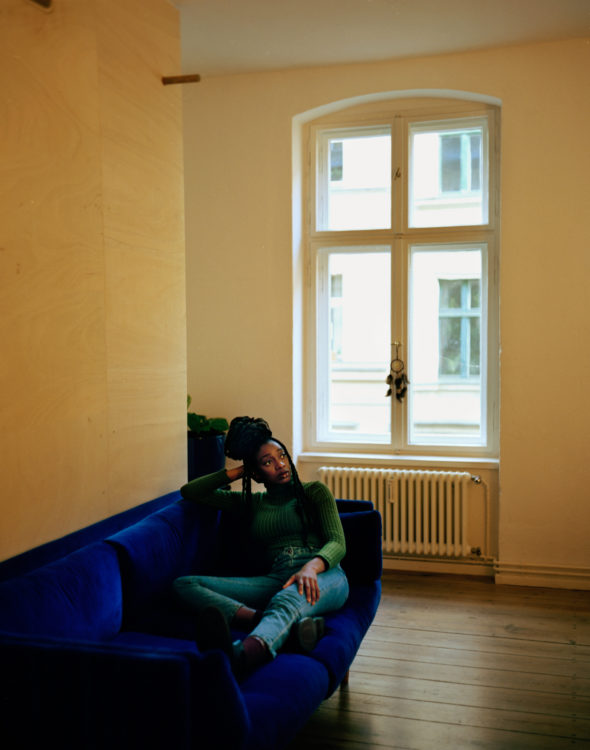 As an independent artist of colour, it's safe to assume Little Simz has touched not only on the perks of pursuing relevancy in the entertainment industry, but has also been exposed to things her white counterparts would have the privilege never to encounter. And unlike some of the other filtered, overly edited contributions ejected by international music manufactories, Little Simz's content glimmers with brutal, even haunting frankness. Whether it be memories of compromise for the sake of creative growth, or contemplating capitulation in light of daunting trips to rock bottom, her anecdotes on personal turmoil are uncanny, sharp-edged deliveries of authenticity. But having become renowned for drifting fluidly between many a mood and the vocal expression of such, she, again, manages to heal and land back on her feet, seemingly unscathed, as she proudly announces on GREY Area's 'Boss':"I disregarded all / opinions and continue my mission / Unapologetically I be bossin', it getting better with age." Incidentally, she admits to us that,"I'm only 24 years old, so I only have 24 years of stories to draw from." And although this may suggest a certain naiveté, if anything, it makes said stories—and lyrics—feel all the more genuine. Bidding to "try, fail" and "try to try again", she essentially reassures us of the grounded persona we imagined her to be.
"I think going into it I was very stubborn 'cause I'd gotten so used to a particular way of making music. It wasn't until we got deeper into the process that I learned to let go a bit, learned to free myself of that pressure and open up to the new way of going about things, trust the people I've worked with fully instead of going all control freak on everyone," Simz recalls of engineering her looming full-length. Ironically, though, one of GREY Area's stand out single is titled 'Selfish'. Above eery, funky R&B production, the song embodies the dual nature of mankind's experience she's felt so intrigued by her entire career. You can almost hear her wink as she spits,"I'm a woman, I can teach you a little something about class," before heading back to more serious thoughts: "I don't wanna feel disloyal for wanting to do me." This exact paradox, this concern over somehow feeling bad for being one's most sincere, most honest self is so human it almost hurts, and perhaps what inclines us to both sonically enjoy, as well as emotionally relate to her music. Little Simz very candidly juggles with the discouragement that apparently stalks her every now and then. This tactic is, in many ways, unorthodox. We grow up in a society that teaches us to tackle our fears head first, or deny we have any at all. Dealing with existential doubt—whatever shape it may come in—the way Little Simz has done in many, if not all, of her mix tapes, albums and extended plays, might just be the healthiest coping mechanism available to us. To acknowledge the presence of the fact that not everything we wish to lay our hands on is at immediate mercy to our will, and to temporarily give in to the temptations of giving up is not an irrevocable symptom of defeat. Sometimes it's what it takes to recharge, recalibrate. Sometimes it's true: time heals all wounds—or, as Little Simz points out on in her evidently most-quotable song: "Good things come to people that wait, and I waited."
Photography by Shuwei Liu
Adapted from INDIE 62