Year after year, MTV invites us all to watch as it gives out the much sought-after Video Music Awards. The who's-who of mainstream pop music's poster children come together in what tends to be an excessively over-the-top celebration of music and fashion, singing, laughing and crying with, for and over one another whilst being handed silver-plated astronaut figurines—the near-iconic award statue, nicknamed the "Moonman". As Variety points out in its review of 2019's version of events, the gig felt less political than expected, with Taylor Swift—a formerly apolitical country-gone-pop star—delivering one of very few statements in reflection of a Trump-era America, and the difficult state of LGBTQ+ lives within it. Other highlights included the first-ever Fashion Trailblazer Award for Marc Jacobs, a jaw-dropping performance by the evening's prime honoree, hip-hop Legend and Vanguard Award winner Missy Elliot, as well as Miley Cyrus' minimalist performance of "Slide Away", a break-up track jabbing at her recently failed marriage to long-time partner Liam Hemsworth.
But all in all, the ceremony itself—both pre- and post-occasion happenings considered—scored little to no controversy. However, one particular paring's performance might've poured more fuel into the fire of rumours surrounding the nature of their relationship: Shawn Mendes and Camila Cabello. The former, a Canadian pop act, best known for songs like 'Stitches' or 'There's Nothing Holding Me Back', is what a music exec's money-making dreams are made of, the epitome of a stadium-filling, male musician. Always an acoustic guitar at hand, Mendes went from Vine micro-celebrity to chart-topper in just a few years, infiltrating radio stations all around the globe with catchy, hook-heavy songs of love and the loss of it. He's a nice guy, no dirt to his name, very vanilla and fairly private. That is until, at the height of their collaborative hit single, 'Señorita', Mendes and Cuban-American songstress Camila Cabello came forward as a couple, publicly exchanging kisses and holding hands while strolling through the streets of what feels like every city in North America. All the more reason for fans to have been excited for their joint appearance on the stage of the VMAs. But with every bit of praise and excitement by some, will come a counteractive portion of dismay by others, because,far longer than the two have even been dating, social media has been speculating over whether or not Shawn Mendes is, in fact, straight, or just hiding his true sexuality to protect a professional image. It's a rumour running riot on Instagram's "gay-themed" meme pages, and if it sounds harmless at first, when skimming these exemplary sites, the disproportionate amount of memes, allegations and even accusations aiming to somehow forcefully out the singer-songwriter feel troubling, to say the least. But how did we get here? How did the question of who Mendes prefers to date—which is, first and foremost, no one's business but his own—become one of pop cultural contemporary's hottest conspiracy theories?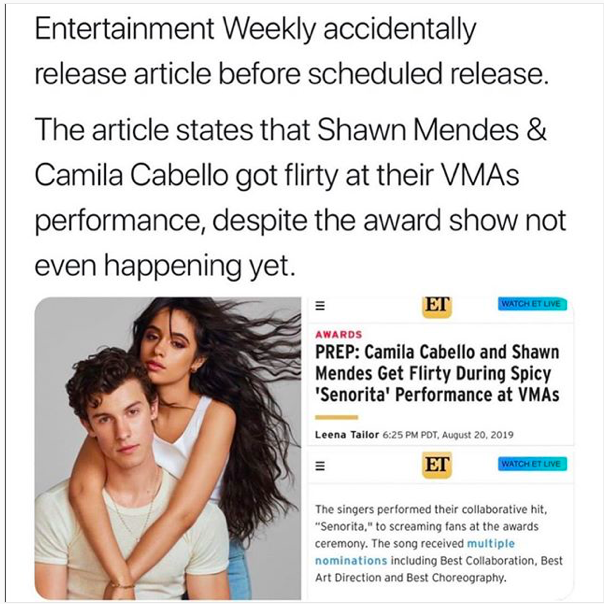 It's not exactly clear when  the Mendes media frenzy began—in relation to his sexuality— and where it all began, but the internet's most recent reason to cling to its assumptions was a since-deleted article posted by Entertainment Tonight, which reviewed Mendes and Cabello's steamy on-stage-chemistry at the VMAs—a week before said event even took place. What was probably a lazy, accidentally-published, pre-prepped article in line with the publication's other coverage of the award show, was quickly spun into yet another piece of supposed evidence for the two's relationship to be nothing but a PR stint to promote their song, slash a cover-up to save Mendes' allegedly unstable presentation as a heterosexual—the lack of a kiss at the end of their actual performance last night only adding to the list of so-called 'proof'.
In the past, the 21-year old has addressed these rumours, articulating the displeasure he's felt because of them on multiple levels. In his November 2018 cover story, Mendes told Rolling Stone: "In the back of my heart, I feel like I need to go be seen with someone—like a girl—in public, to prove to people that I'm not gay," he says. "Even though in my heart I know that it's not a bad thing. There's still a piece of me that thinks that. And I hate that side of me." He's even taken to Snapchat once, filming himself, denying the gossip, concluding that even if he was gay, it should not matter. It's the music, to him, that matters most.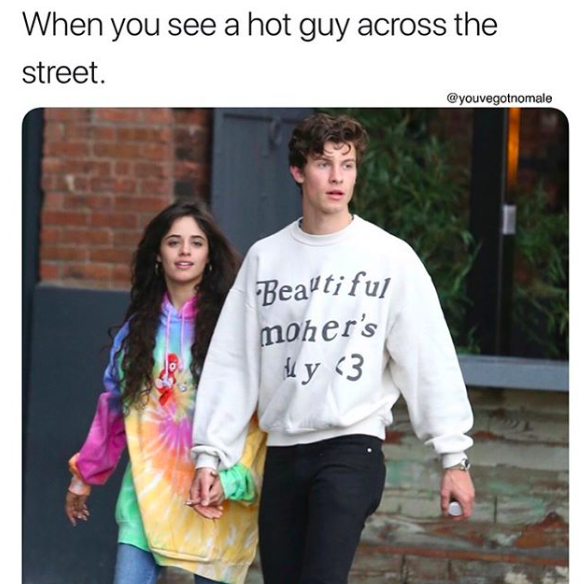 For better or worse, artists' relationships with their fans and the wider ring of public spectators is, in this generation, strengthened by social media. Our modern day tools of communication and virtual interaction through the internet have, in many ways, had a positive impact on several socially and economically important debates, loads of them in regards to LGBTQ+ identity politics. Many artists have—for many a reason—taken stances on issues that outrun their circles of individual and commercial activities. For this reason, it appears, we as consumers and fans have become increasingly demanding of public declarations we sympathise with from the people we look up to. That's not always a bad thing, and to underestimate the impact celebrities can have on public discourse is plain naive. Nevertheless, this self-proclaimed entitlement to know, form an opinion and judge the way someone else lives their life is a symptom of how our use of these platforms can become lethal—something Mendes himself recognised as well: ""I thought, 'You fucking guys are so lucky I'm not actually gay and terrified of coming out,' " he recalls now. "That's something that kills people. That's how sensitive it is."" So, why do we have this urge to define and label, even in times where there are entire movements aiming to dismantle exactly that, most of which can even be found in the exact same contexts? Why do we assume the right to discuss someone's personal feelings and stuff them in a box accordingly? When did it become ok  to bully someone into confessing what way more than a handful of us know can bare life-changing, substantial consequences on all ends?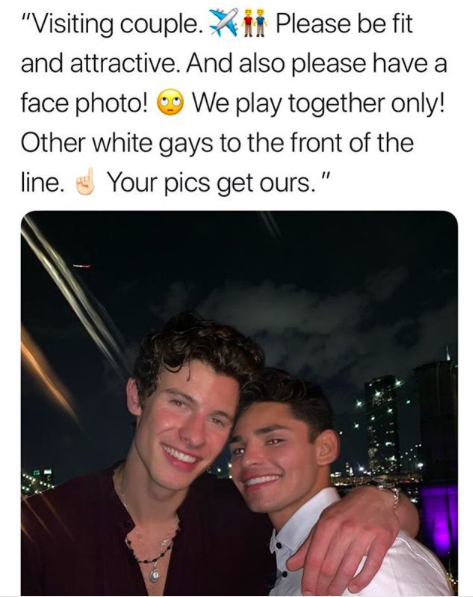 Entertainers, particularly men, have always had to face attempted defamation on grounds of their assumed sexuality and/or gender, at least to a degree. More often than not, though, it appears these notions stemmed from fragile masculine egos that somehow felt threatened by the celebrity in question and his appeal, to the point of believing it to be necessary to out-speak their bigotry. Keeping in mind however that the current majority of images, videos and the like are birthed within the realms of the above-mentioned gay meme pages, the Shawn Mendes-phenomenon may come from elsewhere: Across the entire spectrum of creative goods we devour, we have seen efforts—some more, some less genuine—to increase visibility for everything other than white heterosexual protagonists. As individuals, we long to see and hear stories we can relate to, told by or through people we can relate to—and Shawn Mendes is arguably one of the most successful musicians of the now. Perhaps this method of exaggerating apparent indicators for homosexuality displayed by him is a form of a plea, the embodiment of a collective wish for him to become a high-profile figurehead of the LGBTQ+ movement. But this idea of LGBTQ+ people having to stand as an out and proud representative of their entire community isn't necessarily fair either.
Sexuality—and coming to terms with it—is a journey, a long process that should not be expected to have been successfully and definitively completed by someone barely beyond their teens. Be he gay, straight or bi, the frenzy of trying to pull him out of the (possibly non-existent) closet is barely, if not nothing short of harassing behaviour. And it's ironic how the same space and the same time some torchbearers—and by that, I mean content creators and supporters—of the mob that insists on the singer's queerness probably required to deal with their own queerness, are not granted to Mendes. It shouldn't be something that needs to be said, but it's not okay to pressure people into anything. Especially not when the pressure inflicted is based on hurtful stereotypes, only reinforcing the exact practice LGBTQ+ people have been victims of for so long. Some of us, including Mendes, have the privilege of living and working in environments that are—at least superficially—tolerant towards all designs of life. But that doesn't mean it's easy for the individual to be tolerant towards him- or herself, nor does it mean there's a guarantee for that what's underlying will embrace one's new-found truth the way one would hope. In this instance, we need to acknowledge that no one owes us anything and vice versa. Celebrity or common folk, we all deserve to be who we are, just as we deserve to find a state of comfort with being who we are the way we feel suits us best. And if there's something holding us back, then that's okay, too.
Head Image: Still from "Shawn Mendes, Camila Cabello – Señorita" via YouTube