As she heads up the Mercedes-Benz 'How To' initiative, we catch up with the game-changing director, writer and producer to talk firsts, fashion and the fight for visibility
Lena Waithe is good at firsts. In 2017, she became the first ever black woman to win an Emmy for Outstanding Comedy Writing, and when her new show Twenties airs next year, she'll become the person responsible for conceiving the first African American queer female lead of a prime time show. But despite these game-changing accolades, Waithe is surprisingly humble. "It was never my mission to write black queer characters," the Chicago native explains. "I just naturally wrote what was real to me and what was true to my story." But in the process of doing so, Waithe has raised the bar. In a world of comedy which too often falls back on tired stereotypes and regressive retorts for easy laughs, Waithe is setting a precedent—one where cheap jokes get you nowhere.
Like many kids of the '90s, Waithe spent her childhood glued to the television. She'd find comfort in the on-screen families of Sister Sister, Fresh Prince of Bel Air, The Cosby Show and A Different World. "There were just a ton of images of people of colour that I could look at," Waithe remembers. "There was actually a lot of representation." Though these were shows largely excluded from European television, the US catered to a more diverse and inclusive audience. What was missing, though, was any sort of well-rounded LGBTQ+ representation. Aside from a few flamboyant gay men and a bit of queerbaiting, characters on prime time TV were almost exclusively heterosexual, and white—something Waithe began to feel infuriated with as she came to terms with her sexuality. "As I started to get older and understand who I was, I was starting to look for those characters,"  she explains. "And they just weren't there."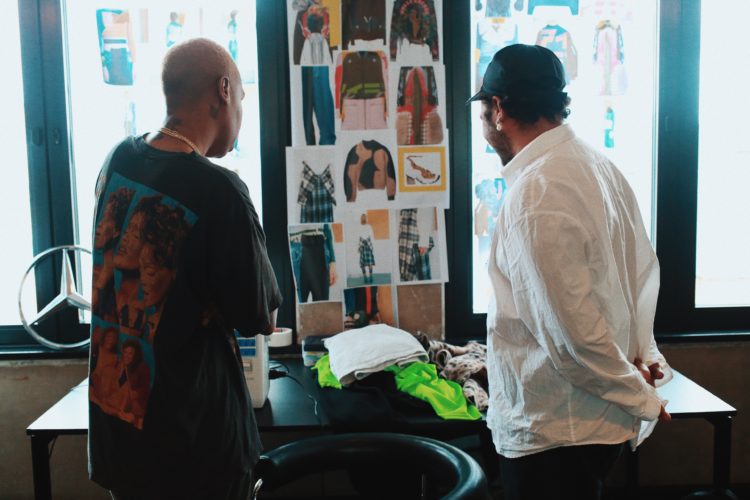 That being said, Waithe was never disenfranchised with TV as a medium—if anything, the opposite was the case. "I was enamoured by television and writing," she explains. This love led her to study at the Columbia College of Chicago and took her to Los Angeles, where on a semester in industry, Waithe interned and PA'd. "I just sort of started working my way up," she says. "Really working on my voice and honing my craft. Eventually I hit a stride and I wrote some scripts that people really responded to." She landed a writing spot on Fox TV's Bones in 2012, and produced feature-length comedy Dear White People in 2014. But Waithe's real breakthrough was landing the role of Denise in Aziz Ansari's Netflix comedy Master of None. Originally written as a straight white woman, the character was re-written for Waithe after casting director Allison Jones suggested her for the role, and since then, she's sky-rocketed. "I don't think I had any power in the industry until then," Waithe admits. "After I won the Emmy and was on the cover of Vanity Fair—I think that made people sit up and pay attention."
Since then, Waithe has aimed to use her power for good. From proudly standing in solidarity with the #TimesUp movement, to supporting young promising, but underprivileged talent, Waithe is trying, in however small a way, to right the wrongs of the industry built and upheld by the patriarchy. "I try to make sure my own shows are run in a way I feel is appropriate and right," she explains.  "And it's so rewarding to be able to prop the door open for people who are behind me—when I say 'hey this person's cool', 'hey I think this would be a great show', people are more inclined to listen." It's something she's done for Little Marvin, who's horror anthology Them is set to air online on Amazon next year, and Cathy Kisakye, who wrote on the first two seasons of Waithe's emotional drama The Chi and is now launching How to Make Love to a Black Woman, also executive produced by Waithe, on Showtime. But it's also something she's dedicated to across all aspects of her celebrity, so we discover when we catch up with Waithe at the second edition of Mercedes-Benz Fashion's series of #HowTo events—this time, geared towards upcycling, following Jazzelle Zanaughtti's masterclass in voguing.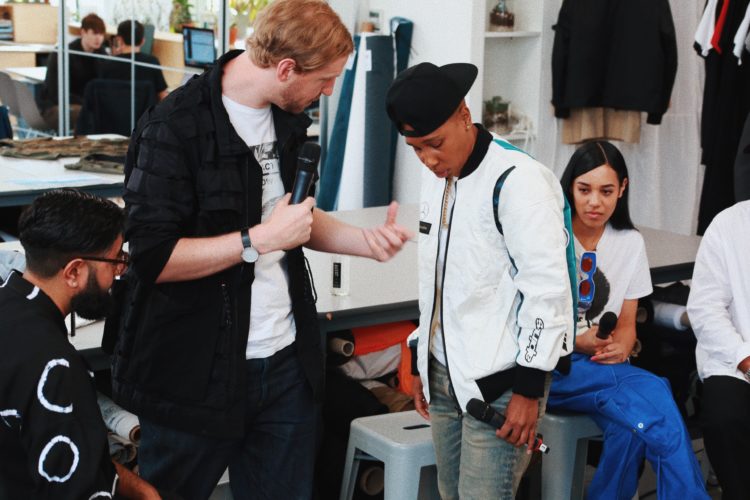 If it wasn't obvious before her MET Gala get-up—a punchy Pyer Moss piece emblazoned with the words: "Black drag queens invented camp"—Waithe's involvement with Mercedes-Benz proved she isn't afraid to make a fashion statement. Be it through her sustainable upcycling efforts with Christopher Raeburn in London—where she repurposed a Mercedes-Benz Formula E jacket to celebrate the German automobile marque's 125 years in motorsports—or her unrelenting support of emerging designers, progressive fashion is one of Waithe's main off-screen interests. "I love to wear small brands headed by queer people of colour," she explains. Teaming bigger hyped brands like Off-White with smaller, forward-thinking designers like Stuzo Clothing, Waithe draws attention to innovative designers who may not had the same privileges as others in the industry. "I kind of feel like that's how I wanna give back to the community," she explains, and it's exactly what she does. If there's one word that sums up Waithe's M.O. it's visibility, and it's something she's pushing for both in front of and behind the camera. "It's not just about writing characters who are queer people of colour," she stresses. "It's about making sure that everyone's included and everyone's in the room."
The next chapters of the Mercedes-Benz How To story are told by singer Rina Sawayama and menswear designer Samuel Ross. Stay tuned for more. 
Header image courtesy MERCEDES-BENZ