Street styles, sartorial splendour, and a whole heap of social media mania—it's beginning to look a lot like London Fashion Week. As always, the looks to emerge from SS20—soon set to spread across Insta like wildfire—are speaking volumes for the current temperature of the fashion landscape. But as this LFWM marks the first calendar mention of 2020, they also serve as our first fashion forecast for the next decade. The industry is testing the waters for 2020, and whilst lesser designers might only dip their toes into the changing tide, this is LFW, and most are jumping in head first.
Collective boldness isn't all that unites this season's design roster. From Charles Jeffrey Loverboy to A-COLD-WALL*, this LFW is begetting curious design parallels across all collections. Here are six things we learned from this season's biggest and brightest emerging trends plucked straight from the runway—and sure to see your wardrobe through to next year.
1. DO(N'T) TALK ABOUT BREXIT
Less of a trend, more of a shared aftertaste from the searing trash fire that is Britain's drawn-out departure from the EU, this LFW saw political statements sewn into a slew of looks. Charles Jeffrey Loverboy and Martine Rose both took to the runway to offer defiant, but fashionable, satire. Tongue-in-cheek graphic tees by Rose reworked the EU flag stars—currently sported on hoodies Europe wide—whilst her 'backwards' cuts supposedly evoked the backwards nature of Britain's parliamentary clowning. Joining the political fray, Paria Farzaneh's bought a collection brimming with border control symbols, referencing immigration laws and the general thick smog of fear hanging over today's Britain. If designers were to impart one kernel of fashion advice this LFW, it would be to wear your heart—and beliefs—on your sleeves.
2. 'DIY' DOESN'T HAVE TO BE FOLLOWED BY 'SOS'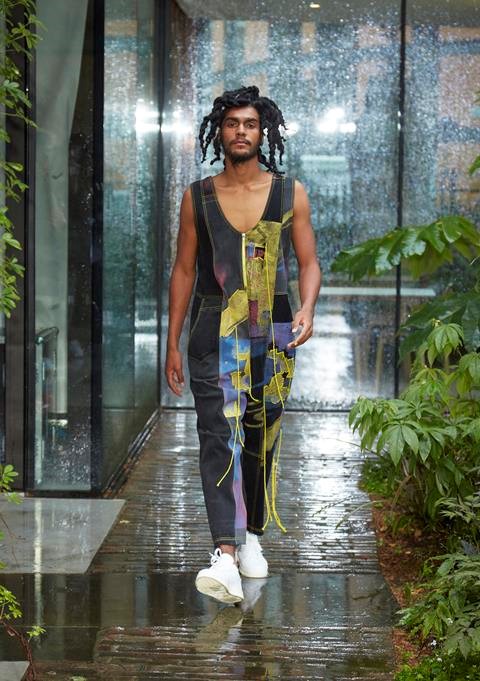 Sustainability and upcycling are infiltrating every inch of the fashion big leagues, and in its wake, a certain patchwork aesthetic is on the rise. As luxury reworked garments reclaim the definition of threadbare, upcycling and second-hand revivals are primed to take off. If you're looking for inspiration to execute this eco-conscious trend, look no further than LFWM. Whilst Bethany Williams delighted with loose tailoring and reworked denim, both Priya Ahluwalia and Williams seamed recycled fabrics with unmissable multicolored stitching. A bright new strain of sustainability that is loud, proud, and here to stay.
3. UTILITY-WEAR HAS BEEN RENEWED FOR A THIRD SEASON
Is utility-wear ever going to die? The mainstay trend has been dominating runways for some time now—particularly in the form of versatile, janitor-chic one-pieces—and this week's LFW is no different. Samuel Ross' latest A-COLD-WALL* instalment continued its take on functional streetwear through technical garments in arctic tones—asymmetrical pocketing, straps, chest rigs, and zips were abounding. On the more conceptual end of the spectrum, Craig Green imbued functionality with more fleshy ideas—literally—presenting one-pieces and overalls in skin-coloured leather, transparent fabrics, and muscular padding. Perhaps a rather humid sounding look for spring/summer wearables, but think cargo pants for a lighter alternative.
4. PUNK IS STILL NOT DEAD
The runways of this LFWM are overrun with punks, ravers, disco-goers, and club kids. It wouldn't be the first time British subcultures have reigned at LFWM, and this season Martine Rose, ICEBERG and Charles Jeffrey Loverboy all took us back to a youthful epoch of vintage Britain. The loudest in the room was ICEBERG, who served archaic Brit punk through a marriage of chains and acidic graphics from the mind of British pop artist Sir Peter Blake. For those in the market for a more subdued subculture staple, Rose made a strong case for '70s flares and denim Brit pop essentials.
5. BAD HAIR DAYS HAVE BEEN CANCELLED
We don't know who sent out the lace front memo this season, but apparently, wigs are in. In a turn up for the books, Paria Farzaneh, Edward Crutchley and Martine Rose all sent models down the runway in off-kilter and—largely—hideous wigs. Whilst Rose harnessed toupee vibes to evoke the era of teddy boys, Farzaneh opted for uniform black bobs paired with those creepy masks to simulate a sense of dystopian terror.
6. IN TRACKSUITS BRITS TRUST
This season has declared tracksuits and all the trimmings the laid-back look fit for summer. Inspired by the sportswear style of New Yorkers, specifically the way a casual sweatpant is paired with more flamboyant pieces, Stefan Cooke layered the humble grey cotton garment into decidedly more 'extra' ensembles. Saul Nash was another riding in on the tracksuit bandwagon, with a collection elevating nylon running gear to dizzying new design heights.
Header image: Courtesy of London Fashion Week/A-COLD-WALL*