She may be only 22, but Lady Donli has mastered an art many can't in a lifetime: telling it how it is. Erupting into 2019 with explosive banger, Cash—the infectiously upbeat bop that we've already called as the song of the summer—Donli sums up the money-making gospel that drives all of us in one effortless line—"I'm addicted to cash."
Born in Cleveland, Ohio, raised in Abuja and now living between London and Lagos, Donli moved to the UK fresh out of high school, and ended up studying law at the University of Surrey. It was here that she first heard Little Simz, an artist who, along with the likes of Aṣa and Erykah Badu, has played a pivotal role in her own musical journey. "I'm a superfan," she admits. "Listening to her opened me up to a whole underground community. It really affected the way I create." England may have influenced Donli's soundscape, but music has been a stalwart presence in her life since day one. Growing up with a record producer for a brother and a house ringing with the sounds of Styl-Plus, Azadus, The Funkees, Femi Kuti, Fela Kuti "all of the Kutis really," it's hardly surprising that the young artist has managed to carve out her own hybrid sound that fuses hip-hop with alt-jazz with neo-soul with psychedelic funk—and make it work.
Ahead of the release of her debut album, Enjoy Your Life, set to drop this summer, we caught up with Donli to talk creativity, culture and—of course—cash.  
You started out as a rapper, when would you say your sound evolved into what it is now?
I started putting out music in 2012, when I first moved to England, but I wasn't really making great music then. I was always writing poetry as a kid—my dad still has them—so that aspect I think has always come quite naturally. Evolving my sound was a slower process. I have a lot of African influences, like Oumou Sangare. I've just always found the soundscape of African music very interesting—how we're so similar and so different at the same time.
That punchline, "I'm addicted to cash", is genius—the whole song, it just works. How did it come about?
Thank you! It actually came from a really stressful place; I'd graduated from university, I left my home in England and went back to Nigeria. I was staying at my dad's house and travelling back and forth to Lagos, because that's where most of the music is. One weekend I decided not to come back. I was sleeping anywhere, in a studio, on a sofa. Me and my band were in the beginning stages, still getting used to each other. We were jamming, and I was like 'guys I'm so frustrated, and I'm so broke!' We decided to make a song about money and the quest for having cash. The song came from a place of frustration, but it makes me so happy to see people vibing to it.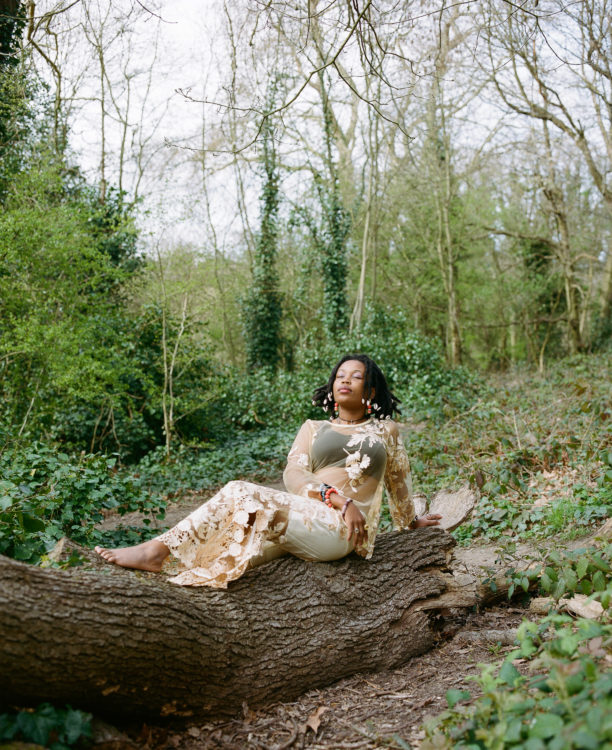 And other than cash, what drives you to make music?
It started out as self expression, but the more I grew it became about more than that. The new album, Enjoy Your Life, is about spreading the message of happiness and love—in the way that it should be, could be—and about treating people better.
That really resonates in your lyrics and melodies—it's uplifting.
It's really all about enjoyment. I make sure I surround myself with a certain kind of energy—I don't have too many friends, and I don't go out that much. I surround myself with people who inspire me. Youthful experiences and love are my biggest catalysts at the moment.
So who's in your musical orbit right now?
Santi—he's my friend but he really inspires me in the way he creates his music and curates his content. Odunsi The Engine, Wavy TheCreator as well. I'm also really liking Ghanian artists too; La Même Gang—I stunt them heavy. I love seeing African artists doing their own thing because they want to create. The content they're putting out is wonderful, it's so deliberate, bang on all the time.
View this post on Instagram
Speaking of Santi and Odunsi, you've been grouped together with this new wave of Nigerian artists going against the grain of the Nigerian music industry—how do you connect to this?
A lot of these comparisons came out at points where the Nigerian entertainment industry was experiencing big shifts. You had people like myself and others putting music out on Soundcloud and not relying on the system any more. The industry is big on payola and this was a sort of rebellion against that. I think being Nigerian is a vital part of my identity, it influenced the music I make and the ways in which I make my music, but it doesn't define me.
Right, and you've lived other places too, and spoken openly about the effect that's had on your music…
Exactly. The music I make is not solely Nigerian, even though it comes from Nigeria. I'm influenced by the sounds and places of Nigeria, but I can go to Toronto and be influenced by the underground scene there or by the underground in the UK. My identity as a Nigerian helps me find balance, and helps me understand myself better as an artist. Because a lot of my biggest influences these day are Nigerian artists from back in the day, they are the foundations of the music I try to create.
View this post on Instagram
And you went back to Abuja for this album…
Yeah, I went back to my hometown to hear and study the instrumentation of the locals. I went to the church to listen to the choir and the way they sang, just so I could have a better understanding of the music in my area—so I could show the world this is where I come from. I think my music now as I'm evolving is a lot about identity. And being able to show people that there is pride in identity.
And do you think that moving away gave you the perspective to realise how important that was?
Definitely! When I was out in Ottawa, I was talking to an attendant at a little Rastafarian temple, and he said to me 'you make music, this is a gift. There's power in this gift, because you can spread so many messages and affect so many lives.' That experience that had a big impact on me. For me it started as a form of expression, but right now it has to be bigger than me. I've fulfilled my own desire to express myself—I can do that all the time when I sing around the house. Now I need to ask myself: how many people can I impact? How many people can I make feel better or gained something through my music? The picture keeps growing, as I'm growing too.