"I want a little mud in my music," said Cobain in 1990. He was talking about the lo-fi, guttural production goals he had for Bleach, but these words speak for the entire sonic landscape surrounding the record, an era of IDGAF underground culture. From the mid-'80s, the Seattle grunge scene was defined by a sound, aesthetic—or often lack thereof—of mud, of outcasts, of The Melvins, but most of all, of Nirvana. 30 years since it's release, Bleach serves as the launch-pad for Nirvana's monumental legacy. But it also offers a glimpse into the world behind the cultural phenomenon of grunge, and, thanks to album photographer Charles Peterson, a window into a pre-Nevermind Nirvana.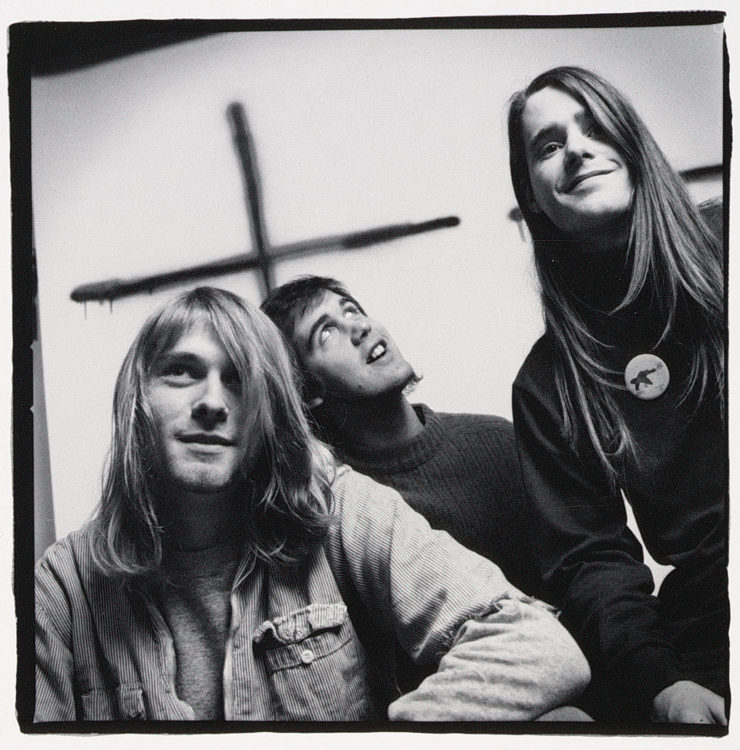 Even though Bleach initially sold only 40,000 copies (paling in comparison to Nevermind's mind-boggling 300,000 per week) the former 13-song track listing of seminal sludge sewed the seeds for a following thirty years of grunge mania. Everything down to the signature typeface first conceived on Bleach ('Onyx' for the typography obsessives out there) became grunge in and of itself—plastered across a million teenager's Tumblr pages and Urban Outfitter tees. In the '00s the 'alt' aesthetic hinged upon images of Nirvana, but the mainstream's marriage to grunge first began in 1993 when Marc Jacobs launched a collection composed of Salvation Army, Seattle-inspired weirdo wear. Samples were sent to Courtney Love and Cobain—then lauded as a fashion icon for his bobbly, nude cardigans—which in true punk fashion, the two burnt. Of course, this goes far beyond fashion, it's impossible to quite quantify the cultural ripples Nirvana's brand of grunge has had on the world and is still to have. The band may not have invented grunge—the term actually came from the punk-ridden shores of Australia years earlier—but Nirvana was the connective tissue between the underground scene and the rest of the world—and it all started with Bleach.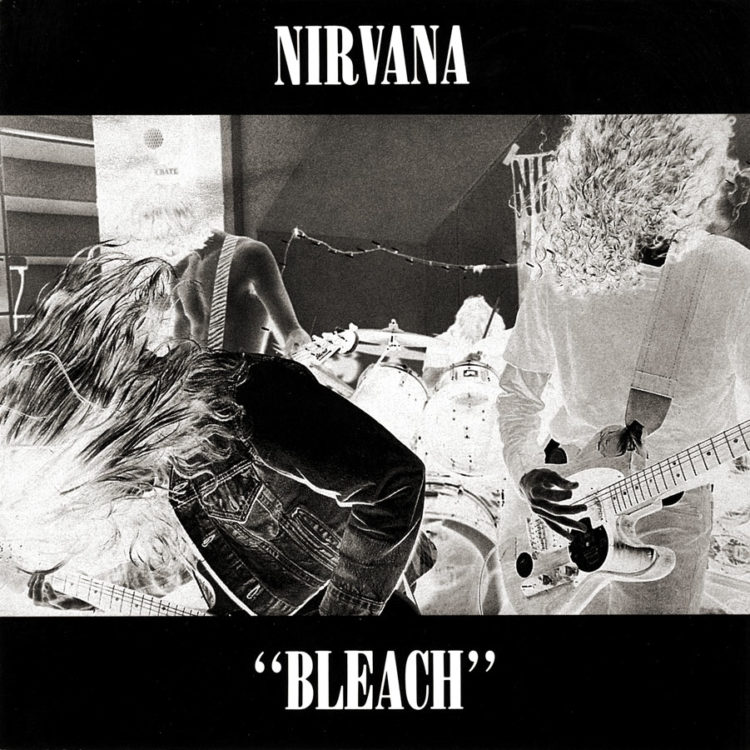 In 1989, two years into Nirvana's life span, the band recorded Bleach for $606.17. Everything about it was resolutely lowbrow—a lo-fi, low-tuned, low-key record "about lower life society," according to drummer Chad Channing on Nirvana: The Biography. The album's narrative—although you have to listen closely to catch details amidst the fuzz—stemmed from Nirvana's home town, the desolate logging town of Aberdeen, or at least, from Cobain's searing hatred for the place. His contempt birthed a record dripping in festering darkness—tracks like the raw, relentless 'School' refers to his experience as a high school outcast, whereas the blood-curdling 'Paper Cuts' supposedly tells the real-life story of an Aberdeen family who kept their children locked in a blacked-out attic room. It was recorded humbly, and was received lukewarmly in the US, however, the primal, ear-splitting sound of the record resonated with critics in the UK—the first flickering embers of future greatness to come. NME coined it "the biggest, baddest sound that Sub Pop have so far managed to unearth."
Bleach is certainly the scrappiest and heaviest of all of Nirvana's discography, and in fact the most technically grunge Nirvana ever was. From the first seconds of churning dirge and reverberating bass on the guttural opener 'Blew', to the abrasive, hoarse howls of 'Negative creep'— this was the violent true-to-Seattle sound that Sub Pop—Nirvana's first record label—was looking for. But Bleach flirted with rock genres beyond sludge-core too—bassist Novolselic once said Bleach's sound spawned from a curious mix CD Cobain used to play in his car—college rock on one side, Swiss extreme metal on the other. Before the trademark melodic, melancholic sorrow of In Utero, Nirvana was a band of pissed off, angst-prone slackers, hailing straight from the basements of Aberdeen, with Black Sabbath on repeat. On Bleach, it shows. Most of the lyrics were angrily cobbled together by Cobain hours before recording, even the more lyrical notes of the record were drowned out by the unintelligible, visceral screeches he opted for. And yet, even then, the poetic vernacular that Nirvana would later become known for did crop up once, in the form of Bleach's 'About a Girl'. A recording choice that would come to change the face of grunge as we know it today.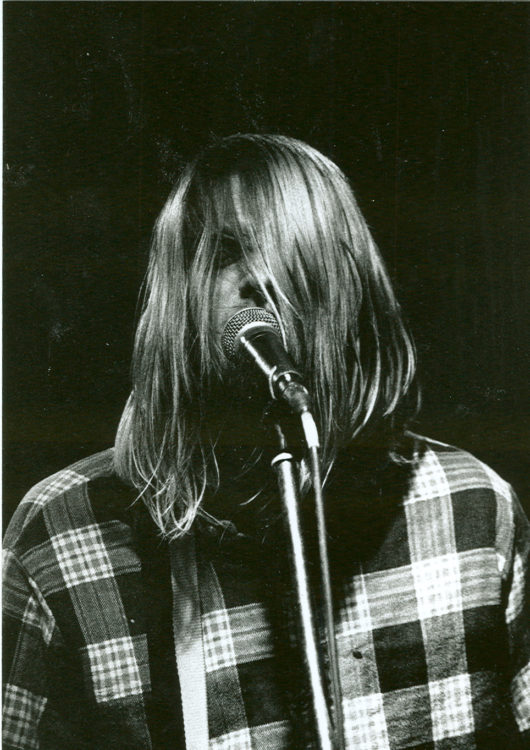 "Even to put 'About a Girl' on Bleach was a risk." Cobain stated in 1993, " I was heavily into pop, I really liked R.E.M., and I was into all kinds of old '60s stuff. But there was a lot of pressure within that social scene, the underground." Half-way through the entrenched dirt of Bleach, the jangly, Beatles-inspired clarity of 'About a Girl' slices through the congealing primal ooze. For Cobain, this move may have been an apprehensive one, but what began as a recording risk on Bleach would eventually evolve into Nirvana's defining sound. From 'Teen Spirit' to 'Heart Shaped Box', Nirvana's break-out classics can be pinned down to one masterful formula—Cobain's poetic lyricism, catchy melodic simplicity, all encased in walls of heavy murk. And so, ironically, it was through a deviation from the traditional grunge format that Nirvana came to pioneer the genre globally. 30 years later, this very blend of bleak, bittersweet beauty and monstrous, but memorable, guitar lines has granted Nirvana with unparalleled fame—fame compounded by the tragic demise of the man behind their musical genius.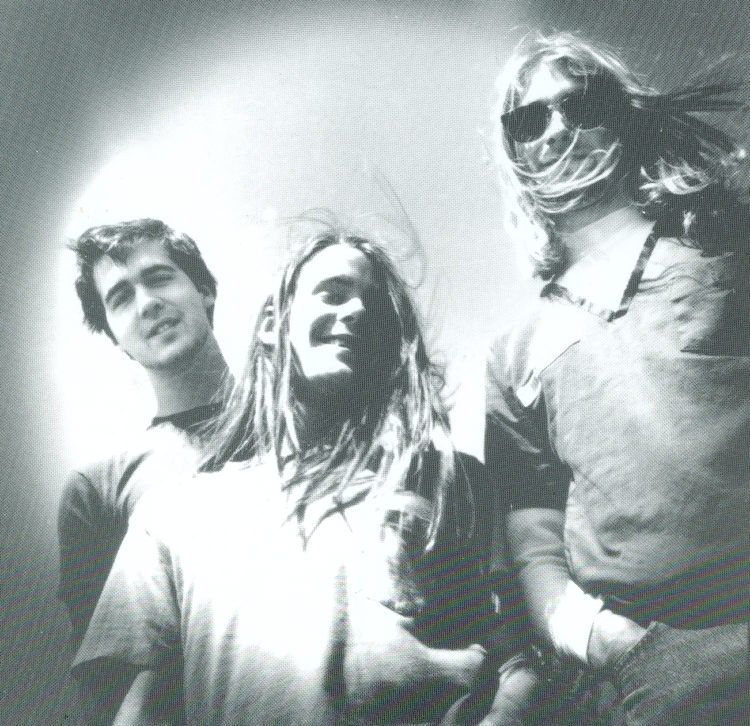 But Bleach still lies in the recesses of Nirvana's oeuvre, not a diamond in the rough, but a diamond because of it. The album provides a glimpse into a forgotten chapter of Nirvana's history, one soaked in adolescence and uncertainty. Charles Peterson—the album photographer for Bleach and for the '90s Seattle grunge scene at large—eternalised these formative years via Bleach's accompanying visuals and the album's promo. The results are mesmeric, a strangely personal look into a band on the cusp of something incomprehensible. Many of the portraits buzz with the electric energy of their early riotous gigs, but Peterson also captures the innocent, awkward air of young, out of place souls. Perhaps this is Nirvana's truest link to the grunge scene. Not in how closely they conformed to the feedback-heavy, gnarled sound—but in Nirvana's enduring identity as a band of outcasts, and their origins within filth-ridden Seattle venues. Charles Peterson captured the true story of grunge once more recently, this time not in images, but in an interview—"We were bored, stray dogs from every village" the photographer reminisced. In this sense, Nirvana pioneered grunge in a different way, bringing solace to down-and-out oddballs and "stray dogs" everywhere.
In 2019, grunge might just be descending into the dark pits of history, but you only need to pore over Peterson's pre-MTV portraits and turn up the volume on Bleach, to relive an era of F***K you catharsis once more. Bleach may be the underdog of Nirvana's oeuvre, but to this day it packs a snarling growl.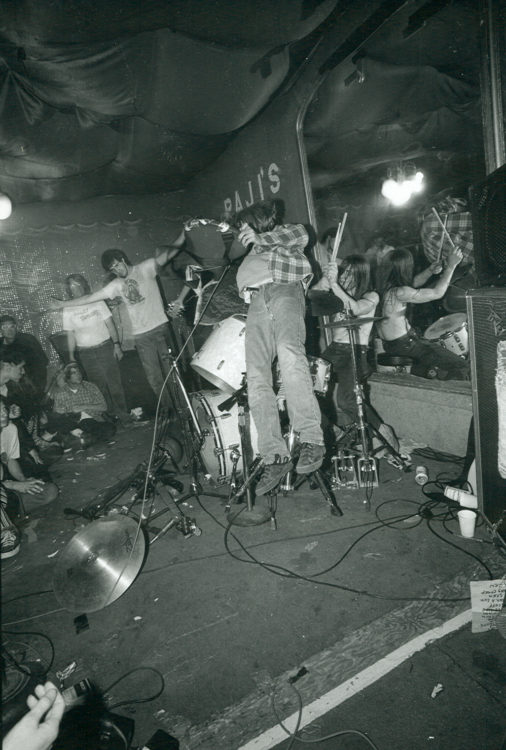 Photography: Charles Peterson
Header image Bleach album cover, courtesy of Sub Pop Records.