Madonna didn't exaggerate. As SS22 manifests into a real-life season, if we took a holiday, it would be so nice.
Embracing the hedonistic holiday spirit for this season, BIMBA Y LOLA has packed its SPF, booked tickets abroad and invited a cast of creatives along with them, to bring back a 'Bimbarama' souvenir.
To celebrate the promise of spring-slash-summer, an array of up and coming mixed-media artists from Berlin and further afield have gone on hypothetical holiday, and melted down their memories into a piece of memorabilia, inspired by the BIMBA Y LOLA logo. Fridge magnets eat your heart out.
Katharina Ruhm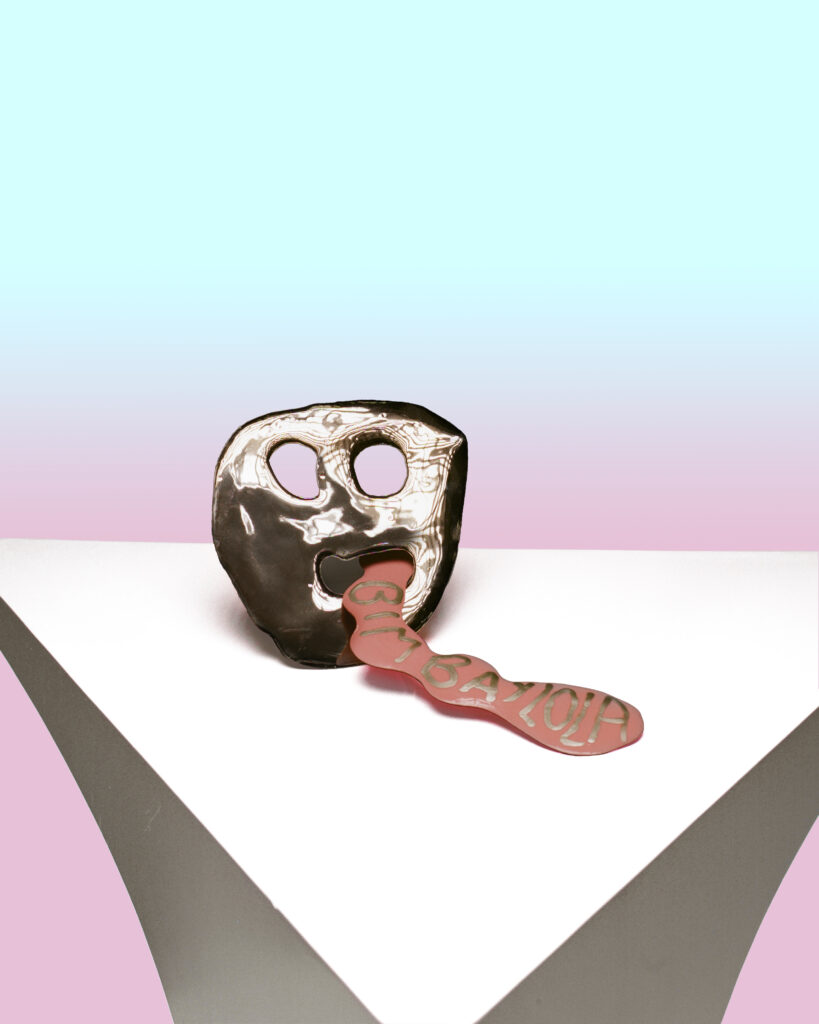 Katharina Ruhm is a Berlin based designer whose work comprises collectible design and material research. Each of her projects are firm reflections on mass and serial production. The material takes the lead.

"The face is porcelain, coloured with yellow pigment, transparent glaze and patinated with silver nitrate. The silver surface of the mirrored face is very sensitive. Silver is highly reactive—it reacts as soon as you put a finger on it. The more you use the mirror the more the silver surface will start to change. First it turns gold, then a ghostly grey, before it dissolves completely one day. So, to sustain the silver you need to treat these mirrors in a certain way, otherwise the yellow coloured porcelain is breaking through the reflection.
Laura Welker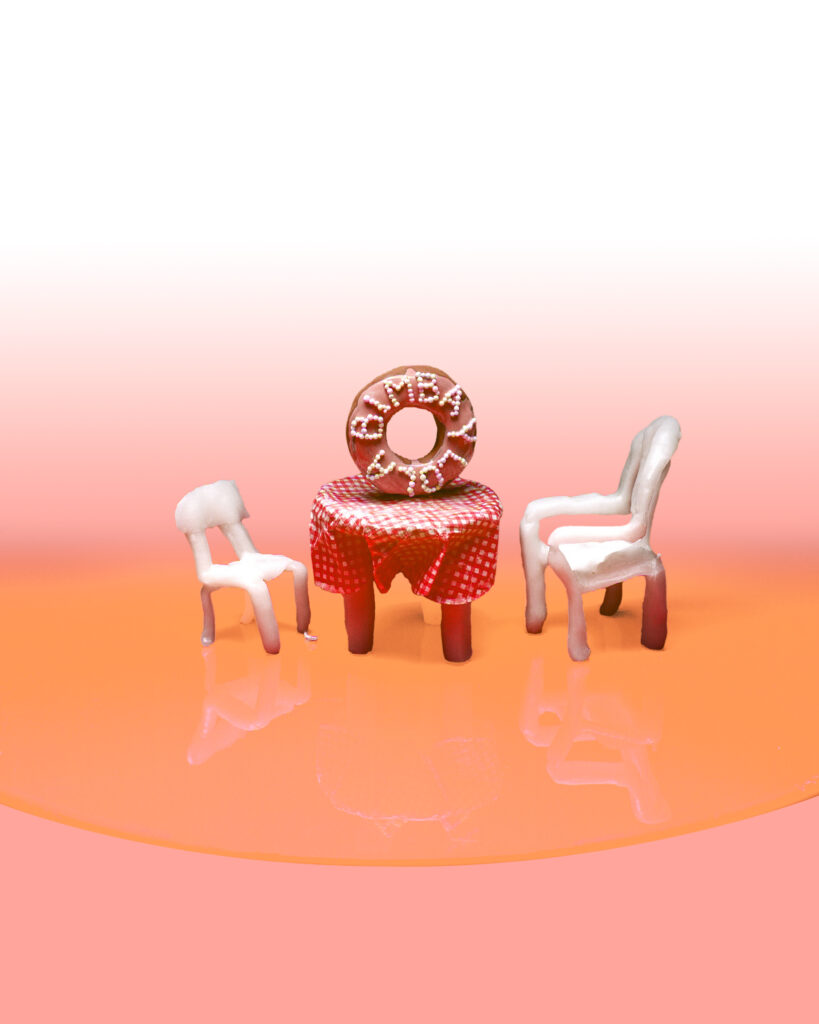 Laura Welker is an artist and designer from Amsterdam, known best in Berlin for her HOTLEG candle holders. Though studying fashion at the Royal Academy of Fine Arts in Antwerp, she now mainly works with ceramic and wax.
"I created a miniature table setting that matches the interior of a dollhouse. The logo is a life-size donut made from ceramic, that looks gigantic to the two guests arriving at the table."
Zuzana Svatik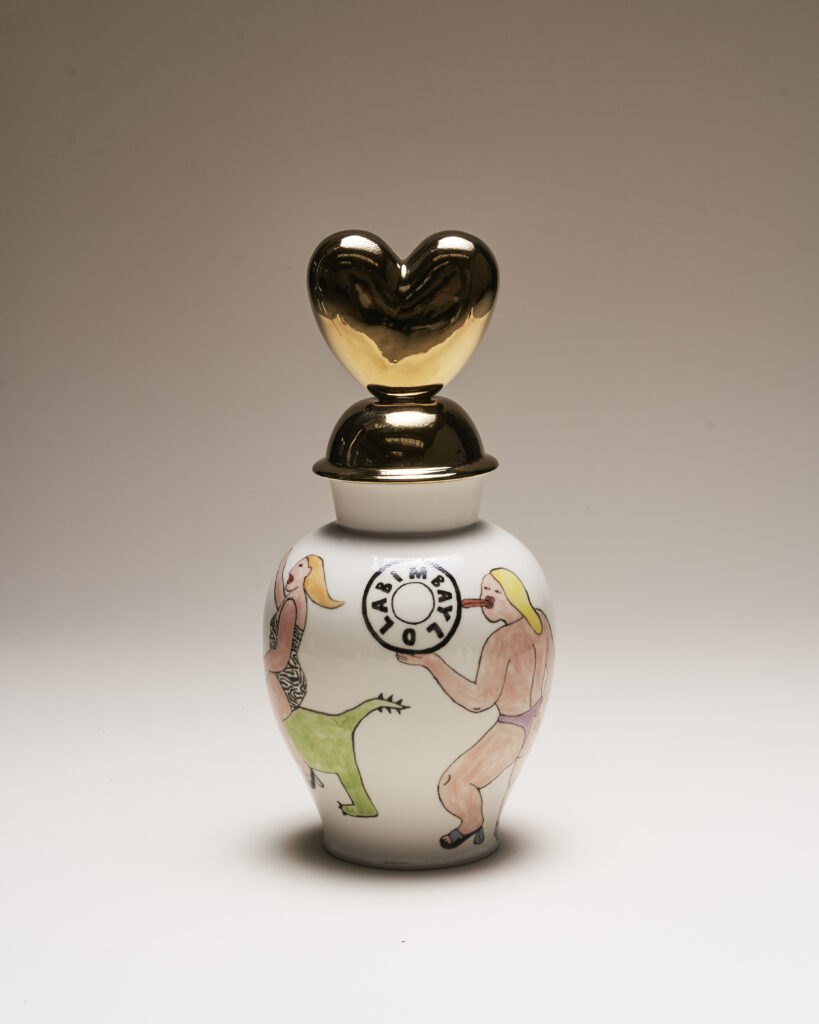 Zuzana Svatik is a visual artist working primarily with ceramics, drawing and painting. Her work critically re-evaluates the function and potential of applied art in contemporary society.
"We all are surrounded by objects. Those objects have stories to tell. I believe that a vase doesn't have to be decorated with flowers and abstract patterns only, I believe it can mediate important and positive messages, reflect reality and contemporary situation.
The aim of my objects is to celebrate diversity, body positivity and freedom as well as to capture the spirit of Bimba Y Lola—such as authenticity, dynamics and colours by placing their products and logo into some surreal situations painted onto a porcelain vessel, to create an open dialogue."
Hieronymus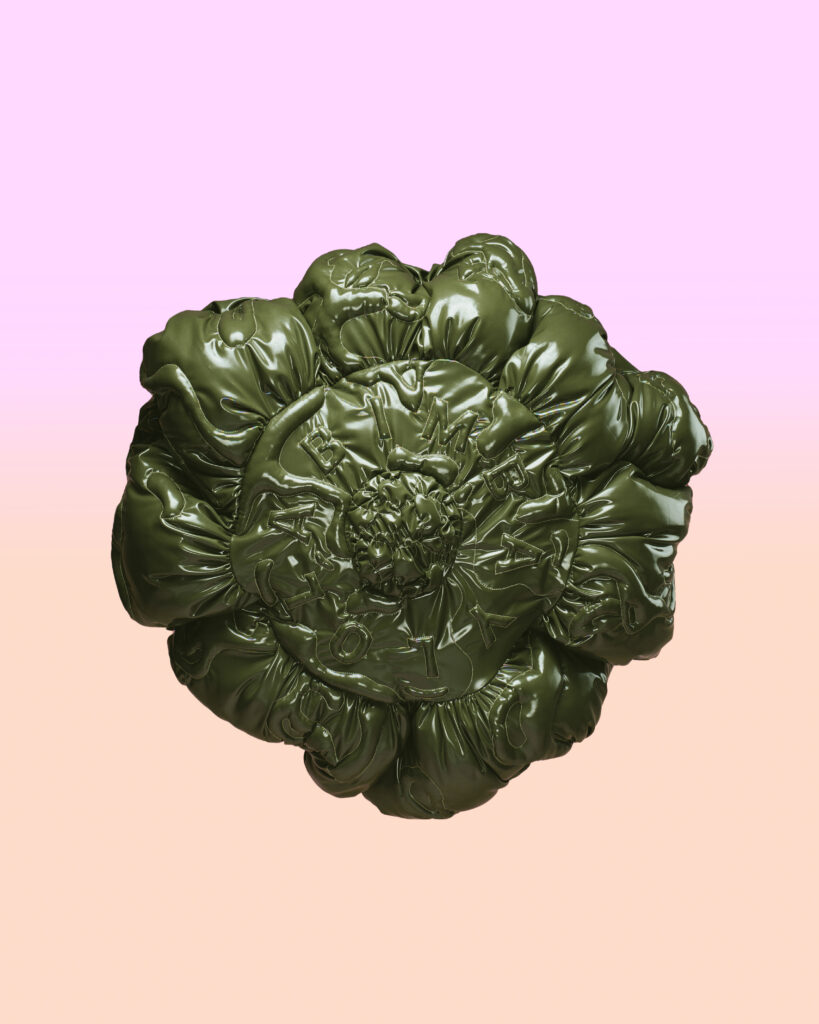 Anna Hieronymus is a textile artist and designer from NYC living in Berlin. Her work blends hyper-real elements and abstract forms. She utilises vegan, deadstock, and unconventional materials to create hand-crafted experimental tactile apparel, accessories, and objects.
"When designing this plushie I was inspired by the idea of a souvenir I would find myself drawn to on a holiday to a botanical garden in another world. I imagined an intersection of the candy garden room in Willy Wonka and the oversized succulents that grow around Majorca. I used a combination of textile manipulation techniques to highlight the synthetic nature of the fabric, playing with the idea of wild organic textures being contained in man made structures, such as ferro vitreous greenhouses."
Rust Cakes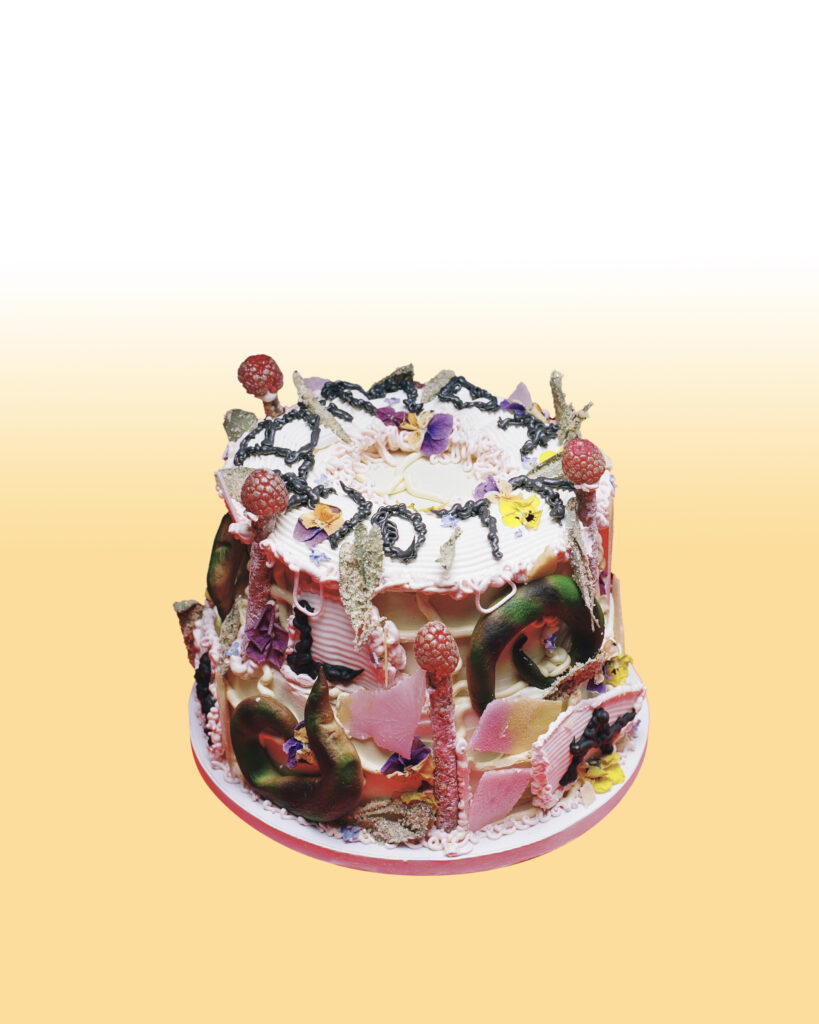 Hana Bjet is the 28-year-old chef behind Rust Cakes, the small vegan baking business blending artisany with art and ethics.
"My work is inspired by nature and contemporary culture so with this project I followed my usual approach which is very organic, messy, and a bit trashy. My original idea didn't work because the meringue logo I prepared broke, but I just made a new one and combined the broken letters into the cake decoration."
Camilla Inge Volbert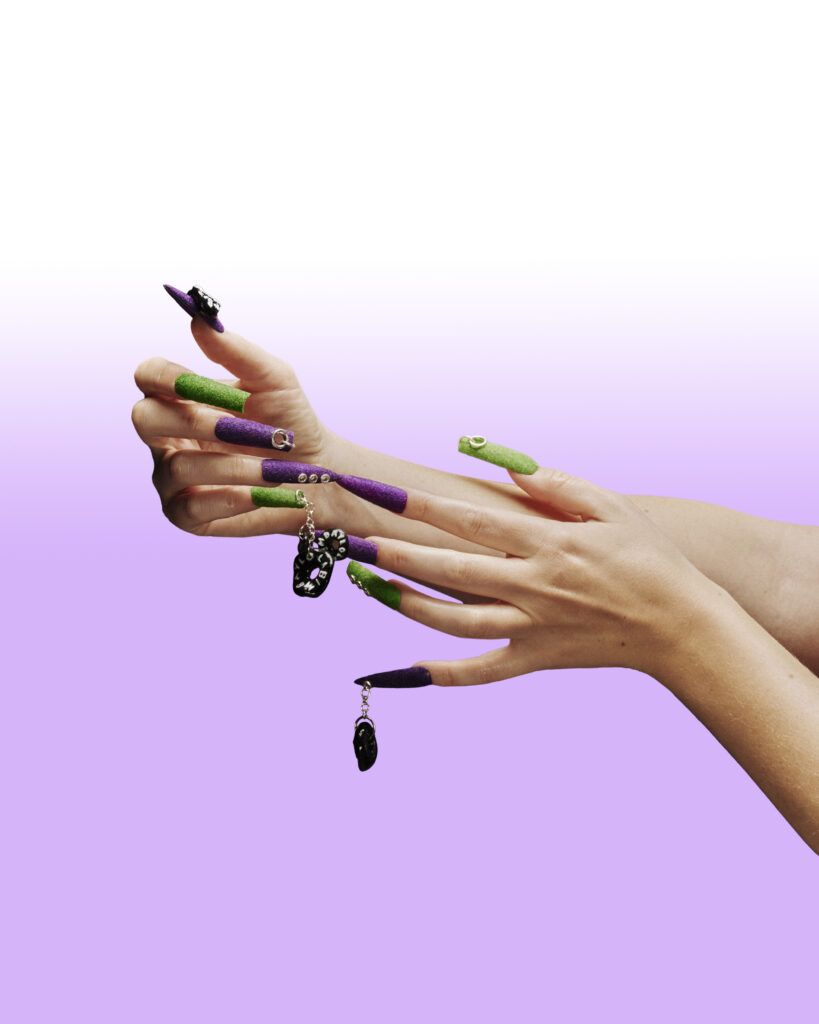 Camilla Inge Volbert is a nail artist based in Berlin with a background in fashion design. She is obsessed with anything miniature and loves turning nails into jewels. Her signature style includes a chaotic mix of textures and anything over the top.
"For this set of nails I wanted to capture the impressions you bring back from your vacations: lush grass, fresh colours and way too many souvenirs you never know you needed, as well as Bimba Y Lolas sense of bold colours and statement accessories."
Janina Zais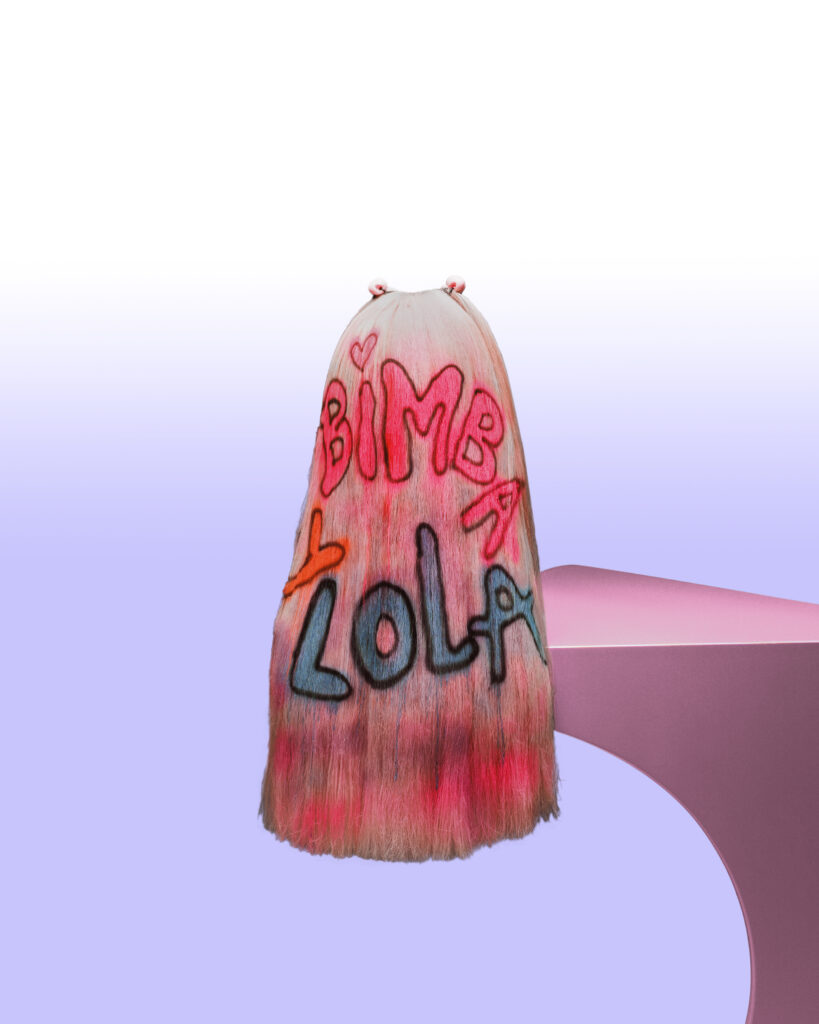 German-born Janina Zais was raised into a family of artists and developed a sense for creativity at an early age. Inspired by the colourful and costumed world of ballet, Zais decided to train as a hairdresser and make-up artist—a path which has evolved into her high fashion hair art that's graced the pages of Vogue US, CR Fashion Book, Vice, i-D and Dazed.
"Japanese anime and manga has had a huge influence on my personal taste and art. My sculpture is a reference to the Japanese anime cos-play. In my mind, this sculpture is a souvenir from Tokyo!"
Kristina Suvorova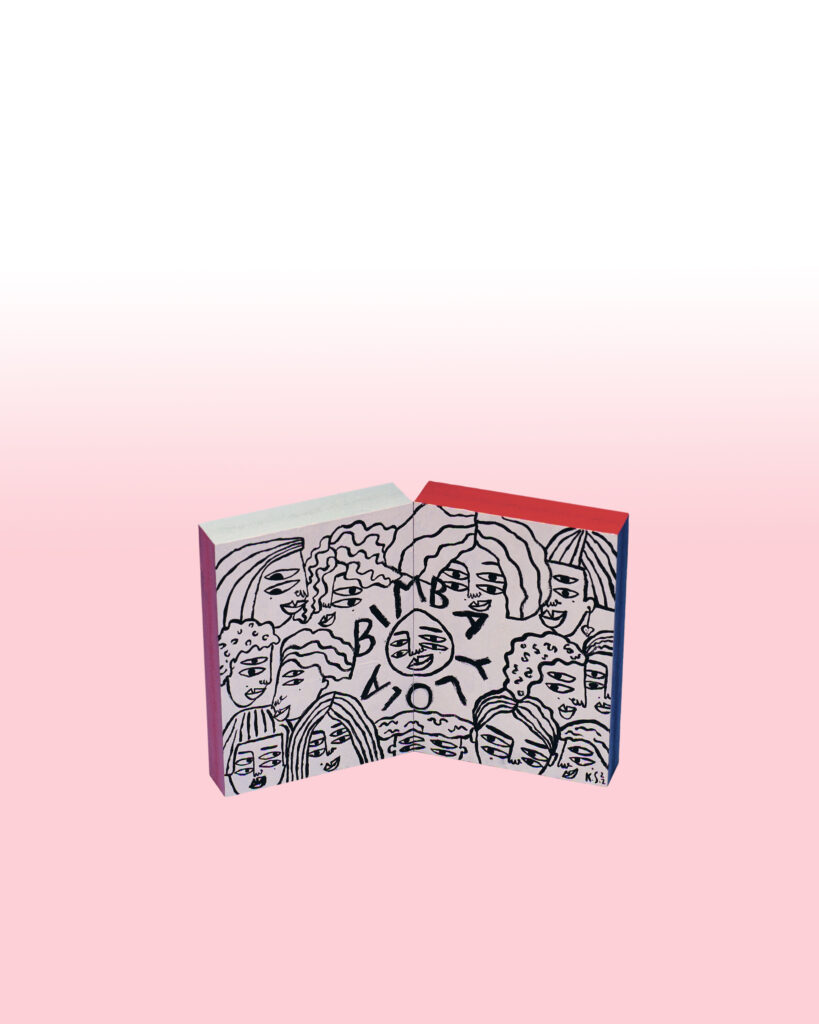 Kristina Suvorova is a Lithuanian artist living and working between Frankfurt and Berlin. Her creative practice ranges from illustration to fine arts, video, collage, installations, poetry, sculpture, art books, oil paintings, animation, murals and wearable art.
"My interpretation of the BIMBA Y LOLA logo is more of a little world of awesome women around it. A crowd of unique personalities celebrating each other and life itself. This artwork is more like a sculptural object.
While I was creating it, I had to imagine sometimes as if there would a tiny tiny person (maybe one centimetre tall) standing in front of it and observing the Sculpture. Feeling impressed and empowered by its energy. Feeling a part of the crowed and its world and being celebrated and loved exactly because of the way one is. No outsiders, we are all mad here together."
Javier de la Blanca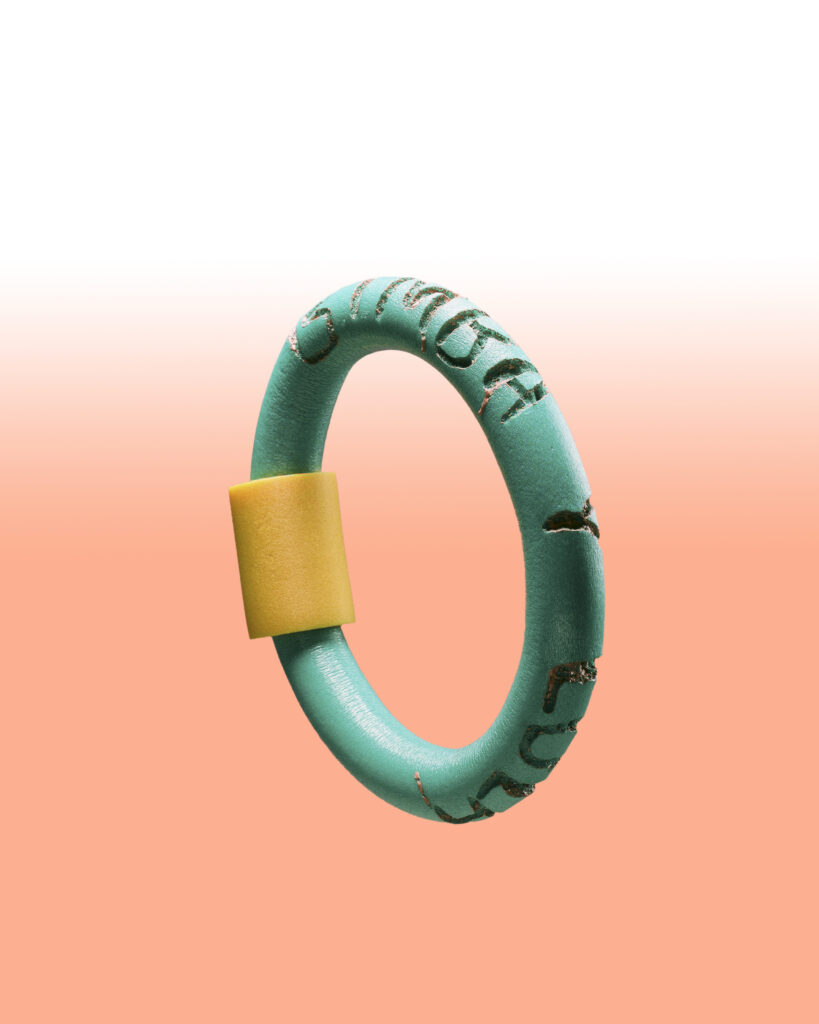 Javier de la Blanca, is a Creative Director and content creator from Madrid, Spain, and based in Berlin since 2019.
"Just a few days after I was approached for this project, I had a crazy dream where I was swimming in a giant float. The next morning I had it crystal clear: Summer, fun, functionality and bright colours: a float engraved with pink silicone that says BIMBA Y LOLA."


Retouch HELEN STUDIOS
Paid partnership with BIMBA Y LOLA.