EDWARD ENNINFUL has long questioned the status quo of the fashion industry. Here, the first Black, first male and first gay editor of British Vogue, speaks to YOMI ADEGOKE about opening doors and dealing with criticism.
Those unfamiliar with Edward Enninful's career journey might be surprised that it began in front of the camera, not behind it. But despite entering the industry as a model over 30 years ago, he's coy discussing the accompanying shoot for this interview.
"It's a journey through Ladbroke Grove," he says. "It's the house where I grew up, the street where I grew up. It was quite an emotional shoot."
It's the most personal one he's done too, featuring his partner, the filmmaker Alec Maxwell (who, after a 16 year engagement, he married on his 50th birthday this February), and dog, Ru, for the first time. They were shot opposite Hyde Park by photographer Juergen Teller, an old friend with whom he goes on frequent walks with in the area. A full circle moment for them both: they met when he was a 17 year old intern at i-D and Enninful lights up at his mention.
"He never fails to surprise me!" he beams. "He photographs the person you are inside."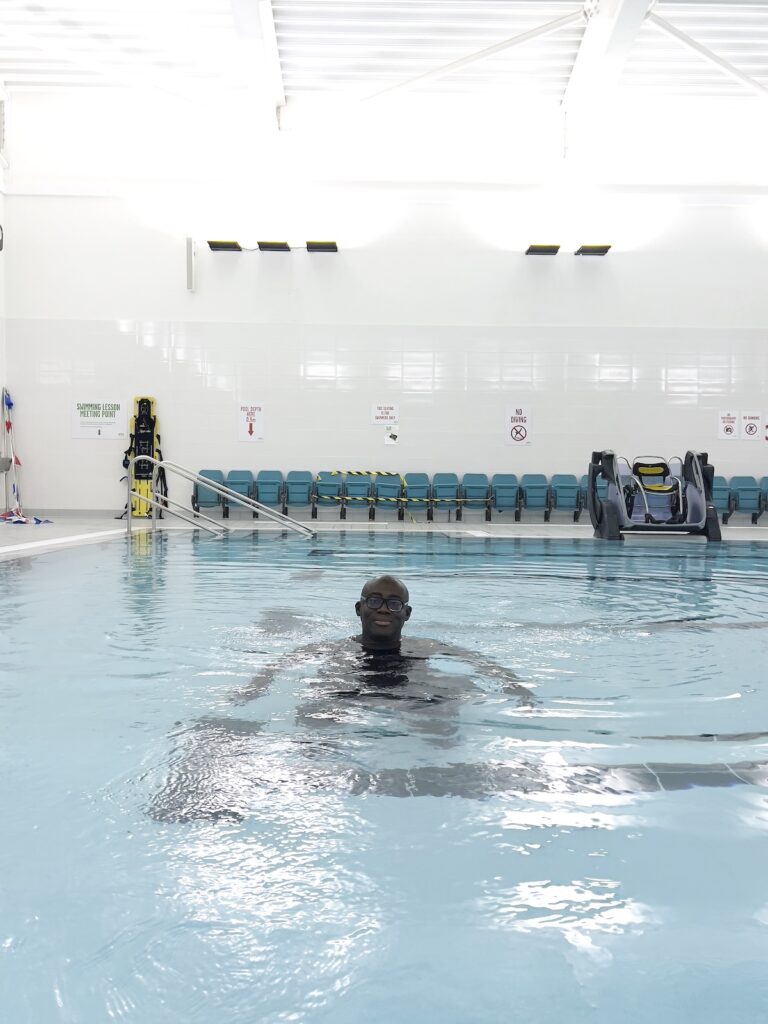 Glasses CUTLER AND GROSS
That is one thing that becomes apparent quickly during our Zoom conversation: though measured and composed throughout, Enninful is at his most animated when he is singing the praises of other people. He talks excitedly about the next generation of tastemakers. A large portion of our chat is dedicated to those who helped him get here—as the first Black, first male and first gay editor of British Vogue.
Even how he dresses—today wearing a characteristically understated crisp white shirt—is, he says, to allow him to better focus on others. "My personal style is to be invisible," he tells me. "I want to wake up and not have to think about me. This way I can really focus on the people I'm working with; I'm not in the way."
His uniform of black or white shirts is a world away from the fashion "faux-pas" of his youth. Growing up, he was "the king of ripped jeans, cowboy boots and Acid House T-shirts," a look he swears to me he'll never return to, but one that, ironically, launched his career. Enninful had only been in the UK four years when he was famously scouted on the London Underground by stylist Simon Foxton at 16 years old, in a pair of distressed jeans.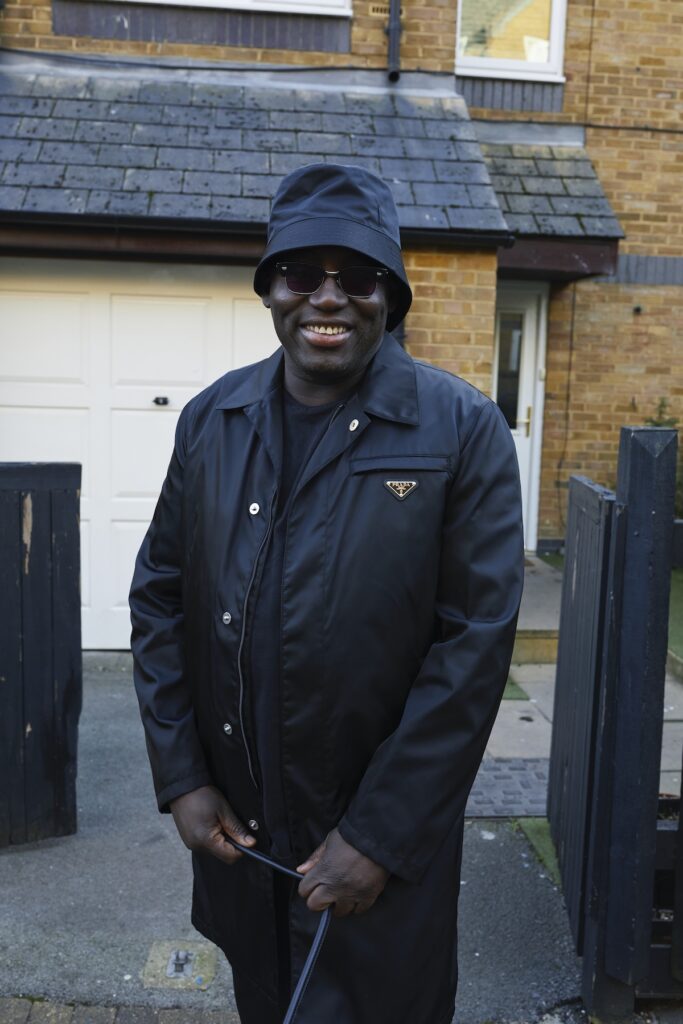 Bucket hat and coat PRADA
Glasses MOSCOTT
Shirt GAP
His first casting—for a Pepe Jeans campaign shot by British photographer Nick Knight—was where he met Kate Moss, beginning a lifelong friendship and far-reaching fashion career. Soon, he was assisting Foxton and i-D's Beth Summers on shoots. At 19, he was appointed the magazine's youngest ever Fashion Director—a position he held for 20 years.
It was the stuff any young creatives' dreams are made of: but a nightmare for many African parents. Accepting the role at i-D meant giving up an English Literature degree at Goldsmiths, University of London—a decision which upset his father so much, he didn't speak to him for close to 15 years.
"They didn't know what the media was," he explains. "They just knew that to get a better life in England, you needed a degree and that meant becoming a doctor or a lawyer. It's what they knew and what they wanted for us. Now, my dad is like, 'thank God you followed your path'."
That path is littered with rich and varied influences. His application to Goldsmiths was flippant—wanting to follow his friend, the now director Steve McQueen, who studied there. When Enninful left home at 17, he moved in with designer and punk iconoclast Judy Blame in Notting Hill, a decision he considers key to shaping his then-budding tastes.
He was inspired by "people like Kate Moss, Glen Luchford, David Sims; my generation of image makers. And it wasn't just fashion—we had Kurt Cobain, we had the Stone Roses, Jay Jopling with the White Cube: we were all kind of growing up together. It's what I call 'the Great Flat', which is kind of happening again—fashion, music and art are crossed over."
Cap VOGUE
Sunglasses MOSCOT
Coat BURBERRY
The nonchalance with which Enninful speaks of his illustrious network, feels less like name dropping and more like giving flowers to those who've shaped his career.
"I wouldn't be here today if I didn't have those mentors," he insists. "I wasn't just someone who just got up and did it: I learned about having a work ethic. I learned about how to create narratives, how to edit. External people who you respect can also shape your taste."
But the bedrock of his work is his background and upbringing. Diversity within fashion might feel like something of the moment, but it's been baked into the DNA of brand Enninful forever.
One of six children, Enninful was born in Ghana in the '70s, where he grew up on an army barracks. His father, Crosby, was a soldier in the UN Peace Corps army. His mother, Grace, worked as a professional seamstress, making clothes for her British-Ghanaian friends with fabrics picked up from Portobello and Brixton markets.
"Now in my later years, I realise how incredible she was," he says. "She had a great eye for texture, colour and shape. I think that's where I get that from. I remember growing up and seeing all her friends—incredible Ghanaian women—with the huge headscarves. I remember the nipped in waist, the peplum dresses, the layered sleeves."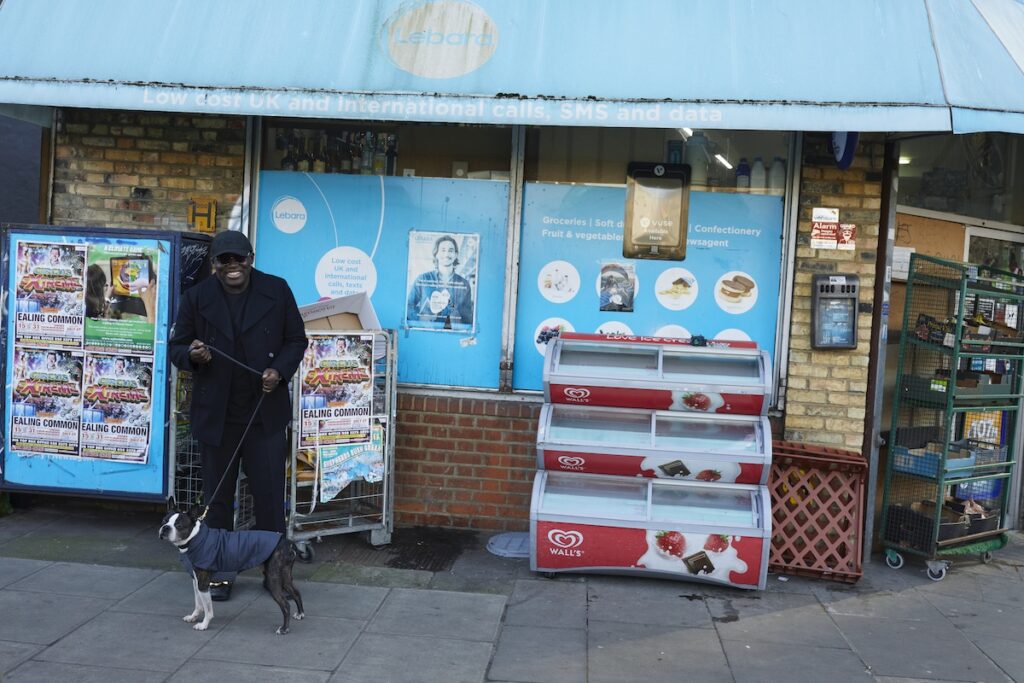 Edward: Cap VOGUE, sunglasses MOSCOT, T-Shirt GAP, coat NEIL BARRETT, trousers MR PORTER, shoes JW ANDERSON
Ru: Collar FENDI, coat MUNGO AND MAUD, lead RU'S OWN
His early i-D editorials weren't focused on designer clothes, and took a DIY approach instead. The first fashion story he worked on at the publication aged 17 was 'Pan Global', featuring models from across the world in one shoot wearing their national dress. After being made a contributing editor at Vogue Italia under Franca Sozzani, in 2008 he took the helm of the magazine to publish the 'Black Issue' in a bid to end fashion's 'white out', which famously featured only Black models. An extra 40,000 copies were published after its initial release, as it sold out in just 72 hours.
Back in 2011, long before body positivity went mainstream, he conducted a cover shoot for the magazine using only plus size models, something that he says felt instinctive as opposed to a statement.
"I grew up with a strong mother, aunts, cousins of all shapes and sizes," he explains. "For me, that's normal. When you see women of dierent sizes in a magazine, it's not because I'm marking a trend but because I know this is the world we live in."
Glasses CUTLER AND GROSS
Goggles SPEEDO
T-Shirt CALVIN KLEIN
As he puts it, Enninful simply shows what he knows. And in a similar way to how Rihanna ushered in a post-Fenty landscape that normalised diverse make up options, he has helped create a post-British Vogue landscape where minorities on fashion magazine covers aren't as rarified as they once were. Culture from marginalised communities often sat on the peripheries of what was deemed 'tasteful' for a long time, but he has shifted the lens from 'othering' onto an equal footing. Since his appointment in 2017, other fashion publications swiftly followed suit. To say he is a tastemaker is to grossly understate; he is a game changer.
Working as a model himself at the beginning of his career, Enninful disliked the objectification that came with the job, which now informs the way he works on British Vogue. "When I was a model, I was never secure in the way I looked," Enninful says. "So when I see models, especially young models, I can relate to them. I treat them how I would have liked to have been treated back then."
All this and more is why he is affectionately referred to as 'Uncle Enninful' by Black Twitter users, who posit him as something of a patriarch within the Black British cultural space. Via him, a generation has been welcomed to a publication and brand they previously didn't think was for them. His presence as one of the few high-profile Black men in fashion is crucial, feeling particularly pertinent during a time in which the industry is mourning the loss of both Virgil Abloh and André Leon Talley. Enninful cites the latter as a huge influence and Talley spoke equally as highly of him, commending him for speaking for ''those outside the privileged white world that Vogue originally stood for."
Of all the advancements made over the years, Black male inclusion in fashion is one area he specifically says must improve. "It's not enough to just pull in Black men in campaigns or the runway. We have to give jobs behind the scenes [in the fashion industry]. They can't just be the final image. We have to be backstage."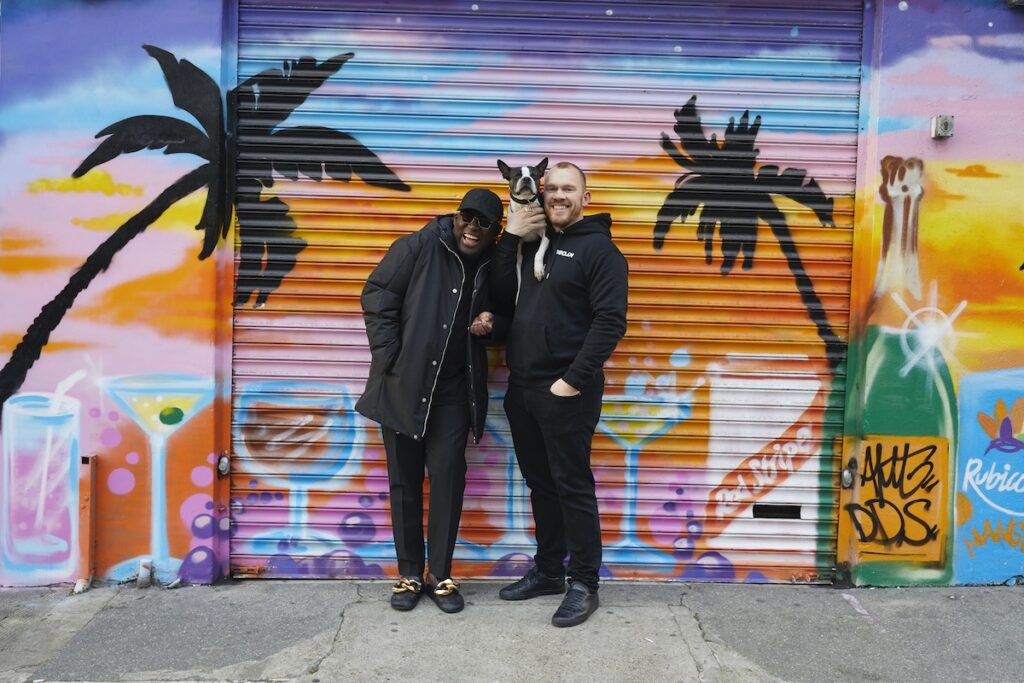 Edward: Cap VOGUE, T-shirt GAP, coat PRADA, trousers MR PORTER, shoes JW ANDERSON
Alec: Hoodie KLOSS, jeans CITIZENS OF HUMANITY, shoes GIVENCHY
Ru: Collar FENDI
As vocal as he is regarding the need for change, and central as he is to creating it, Enninful stresses he isn't an activist. For him, the priority is to normalise what is already normal—and celebrate what should have been long ago. During Alexandra Shulman's 25 year tenure, only twelve out of 306 British Vogue covers featured Black women, and she headed up an almost entirely white workforce. Under Enninful, the editorial team is 25% people of colour. A consistent goal of his has been to prove that diversity is marketable within the luxury space, something he's done time and time again. As with the mania caused by the 'Black Issue' all those years ago, the same anticipation followed his first British Vogue cover, Adwoa
Aboah shot by Steven Meisel. People queued from three a.m. in Hanover Square waiting for Enninful to autograph his inaugural December issue.
He started at British Vogue as he meant to go on; Halima Aden became the first hijab-wearing model to cover it in 2018 and Dame Judy Dench, the oldest person on its front at 85 in 2020. The same year, female front-line workers—a midwife, a train driver and a supermarket cashier—fronted the July issue in the wake of the pandemic.
"I don't have the fear that most people have," he says of his ground-breaking editorials. "I've always been taught to question; my favourite word is why. If you're not allowed to do this, I'll say why? Why can't you?"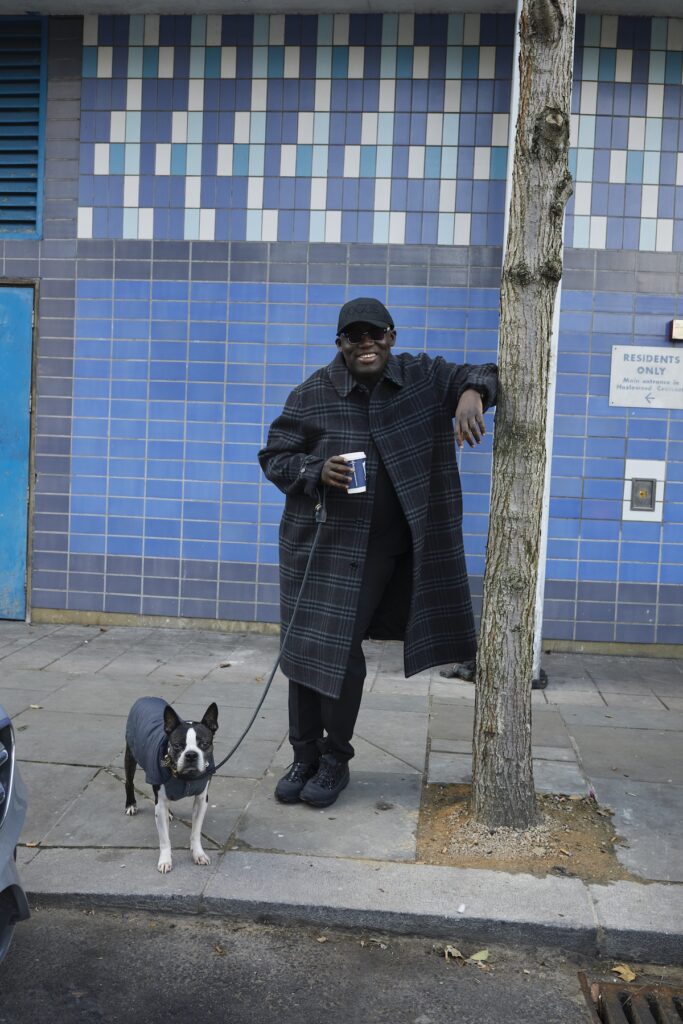 Edward: Cap VOGUE, sunglasses MOSCOT, T-Shirt GAP, coat NEIL BARRETT, trousers MR PORTER, shoes JW ANDERSON
Ru: Collar FENDI, coat MUNGO AND MAUD, lead RU'S OWN
This fearless approach gets results. On her departure, Shulman wrote an article for the Business of Fashion in which she denounced editors who were "less magazine journalists and more celebrities or fashion personalities with substantial social media followings." Critics suggested Enninful was a fashion 'outsider', despite having one of the longest CV's within the industry. Rather than remind them of his credentials, he let the work do the talking; in his first two years, British Vogue's circulation increased by 1.1% and signed 140 new advertisers. Its digital traffic increased by 51%. In a time where print magazines remain in perpetual decline, its continued rise is unprecedented.
But no one should have been surprised; his track record already proved him to be the man for the job. In 2011, he left i-D to begin work at W magazine which was struggling post-recession. Within his first year, ad revenue went up by 16.7%: the biggest year over gain for any fashion publication of that year.
It goes without saying that risk taking can be divisive. There was criticism of the recent Rafael Pavarotti January cover for example, featuring nine first-generation models of African origin for the first time. Some accused the image of fetishism, but it quickly became one of the most liked covers ever on Instagram. An editorial of Kate Moss depicted as the Virgin Mary for W also caused outrage in 2012. Enninful tries not to overthink it, accepting that it comes with the territory of boundary pushing.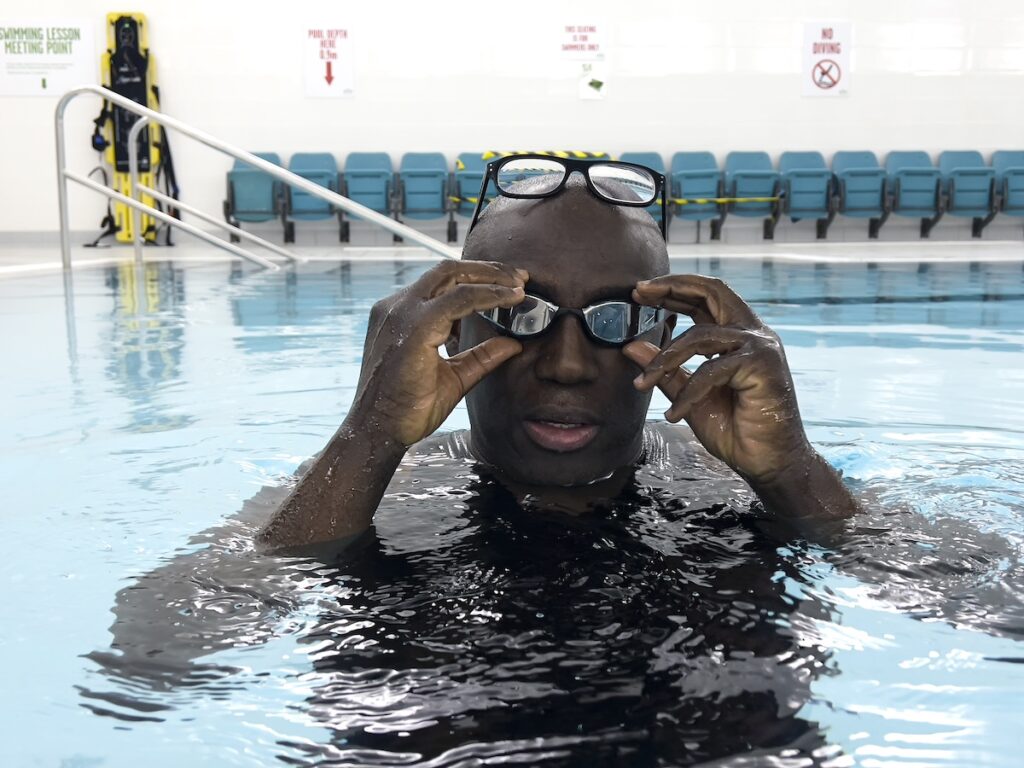 Glasses CUTLER AND GROSS
Goggles SPEEDO
T-Shirt CALVIN KLEIN
"Once the image is out there, it creates what it creates," he says. "But it's about living in the moment. I believe that artists should reflect the times they live in, so I'm always trying to reflect the world."
Enninful praises young photographers reflecting their visions of the world too—like Pavarotti, Tyler Mitchell, Campbell Addy and Nadine Ijewere. He names writers like Isabel Wilkerson, Maya Angelou, Alice Walker, Reni Eddo Lodge, Afua Hirsch and very kindly, myself.
This is, for him, what it always comes down to; what and who comes next. After years of declining the opportunity to write a book, he eventually did so during lockdown, an experience he called "cathartic". But even his memoir, A Visible Man, has service at its centre.
"The book is really for the next generation," he says. "Yes, it's about my life but I really want them to read a book and know if I can do it, they certainly can."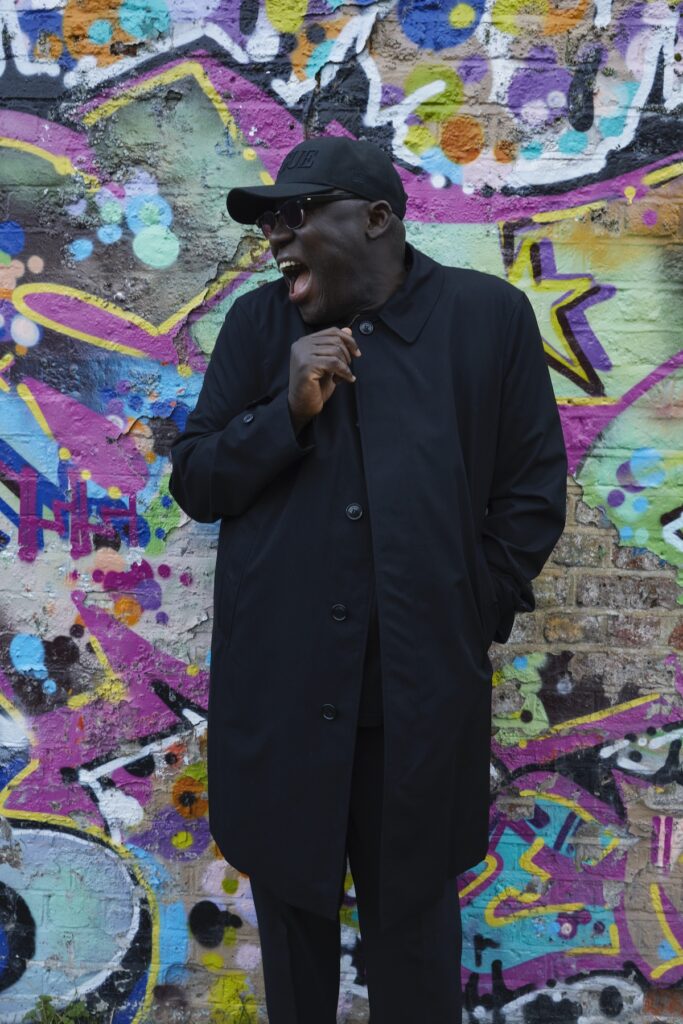 Cap VOGUE, sunglasses MOSCOT, T-Shirt GAP, coat NEIL BARRETT, trousers MR PORTER, shoes JW ANDERSON
Photography JUERGEN TELLER
Creative Partner DOVILE DRIZYTE
Talent EDWARD ENNINFUL
Styling SUSAN BENDER WHITFIELD at IONAAGENCY
Grooming MICHAEL GRAY at DAVID ARTISTS using GROWN ALCHEMIST
Photography Assistant TAREK CASSIM
Styling Assistant HOLLY BROOKES-SMITH
Post-production CATALIN PLESA at QUICKFIXRETOUCH