The year is 1991. Prince is doused in Diamonds and Pearls, Madonna is infatuated with Alphabet City's Ballroom scene, and an entire generation wants to smell like Teen Spirit. The connection and "contamination" of different cultures is inspiring a new kind of style that's defined by ideas and exchange. And in Soho, New York, Armani is embracing the duality of Italian and American outlooks: and Armani Exchange is born.
Conceived to "bring the 'Armani Dream' to the people", Exchange aimed to democratise fashion by producing stripped back styles and basics that everyone could wear. Its messaging was uncomplicated, clipped, and direct, but injected with irony. Plain, colour-block t-shirts were captured among apples and oranges for the brand's 1992 basics campaign—positioning it as essential and affordable. 1993 brought "Armani Unbuttoned", championing casual, oversized and gender neutral style.
During the three decades since its inception, Armani Exchange has aged, but its messaging has only become more pertinent with time. In an age of social media, the cross-cultural exchange that gives the brand its namesake is as powerful—and possible—as ever. Its "We, the people" campaign stood for unity and diversity. "Being me" spoke of self-confidence and living ones truth. "I need you", "I want you", "I love you" drew on the innate human desires that connect us all. Often in fashion marketing, ideas age badly, but Armani Exchange's stand the test of time. And in 2021, 30 years after the brand's genesis in Manhattan's Lower East Side, its historic ideals resonate globally.
This autumn, they're being reflected on and revamped as part of Armani Exchange's 30th anniversary collection—to celebrate the values that birthed it, and bring the energy of the past into the present. The nut and bolt from the brand's first campaign (which appeared with the tagline "Armani. Store. Clothing. Basics. Period.") becomes the motif on a long-sleeve. Most of the collection is gender-non-specific, and is designed with basic functionality in mind.
A lot's happened since 1991, and Armani Exchange is adapting, but to borrow the brand's messaging:

EVERYTHING HAS CHANGED, YET IT STILL REMAINS THE SAME—BECAUSE WHAT COUNTS IS ITS SPIRIT.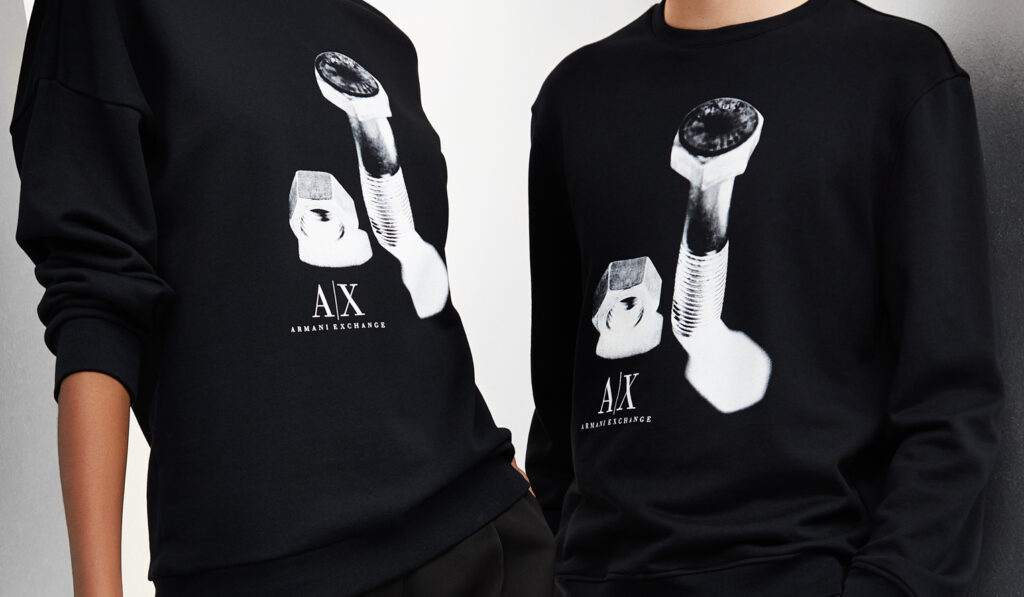 The Armani Exchange 30th anniversary collection is available now.
Paid partnership with Armani Exchange.
Photo: Michel Comte (1995)