For Kylie Jenner it was 2016, but for the rest of us, 2020 has been a year of realising things. Never before in recent memory has there been such a momentous year for change—a year that has shaken us out of indifference and into action. Despite its emotional toll, this transitional period has had a positive catalytic effect, bringing us together—united in hope for a better future. This vision aspires to a world where equality, sustainability and accountability are upheld to the highest of standards. Change, although sometimes frightening, can therefore be a force for good.
"So many things within life and the universe are out of our control," says Moroccan-German model and multihyphenate Sarah Feingold. "If we're open to change, we can lose control and not be lost." Feingold is a creative who embraces such reinvention—and is no stranger to the power of change. The multifaceted talent embraces the empowering potential of make-up and fashion both on a personal and more profound level, be it in her beauty regime or via her magazine NBGA. An acronym of No Basic Girls Allowed, Feingold's platform pushes people and stories that are often overlooked and underrepresented in mainstream fashion, paving the way for change in the industry. In light of Zalando's AW20 collection and interactive campaign, which harnesses the  transformative power of this pivotal year by asking fans to share their stories of change, Patricia Khan lenses Feingold morphing between this season's looks, as she shares her thoughts on rebirth and reinvention.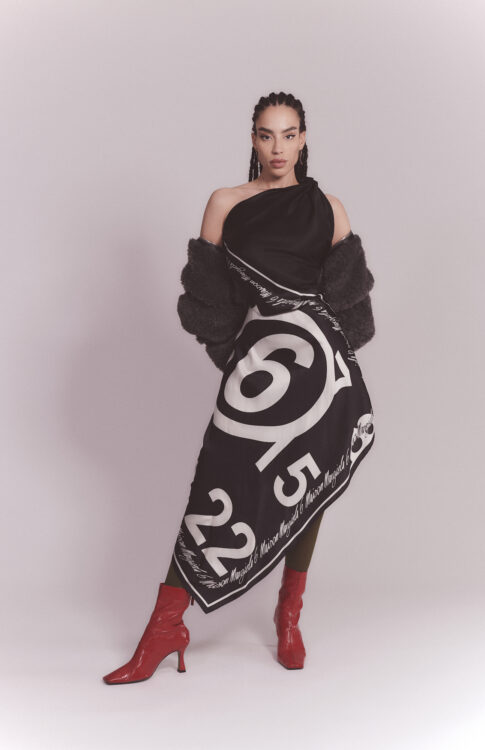 Why is it so important for you to be open to change?
It feels really good to let go. When things happen in our lives that we wish wouldn't happen, or when things stress us out, confuse us, or make us feel rejected and unsure, we can find ourselves putting so much mental energy into trying to find all of the answers—the closure. But it's a waiting game that gets in the way of our presence in the moment. It might be optimistic to think so, but I've always felt like some things are meant to inspire questions within us, not answers. Answers sometimes come way later on. But being at peace with not knowing is what life is all about. So, change is good. It's fresh. It inspires us to take another look at who we are, how we feel, how we're engaging with the world.
View this post on Instagram
What kind of change do you aspire to affect with NBGA?
I would love to see a boost in the creative and personal confidence of every woman and human being that comes across our page. NBGA is a digital magazine by women, for women. We try to uphold that standard in what we put out by creating a virtual space where women and their creative work is highlighted, front and centre. We really work behind-the-scenes as well to create a space where every voice is heard and taken into consideration just like we try to boost underground and independent work on our site. Eventually, I would love NBGA to act as a database that can link creatives together for projects. I feel like the creative spark is something that brings so many people joy in life, myself included, same with our writers, photographers, artists, designers, dancers. We're all connected through that same spark and I want NBGA to revive that spark in anyone who might've forgotten about it.
How do you embrace change in your day to day life?
I love welcoming change into my life! I've always found that it takes more of my energy to fight against whatever it is that the universe wants to be happening. In general, I love switching up my style, my makeup, my scents. I try new things all the time. Even in my job my tasks are changing everyday—projects happen suddenly or fall through, there are sudden delays, ups and downs, but I think every creative knows that this is part of the process. It either gives you an extra moment to reflect or it forces you to be spontaneous and charge forward. I love it. I definitely embrace change.
To be part of this self-reflection and growth, and to share you stories of change, visit Zalando on Instagram and TikTok.  Selected stories will be portrayed as short films directed by Cannes Lion winner Sara Dunlop and acted out by the cast of Sex Education.