Looking for a condom on a porn site is like looking for a needle in a haystack. Of the 141 dicks featured on the homepage of BiLatinMen.com, only one is wearing protection—and in and of itself that's not unusual. "It's pretty standard," affirms Cologne-based Afro-Latin artist Will Fredo, "but when the company doesn't screen you for sexually transmitted diseases, or offer PrEP [an HIV prevention drug], it's exploitation." 
The conversation surrounding the ethics of porn is not a new one, but its one that's reframed in Fredo's latest exhibition—a byproduct of the booming sex industry in Colombia's Medellín. Sexual Healers TV, opening at Mouches Volantes this Friday, consists of a 4-part video series, which uses porn as a vessel through which to examine the dissemination of images, body politics, and the exploitative power dynamics that pervade across all aspects of the creative industries. "I wanted to use the sex industry as a way to comment on the structures that govern other systems too," Fredo explains. And there's perhaps no better example of how rights are abused and workers violated than the sex industry in Medellín.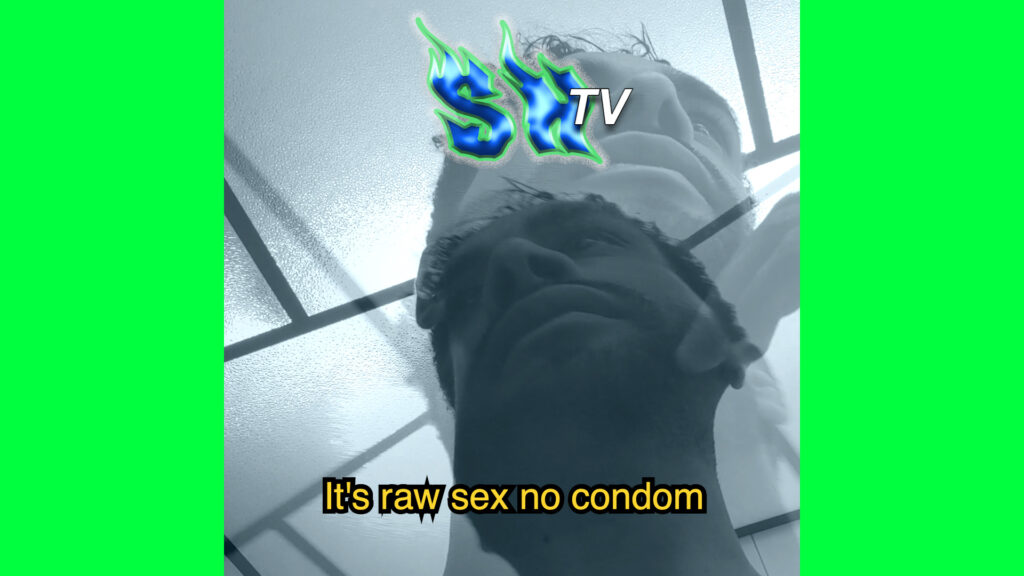 While it may not be the country's capital, Colombia's second biggest city is the porn capital of Latin America and the biggest producer of cam sex in the world. Its sex industry is one of the few that's been able to proceed despite lockdown, which is where Fredo's project began earlier this year. Through Grindr, the artist was approached to star in an adult film for BiLatinMen.com.
Genuinely interested in partaking, Fredo went to an initial interview—which he recorded undercover—but quickly realised the working environment meant handing over rights he was not willing to forgo. "It was really bad," he explains. "I know that's easy to say because I don't need this job to pay my rent—there are people who have to do it and I respect that. But it's not about that. I don't think that just because I don't need to do this job I can't criticise it." 
As is the case with most adult websites, BiLatinMen.com doesn't require much deciphering—it delivers what it says on the tin. On entering, visitors are met with a grid-full of graphic images and the promise of "Nude Latin Men – Updated 5x A Week." "If you love Mexican cock, you will love these hung hispanic men," its bio attests. But what isn't communicated clearly, is the fact that BiLatinMen.com is a product of West Hollywood—shot in Colombia. "There are hella Latin men in LA," Fredo explains, "but they come to Colombia because there are no regulations."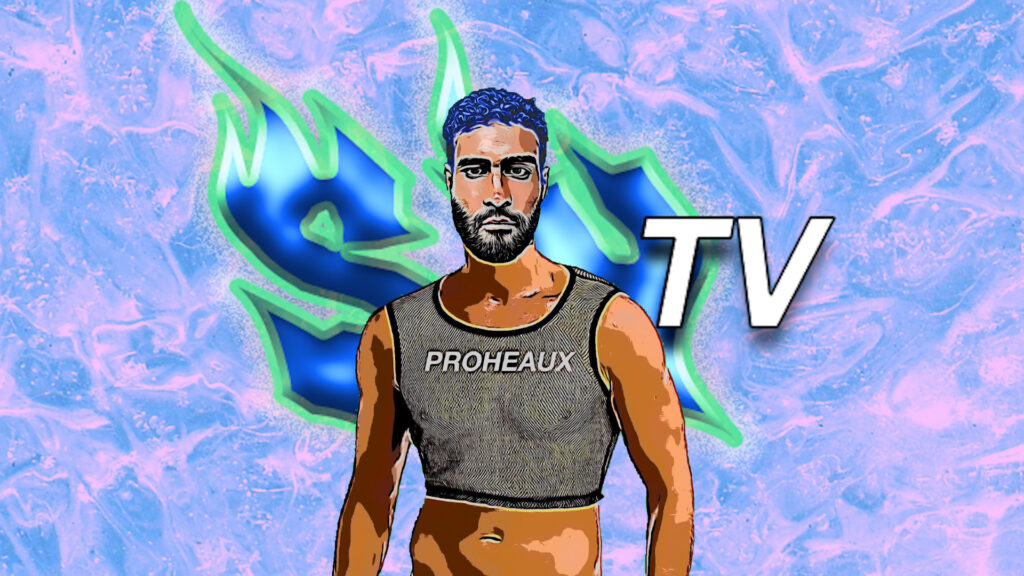 Though porn gigs in Colombia can be fairly well paid—BiLatinMen.com offers 600,000 pesos (the equivalent of 156 US dollars) for a film, which is almost half the average Colombians' monthly salary—it's still a fraction of what would have to be offered in LA. Looking at the wider picture, and contextualising the numbers, Fredo's work considers how the camera is used to uphold such power dynamics. "If you think about the colonial history of this device," he says, "when people came to take pictures of the 'savages' because they weren't as 'sophisticated' as the people where they come from—these narratives just repeat themselves."
Told through Fredo's own experience, as well as that of moonlighting OnlyFans star and porn performer, law attorney Leo—and Erik, with whom the artist stars in an adult film, the exhibition raises questions about sex workers rights, and considers the role of camera in (de)colonising, and democratising sexuality. It turns one of the main arguments in favour of sex work on its head—the notion of empowerment, of owning your own sexuality, owning your own body—by confronting the parameters of ownership that control the industry. "You don't get to own the rights to your image," he explains. "Nor do you get royalties—and that's standard in so many industries, not just sex work. It's really important to talk about these topics because you are talking about people's rights." The same occurs in art and fashion everyday. Photographer David Paul Larson, for example, recently hit headlines for his decision to publish a model's nude image despite her explicit lack of consent. In such situations, the model has no legal ownership over her own naked body—the photographer possesses it, and can choose to circulate it wherever he pleases. Such situations are a reminder of why the language surrounding photography is of such an aggressive, animalistic nature—there's a reason we say subjects are "captured" and "shot."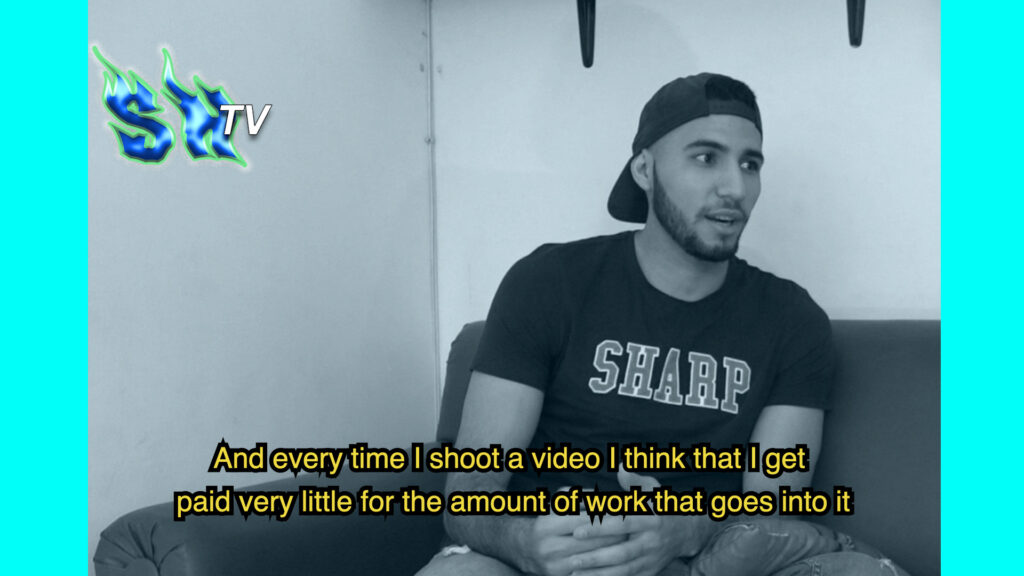 But the power play present in the porn industry is far more complex than those behind the camera vs. those in front—especially in somewhere like Colombia, where Blackness is still marginalised and race relations are fraught. The phrase mi negra, for example, is still used as a term of endearment by men towards 'their' woman, and "evoke[s] a history of sexualised racial domination in which black (and indigenous) women were relatively accessible to whiter, higher-status men".) "I was always very aware of the power dynamics," Fredo explains. "As an Afro-Latin person coming from Europe, I was able to navigate those situations in a different way because of my privileges. That's also something I want to engage with."
Ultimately, Sexual Healers TV is a commentary on the global and systemic exploitation of marginalised bodies, and the structures that uphold white power at an institutional level. "A lot of great critique that has been offered on capitalism and representation in fashion and culture has come from Black trans activists who have also been sex workers," Fredo explains. "That's not a coincidence. I think that anyone who goes through this experience really starts to see the world in a new way." 
Sexual Healers TV is on show at Mouches Volantes until 7 November. *As part of the artwork's concept there is a fee to watch this video installation, and 30% of the takings belong to the performer Erik.
Header image: CC via Flickr