On the surface, technology and creativity may seem as dichotomous as black and white or true and false—but they can ultimately be viewed as two sides of the same coin, says Patrick Mason: "Fictional or imaginary concepts need to be planned, put into visuals and onto paper, so they can resonate amongst our peers and then be picked up by someone who has the scientific mind to make it happen." And he should know: The Berlin-based creative just teamed up with Ray-Ban Studios to collaborate on the brand's very first custom-made product—a handmade reinvention of the Ray-Ban State Street model, linking precisely these opposites.
His frames merge forward-thinking technology with an impressive sense of imagination. Mason incorporated UV-sensitive, mirrored lenses that darken when exposed to ultraviolet rays as well as an easily detachable chain that connects via magnets featured on each side of the frame.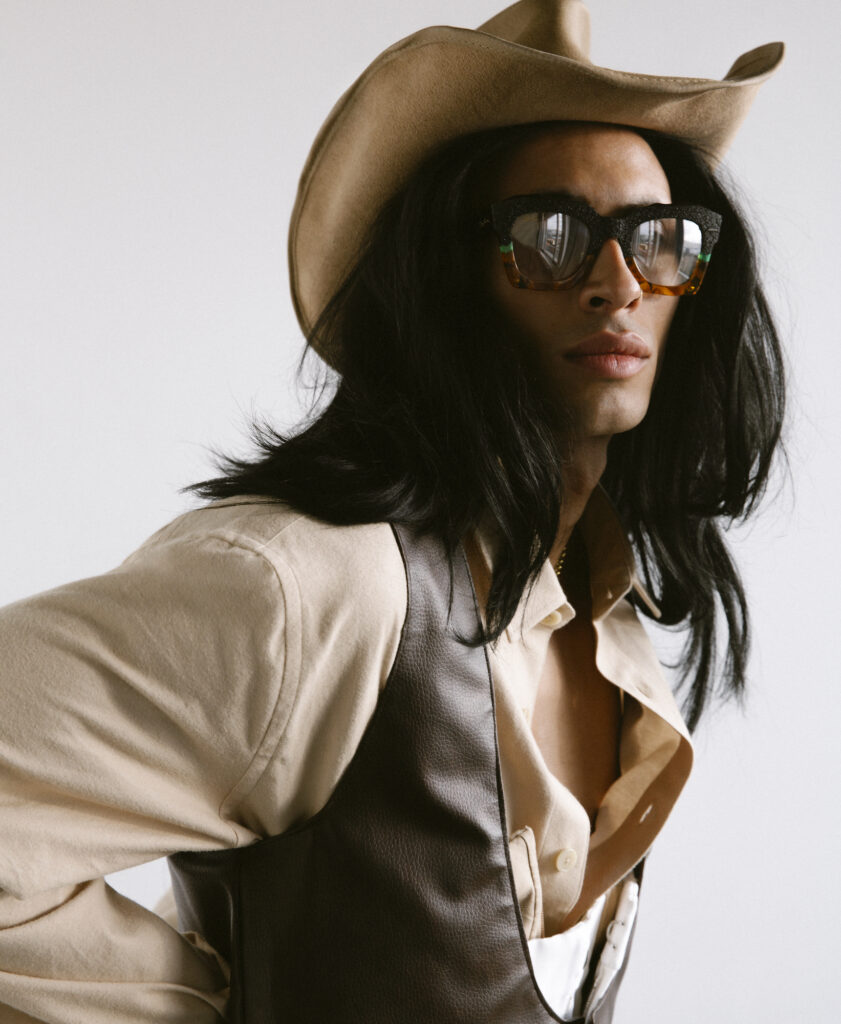 On the creative side, the notion of 'oblivion' became the main inspiration for Patrick Mason x Ray-Ban Studios, he says: "It's basically the absence of everything. A very contained space where nothing really happens, when you feel abandoned." This first resonated with him when he was a teenager attempting to navigate personal trauma. He soon began to channel his feelings of oblivion into creativity and began drawing and painting.
As Ray-Ban Studios brings his vision to life, Mason's design is vivid and deliberate. The black surface on the upper half of the frame represents obsidian stone, which is said to have been used by Mayan kings as a means to speak with their ancestors, while the bottom half of the frame symbolises amber, a substance that can perfectly preserve aspects of life for millions of years. Regarding the relationship between these notions, he explains that "obsidian stone reaches back to the past, and amber contains the future." The fluorescent yellow element links the two ideas physically and metaphorically to represent "the transition between the past and the future —the present."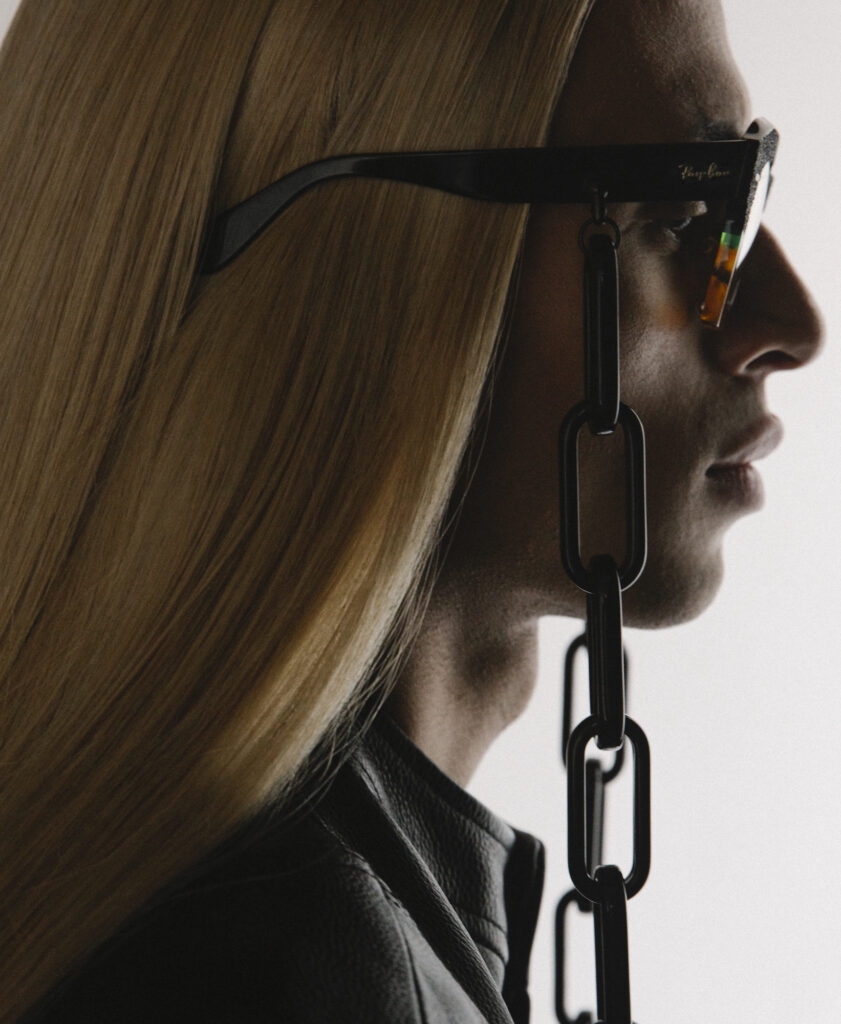 Mason isn't the only creative to collaborate with the brand and its music-dedicated platform Ray-Ban Studios. As the eyewear label moves to reconnect more deeply with the music scene, they have previously invited DJs and producers such as Honey Dijon and Peggy Gou to collaborate. The latest cooperation is an evolution of the platform and takes the project to a new level.
With roots in visual art, fashion design, and creative direction, music is only a recent expansion of Mason's career. After meeting Radio Slave at Panorama Bar in 2018, the unlikely pair hit it off and consequently teamed up as the techno duo SRVD, releasing their first EP Elevate shortly thereafter. He notes that taking this initiative creates a new and necessary approach to design: "To have a scientific breakthrough, there needs to be a visionary concept of fiction to get where we want to go. One cannot exist without the other."
*THE PATRICK MASON x RAY-BAN STUDIOS MODEL IS LIMITED TO 100 PIECES AND WILL BE AVAILABLE AT DOVER STREET MARKET, RAY-BAN.COM AND SELECTED RAY-BAN FLAGSHIP STORES FROM 26TH OCTOBER 2020. 
Photography YANNICK SCHUETTE
Styling RACHAEL RODGERS
Talent PATRICK MASON
Grooming SUSANNA JONAS
Production PIA AHLERT
Styling Assistant CHIARA POZZOLI
Header image: Hat SOJI SOLARIN, suit and vest NINAMOUNAH, sunglasses PATRICK MASON X RAY-BAN STUDIOS, necklace and rings TALENT'S OWN