When Paolina Russo graduated six months ago, she'd already made a name for herself. During her seven years studying at London's CSM (foundation, Bachelors and Masters) the Canadian designer interned with Galliano, collaborated with adidas, showed at Paris Fashion Week, won numerous awards, and had her second collection scooped up (exclusively) by SSENSE. Since then, and with her list of accolades only getting longer, it's clear that Russo is doing more than simply going through the motions—she's making her mark on the industry, and building a brand to watch.
Inspired by sport, skate parks and suburbia, Russo's design aesthetic is not one you could describe as minimal. Though her upcycled structural-wear is resourceful and low-waste, two things her designs don't skimp on are colour and eccentricity—fusing a pastiche of prints, fabrics and cuts into each of her "neo-sporty silhouettes". Chunky cardigans are cropped at the collarbone, asymmetric sleeves are ruched and reworked, and layers are fundamental.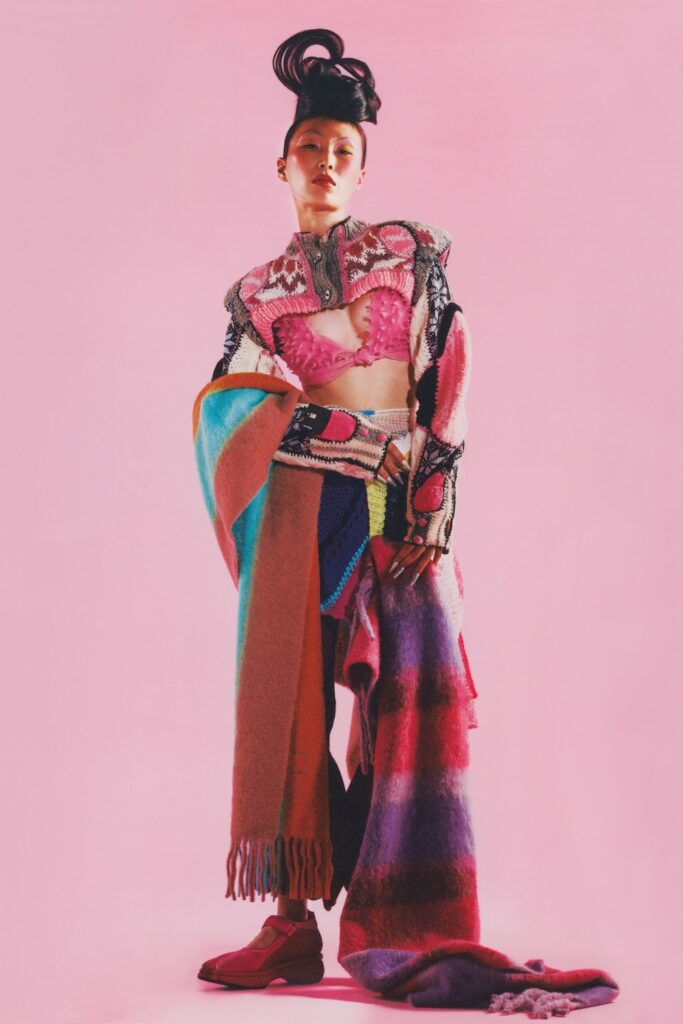 Russo's latest offering is a capsule conceived to facilitate contactless shopping in collaboration with Klarna. The result is a six-piece-strong collection consisting of unique bolero-glove hybrids, with integrated pockets in which to keep the new Klarna card. "It has been an interesting process trying to merge ideas of technology with fashion, to give new function to a garment," says Russo. "We brainstormed a lot of ways the card can be integrated into a garment so that it could be carried with the wearer anywhere no matter the occasion." 
Though the word "sustainability" is one that's thrown around a lot, it's an issue that threads together each one of Russo's collections, and this one's no exception. Ranging from business to casual, ballroom to street, Russo's pieces are all upcycled. Old beach towels become boleros and suits become sleeves. "I think it's important to put a focus on quality pieces that will last a long time in your wardrobe," says the 24-year-old, explaining her commitment to creating garments that stand the test of time. For Russo, the future of fashion foregrounds a conscious approach to consumption, and that's something that's echoed in her own approach to production. "I think the fashion industry should produce smaller collections," she affirms. "I think we produce more than people can consume."
 Register for your chance to win one of the six Paolina Russo sleeves between 20t​h​ October and 13t​h​ November.