When Nadia Tehran recorded the video for High back in January, she had no idea how much more pertinent its message would become. Weaving her own journey of emotional healing with the cultural trauma of the Iran-Iraq war that displaced her Persian parents, the entire album is an irrevocably personal endeavour—but in the ashes of autumn 2020, it hits differently.
Listening to the track and experiencing the video, it's hard to believe Tehran wrote High at the age of 13. It's testament to her patience, talent and also her trust that a song originally written about falling in love at a music festival has evolved into an emotive exploration of trauma, police violence and the failure of the systems put in place to protect us. Directed by Marco Stoltze, the music video/ short film hybrid explores ways of dealing with personal and collective trauma. "It's an attempt to heal," Tehran explains, "but also a way to explore the theme of community—and how we constantly feel like we're being interrupted, restricted and contained by systematic oppression."
Released as part of Dozakh: All Lovers Hell last year, High is just one of the several more tender tracks on the self-reflective record, over a decade in the making. "It was part of me growing up and becoming friends with this vulnerable side of myself," Tehran reflects. Tracks like High reveal a softer edge, a distinct departure from the aggressive punk persona she'd crafted for herself during her teen years on stage. "It was about growing stronger," she admits, "in my activism as well. When it comes to politics, there's this idea that you need to show a hard surface, otherwise you will get torn down. As a Brown woman you don't really have the privilege of showing emotions, you have to always be this strong character. This album was me maturing, but also getting stronger—strong enough to show my vulnerability."
But as much as it gave Tehran a facade to hide behind, punk music was also the turning point that allowed her to embrace a part of herself she'd once kept hidden. Growing up in rural Sweden, Tehran's only access to her Persian heritage was at home with her Iranian parents, and outside of that space, it was a point of embarrassment. Instead, she found herself assimilating. "I was the only Brown kid in my class," she remembers. "And there was a long part of my life where I didn't want to acknowledge other immigrants. When you're too young to understand what racism is, you just internalise it. Growing up as a minority, you believe that there's something wrong with you, and that there's something wrong with all immigrants." 
Discovering punk allowed her to reframe this engrained self-hatred. "That was the turning point for me," she says. "It opened up my eyes to a resistance movement—it was like 'fuck society, fuck your teachers, fuck your parents. No masters, no Gods', and I found a place and a liberty in being in that environment. That was the first time I felt empowered by being Brown. Even though I was the only Brown person in the room, it was the first time I felt like I could use it to my advantage. I created this sanctuary for myself where I could say and do whatever I wanted, and I could also start creating this music that I had always dreamed of making."
In the process of creating Dozakh, Tehran did a full 180, coming to explore and express her Persianness through her art. The album's title is a word found in Persian poetry, meaning "hell"—or rather the kind of emotional hell that comes from being far away from a loved one, and its contents—from her father's recollection of the Iran-Iraq conflict that opens the album, to the xenophobic slurs she confronts on Jet—is the product of Tehran's journey of cultural and self-growth. "This work has connected me to people who have the same cultural references," she explains. "So that part of me is growing every day."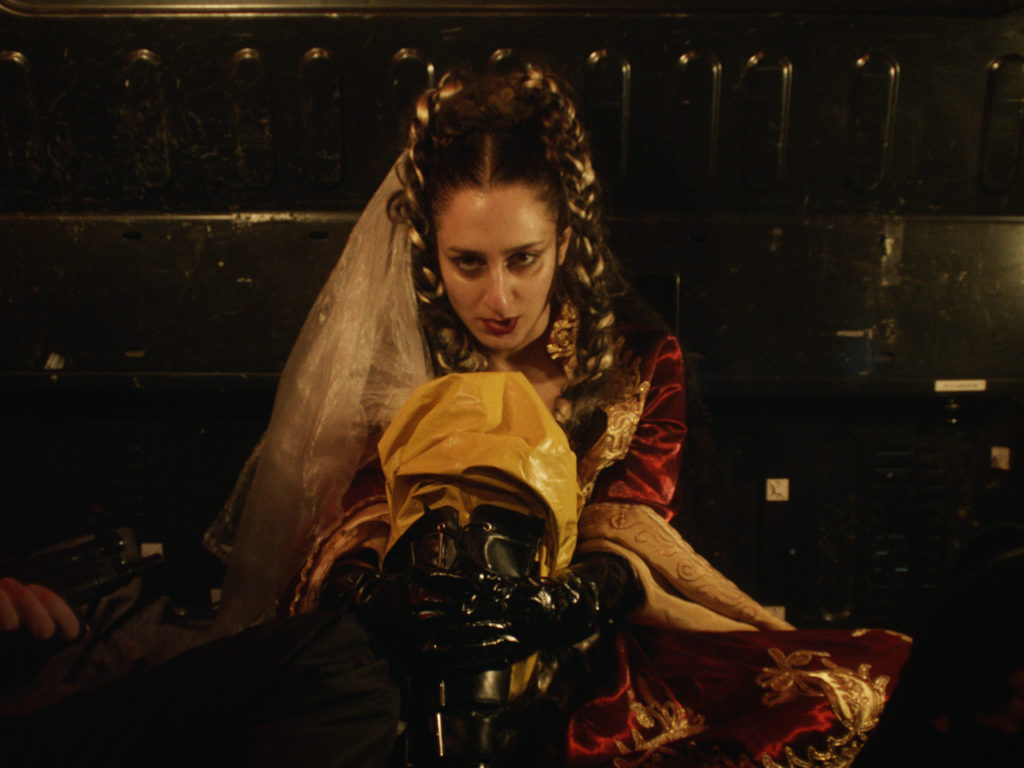 Since putting the album out into the world—to tremendous acclaim—Tehran has left Stockholm to start afresh in Denmark. "Releasing the record was also a kind of internal release for me—I felt like I had processed everything, and I could finally let go of my past." Continuing on her journey of personal and political development, Tehran has since found her tribe among Copenhagen's creative activists—including the various artists who have worked with her on the visual body of work that accompanies Dozakh's new expanded edition, released this week.
"I feel like the resistance here is stronger," she says, "and it's more joyful. It's more confident than what I experienced in Sweden, and it's much more of a communal attitude. There may be a higher roof for racists to speak louder, but that also means the resistance movement has more room."
Amid the now-stereotypical setbacks of the pandemic—shows postponed, tours cancelled—Tehran has focussed this year primarily on her art and activism. High is just one of the visual reinterpretations of the album (there are more coming) and putting full creative trust in artists with different world views has allowed the artist to reflect on her own work through the eyes of others'. "It's scary putting very personal work out there—with your name and your face and your body and your voice, your thoughts and your family history," she admits, "but it's not mine anymore, it's everybody else's. It's becoming its own kind of organism, and I'm just becoming friends with it." 
Dozakh: All Lovers Hell (Expanded) is out now.