Loubna Messaoudi is a woman on a mission. Amidst a global pandemic and political unrest, she's spent the best part of 2020 trying to open up an IRL social space—all while social distancing. Her baby is BIWOC* Rising—the first intersectional work and social club in Germany, pushing back against the homogenous co-working culture that's rapidly infiltrating, and gentrifying, Berlin's once affordable neighbourhoods. 
Though the concept of co-working is an almost utopian idyll—offering flexible hours, community-building, open space and diminished hierarchy—its reality can be very different, and Messaoudi has experienced first-hand the ways it tends to sideline and displace marginalised communities. "Most are designed for heterosexual white middle class cis-men," she explains, "and the women-only spaces often exclude WoC, Trans and non-binary people of colour and people with disabilities and low income."
With over 150 spaces, Berlin is the world's third biggest co-working capital after New York and London, but its model, unfortunately, isn't a very intersectional one. As a host of such spaces continue to crop up and encroach on the city's most covetable districts, Messaoudi's self-professed "empowerment project" acts as counterbalance, aiming to offer free, safe space and networking opportunities to Black and Indigenous women* and Women* of Colour (*inclusive of queer, trans, non-binary and disabled women).
But the project hasn't been without its struggles, and the shrinking number of offices for nonprofits, as well as the financial and social setbacks of COVID-19 have meant relying heavily on fundraising to get things off the ground. As BIWOC* Rising takes temporary residence at Wedding's aequa, and works towards opening its doors in Neukölln in January 2021, Messaoudi and her right-hand woman—activist and writer Thị Minh Huyền Nguyễn—speak to INDIE about the importance of fostering community and fighting gentrification.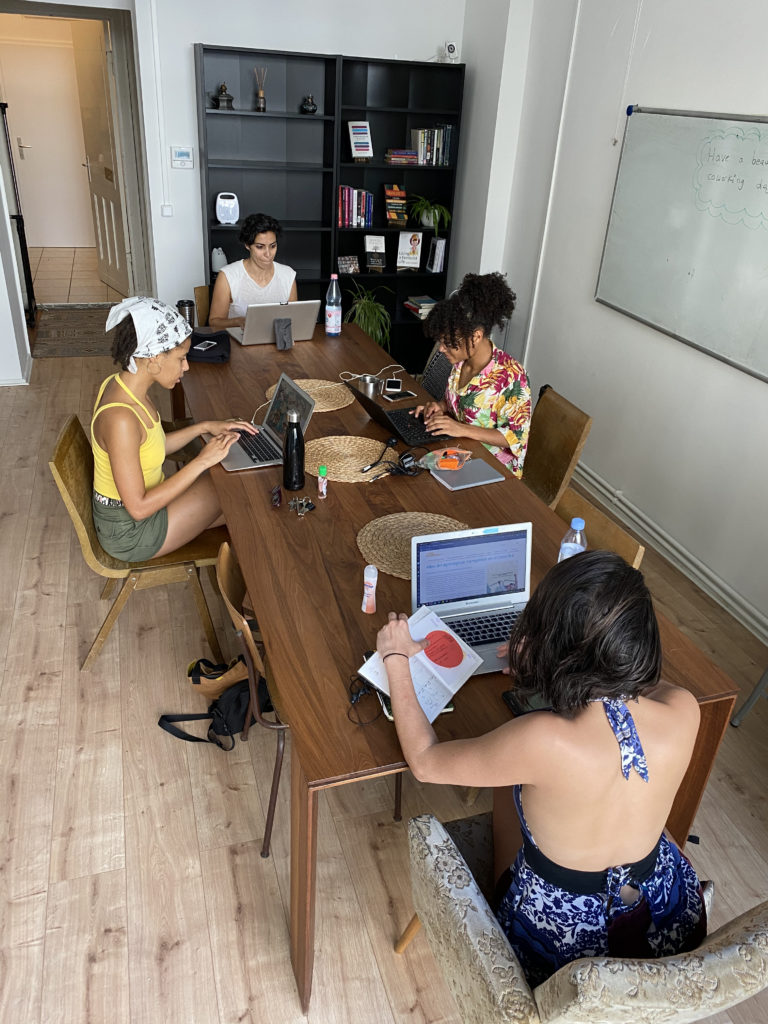 You were both born in West Germany—what brought you to Berlin?
LOUBNA MESSAOUDI: I was drawn to Berlin in 2006 because of its alternative and political active scene. Berlin was, maybe still is, the oasis of Germany. At that time, it represented a place that is also on a journey and not stuck in a routine.
THI MINH HUYEN NGUYEN: Growing up Vietnamese in South West Germany, I wanted to leave and expand my horizons from a young age. I studied, worked and lived in the US for a total of five years, and once I made the decision to come back to Europe, it only made sense to move to Berlin.
How was that transition? 
LM: It wasn't easy. For the first time I realised that despite my degrees and experiences, doors weren't opening for me. It took me a while to get a foothold career wise and to get used to the harsh tone of Berliners. It took me some time to figure out and to admit to myself that systematic and structural racism and sexism would be the biggest obstacles to overcome. 
HN: Coming from New York, it took me a solid year to slowly open myself up to life in Berlin. I don't want to idealise life over there, but there are definitely more Black and Brown people who have already built communities and structures that are more supportive. Here in Germany, we still struggle with speaking about racism, sexism, transphobia and the intersections of it all openly and in the media.
Loubna, you quit your job because of racism in the workplace…
LM: Yes. Racism at workplaces was not a new experience for me—most of the time I was the only woman of colour in a team—but this came as a surprise because it was an NGO that was apparently fighting racist structures. They were aware of what they were doing and saying and still were not able to self-reflect. I knew then that anti-racism work can only be led by people who experience racism. 
How did that experience pave the way for BIWOC* Rising?
LM: After that, I was looking for a discrimination-free workplace that would allow me to be myself while connecting to people with similar experiences. I realised there was no such place in Berlin. After doing a survey, I found out the demand for a safe co-working space in Berlin was high. Within a few months we were a network of 60 women* and we've since doubled the number.
HN:  I met Loubna at a BIPOC* event last year, and it was trust and respect at first sight. My parents have ingrained a self-starter mentality in me, and this Vietnamese resilience and my experiences with the communities in New York really shaped me. I'm all about creating your own spaces and teams and so when Loubna told me about BIWOC* Rising, I wanted to get involved!
View this post on Instagram
Why do you think the city is still lacking truly intersectional safe spaces?
LM: Intersectionality and the awareness of it is new in Germany. None of Berlin's co-working spaces are officially or intentionally excluding people, but they simply can't meet the needs of people whom they don't get in touch with. There's one space for PoC, but it's not exclusive and not specifically for women*. There are two for women* only, but they only offer a space free of sexism—not all the other isms. There's a space for the LGBTQ community only, but it's very white and cannot guarantee a space free of racism. If you're a Black, queer woman with a disability, which one should you pick? You can't separate those things—you struggle with sexism, racism, homophobia and ableism at the same time. That is what we are offering—a co-working space with an intersectional approach to include everyone on an eye-level. 
Classism and gentrification is also obviously a major factor. How has that affected your approach to creating BIWOC* Rising?
LM: An intersectional approach means not neglecting the aspects of classism. The gentrification in Berlin is pushing marginalised people out of the inner city. Kreuzberg and Neukölln were heavily influenced by migrants, international artists and activists and now they have had to give way to real estate investors. Expensive co-working spaces that don't include locals are just one part of this gentrification. Especially our community—single mothers, refugees and many more—are affected by this and need to move further away, where they lose their infrastructure and will have to face additional obstacles. Gentrification is neo-colonialism and by creating an affordable and hopefully free of charge workspace in Neukölln by 2021, we are making a statement and helping women* of colour with low income to stay in Neukölln.
HN: It's so important that we receive funding so we can open up this safe(r) space and make it free. There are so many systems and powers in place that work against Black women* and women* of colour, refugee women* on a daily basis, and this is one way to empower our community and help close the equity gap long term.
View this post on Instagram
How has the pandemic pushed the project back?
LM:  We had planned to open our space in summer, but grants fell through and we had to stop our fundraising campaign because our community had bigger issues to face and opening right after lockdown seemed irresponsible. Our community had to face not only financial setbacks but also emotional distress. There's been a rise in domestic violence, a rise in blunt racism on the streets, and many migrants and refugees have been separated from their families. Covid-19 measures didn't create anything new, they just brought inequalities more to light on a global scale. 
What's the best way for people to support, financial or otherwise?
LM: As a nonprofit, every donation is a big help. We've revived our fundraising campaign, and we're hoping that not only our community, but also allies will chip in to help out. Aside from that, promoting the campaign is just as important. And of course, like aequa, if other co-working spaces can offer us a room once a week until the end of the year, that would help us not only financially, but also give our community the chance to sit together and share and to process the experiences of the last months.
To donate to BIWOC* Rising and to find out more, head here.