As one of Germany's brightest breakout actresses, Lilith Stangenberg is set on conquering film and fashion on her own terms. Here, she models the new Chanel SS20 collection.
It's safe to say Lilith Stangenberg gravitates towards rebellious roles. In Wild, her first silver screen lead performance, she played a woman who falls in love with a wolf and ultimately runs away with the animal. The film debuted at the Sundance Film Festival in 2016 and made the German actress one of the country's most promising up-and-comers. Last year, she portrayed an unapologetically modern, feminist version of Frank Wedekind's Lulu at Berlin's renowned Volksbühne theatre. "I definitely developed a kind of longing for this extreme in recent years," the 31-year-old says. "I always look for some sort of dissolution of boundaries."
Stangenberg not only draws on this daring approach in her acting but equally when it comes to her sense of self, the native Berliner says, particularly in terms of fashion: "I want to withdraw myself from this question of what someone else might think and increasingly rely on myself and the feelings I might have about costumes." It's a fitting re-shifting of focus: Bringing characters to life has always been distinctly connected to clothing, yet it becomes increasingly important to truly consider every layer this fashioning of fiction entails, and to claim the power of putting on, or removing, clothing and its connotations.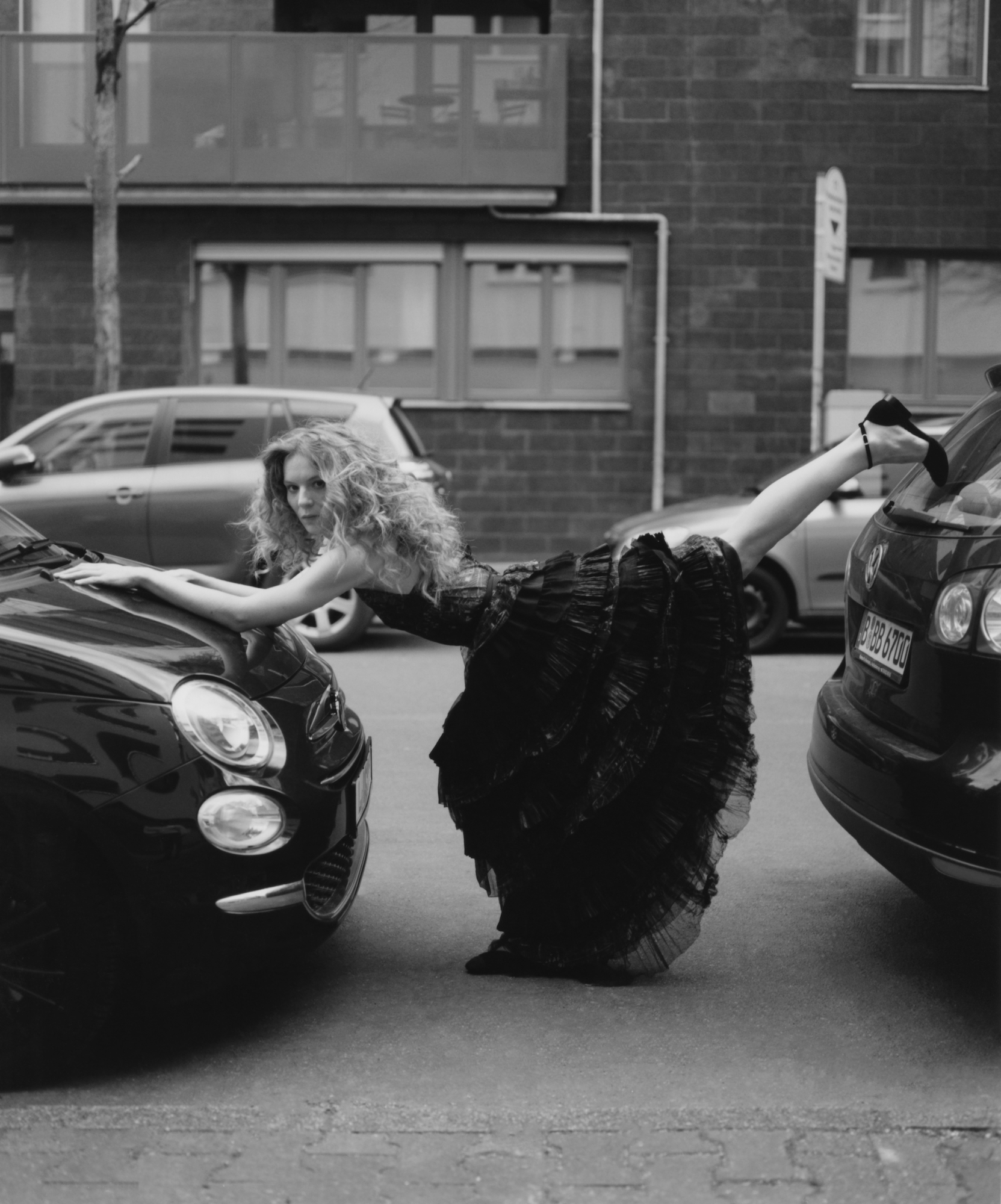 When it comes to conveying this independence on-screen, Marlene Dietrich and Charlotte Rampling have been especially formative role models for Stangenberg.
"I always look for some sort of dissolution of boundaries."
"They're always incredibly attractive and sensual but never simply the creature of a male fantasy. They seem to go beyond that."
This sentiment also couldn't be more fitting for Chanel's SS20 collection, which Stangenberg models in our exclusive shoot. Inspired by the French New Wave cinema of the '50s and '60s, creative director Virginie Viard's first solo ready-to-wear offering since the passing of Karl Lagerfeld celebrates how the artistic period gave rise to precisely this multidimensional depiction of female characters. "In Godard's films, for example, women always get the better lines and the more profound thoughts. They aren't limited to their beauty and their look, but have a brain as well." Stangenberg says of arguably the most famous director of the Nouvelle Vague. Anna Karina, one of the period's most prominent actresses, received her stage name from Coco Chanel herself when she worked as a model for the designer.
With her newest project, Orphea, Stangenberg is set to expand this line of thought and these types of roles even further. Having premiered at Berlinale this year, the film is a reinterpretation of the Orpheus myth—with a female lead. "We're considering the question of what one is ready to give up or to do for love," Stangenberg explains. In the original story, Orpheus follows his dead lover Eurydice to the underworld, aiming to bring her back to life. In Orphea, Stangenberg is the one to conquer the unknown, with the goal of not just saving Eurydiko but every dead person—an invigorating quest that Stangenberg is more than eager to take on as Orphea: "When I dare to go out of my comfort zone—either physically or emotionally—or allow a certain sense of intimacy while acting, it always feels very rewarding afterwards."
Photography GWENAELLE TRANNOY
Styling RACHAEL RODGERS
Hair SUSANNA JONES
Make-up BERENICE AMMANN
Production PIA AHLERT
Photography assistant BERNARDO MARTINS
Styling assistant CHIARA POZZOLI
In cooperation with CHANEL