When brothers Julius and Victor Juul founded their label back in 2016, their knowledge of fashion was limited. "We didn't have any expertise in the industry," they explain—"everything we know now, we had to learn on the way." You'd never know it to look at Heliot Emil, though—with Julius as designer and Creative Director and Victor overseeing business and operations, the duo have built their Copenhagen brand from the ground up—and remained completely self-funded as they've done it.
The last four years have seen Heliot Emil migrating from its hometown to showing in Paris, and it brings its own brand of Nordic style to the French capital season after season, offering up refined two-toned streetwear that's in-keeping with Scandi minimalism, but injected with Copenhagen's hard-and-fast techno edge. "Many people describe techno as monotonous," Julius explains, "but it's about being able to appreciate the details—the same goes for a monotone look."
Inspired by the aesthetic of the city's burgeoning underground scene, Heliot Emil is also a brand that's made innovation it's M.O., and the experimental aspect of the brand's designs are made apparent in water-resistant and heat-reactive—almost holographic—fabrics. Its current collection is no different, experimenting with the chemical concept of amorphous solids—solid, but malleable forms of matter. Following the duo's show at Paris Fashion Week, we sat down with Julius and Victor Juul to discuss Heliot Emil past, present and future.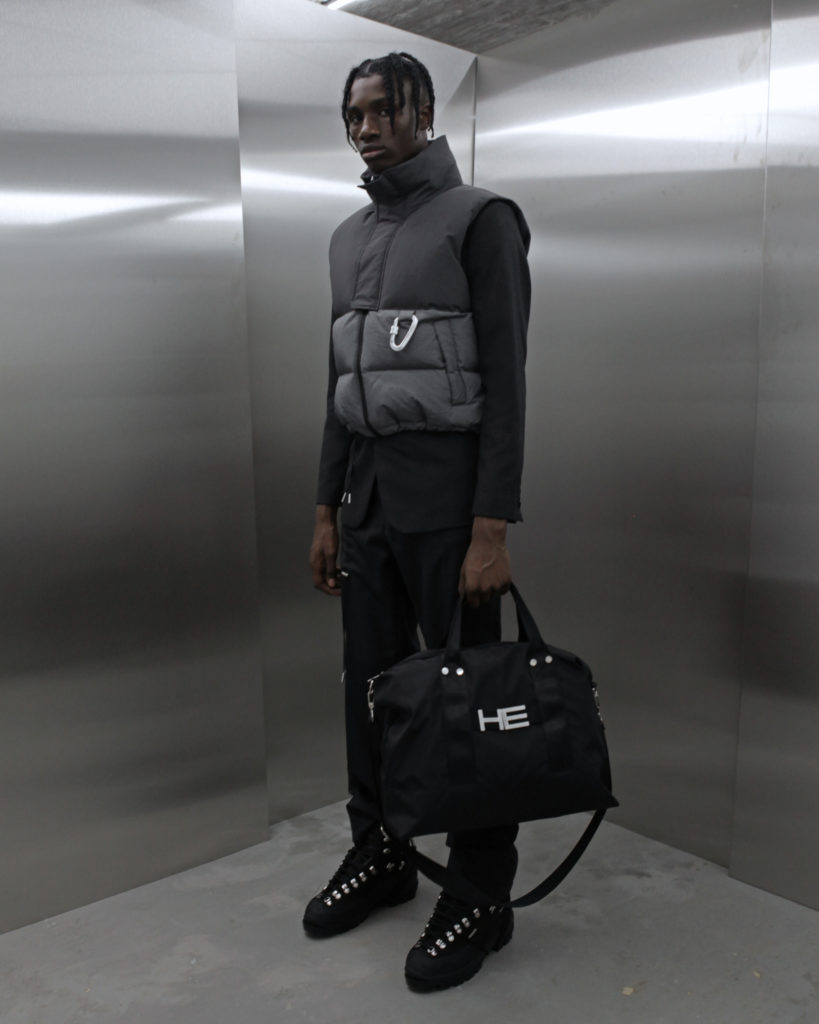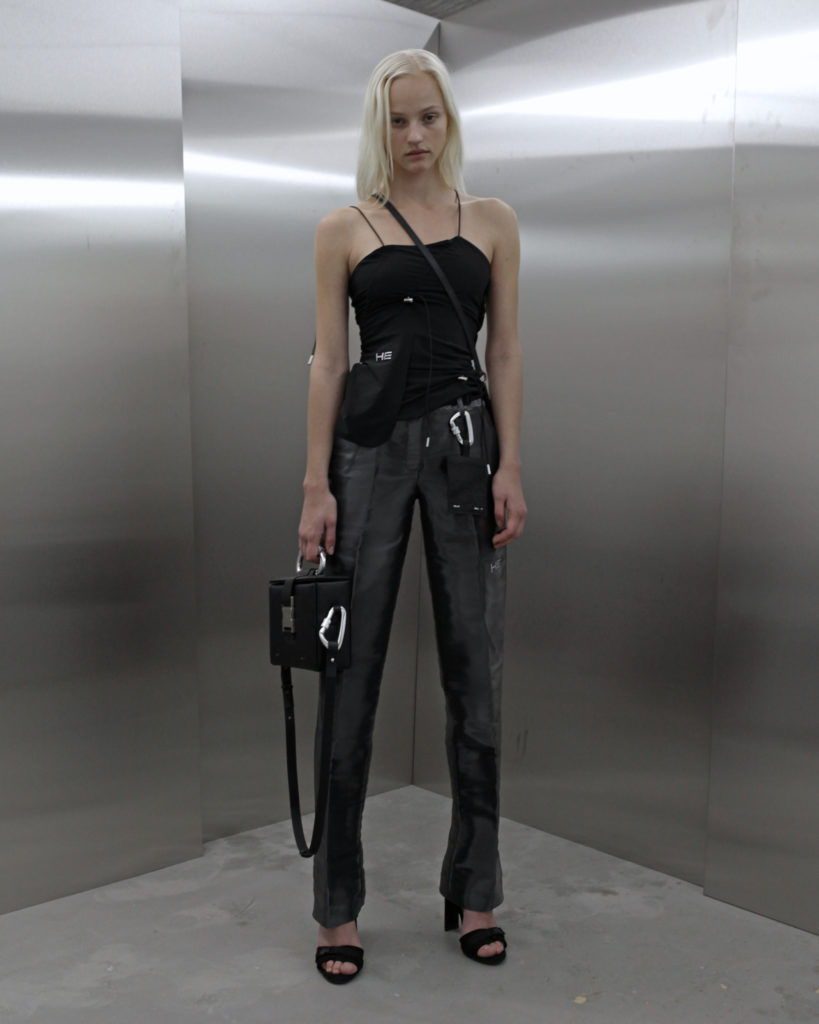 Heliot Emil is named after your great grandfather—do your designs pay homage to him as well?
JJ: To be honest, he was a farmer on a small island called Bornholm—not much of the actual design is based around paying homage to him specifically. The way that I design is thinking about innovative shapes, forms, materials and techniques and then implementing them in designs that I would want to wear.
The brand is also obviously family-run, in that you're both brothers—how do you work together?
VJ: Since as long as I can remember we have always been fascinated about creating something together. We both had an interest in the fashion industry from a very young age. With Julius' previous experience with other brands, and my business and start-up skills, it seemed like a natural development to focus our creative energy on fulfilling our own ideas and dreams. We know each other extremely well, which in a lot of situations benefits the overall communication between us. We are very picky and both very stubborn, so sometimes it can get a little intense but at the same time its extremely valuable to know that we are both so passionate about the project—and in the end, both have the same vision in mind.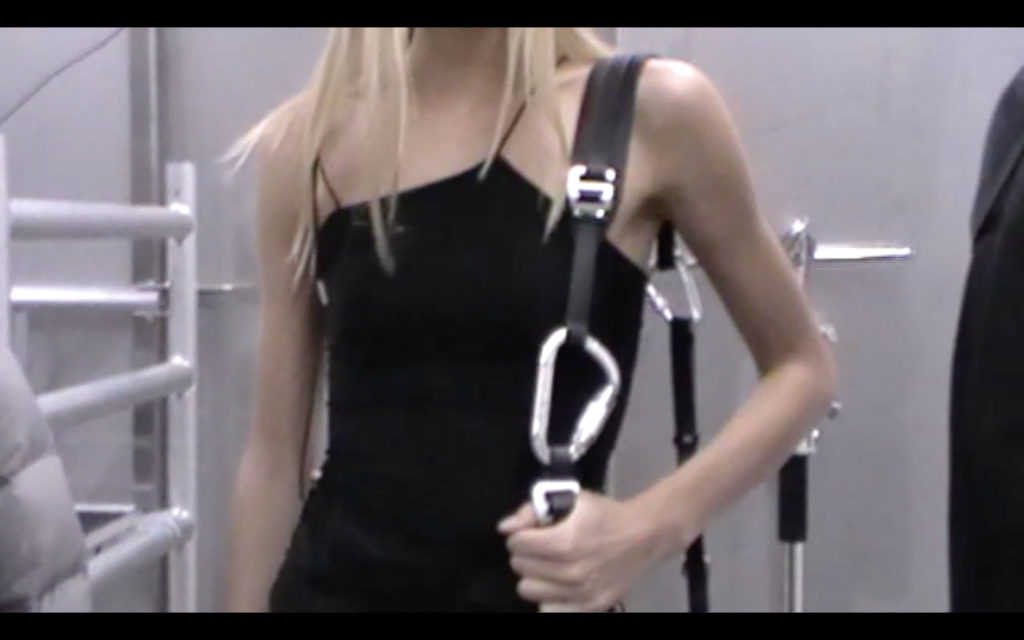 What's the age difference between you both, have you always had similar interests?
VJ: The age difference is 3 years—Julius is the older brother. We've always been very close, spending almost all of our time together, sharing the same social circle, attending the same events etc. Because of that, we've had similar influences throughout life, which has lead to sharing a lot of the same interests as well. But our background in education and work experience is very different, which is why we compliment each-other so well, professionally.
You've said your designs are inspired by Copenhagen's underground, and it's an aesthetic that definitely reads across your collections. What is it about the way the techno crowd dresses that speaks to you so much?
JJ: I think the the idea of identifying with something that not everyone finds 'beautiful' is something we share with the underground scene. There is a technical harmony to what we do that resonates with techno too.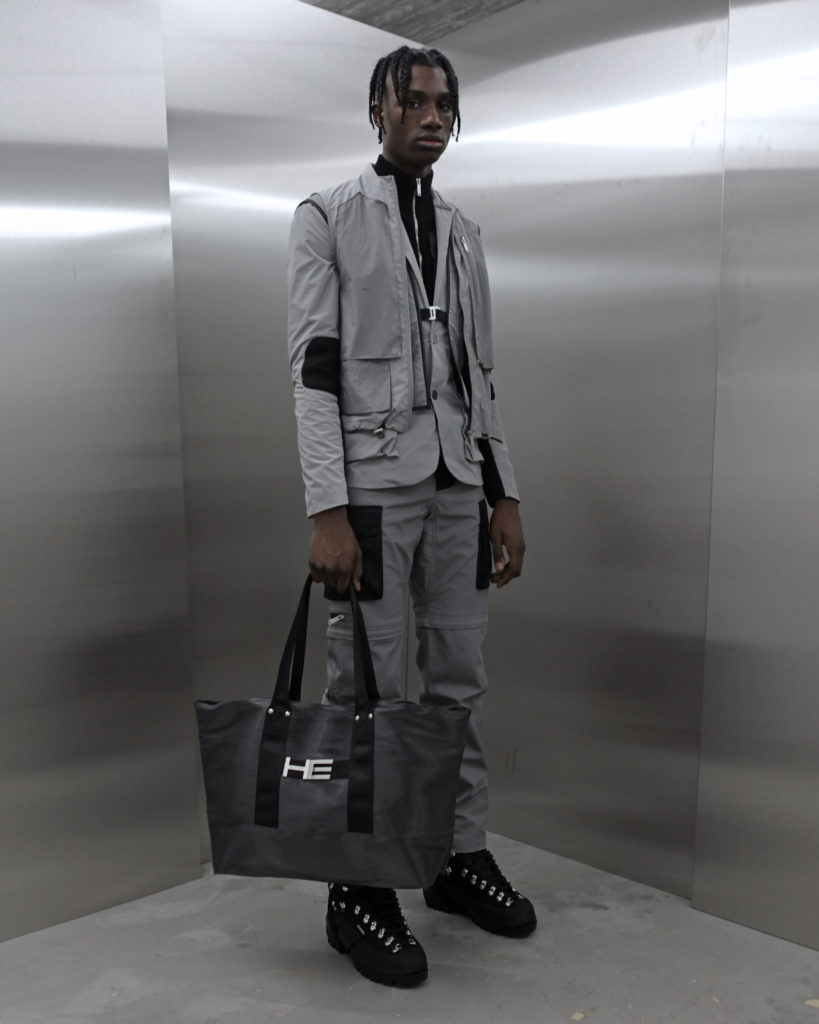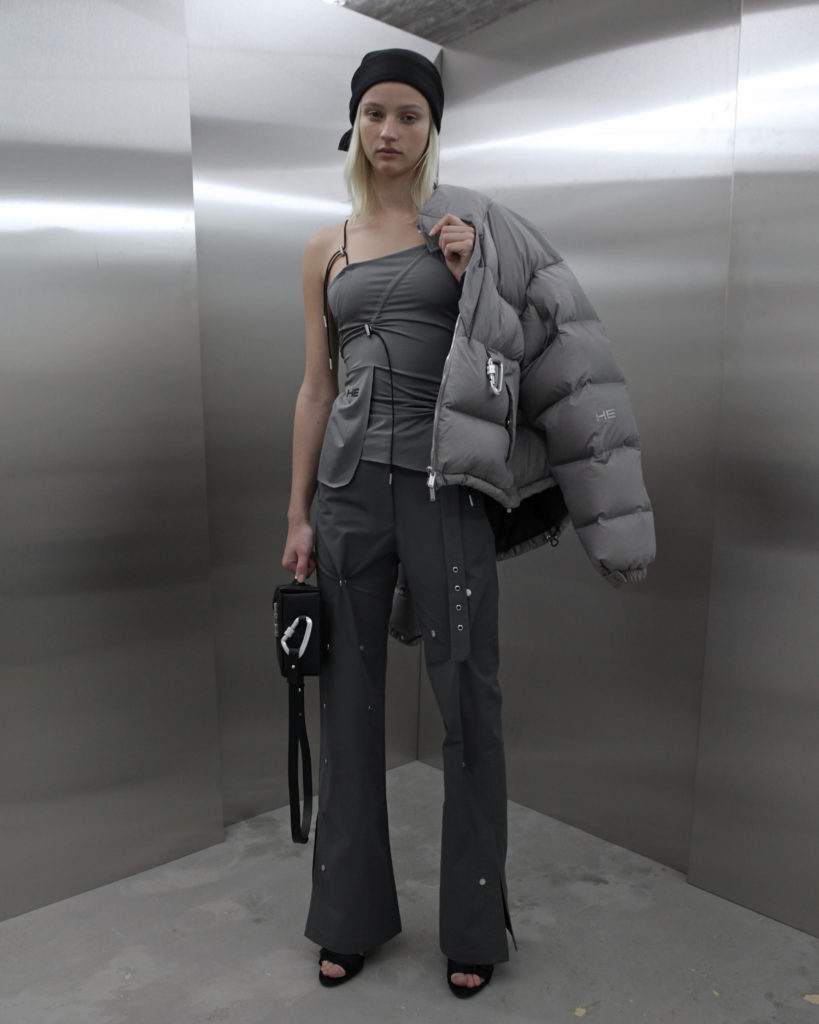 Can you talk us through your inspo for AMORPHOUS SOLID, your AW20 collection? 
JJ: Amorphous solids are solid forms of matter with no particular pattern in the compound constructions. They can be shaped and morphed, but are still solids—it's the chemical word for stuff like a wax or a gel. I thought that this tension and the melting point where these two separate forms of matter meet was interesting to explore. I constructed familiar Heliot Emil silhouettes and experimented with morphing forms in relation to the functionality of the garments and the perception of the fabrics. Multiple pieces have different ways to shape, form and personalise the garment—snaps that can be changed, drawstrings that can be pulled or hooks that can be manipulated, all to form unique shapes in the garments. This idea of moulding and reshaping to your personal taste was super interesting to me.
Your use of fabrics—including heat-reactive and water resistant materials—is always innovative. Why has this experimental approach been so important to your design process?
JJ: Innovation is something that is very crucial to the Heliot Emil universe. I always want to innovate in everything that I do—in the fabrics, in shapes, in the shows, in ways you wear the garment. This is really what inspires me the most. I could spend hours and hours diving in to a crazy rabbit hole of how you could 3D printing chainmail from reusable plastic. Unfortunately, more than half of the ideas never get to the final point, but that's just how it is. For me standing still is moving backwards.
What comes first, the fabric or the design?
JJ: It always depends. I think they are very intertwined. I research for fabric as I am doing the designs. Sometimes the fabric inspires an idea for a design.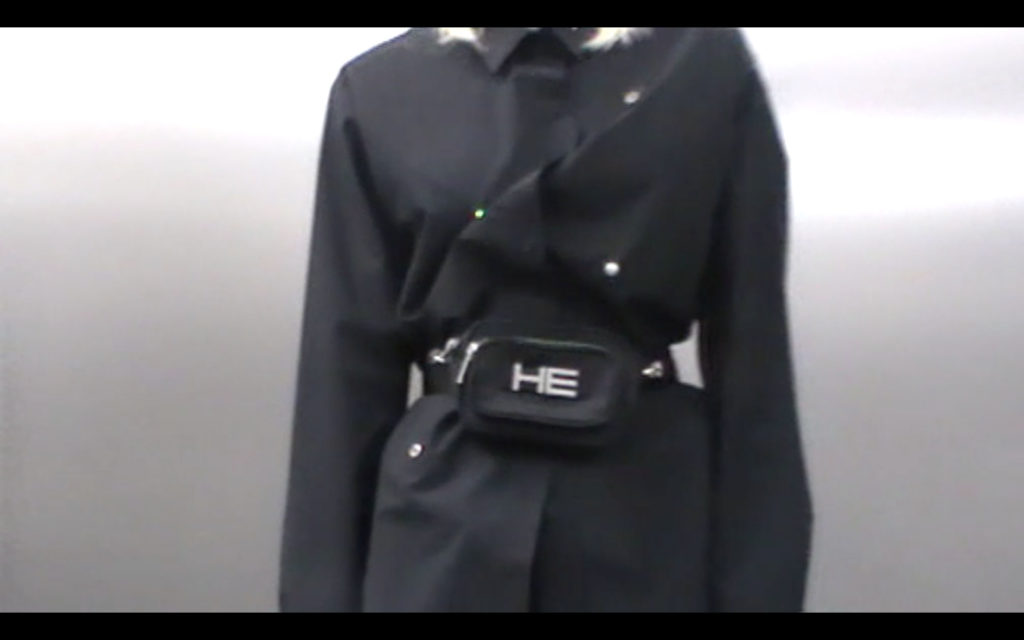 You founded Heliot Emil in 2016—what's the biggest lesson you've learned since then?
VJ: It started as a small side project that we worked on when I was still in Business School, and Julius was working and living in New York. Our biggest challenge has been our lack of experience in the fashion industry—everything that we now know, we learned on the way—and growing the brand organically. Despite what a lot of people think, the brand is 100% self-funded and grown organically from around €5000. Up until one and a half years ago it was only Julius and I working on the brand doing everything ourselves. At the same time, this has given us a new and unique approach to the industry, which has lead 80-hour-work-weeks for the both of us, but in the end a successful formula, I guess. You figure out creative solutions to obstacles by building a brand the unconventional way and you learn to be agile and quickly change direction if the strategy is not working, which I think is one of our biggest strengths.
How have your aims evolved in the past four years? Is there anything you've moved away from?
VJ: The amount of global growth we have had, in such a short amount of time, has forced us to focus a lot of our energy on building a strong infrastructure in the company. We are currently recruiting a lot new people to join our Copenhagen team, and communicating the overall aims and goals to a team that is constantly expanding and works in different branches can sometimes be a challenge. It is extremely important to us that all of the initiatives that we plan throughout the year are contributing to the overall core values and vision of the brand and that everyone who works in the team are aligned and working towards the same vision in everything that they do.
Becoming a bigger company, we have also realised that different geopolitical circumstances can have a huge effect the company and the market as a whole. That is why the overall strategy and aim has to be clear, but agile at the same time, and that we have to be ready adjust when necessary.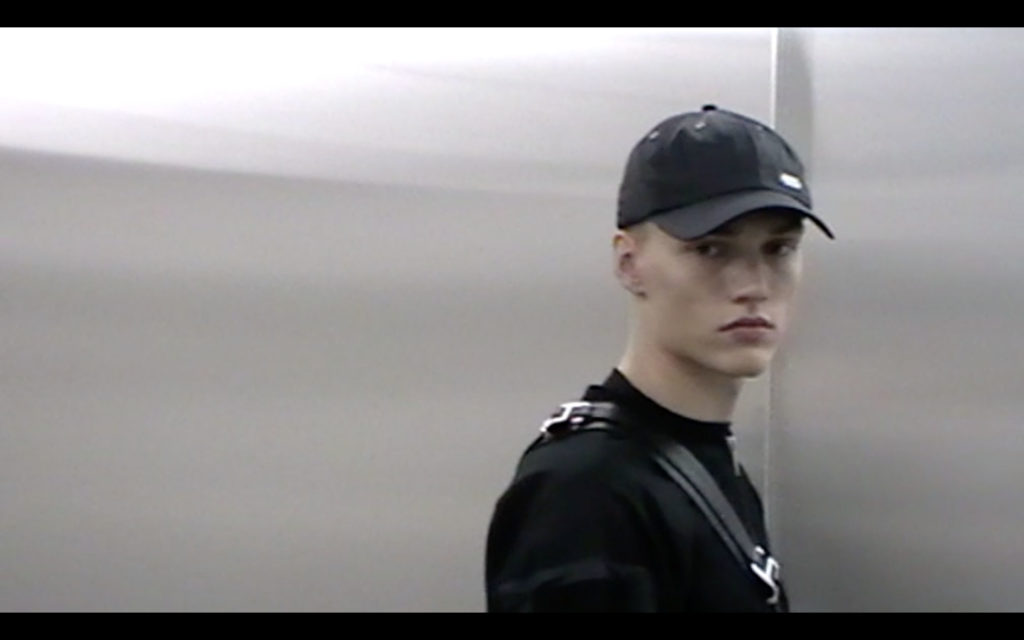 What does the future of Heliot Emil look like?
VJ: A lot of very interesting and knowledgeable people from the industry are now reaching out to us and wanting to collaborate on different innovative projects. Gaining expertise from them through innovation in fields like, sustainability, production and technology is something that will take Heliot Emil to the next level.
JJ: We have a lot of very interesting projects that we are working on. There are a lot of interesting things happening behind the curtains. As our brand grows there are a lot of things we are learning about. We are focused on creating innovative concepts and ideas and rest assured we are only just getting started.