Queerness and nightlife have gone hand in hand for as long as the both have existed. Club entrances were and still are portals into sacred safe spaces—holy halls ablaze with pulsating pounds of bass, havens for outcast-communion, self love and emotional ecstasy. Probably more than any other city in Europe, Berlin has become a meeting place for minorities, people from all over the world in search for solace both in their day-to-day and in weekend binges of dancing alongside likeminded individuals.
But however dreamy all of this may sound,  a certain sense of homogeneity has established itself within the realm of queer-targeted events. Berghain—club culture's Mecca—began as Snax, a space solely for gay men, and even though it soon became open for all (or those who pass its bouncers)  it's only in the last five or ten years that the hostility towards women has truly dissipated. And still, to this day, while there are too many male-centric gay parties to name (try Buttons, Cocktail and Herrensauna to name but three), the techno landscape is lacking in hedonistic places made for queer females.
"There are so many parties for gay men, but not for gay women," explains 26-year old Anna, who together with two other Vienna-based friends Charlotte and Saskia, founded WET, a party series designed to cater to the lack of explicitly lesbian nightlife. Following its success in Austria's capital, early this December, WET is headed to Berlin, taking its vision and an all-female line-up of gifted DJs to ://about blank.  Stemming from the obvious void in regards to not only female representation in the scene, but the sheer non-existence of formats for women—specifically queer women—the collective took it upon themselves to fill a gap.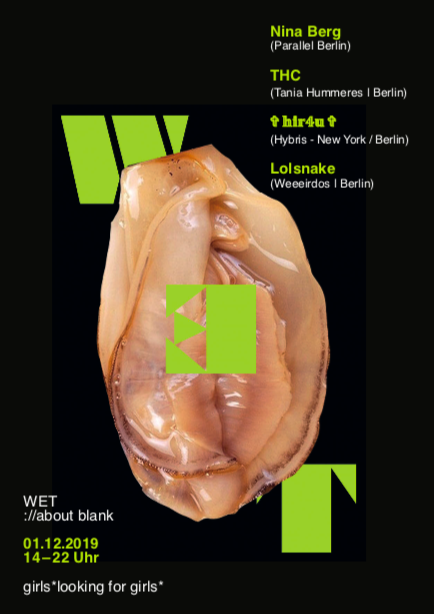 Aptly, WET began after-hours in some of Vienna's numerous nightspots. "Me, Lotte and Anna met in Vienna," says 27-year old Saskia. "Lotte and I bartended together, whereas Anna and I met at a party at which we wound up making out before becoming close friends thereafter." Each of them, individually, was somehow confronted by the realities of sexism within Vienna's (and for that matter, the world's) club culture and everything that constitutes it. This experience ended up being what they bonded over: "We started talking and decided to plan something together to create what we felt was missing," explains Anna. "A party for girls who are looking for girls, with a selection of music that we love to party to."
The idea developed more and more until WET had its very first edition in June 2017, at Opera Club. "It's not only about finding love or sex at a party," Saskia stresses, "but also to give a part of the community a space to hang out, to feel comfortable, and access to a party tailored specifically for them, for us." WET was also built to function as a platform for female artists. "Booking statistics in Vienna at the time really made us question the business in its entirety. In Vienna, the booked DJs were 95% male. 95% is actually almost 100%, which is just sad, plain and simple, and really needed to change. Berlin is more progressive here, with other people working for the same cause, but  then again I rarely ever see an 'only-women-line-up', and if I do, it is communicated as something very unique and special. That sucks because it shouldn't have to be highlighted as such", she explains. "I never believed that good music had to do with gender or sexuality, so I don't want to discredit male artists, bookers or the like. But in focusing on female identifying-performers and attendees, we're still a minority. Equality has not been served here and until it is we need to promote and represent as many females as we can."
And while all of the above are both noble and legitimate ambitions, you best believe that WET has faced criticism from both out- and inside the LGBTQ+-community. "A lot of dickheads 'underestimate' lesbians in their party 'preferences'. When we started the project, people actually came towards me and asked things like 'are there even enough lesbians here to justify an event like this?', 'do lesbians actually really want to party like this?' or 'women are generally more uptight with their sexuality, why would you need a darkroom?'" and that's only a selection of "fucked up shit people have asked me", Saskia insists.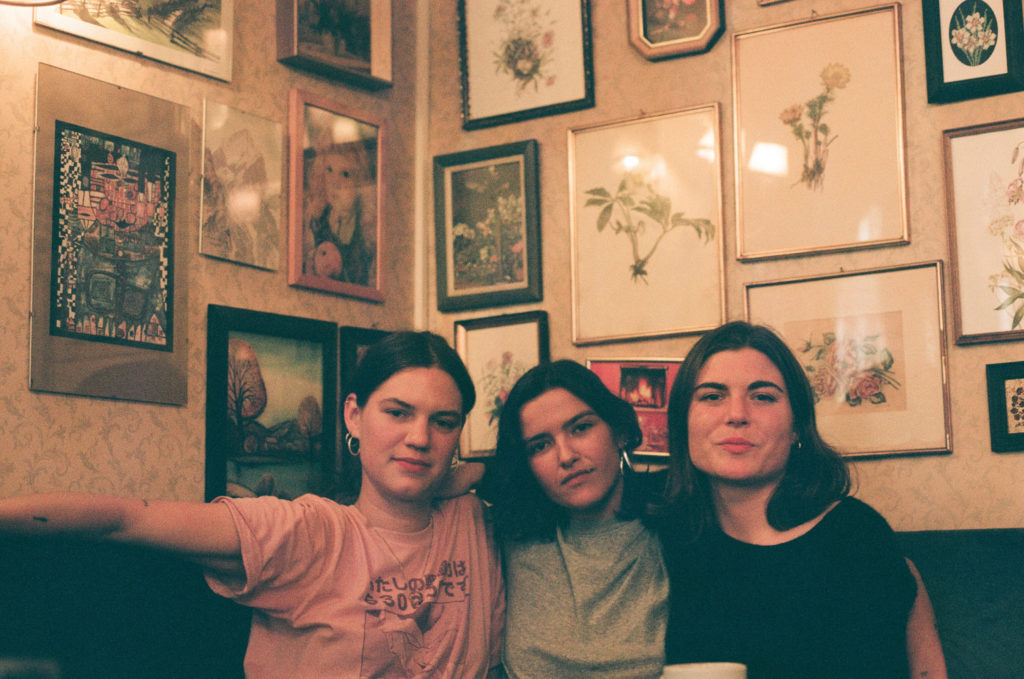 As hinted at before, members of their target audience, so to speak, were skeptical at first and irritated as to the guest demographic, Charlotte remembers: "Our approach towards the handling of the space had to change. In the beginning at our events, we found ourselves confronted with high numbers of cis-male guests. This is due to male-dominated club culture in Vienna, especially within the techno sphere. We needed a solution to guarantee our guests a 'Lesbian Party' and a safe space. We introduced a guest list for our as male-identifying guests, where they can send a codename in advance of the party. The capacity of the codename-list is limited and no cis-male person is allowed to enter the party without his name on the list. This gives us the chance to have a good balance of (cis-)guys at our parties and raise awareness for our philosophy of creating a safe space for women."
With an ever-expanding list of gigs to their name, the creators of WET have presumably been able to accomplish their initial mission, using every feedback given to them as means to improve not only their party, but also the take-down of patriarchal structures in the scene their trying to penetrate. "WET is a non-profit event and everything we ever earned, we always spent on the artists' fees and rent of the venue. This shows that we actually worked for free for almost 3 years to organise this. It really is not about money. I think my motivation is, that I really think it's almost embarrassing that there was not a party like this before, at least in Vienna. It is important to me to do this. It feels like an empowerment somehow. From a feminist point of view, I think it is important to know the past and current social structures", Saskia stresses. "Not all of us have the right resources or power or even time to make big changes. but we can definitely try to change something in our little cosmos. Which may even lead to bigger things. Who knows?"
WET is coming to ://about blank in Berlin on December 1.
Images via Phil Rirsch, Pictureonthefridge