After the passing of the over-caffeinated whirlwind that is September, the drained corpses of used-to-be fashion journalists, stylists, designers and models are just about back to life. But if you thought the SS20 fashion week box can finally be ticked off, after jet-setting between NYC, London, Milan, and Paris, you're wrong. No frills, no fuss, this month marked the beginning of a new fashion hub emerging in central Europe, exposing the talents of a thriving young fashion industry in Europe's historical and cultural stronghold Budapest.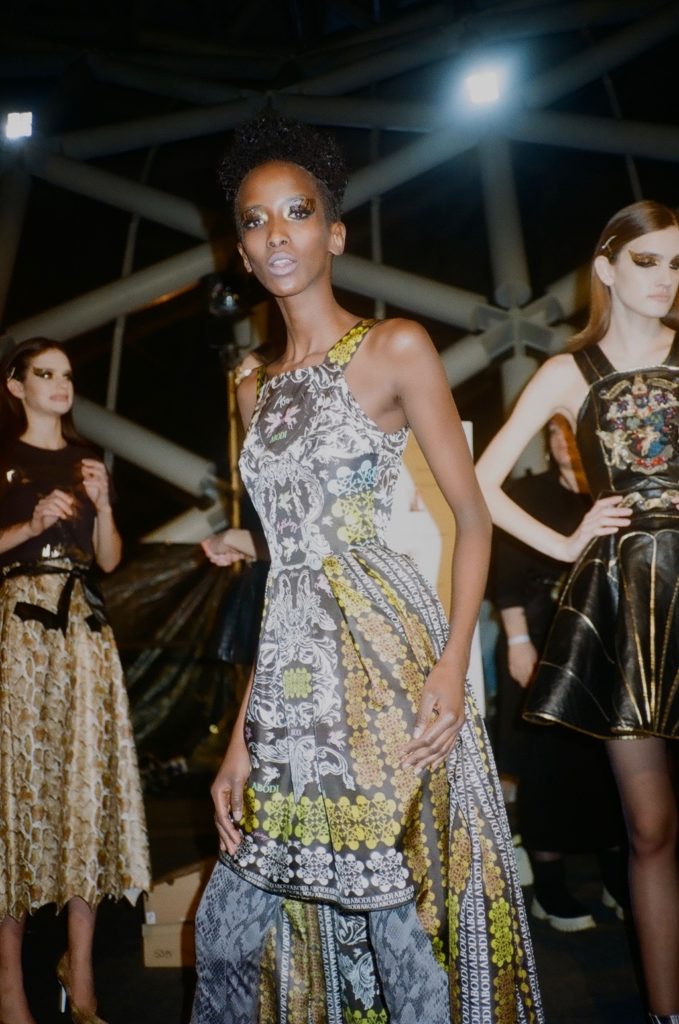 Brought to life by the Hungarian Fashion and Design Agency with support from the internationally renowned Italian institution Camera Internazionale della Moda, the second Season of Budapest Central European Fashion Week (BCEFW) took place last week in the middle of the imperial centre of Hungary's capital with mindfully selected guests from all over the world. From eccentric patterns, to traditional, hand-crafted fabrics, to minimal, elegant silhouettes, the facets of all 26 presentations by over 30 designers were as diverse as the city's historical background and cultures sweeping into Budapest from East and West for decades, creating a creative environment that really is one of a kind. We boiled it down to the essence and selected the best of the brands on show. 
Already carried by luxury retailers such as Browns, Net-a-porter, Harrods and Luisaviaroma, Budapest-raised designer Nanushka has grown up to be a true household name. Implementing tribal references and themes of distant cultures, designer Sandra Sandor also draws inspiration from design eras such as Bauhaus and places these elements into an urban context, creating effortless, elegant and above all, very wearable garments, all ethically produced in Europe. For SS20, Sandor looked to the Mediterranean coast, specifically Greece in 1972— think sun-washed colours, handmade ceramic buttons, fringed seams, the softest (vegan!) leather, oversized slouchy bags (perfect to fit a beach towel) and fishnet overlays translated into skirts and hairpieces.
Young Hungarian designer Dora Zsigmond's namesake is characterised firstly by sustainability, and secondly by clean, modern silhouettes based upon  traditional, home-grown craftsmanship. Sleek and functional in their structures, her designs draw from contemporary Japanese streetwear and the strict, rigid code of authentic Hungarian menswear. Inspired by the mythological world of folklore, Zsigmond Dora's SS20 menswear collection features tropes of rituals found in old practices of Midsummer Night celebrations. Whilst folklore remains engrained in the brand's DNA, the collection ventures into a new realm, building on previously applied elements, like earth, fire and rural life, creating a smoky, mystical mood, that's simultaneously melancholic yet wild, and transferred onto garments like old jacquard and hand-woven fabrics, some of which are more than 60 years old.
Born in Transylvania and raised in Budapest, Dora Abodi studied fashion at some of the highest ranking European fashion schools—French Mod' International Art and Domus Academy Milan. Naming family, cultural heritage, movies, travelling, pop culture and literature as her main sources of inspiration, SS20 is especially about importing the yet undiscovered Transylvanian culture and aesthetics into fashion—or more precisely, Transylvanian culture into Milan fashion. Abodi reinvents the Transylvania she knows in a fun and nuanced way, cruising between apparently contrasting aesthetics and views of her ancient and big Transylvanian family and mystical tales of vagabonds. The collection draws on tales from Transylvanian mythology with different interpretations of animal patterns, Transylvanian ornaments & heraldic inspired original prints on silk and embroideries—loud, bold and eclectic.
The up-and-coming Hungarian label Kata Szegedi is all about shapes, patterns, colours and sophisticated tailoring. Co-designers Daniel Benus and Kata Szegedi explore the concept of creating structure with fabric and reinventing timeless silhouettes to create looks that emit a cosmopolitan, proud and individualistic flair. 
For SS20, the duo tapped into contemporary art as a source of inspiration—particularly the work of Jean Arp and Simon Gaiger. Tracing their abstract forms and interpreting shapes and colours with mindfully chosen material like vintage silk foil silver fabric, the duo play around with contrasting both feminine, masculine and genderless silhouettes, leaving it up to the wearer to decide who they want to be and how they choose to express it.
Photography MARIA HERMANN