They say one man's trash is another man's treasure, but what if said "trash" comes with a Balenciaga tag on it? Step in Amsterdam-based designer Duran Lantink, who's garnered a CFDA nomination by chopping up the work of other designers that didn't make it off the clearance rack and would've otherwise ended up in a landfill, or worse, burnt, and up-cycling them into one-of-a-kind pieces. By exclusively using deadstock pieces, the industry term for merchandise that didn't sell, Lantink has developed a truly sustainable model that uses pre-existing materials and is waste free. As for the pieces that don't sell? They get taken apart yet again and transformed into brand new garments. 
Since it emerged as the second largest contributor to global pollution, (just behind oil), sustainability has been the buzziest buzzword in the fashion industry. But with all that buzz, what exactly does it all mean and is it even possible for the fashion industry to be truly sustainable? A study by the Global Fashion Agenda found that over one third of consumers surveyed had switched from their preferred brands to ones that are taking more ethically and environmentally conscious steps. But with more and more brands pledging to go "carbon neutral" and switching to organic cotton, it can be hard for consumers to look past the greenwashing and make an informed decision. Using recycled plastic doesn't make a difference in worker conditions, and H&M replacing synthetic materials with organic cotton doesn't change the ugly fact that their mass overproduction of clothing will inevitably end up in a landfill. For brands to become truly sustainable, they likely have to change every aspect of their businesses. But this young designer is setting a new standard for the industry.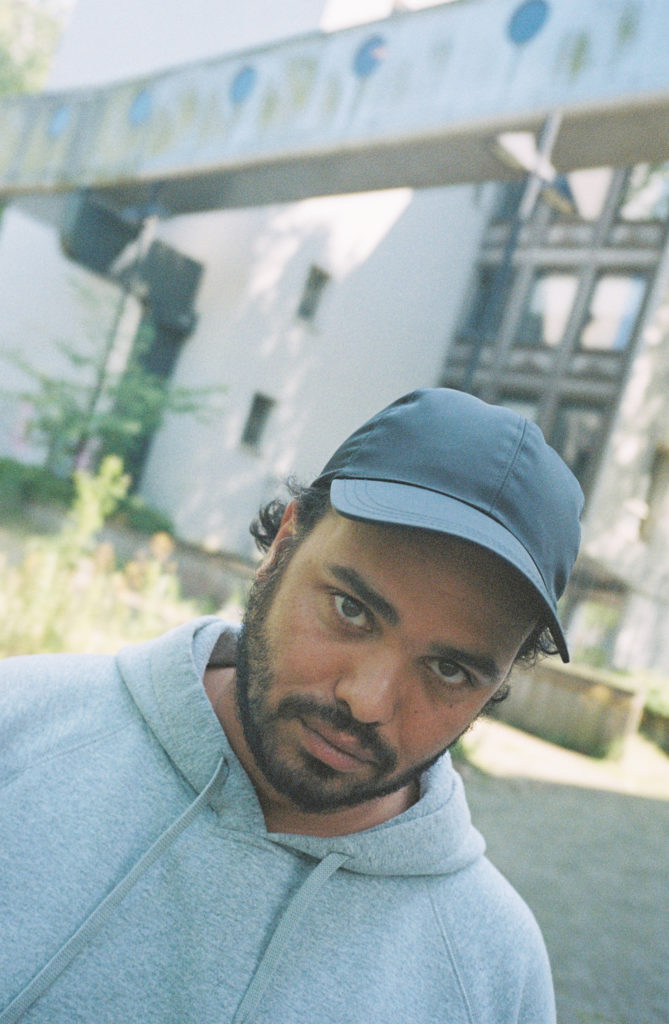 You've likely stumbled across his Miu Miu wedges spliced together with the soles of Nike Air Maxes or his viral "pussy pants" worn by Janelle Monàe in her 'PYNK' video, but Lantink's latest offerings come in collaboration with Browns Fashion, which gave him the opportunity to peruse through their warehouse full of deadstock garments and create a limited range of exclusive pieces. As part of the collaboration, Browns hosted a retail experience in an abandoned Berlin supermarket during which clients could bring their old garments and have Lantink breathe new life into them. With overconsumption plaguing the fashion industry, designers like Lantink could be the answer. 
INDIE sat down with the trailblazing designer at his pop-up shop in Berlin last weekend to dish about the Spice Girls, greenwashing, and which designers he'd just love to take a scissor to.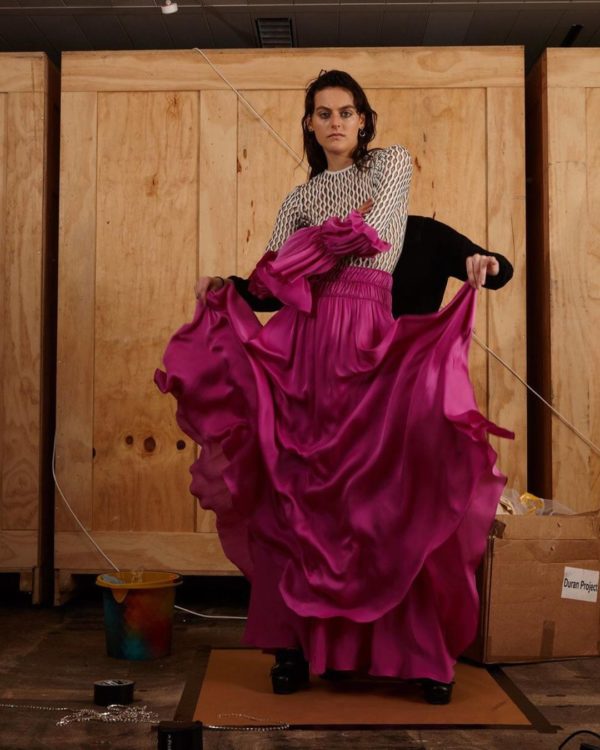 Can you remember your first interaction with fashion? 
It's such a cliche, but I have to say the Spice Girls. I guess they were really everything at that moment. I was also very inspired by Walter Van Beirendonck and the Antwerp 6. That generation of designers really inspired me from a young age, as well as Galliano. But I do think the first video clips of the Spice Girls was really a "wow" moment for me, with the super short skirts and the platform shoes, and everything was so over the top. That was the moment I really started making clothes, and I started by making clothes for my barbies. How horrible! It's true though. So I guess I could say the Spice Girls are when it really started to click with me, and then on a more intellectual level the Antwerp 6 who were very important in the progression of my fashion career. 
Alright, so we have the Spice Girls to thank. What was your biggest fashion faux-pas?
I think I've never worn anything that I didn't like, to be honest. From a very young age I totally knew what I wanted to wear, there was no discussion. That's what I want to wear, so I'm wearing it. And now looking back I would still wear those things. Maybe, there was one… No I actually like those too. I had these jeans, they're called Energy, I think it's an Italian brand, and they would have super big embroidery of the Looney Tunes on the back of the jeans. Those were kind of ugly, but I loved them anyway. I think I made things where I think, oooh I shouldn't have done that. My first year of Amsterdam Fashion Institute, I made this origami dress which… I definitely wouldn't make that now.
View this post on Instagram
Who taught you to sew, how did you learn?
I don't actually. I cut, I don't sew. I hate sewing. People would hate it if I started sewing. If I go behind a sewing machine and had to do a straight stitch I would think "hmmmm, well what if I go left?" so it turns into something completely different. I realised in the very beginning of my studies that I didn't like sewing, so I started collaborating with people who did because I think sewing is an extreme specialty. It's really difficult, and I'm much better at cutting and drawing and bringing the visions. I make collages and I bring the ideas. I do everything other than the sewing. Trust me, it's much better that way.
Do you always choose pieces that go together or do you sometimes choose completely contrasting garments?
I think I almost always choose pieces that are contrasting just to have a challenge and see how I can combine them, and I also think it's nice if there's a big contrast. It's more exciting, it's too easy to find a super nice silk that goes with another colour of silk. It's more interesting to take latex and mix it together with knitwear or something like that. It's like a puzzle. When I see clothes on a rack I see it as a puzzle in my head. 
In partnership with Browns, you were able to dig through the archives and select the garments to rework for their Conscious capsule collection. You're also reworking pieces brought to you during consultations.  How does your approach differ when the pieces you rework are selected for you, considering the sentimental value and personal history of the items to the people who bring them along—is that something that will be important? 
The thing is that when you're able to select the pieces, it's a bit more of a luxury and it's a bit easier. You can source it yourself and really think about it. When people give you their things it's harder and I start to think, how am I going to turn this into something good. It can be fun and be a good challenge. This was the first time I could really select pieces with Browns and it was a very wide range which made me really happy because I got the chance to really think about what could be nice with what. 
In terms of the consultations here, it's just a completely different concept. I think it's really cool that I can do something new with the memories people have of their old clothes. It makes it extra special in a way. Everyone has this piece in the closet that they're not really wearing for some reason, it's too small or too big or has a hole, and instead of throwing these things away, it's a good opportunity to create something new. With jewellery it's been happening for so long, where you'd pass down jewellery through the generations and then if you got bored with it you'd melt it down and make something new out of it. You can bring the same concept to clothes. For me, the most important thing is that the person wearing my clothes feels special. Even if it's not easy everyday wear, I want the person to feel confident and empowered, and wearing a piece that has memories tied to it helps people feel that way.
If you could get your hands on any pieces in the world to rework, what would they be?
That's a really hard one… I think I'd love to be able to cut up some of Alexander McQueen's collections, that would be amazing. I don't know if I would dare to. That would probably be the first time I'd be genuinely scared to cut something up. I would also love to cut up Iris Van Herpen's couture collections and make them asymmetrical. I'm not sure how Iris would feel about that, but it would be great. 
So what has been the reaction from designers you've met whose work you've cut up before to create new garments?
Overall, they were quite positive. They're just happy that someone is doing something with it. I think as a designer, it's not your aim for items to end up in landfills or on 80% clearance, so overall the reactions have been very positive. There was one designer who was maybe a bit skeptical about it, saying that he hoped there was none of his branding, which there actually wasn't. We're at a time where people are embracing it and not thinking of it as a stigma, so I haven't really had a problem… yet. 
Your work subverts the industry in a way, because it can't be mass produced. How have you dealt with the issue of being 'sellable'?
I'm still in progress with that. It's a whole new movement that I'm part of, and I'm still figuring out how to make myself sellable or find out what exactly it means to be sellable, it's just a whole new way of things. When it comes to producing, I'm currently working on creating an artificial intelligence which can kind of mimic my designs. It would select pieces and then create unique pieces. So it's not quite mass production but it would be a broader range, and still unique and repurposed, so we're trying to find new ways to grow. That's fun to do, it's still sustainable, we're still not creating anything new, just cleaning up after everyone else. The key is really in artificial intelligence and how we can incorporate it into my techniques. 
View this post on Instagram
What's your relationship to sustainability—was that the starting point for your work or is it something that's become more important as you've come to hone your signature style?
It's become more important. I never went into the practice with a plan to be sustainable, it was always just a natural feeling. I didn't find it interesting to create new pieces, or to create new materials. I was always keen on creating new forms with existing pieces. During the years we got to progress and reflect on what I was doing and it kind of got this "sustainable" label attached to me. I don't think I'm greenwashing and trying to say "sustainability is my motto." I think people are recognising it, but I'm not just a sustainable designer. It goes beyond labelling it. I think it should be at the core of any brand anyway. I also don't like to call my work a "sustainable brand" or a "brand" at all. I think of it as a company, and I think branding is a bit 20th century. Hopefully, sustainability becomes the norm, and then we can stop labelling this and that designer as sustainable. It should just be a given. 
When you don't have the freedom to dig through the archives of a retailer like Browns, where do you normally source the items that your rework?
Well, I used to source in my mum's closet and in charity shops, but now I basically only do collaborations with stores. I also like the idea that I don't really have stock, which of course can be frustrating when you have magazines asking you for photoshoots, but I don't have stock because I'm a stockless company. It's not quite the best option yet, but we're trying to figure out other options. But yeah, now it's pretty much exclusively in collaboration with stores or with private clients.
Do you have a favourite piece that you've created?
All my pieces are equally my favourite. I do like coats a lot. I think pants are harder, it's just a form, it's just two legs, and of course you can do quite a lot with that, but coats I find to be much more fun to work with. It's a bit more freedom. There are linings to think about to keep it warm, and all kinds of things that you have to do which makes it more fun. 
You've worked with photographer Jan Hoek and South African trans sex worker organisation SistaazHood on an ongoing collaboration thats resulted in a fashion show, an exhibiton at Foam and a photobook. How did this collaboration come about? What does this project mean to you? 
This project means the world to me, it's my most important collaboration (sorry Browns). Jan and I are really good friends and we were trying to think of something to work on together, and we started Googling while drunk and we found these photos of these two trans girls wearing fishnet stockings and they looked so beautiful, we just had to find out who they were. We did some more digging and found out they live in South Africa, so we backpacked there and found them, and found out there was a whole community and a family. We stayed there for a month and started having real conversations with them and listening to their stories, which are so important, but they needed a voice and a platform. So we decided to collaborate with them on a "Dream" collection based on their dreams of who they would like to be if they had all the money in the world, and help them live out their dreams in a way. We worked on the collection together, and it's made out of pieces we mostly found on the street to create looks inspired by their individual iconic styles. They have such incredible style. We always treated them like any other models, and they were always paid jobs. I don't believe in telling people "it's good for your exposure." Everything we did, half of the profits went to the Sistaaz. 
They've been really wanting to do a proper show, and we finally found the money, so we're going back to South Africa in March, and then the show is going to be in November. They live under a bridge next to this sort of castle, which they're never been able to go inside, and now we made a deal with them so that we can do the show there. They all have names like the Duchess, or the Queen, or Coco Chanel, and Joan Collins, so they're really living out their fantasies. That's the next chapter in our collaboration.