What do knitting, jazz and Jimi Hendrix have in common? If anyone knows, it's Gabrielle Venguer. The designer graduate—first from CSM and then from the RCA, two of the most prestigious fashion institutions in the world—is on a mission to bring the realms of music and knitwear together in harmony.
In light of her latest collection Wearable Orchestra, lensed by Wendy Huynh, we chatted to Venguer about the process of making music with garments.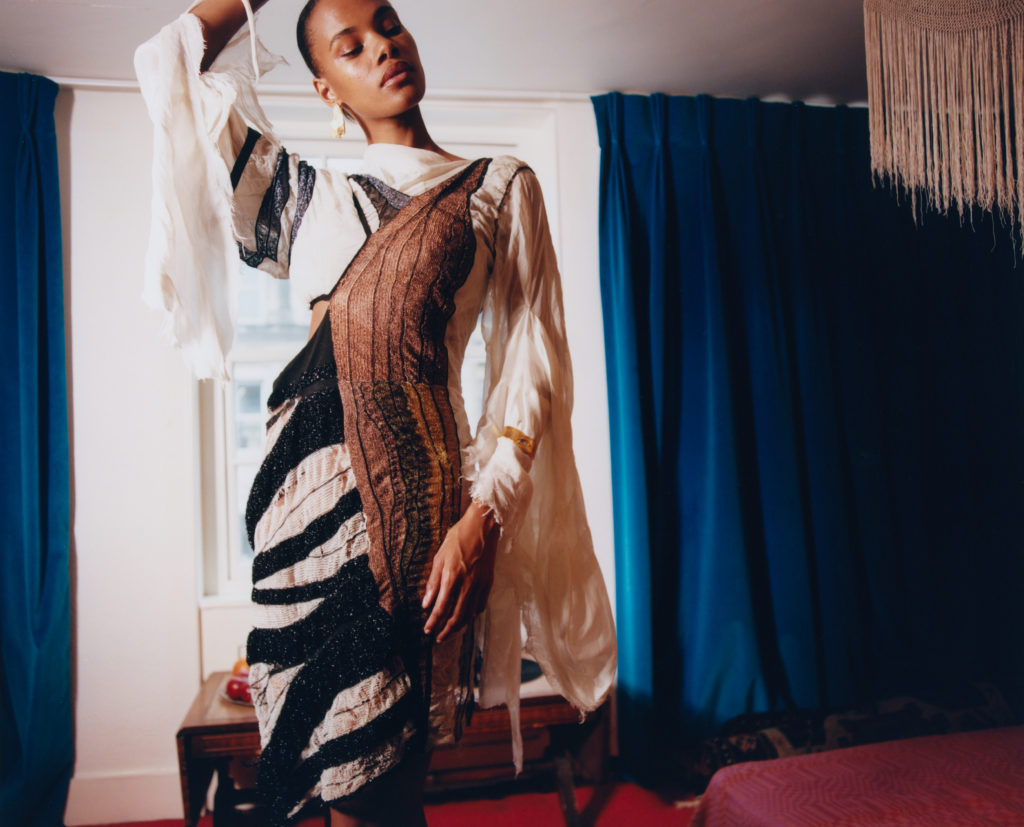 How did you first get into fashion?
I remember watching my mum taking buckets of paint and splashing canvases with them in her studio. I think seeing her unleashing her creative freedom made me curious about exploring self-expression. She always encouraged experimenting with things I wouldn't have dared to try before.
Who was your first ever style icon?
I am pretty sure that came from being at home watching Almost Famous on the telly. Penny Lane walked on screen and I was fascinated by her. I'm not sure if it was her personality or her coat that I was wowed by, but I knew that somehow her coat was intrinsic to her character. That's when I was struck with the power of clothing as an element of style.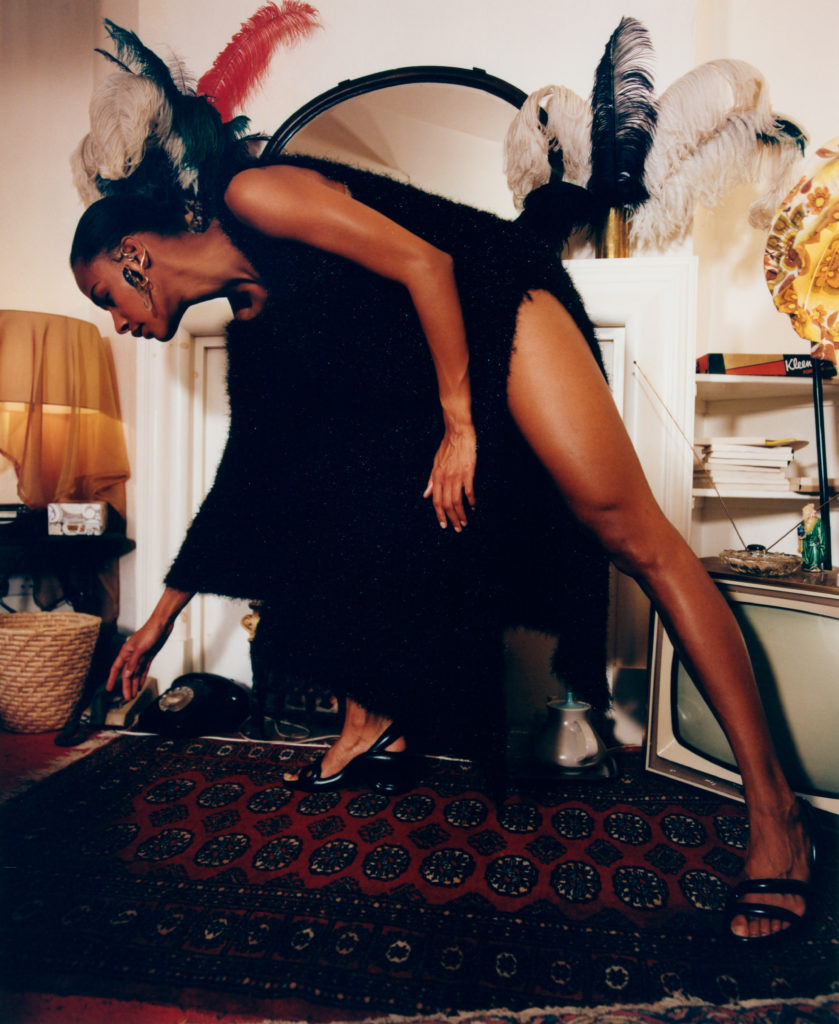 What initially drew you to knitwear?
At CSM, I would catch myself spending a lot of time watching the knitters through the windows. It was almost like they were playing an instrument. That was the gateway into the world of needles and yarns, and soon it became my instrument too. I realised that learning such a complex craft would be very demanding, and I remember professor Clio wanting to kill me on several occasions. She was a very tidy British lady and I would improvise with whatever I found in my bag, a la Mexicana. The outcome made it worth every broken needle and shaded tear.
How did music help you design?
I grew up with the fantasy of dressing rock. I would watch concerts, interviews and look at pictures of stars like Mick Jagger and Jim Morrison. I would imagine what it would be like to dress them in costumes for their concerts. At CSM, I looked around my dorm room and realised that most of the things that surrounded me and that I collected were like a time capsule of 1970s rock & roll culture. Soon after that, I took the liberty of approaching a random student in the university hallway and asked if I could design an outfit for him and then photograph him as a rock legend. It turned out to be the first "aha" moment that I had as a designer. I look back at photos of that skinny Asian young man in a rock and roll mariachi outfit and smile.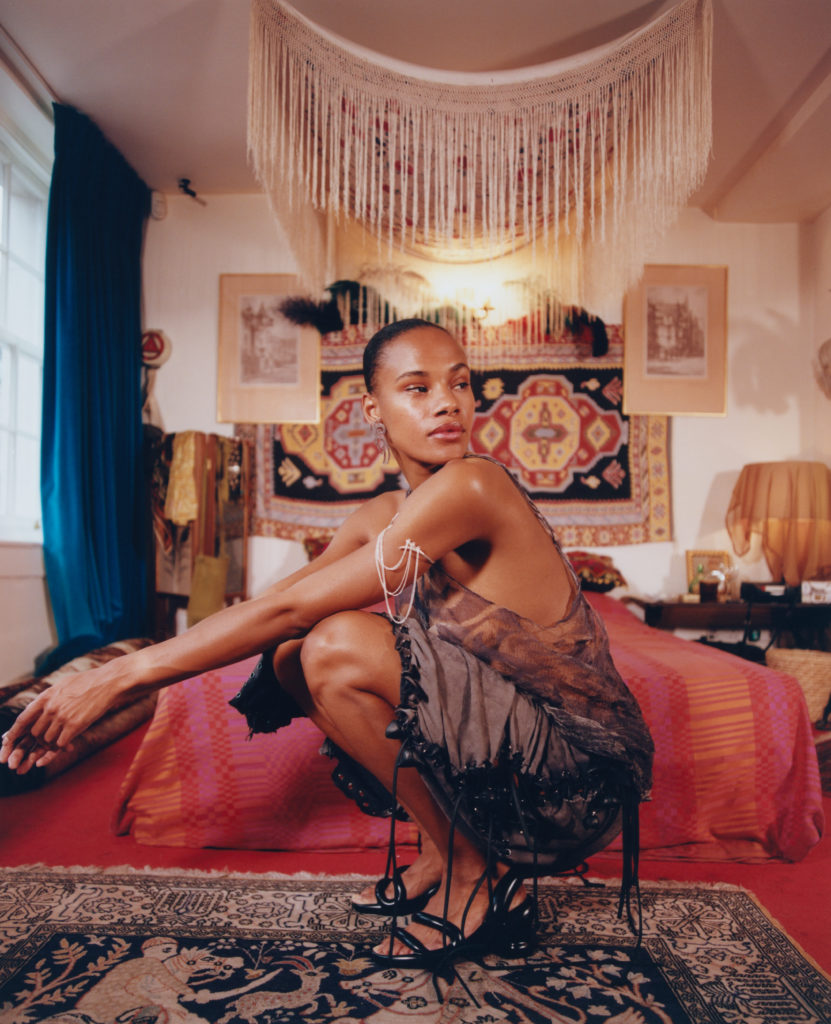 And since then?
The next chapter of my life was the Royal College of Art, which pushed me towards innovation. My designs were required to be seen as more than just clothes. That is when I began contemplating the idea of finding music within the world of fashion design, and knitwear became my weapon of choice to help bring my visions into reality. I was able to take abstract ideas and translate them into something tangible.
What techniques do you use to design your knitwear?
During my time at design school I defined the process and materials as well as the structures that best communicated my ideas. For this last collection, I used pockets structures, which allows me to include bells and other materials inside the knit. I also worked a lot with devore, burning out the protein of the silk and revealing the metal by using screen-printing.
Your latest collection is called 'wearable orchestra', what does that mean?
The wearable orchestra gives garments an alternative use —not only to cover our bodies, but also give music to them. The collection incorporates knitted fabrics and metal pieces, which in collaboration with a multimedia artist, were turned into wearable instruments that can be played similar to electric guitars. This is possible using DIY electronics and analogue synthesiser, turning touch into a tool to emit sound. Through exploring each other's bodies, we allow new ways of human interaction. Music is a language we can all understand and I feel it serves to connect us in a time of disconnection. When the garments become the instrument, we become the musicians and the way we relate to one another becomes the composition.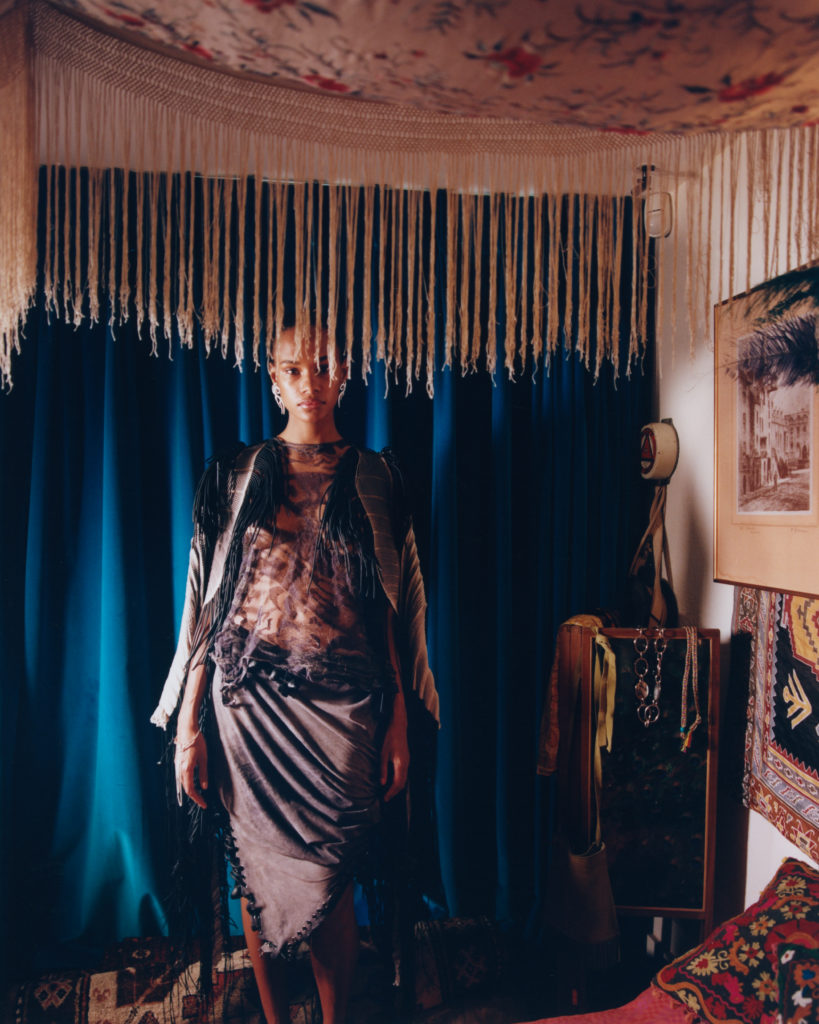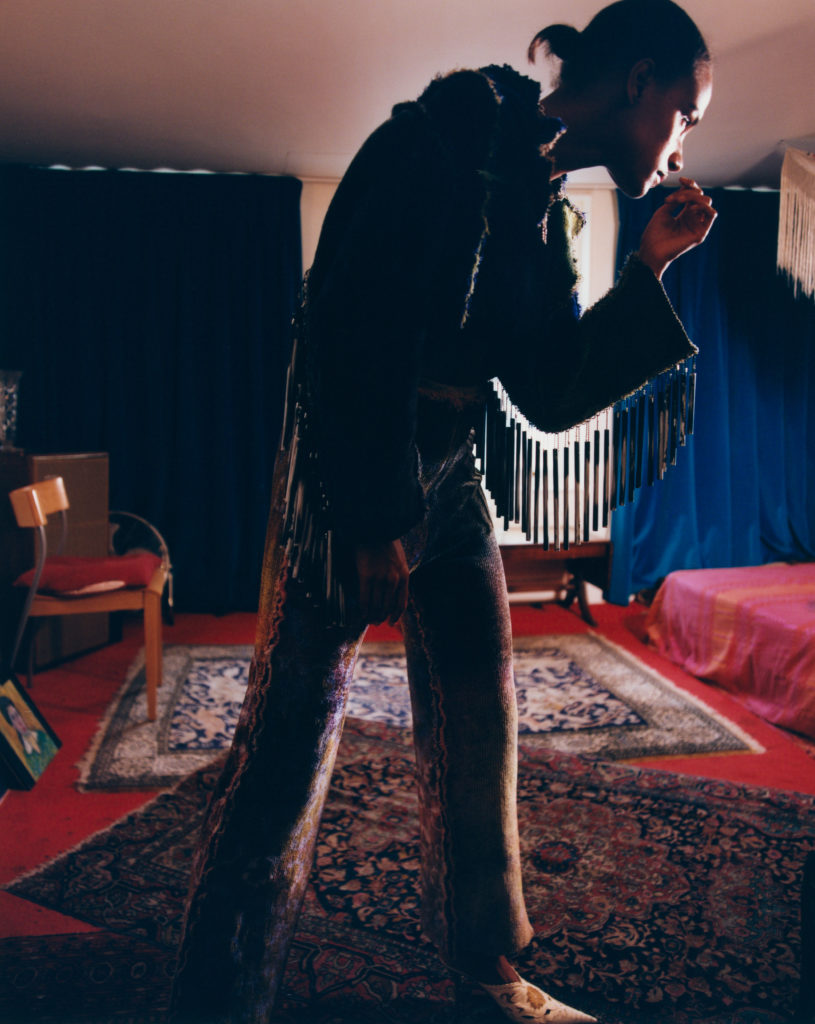 What kind of music do you listen to while designing?
Usually a combination of '70s rock, experimental atmospheric, jazz, spanish guitar and latin music. Some of my favourite go tos are: Jimmy Hendrix, Janis Joplin, David Bowie, Miles Davis, Tin Hat Trio, Thelonious Monk, Brian Eno, Devendra Banhart, John Cage, Buena Vista Social Club, Nick Cave, Nirvana and Radiohead.
And what about when you're doing admin, writing emails…?
I can only listen to music when I am working on something creative—it helps me flow with and enables me to have an emotional connection to my work. However, when doing admin things, I need complete silence, otherwise my goldfish kind of attention span gets in the way. The kind of music I listen varies a lot depending on the task at hand. When I want to be very active and productive I usually listen to Rodrigo y Gabriella, for a calmer task I enjoy some experimental atmospheric music like Midori Takada or Alice Coltrane, If I am looking to flow with my stream of consciousness my favourite album is Pink Floyd's Dark Side of the Moon, and when I am tired of everything else Shakira's old songs give me a nice pick me up.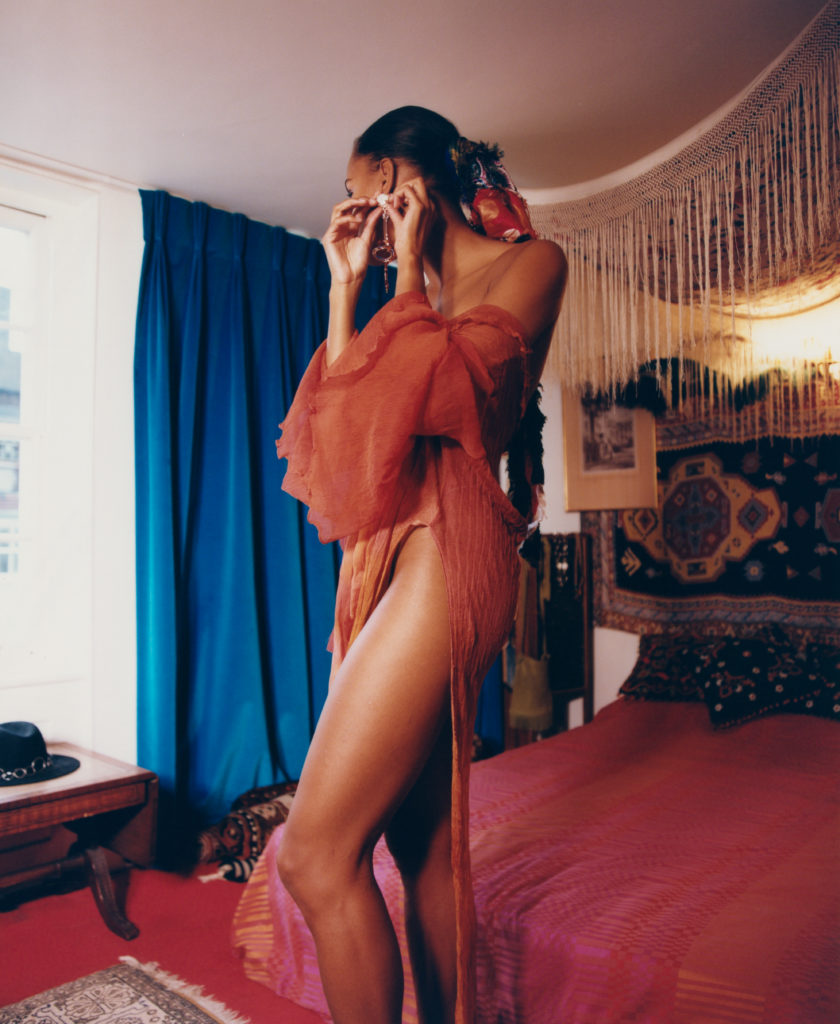 Why is Jimi Hendrix such a big muse for you?
It sprouts from his attitude. The way he walks, the confidence with which he carries himself, yet at the same time he seems very grounded. I admire his sense of style, the way he combines colours and textures, everything he wore and the way he wore it, the objects he collected in his room, his free spirit and his unbelievable talent that is so unique to him. Hendrix music is so vibrant and full of passion that I feel it transmits a sense of lust and excitement.
What do you see as the most essential qualities of knitwear?
That there are no limits to the expression of creativity through it. I used to get excited when I would get a chance to knit, thinking of all the garments and possibilities of creation already in my head. These days, going to buy yarns is one of my favourite things. It's even better than the actual knitting because nothing has been made yet. The possibilities still lie ahead and are open to the level of experimentation you want to take them towards. I love the possibility of incorporating things inside the knit and observing the way different materials respond to one another.
Other than music, what inspires you—what's on your mood board?
I am very much inspired by contemporary dance and Russian ballet. I love to watch garments in movement as they tell a story. I am very inspired by traditional customs from back home. I like the use of traditional Mexican attire, with rich colours, heavy embroidery's and bold silhouettes. I draw inspiration from a variety of artists from different tendencies from the work of Leonora Carrington and Salvador Dali all the way to Mark Rothko and James Turrell.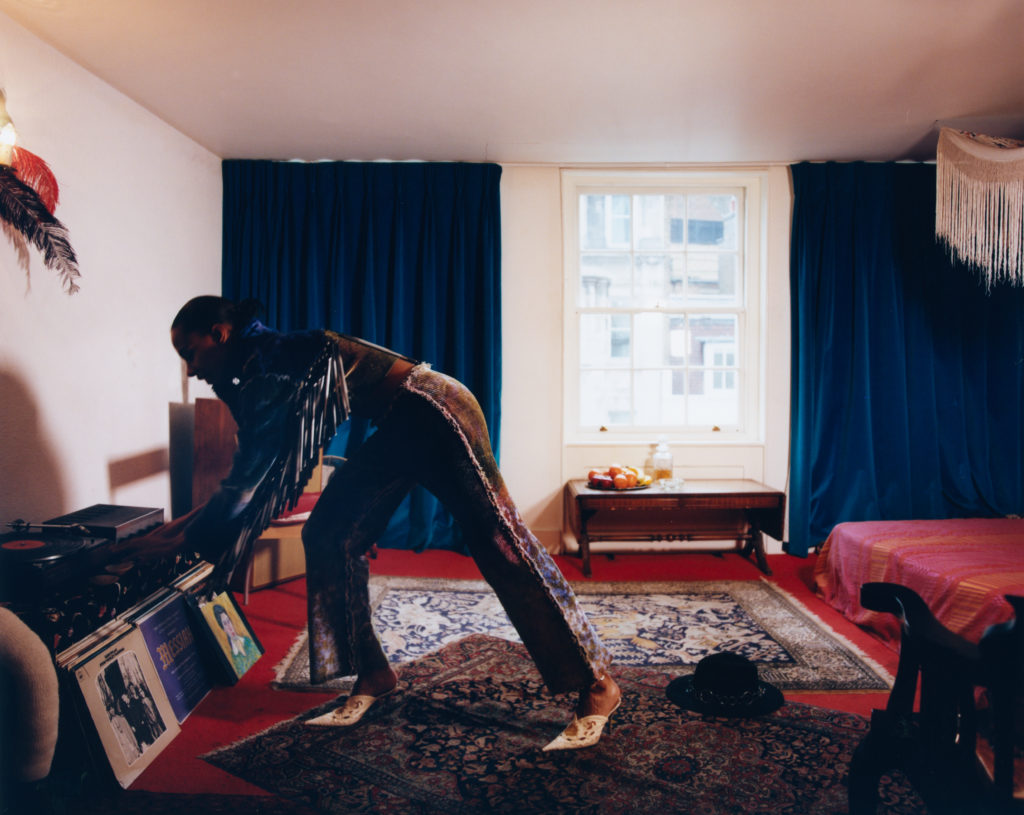 All looks GABRIELLE VENGUER
Photographer WENDY HUYNH 
Model EVE TRAMUNT
Styling LEA FEDERMANN