Though the number of Afghan migrants in Iran totals in excess of 4.5 million, their story is one that's often left untold. Fleeing from the Soviet-Afghan war, the civil war that followed and the war wreaked on Afghanistan by America, Afghans in Iran span three generations—and its the young working population that Middle Eastern photographer AliA seeks to tell the story of.
Without being afforded permanent citizen status in Iran, many Afghan migrants are unable to acquire official documents, and are therefore made to live without passports, denied the possibility of obtaining a drivers' license and forced to take under-the-table jobs for unfair wages. It's not an over-exaggeration to say that many young people are being robbed of their futures—left with little other choice than to engage in hard manual labour, for minimal pay, to provide for their families.
AliA captures Afghan youth workers who've been forced to compromise their creative dreams in the fight for financial stability in a country they can't even truly call 'home'. كارزار  ('kaarzaar'), the Persian word for 'battle', is the photo series exploring the recurring struggles Afghan youth in Iran face on a daily basis. Here, three of its protagonists, Naqib, Amin and Ramin share their stories and hopes for a better future.
Amin, 21, carpenter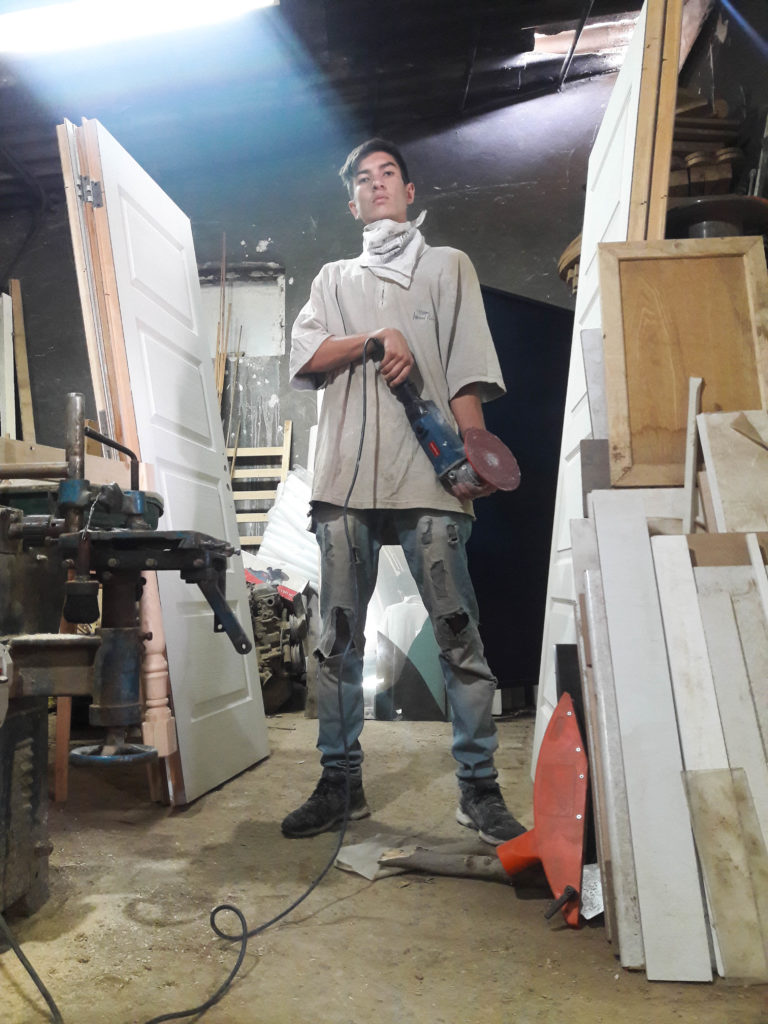 Born into an immigrant family, Amin's parents immigrated to Iran a year before he was born, taking their three children with them. Amin grew up in Karaj, a populated town close to Tehran, and still lives there today, working as a welder.
Growing up as an immigrant has impacted every aspect of Amin's life. "The challenges never end," he explains. "As an Afghan immigrant in Iran, you don't even get a passport. I don't see Iran as my hometown even though I was born here." 
Like Naqib, Amin sees music as a place of refuge, and, if money wasn't such a pressing issue, he'd be pursuing a rap career.  "I don't know about dreams," he says. "But my biggest passion in life is hip-hop." If I had enough money, I'd rent a studio and make my own songs and music videos." And although he claims the social conditions in Iran don't bother him as much as his other Afghan friends, Amin is frustrated with the way the system works. "You have to make a living with minimum wages and long work hours. You don't have much time or energy to pursue your dreams and that bothers me the most."
Naqib, 22, butcher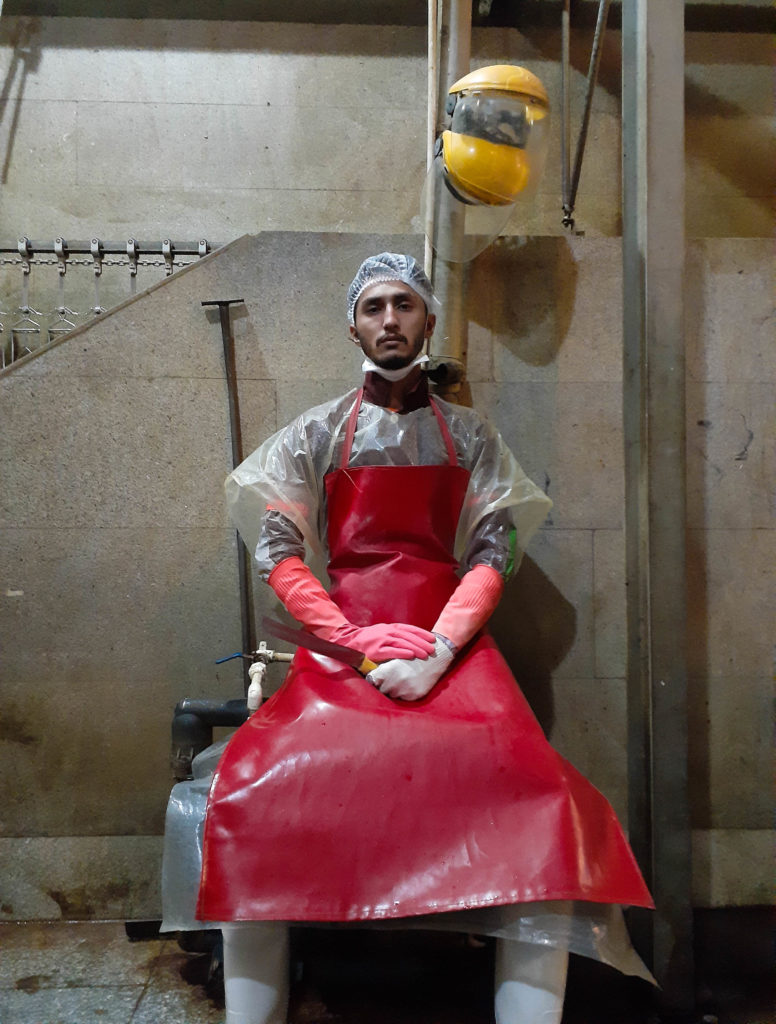 22-year-old Naqib works night shifts at a slaughterhouse in Tehran. "Skinning chickens and cutting their heads off isn't something you get used to," he admits, "but I have to do this to provide my family and my bride to be."
Living as an immigrant in Iran has left Naqib feeling ostracised from two cultures. "Iran is not my home and I don't feel at home in Afghanistan either," he explains. But despite this prevailing feeling of displacement, Naqib sees struggle as the core of his personality, and the foundation of his hobby: music. Writing rap lyrics in the Dari language has become an outlet for Naqib's self expression. "I write about social difficulties, pain, and agony, as well as hope for changes in existing circumstances."
Taking acting and rhetoric classes in his spare time, Naqib makes sure not to let life, and work, get the better of him. "As immigrants, we have learned to work things out in any situation," he explains. "I always imagine the best future and lead myself to it. I believe in the end the ones who try their best achieve the most."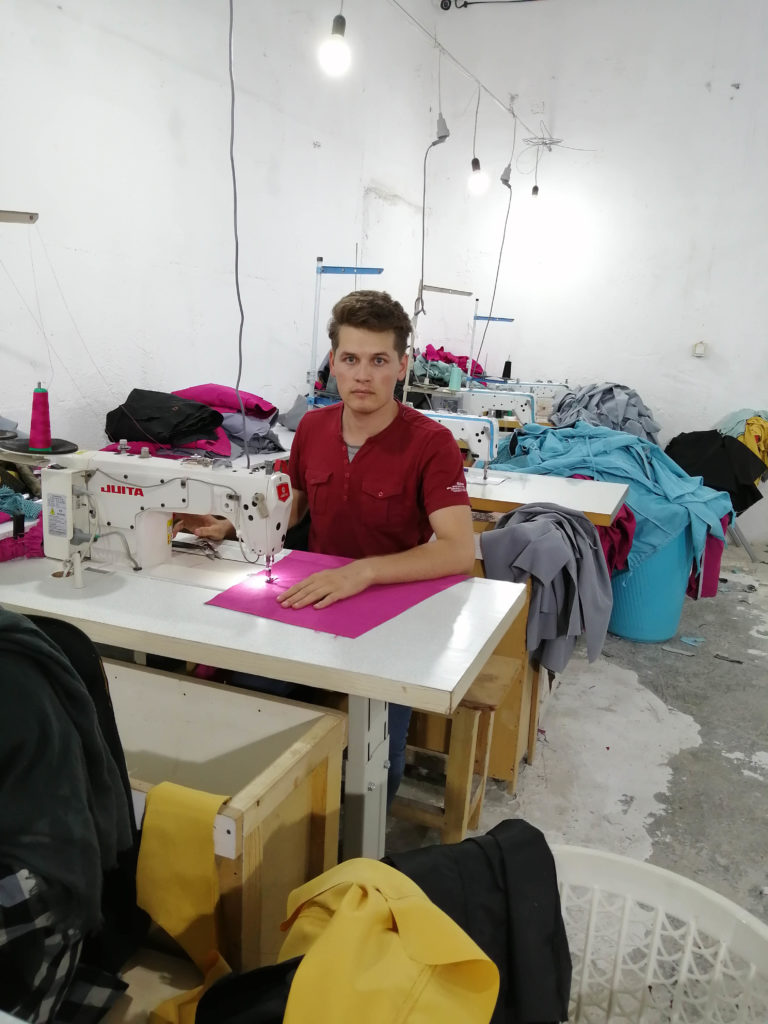 Born in Afghanistan, Ramin moved to Iran at just two years old, and hasn't been back to his birthplace since. "It's certainly had a big influence on my life and character," he explains. "There are a lot of barriers in the way when you are an immigrant—Iranians don't see us as compatriots."
Aside from working at the textile company, Ramin also occasionally lands modelling jobs, and hopes these kind of opportunities will continue in the future. "I love modelling for big agencies like adidas," he admits. "I love adidas as a brand. There's this south-side vibe in their campaigns which I can relate to really well and I love their energy and taste."
His only free time is nights and weekends. "Then I spend time with my family," he says. "I have to support them financially." It's a burden that's not uncommon for young Afghan immigrants in Iran, but one that Ramin takes on unbegrudgingly. And next to his aspirations for a prosperous modelling career, one goal prevails above anything else: "I can't wait to see my beloved Afghanistan again. It's been almost 23 years since I've been there."