This year marks the Bauhaus school's centenary, and it is no less relevant today than it was at its inception. Despite its mere fourteen year run before its founders and followers were ousted by the Nazi's, the German art school's global reach has been extraordinary. The impact that it had in its brief existence was so profound that it managed to terrify the Nazi regime to the point of persecution, driving its practitioners out of the Third Reich and proliferating its ethos into every corner of the world today. So what was it about geometric silhouettes and colour blocking that so petrified what was then the most powerful authority in Europe? Rather than the minimalist light fixtures and Spartan-looking furnishings, it was the school's collaborative and multidisciplinary ethos that posed a threat to the Nazis. And if what they feared was the growth of its influence and power, it seems they were justified—its impact has diffused into the furniture we use, the clothes that we wear, the spaces that we inhabit, even the font that we use to type, and in many ways, the way we see the world. 
While many associate the school with its architecture that punctuates much of Berlin, it originally didn't even have an architecture department. Rather, it began with an ideology of blurring the lines (though given its tendency for clearly defined lines that may seem ironic) between art mediums. It's no surprise, then, that the fashion world has taken notes from the movement, quite literally at times. From minimalist aesthetics to inspiration from original Bauhaus posters, many designers have shown an affinity for the movement, with some embracing the aesthetics of the school in all their designs and others releasing Bauhaus inspired collections—a fact that we're sure its founders would give their seal of approval to.  
Jil Sander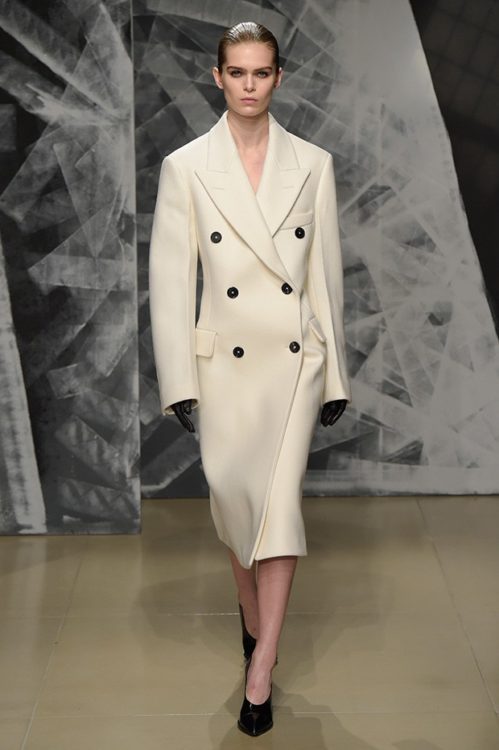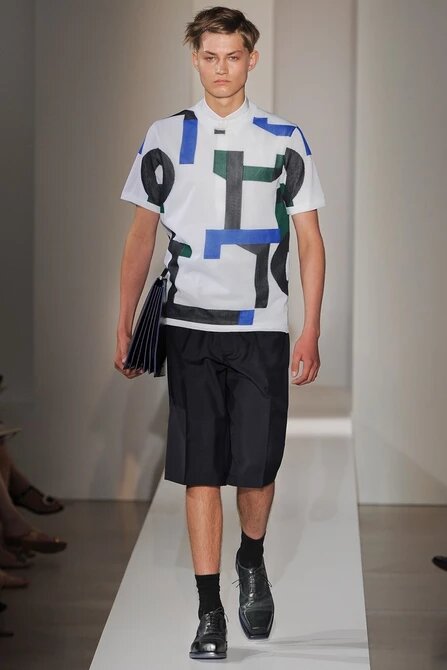 The Bauhaus school was pitched as a movement for everybody, and that included women, which was revolutionary for the time, albeit not without its own misguided gender stereotypes. In fact, one of its most popular workshops was in weaving and textile work, whose students were predominantly (you guessed it) women. But while female pioneers of the movement such as Marianne Brandt, Anni Albers, and Margarete Heymann were undoubtedly revolutionary masters of their craft, they are often disregarded and overshadowed by Bauhaus's male disciples. 
Although history may have swept these women under the rug, their legacies live on through the work of female designers such as Jil Sander. The designs of the German-born designer, who was a textile student herself, embody the aesthetic ideals of Bauhaus in their almost austere simplicity, to the point of being crowned the "Queen of Less" by the press. Debuting her first collection in 1973, her designs were in stark contrast with Paris's frivolously ornamental couture-craze at the time. And while her less-is-more aesthetic certainly didn't catch on at first, she was a harbinger of the movement towards minimalism in fashion. Her garments are simple, refined, utilitarian and timeless. One might argue that her high price point conflicts with the Bauhaus's aims towards accessible mass production, but her two year collaboration with Uniqlo introduced her signature sleek designs at affordable prices. 
Yves Saint Laurent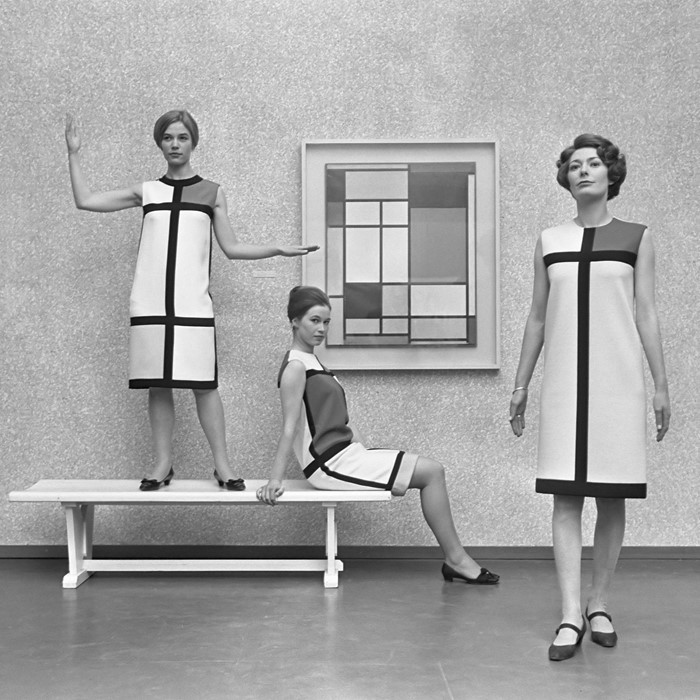 Collaborations are all the rage these days, especially in streetwear, but before Virgil and Supreme were doing it, the school of Bauhaus was championing the crossover between varying art forms from its inception in 1919. Dutch painter Piet Mondrian was an early pioneer of abstract art and a fervent follower of both the Bauhaus movement and its Dutch counterpart, the De Stijl art movement whose practitioners pared-down their artwork to the purity of vertical and horizontal lines, abstract geometric shapes, and primary colours. 
Mondrian's instantly recognisable geometric renderings were the key source of inspiration for Yves Saint Laurent's 1965 aptly named "Mondrian Collection," which featured six cocktail dresses baring Mondrian's signature shapes and colours. A lifelong art enthusiast and collector, Saint Laurent said of the artist: "Mondrian is purity and one can go no further in purity in painting. This is a purity that joins with that of the Bauhaus." Think of it as a Bauhaus x De Stijl x Mondrian x YSL collab, of sorts.
COS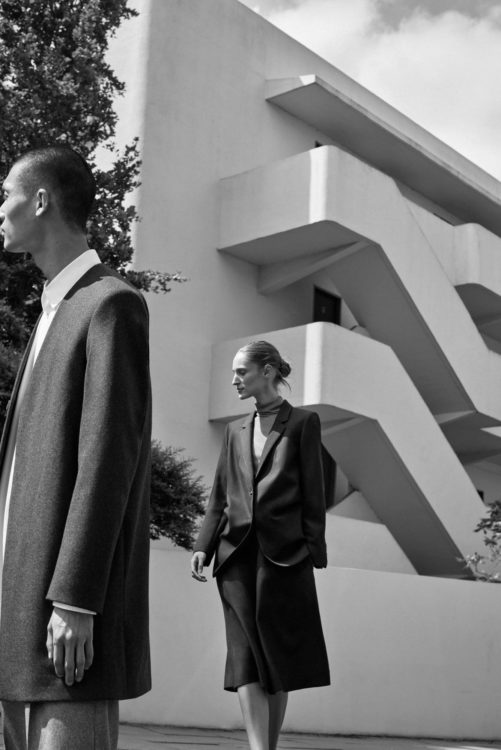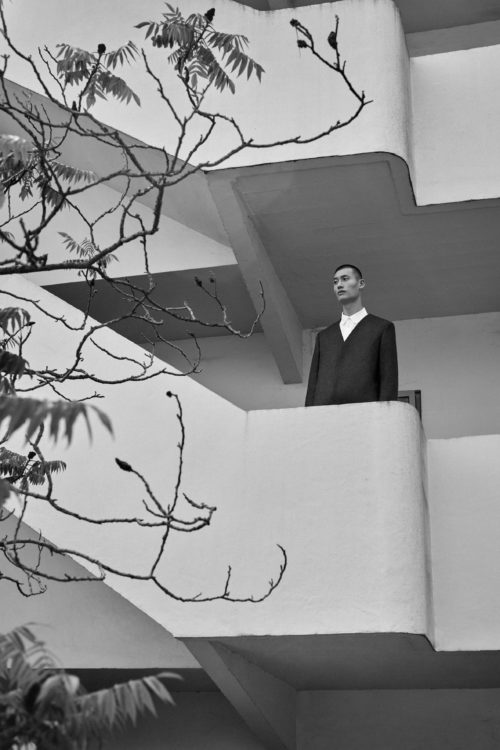 London-based COS, one of the brands operated by H&M, has long been a favourite of designers and architects with their simple but chic silhouettes that come at a more affordable price point than similar luxury brands. Simple, but definitely not basic, COS's garments have always had a certain Bauhaus-esque feel to them. To mark a century since the school's inception, they are paying tribute to the movement that has been so central to their work with a thirteen piece capsule collection that references both their twelve years of archives and the Bauhaus's one hundred years of influence. Celebrating form and function, the pieces are pared back to the max, with wool coats sans lapels, hidden fastenings, and sleek geometric forms in a monochromatic palette that mirrors the original Bauhaus school buildings. If you're already on the hunt for the perfect holiday gift for the architect in your life, this collection might be it. 
Brachmann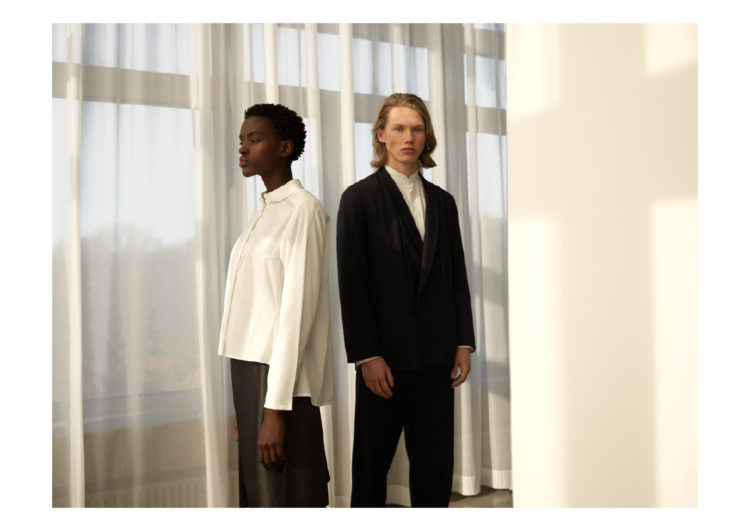 Berlin-based designer Jennifer Brachmann originally studied architecture, followed by a degree in fashion design immediately afterward, which essentially confers on her a PhD in Bauhaus. Her eponymous label Brachmann has the movement's modus operandi at its very core, merging her architectural background with her keen knowledge of tailoring to create timeless, streamlined, chic and sustainable garments. They are understatedly elegant and her architectural background shines through. Starting with designing menswear, Brachmann took staples of the male wardrobe and deconstructed them with an architectural flourish. Since 2018, she's been doing the same with womenswear, creating playfully minimalist pieces with plenty of attention to detail that would fit into just about anyone's wardrobe. Although it's a hundred years later, it's refreshing to see the women of the Bauhaus finally having their moment. 
Paul Smith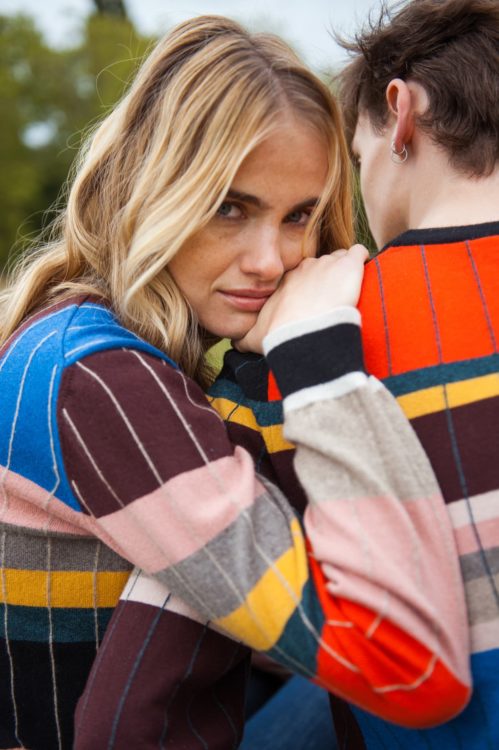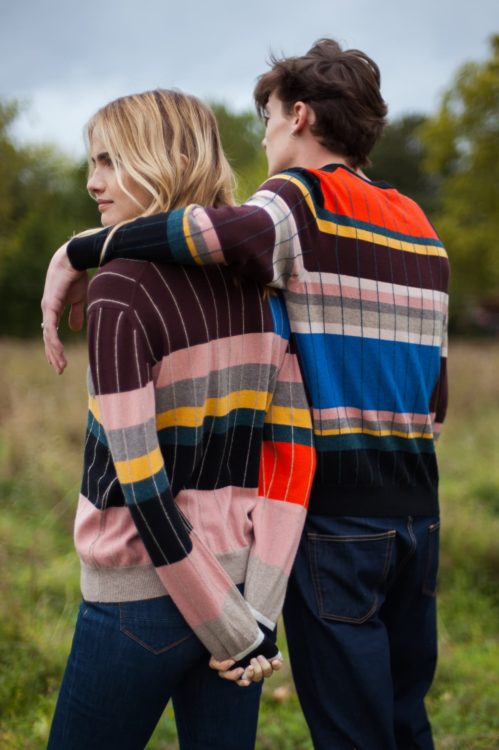 What's also refreshing to see are male designers championing female artists, even if its posthumously. Quintessentially British designer Sir Paul Smith has been setting the standard in menswear for decades with his sharp tailoring, simple and wearable designs, and his instantly recognisable signature multicoloured stripes, which could easily be ascribed to Bauhaus. And while the coloured stripes have become inseparable from the Paul Smith brand, he's been indirectly paying homage to pioneering Bauhaus textile designer Anni Albers since the start of his career. In fact, Smith references Albers as one of the catalysts for his impressive career in the industry: "My fashion career can be traced back to those early discussions with the art students about the Bauhaus, about Albers and about so much more besides"
Clearly a longtime muse, Albers's work was a direct source of inspiration in Smith's AW 2015 runway, when he collaborated with the Josef and Anni Albers Foundation (Josef being the latter's husband whose legacy has largely overshadowed hers) on a runway show featuring panelled garments with the couples distinct colour blocking tendencies. Smith continued repaying his creative debt to Anni Albers by launching a capsule collection in collaboration with the Foundation that launched in 2018 and featured knitwear featuring motifs from her work. It's easy to believe that Smith and Albers would have been kindred spirits, with their shared knack for functionality, shared colour sensibility, and commercial appeal. The collection coincided with Anni Albers's first major retrospective at the Tate Modern, a long overdue celebration of her contributions to the art of weaving. 
And while it may be ironic that renewed interested in Anni Albers's work is being piqued by a collaboration with a male designer after a lifetime of being overshadowed by her husband, the recognition, be it a century too late, is well deserved. The ongoing collaboration is also an excellent example of what an ethical collaboration between an artist and a fashion brand should look like (that's looking at you, Gucci).