"A blank space to freak out in"—this is how the creative minds behind AFROPUNK describe the festival which finds itself in communion with likeminded individuals and communities from Johannesburg and London to Atlanta and Paris. Grounded in the radical union of African pride and punk rebellion, the festival is radicalised self-care for people of colour in 3D, multisensory form. Known for its moodboard-worthy outfits and ecclectic peformers, freaking out never looked or sounded so damn good. Rooted in Brooklyn, AFROPUNK's latest edition in the bourough was predictably an ultra-cool celebration with performances by the likes of FKA Twigs, Death Grips and Goldlink.
New York-based photographer Nuria Rius attended the festival and captured the confluence of what AFROPUNK-goers stand for and how this is reflected in the meaning they derive from the festival-meets-philosophy.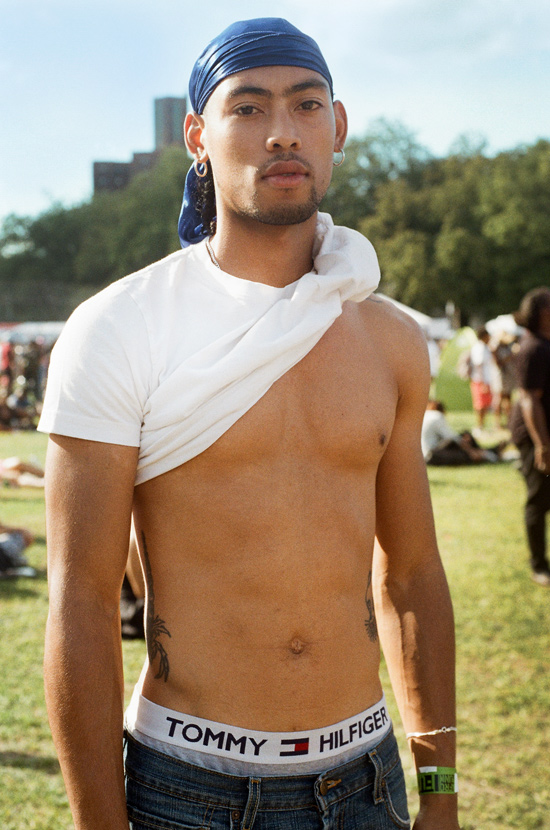 Miles Freedom | 24
I am from Toronto, Canada and living in New York at the moment.
I'm a DJ and model.
I stand for everyone who always felt they were a little different than most, for whatever reason, those who never aspired to be normal.
How would you define your style?
Cool and comfortable.
Soundtrack of your life?
The Wackness.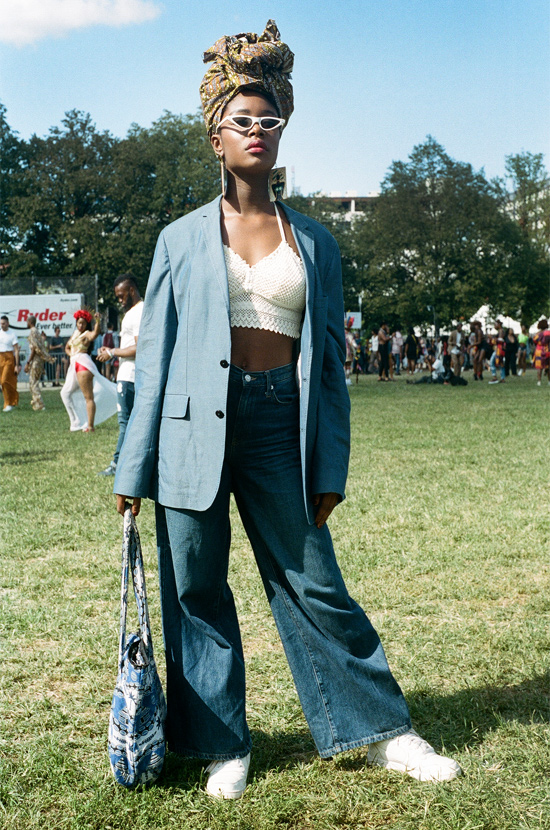 Naima | 20
I'm originally from the Democratic Republic of Congo and Senegal, I grew up and live in New York City.
I'm a student currently studying Human Rights and African studies.
I stand for global justice, accountability, self love, womanism.
What does "AFROPUNK" mean to you? 
It means a celebration and gathering of people to celebrate their individuality, creativity, and non-conformity. To support each other and bask in each other's greatness and beauty.
How would you define your style?
Versatile and intentional.
Soundtrack of your life?
'Ego Death' by The Internet.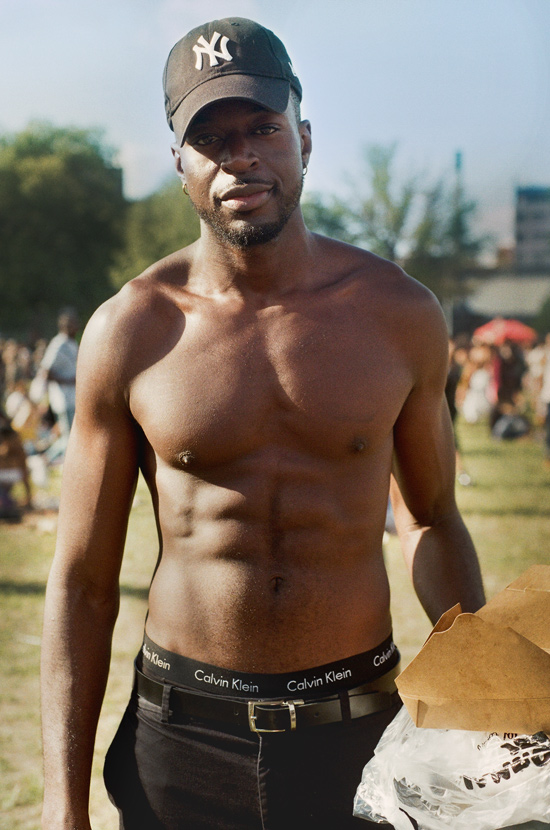 Yoan | 27
I'm from Paris but my roots are from Senegal.
I work in financial industry as a trader assistant.
I stand for living freely and fully, I stand for dreams. I think people need to remember the Lion King sentence "Hakuna Matata". We only live once; it's better to live happily.
What does "AFROPUNK" mean to you? 
It's a festival gathering all people around music and arts, people are free to came and enjoy like truly they are without any judgement. I've been to many festivals and you can only see this expression of art in here.
How would you define your style?
My style is definitely Parisian, I like to be classy, but at the same time to mix with streetwear sneakers or sweatshirts, and sometimes just wear a simple sweatpants with a sweatshirt.
Soundtrack of your life?
'My Lady' by D'Angelo.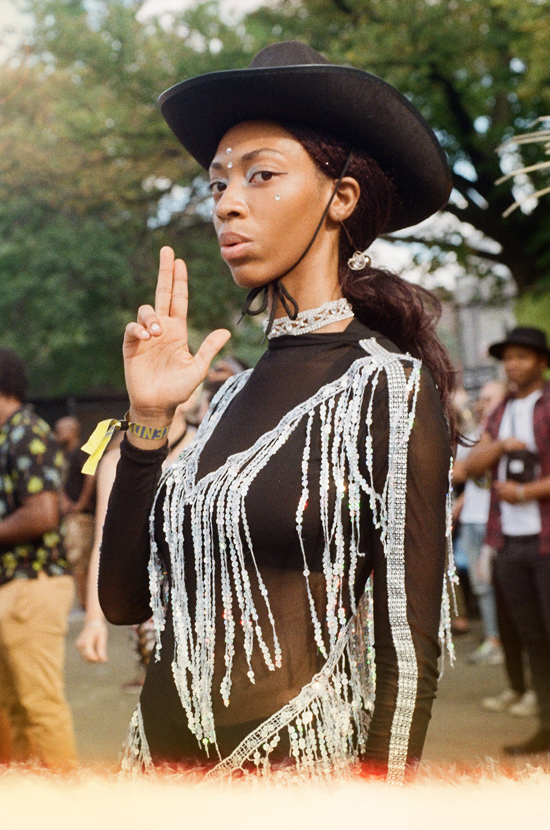 Deja Lytle | 24
I'm from and reside in Nashville, Tennessee.
I'm an independent filmmaker.
"I stand for this planet that has loved us unconditionally although we take it for granted."
 What does "AFROPUNK" mean to you? 
Spreading and receiving love from those around you.
How would you define your style?
My style is young adult swag. It's very flavourful and eclectic blend of classic styles with a new wave twist.
 Soundtrack of your life?
All of Flowerboy by Tyler the Creator.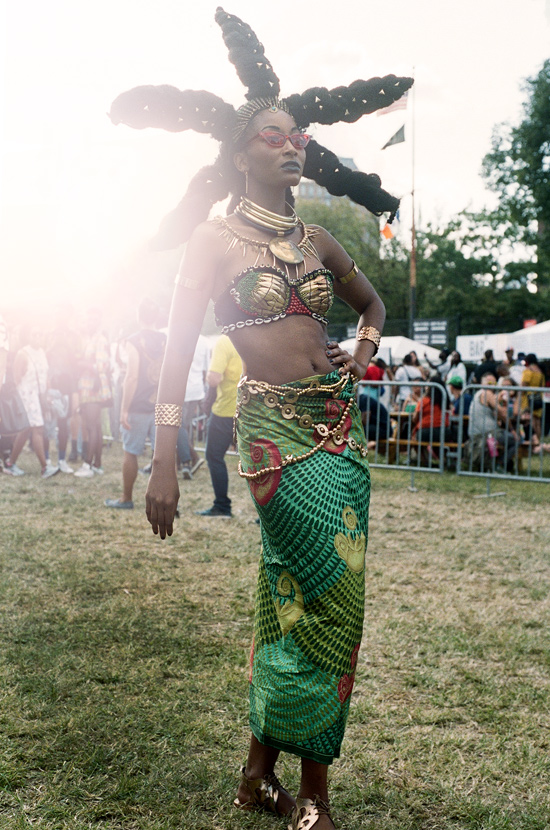 Assina | 33
I'm from both Congo (the Republic of Congo and DRC) and I live in Paris.
I create costume inspired by the traditional outfit women used to were before the colonial period in different countries.
AFROPUNK is about what you have in your mind in term of creation: let's enjoy each other creation, come freely and let's enjoy music and food all together.
How would you define your style?
African magic, my roots.
Soundtrack of your life?
Falky Ipupa.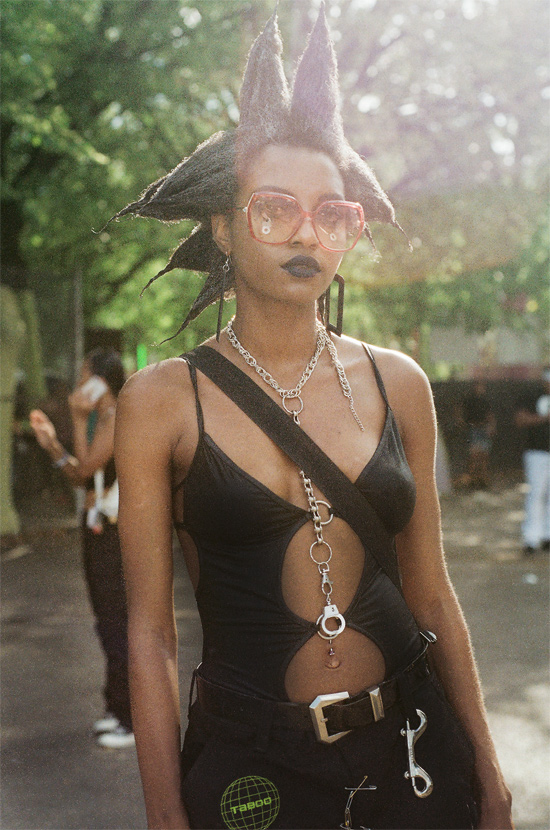 Britney Franco | 20
Born and raised in Bedstuy, Brooklyn.
 Filmmaker, writer and student.
I stand for celebrating blackness and queerness, embracing authenticity, challenging conformity, community building, and eliminating ignorance through self-education. 
 What does "AFROPUNK" mean to you?
It's a celebration of the qualities I was shunned for growing up. I've always been unapologetic about my black pride and love of hardcore/punk/experimental music—AFROPUNK beautifully embodies that intersection. It's wonderful to have a physical space where I can embrace these parts of myself while being surrounded by people who also live for self-expression.
 How would you define your style? 
I have an eclectic style inspired by my passion for Afrofuturism, horror, film/television, and history. I treat my body like an evolving work of art. People often tell me that I look like an anime character, which is a really fun way to think about my outfits. 
 Soundtrack of your life?
'Artificial Death in the West' by Death Grips.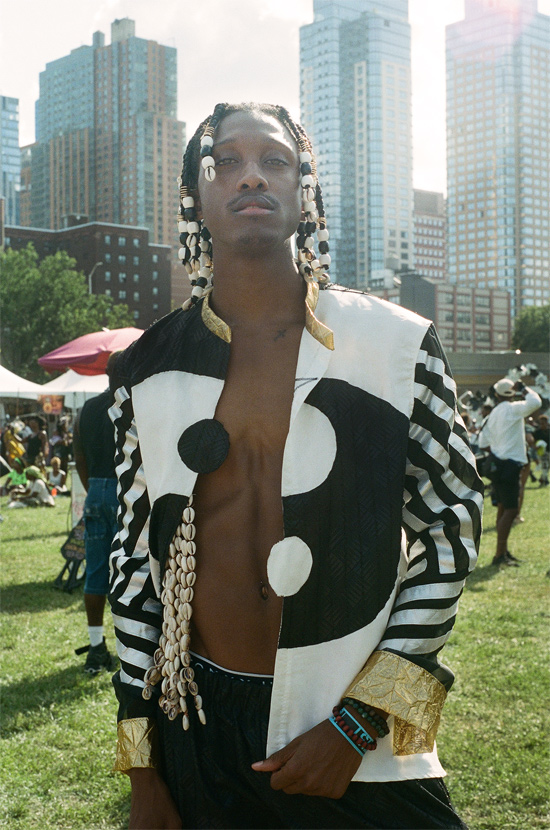 BYHAZE | 25
I am from East Orange, New Jersey but currently live in Newark.
I am a musician, entertainer and community organizer via non-profits and urban community partnerships.
 I stand empowerment of youth, black people, and marginalized populations and for the environment.
What does "AFROPUNK" mean to you? 
It's an unapologetic safe space for diverse populations of black and brown people to express themselves freely. Black people are the source and come in all shapes and sizes, style and music-wise and we get to celebrate our uniqueness at this festival.
How would you define your style?
My style is earthy; I like to pull my inspiration my nature and the universe. My clothes are often thrifted, gifted or repurposed. I also am inspired by African culture and love experimenting with timeless afrofuturism.
Soundtrack of your life?
Any and every Erykah Badu album specially 'Baduizm'. But I've been really loving Burna Boy's album African Giant.
Photography NURIA RIUS