No shade, but this might be the best sunglasses collab we've seen this summer. The eyewear connoisseurs behind Austrian brand Andy Wolf—Andreas Pirkheim and Wolfgang Scheucher—have teamed up with Cologne-born accessory makers pinqponq to create two new sunglass models which, for the first time see Andy Wolf taking on a more sport-orientated style. But this is no ordinary sportswear—it's a refined and mature design effort that lays bare Pirkheim and Scheucher's thirteen years of industry experience. Introducing two new styles—pinq and ponq—the collaboration takes cues from the traditional sport aesthetic and elevates it to a high fashion realm with a streamlined structure and high attention to detail.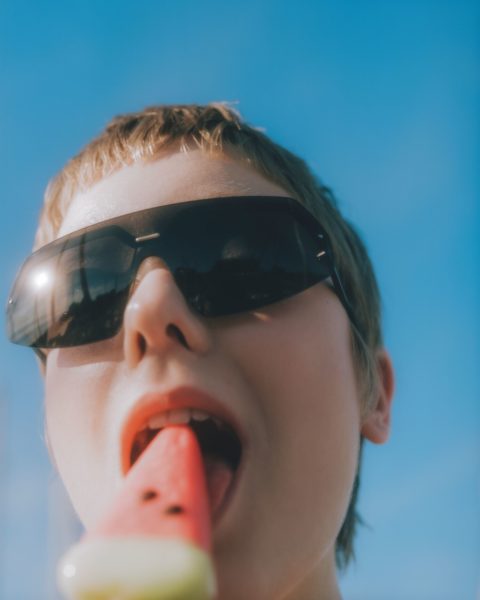 Founding their brand in 2006, Pickheim and Scheucher have been creating ultra modern eyewear for over a decade, and their vested effort in contemporary craftsmanship is something that aligns with the pinqponq state of mind too. Both brands are dedicated to bold, yet understated design that's practical, but also packs a punch when it comes to style—as well as sharing an unwavering vision for a more sustainable future.
For this exclusive collection, Andy Wolf brings the eyewear expertise and pinqponq delivers its signature pragmatic yet progressive accessory approach with a limited edition bumbag—the Boks—which is made up of three different elements to house the sunglasses, your pick of personal essentials, and a belt, to wear as you please. And, what's more, in a combined environmentally conscious effort, the Boks is made out of 100% recycled PET-bottles, just like all other pinqponq products. 
The set with one pair of glasses and the Boks bag is available now at LN-CC, selected opticians and via pinqponq.com.
Photography LUCAS CHRISTIANSEN
Models SOPHIE KLOCK & FIWOO
Hair & Make Up AENNIKIN
Styling LEONIE VOLK