Josephine Bergqvist and Livia Schück don't shy away from pretension. The Swedish design duo have no qualms aiming high—and their ultimate goal is to become role models for others in the industry. With sustainability and upcycling as their two guiding principles, the Swedish design duo founded their brand Rave Review back in 2017. A year later, it won the Swedish Fashion Council's Changer Award, and in its second year—2019—it received the H&M and Elle Newcomer Award. But despite the unceasing accolades, Bergqvist and Schück never stop reaching—and with such a burning desire to not only challenge, but change the status quo altogether, the two seem destined for success. We caught up with the pair to talk pushing boundaries and the sustainable fashion paradox.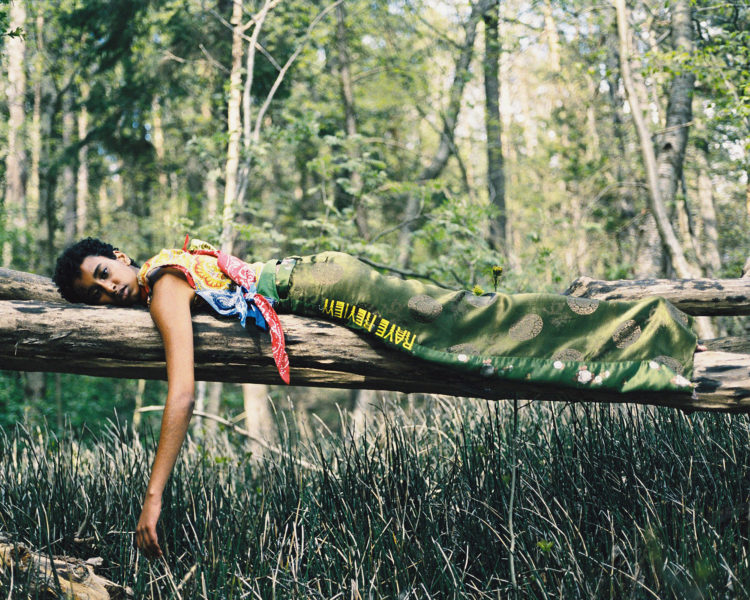 Why fashion?
We both got in to fashion for different reasons, but realised quite early on that we shared the same artistic sense and references. Both of us felt equally guilty and ashamed by the choice to become fashion designers—we knew it wasn't the way to contribute to a better world. To justify this we wanted to use fashion to make an impact on society and on an individual level.
Sustainability is obviously a huge buzzword within the fashion industry at the moment, and it's difficult for consumers to ascertain just how sustainable a brand actually is—how did you conceive of your approach to sustainability and how viable do you think it is for the future of high fashion?
Since we started two years ago, a lot has happened on the fashion scene and the interest for sustainable fashion has grown a lot alongside with the general environmental awareness. That's fantastic and makes our job even more joyful, perceiving such a big appreciation and demand our creations and how we're approaching fashion. There's still a lot we need to figure out within manufacturing and sourcing. The type of remake-production that we need to be able to grow is not evolved on the market yet. To actually earn money on sustainable fashion and make it production friendly and efficient is a challenging task, but looking forward it's the only future fashion could have. Sustainable is definitely a buzzword of our time, let's just hope it will result in actions and not only remain as a trend—the industry needs a revolution.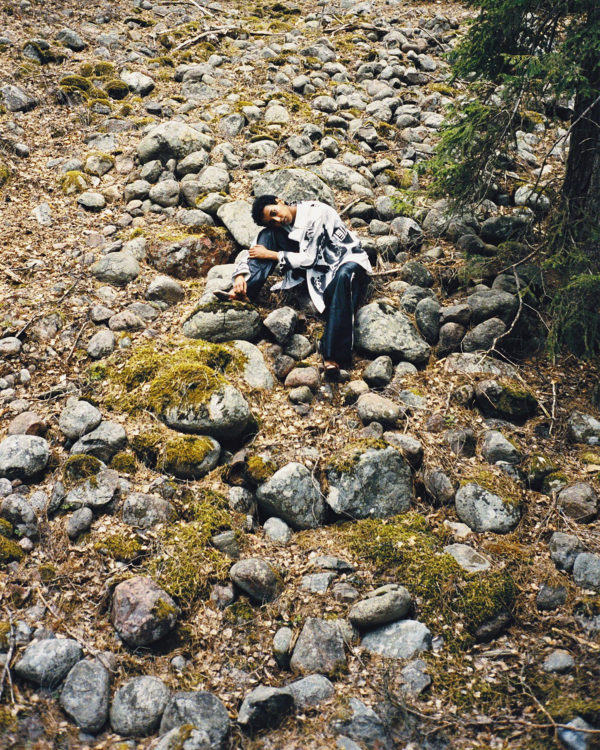 How would you describe the Rave Review aesthetic?
Our aesthetic is born out of mixing and swapping context and materials. It comes very naturally when working with pre-existing materials—we use well known and nostalgic textiles in a new and contemporary way. We are always seeking the balance between raw and embellished. Remake and deconstruction is something significant for Rave Review's DNA, and is always the starting point for a new collection. Deconstruction is a way to create and it's an endless source of inspiration.
How do you go about sourcing materials for your collections?
Sourcing is the biggest challenge for us to be able to scale-up our business. Right now we are working with a great sorting company in Sweden called Emmaus Björkå, as well as other second hand companies, antique dealers and buying from people online. In production, all textiles are hand-picked by us which makes it very exclusive. The fact that every garment is more or less unique was something bigger retailers in the beginning found complicated, managing all the administration for publishing online. But now it seems like they are more willing to invest more time and money in to it, which is a step in the right direction. New more innovative platforms are popping up on the different online retailers. For next season we will be available at Matches Fashion, Browns and LN-CC.  
What drives you to create?
When you start to develop and embrace all your creativity, it's hard to stop. It's depressing not having something creative to work with. It sounds like a cliché, but it's like a drug. You feel empty when you don't have a project going, and it's the same feeling after a show. Most creatives have an urge to somehow communicate their ideas and inner life, and ours is fashion.
How do manage working together, do you both take on different roles?
Working together in a design process is nice because we develop each others ideas and take them further. We have different strengths as designers and make a good team together. Being in this industry and working double jobs is heavy so it's essential to share it with someone.
How do you deal with the paradox between building a profitable business model while still adhering to your sustainable principles, has this been difficult?
It's a paradox and we haven't really figured it out yet. So far we haven't been tampering with any of our principles, and it's very important to us to keep it that way. We are working towards a long-term goal -to be a role model for sustainable fashion by combining remake and high-end fashion and show that upcycling has a place on the international fashion scene. In order to do that we need to find new ways to produce our products and make it profitable, but that takes time and we are not there yet.
Photography & Art Direction KIMBERLEY IHRE
Set Design MATILDA BECKMAN
Styling JOSEPHINE BERGQVIST and LIVIA SCHÜCK
Hair and Make-up JOSEPHINE GOLAN
Model SALINA, 3rdspacemgmt