When it comes to fighting for gender equality in the sporting realm, Nike is taking a stand. Although there is still a lot of work to be done, recent years have seen an undeniable smashing of unequal standards, on and off the pitch. Match attendance for woman's football games is experiencing a soaring rise and it shows no signs of slowing—more fans are tuning in with each season. Now the upcoming tournament in France carries with it the electric potential to become a monumental turning point, finally levelling the playing field between female athletes and their male counterparts. An intersectional, more equal future is what's at stake, and this is the driving force behind Nike's recent campaigns championing women in sports. For this generation and the next.
A vision for complete inclusivity is best tackled from multiple angles—which is exactly what the sportswear brand is seeking to do. Following years of support for female athletes, Nike has taken things to the next level—they are now making waves in the professional football sphere, this year launching 14 female-specific National Team Collections for the upcoming summer tournament and uniting with the UEFA to support the overall growth of women's football. More locally, Nike is fighting to make sports more accessible for young women—the NikeWomen Berlin Days enlisted a host of inspirational athletes and creatives to make this dream a reality. Underpinning these empowering endeavors is Nike's burgeoning Next chapter of Dream Further, a compelling video series offering powerful messages to sports fans and the next generation of dreamers alike. So far the series has celebrated athletes from Serena Williams to the awe-inspiring wheelchair athlete Megan Blunk. Now, the brand has brought us another installment of this campaign—featuring female football athletes from all over the globe, Nike's new 'Dream Further' film celebrates the magnetism of this summer's tournament and invites women of all ages to get involved. 
On its quest to advance woman's football, Nike finds a perfect match for another inspiring video in the form of Sara Däbritz—who can also be seen in the Dream Further film—a German footballer who has been scoring goals for gender equality since the beginning of her formidable career. For Däbritz, "talent isn't enough", determination and discipline are everything. First picking up the ball on the streets of Ebermannsdorf at only five years of age, this mantra has ensured the 24-year-old hasn't dropped it since. Now the motivated midfielder will be taking on the life-changing challenge of playing for Germany in the colossal summer tournament in France, a task Däbritz will no doubt take in her (running) stride. In preparation for the games, Nike offers a glimpse into Däbritz's inspirational journey in a new film, exploring her humble beginnings and her rousing dream for the next generation—"that women's games will sell out stadiums".
When it comes to empowering young, sports-fanatic girls, visibility is key. By shining a spotlight on athletes like Däbritz, and by offering steadfast support to women-led sports, Nike continues to light up the path for future generations.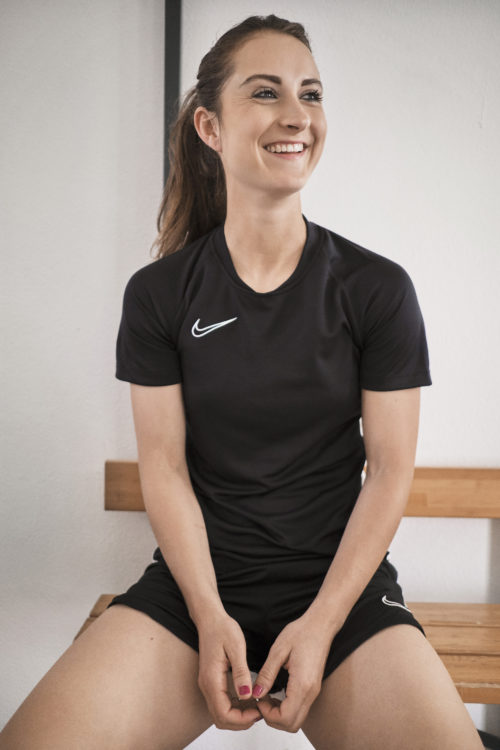 Header image courtesy of NIKE.
Paid sponsorship with NIKE.