Last month, a single article shook the foundations of ballet. The damning and detailed exposé, written by Florian Klenk for The Falter, brought to light shocking allegations against Vienna State Opera academy personnel of physical, emotional and sexual abuse towards children. Since then, the scandal has sparked international outcry, as victims continue to come forward with stories of their mistreatment at the hands of employees of Austria's most prestigious cultural institution.
"It's disgusting and unbelievable, but it happened," says Sharon Booth, former teacher at the academy and whistleblower of the exposé. Booth taught at the school for seven years between 2010 and 2017, first on a 17-hours a week basis, but after speaking out against the harsh 'teaching methods' and so-called 'disciplinary' measures she witnessed, her hours were reduced to just two. "I was very vocal about issues that I was highly aware of, especially eating disorders and body shaming," she explains. "Basically I was mobbed and blackmailed by the director for trying to be too involved and for making the students my priority." Her demotion by Simona Noja-Nebyla, the school's managing director, was a clear reprimanding. "She made an example of me," Booth attests. "She really let it be known to everybody that if you're going to meddle in issues like these, it's going to be a problem for you."
These issues, reaffirmed in the stories outed in The Falter and subsequently The New York Times are harrowing—from body shaming and ridicule to instances of physical violence, such as pulling students' hair, scratching to the point where skin bled, and one girl's experience of being kicked "like a football". In such fierce, female-led institutions, the level of pressure and shaming seems decidedly anti-feminist. Having suffered from bulimia herself for a decade (a condition that would lead to the premature ending of her on-stage career) Booth is very familiar with the chipmunk cheeks, discoloured fingers and huge fluctuation in weight that accompany eating disorders, and appalled by the manner in which such problems were ignored, or even encouraged by figures of authority. "The bulimic children often get throat infections from throwing up," she says. "Then with anorexia, it's this slow and shocking demise of a body as it turns into something skeletal. They're very different, but the symptoms are easy to spot." Booth explains that children as young as 10 and 11 were pressured into losing weight by teachers, who would send letters home to their parents asking them to monitor their eating habits more strictly.
And such stories are not uncommon. The intense scrutiny, discipline and pressure inflicted upon young ballerinas is well-documented. Tales of anorexia and extreme bodily strain continue to make headlines, and lend themselves to countless TV and cinematic narratives surrounding dance—from Center Stage to Black Swan. But though the prolificity of such mistreatment does nothing to diminish its inexcusable abhorrence, unfortunately—to borrow Jenny Holzer's now-notorious truism—the abuse of power comes as no surprise.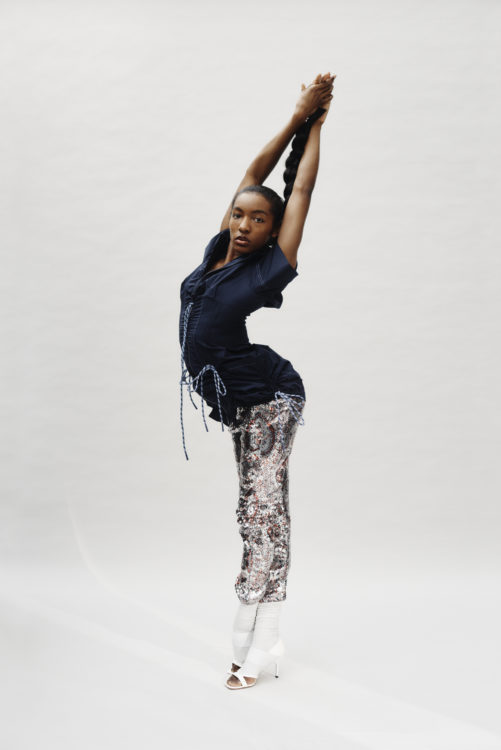 INDIE cover star, 24-year-old English National Ballet dancer Precious Adams, has been open about the the dire need for more diversity in dance and her own experience of racism within the industry. While training at the Bolshoi Academy in Moscow, she was often excluded from performances and once encouraged to "try to rub the black off". In 2018, Adams refused to wear the traditional pink 'skin-coloured' tights in a performance, and pushed instead for hosiery that matched her own skin tone. "I still wear pink tights for certain roles," she tells INDIE, "It was more about me opening up the discussion with my boss, but things get blown out of proportion and it became this controversy."
Abuse cases like these are symptomatic of unacceptable institutionalised prejudice, but as 18-year-old ballerina Luna Montana is quick to point out, much of the destructive pressure faced by dancers is also self-inflicted. "For me, it never came from my teachers," she explains. "There's just not a lot of diversity in the professional ballet sphere. From a young age, you're taught—even if no-one says it blatantly—that if you don't have the right foot arch or the right torso length, you won't succeed. It's just ingrained in you. You're looking up to dancers who all have the same body—and they were born with it." Even dancers who are nurtured by their ballet studios fall victim to the status quo. "I was buying foot arch stretchers in 6th grade," Montana affirms. "That's not as bad as what dancers face later, but it's already demonstrating a conscious effort to physically change your body. It's torture."
"We need to raise dancers to know that their individuality is the most precious thing, in combination with their health, personal power, talent and discipline"
https://www.instagram.com/p/BcTfkoNgNkO
But things are beginning to change, albeit slowly—and such change is increasingly catalysed by pressure outside of the ballet world. As dancers like Adams and Montana gain mainstream attention—online, in magazines and over social media—and scandals like those in Vienna are unearthed to the general public, they insight widespread outrage and strong solidarity. There's still a long way to go, but slowly, academies are moving away from strict, 19th century Russian teaching methods, and towards a more diverse dancescape. In 2015, when ABT promoted ballerina Misty Copeland to principal dancer, she became the first black woman to hold this position in the 75 years of the company's existence. The move was met with international media attention, and set a precedent for other companies to follow. "After [she] was promoted…it was always going to blaze forward," Adams affirmed. "She has really paved the way for opening up the discussion and getting people to just stop making a thing out of being black in ballet."
As we set the pace for societal change, ballet needs to start measuring up with the expectations and standards we set elsewhere. But the one-size-fits-all mentality that plagues the mental health of young dancers is still prevalent in the industry. Montana, having overcome the body dysmorphia she once suffered with, uses her 67K-followed social media account to inspire body confidence and educate young dancers about the importance of nutritional and mental health. Booth, too, believes the answer lies in education. "It's the responsibility of the academy, as an educational institute, to develop these students as the best dancers they can be, but also the best people they can be," she explains. "Not everyone is going to fit into a cookie cutter format, and that's okay. We need to raise dancers to know that their individuality is the most precious thing, in combination with their health, personal power, talent and discipline. Those are the things that are going to bring them to success, personally and professionally."
Precious Adams' comments have been incorporated from a feature in INDIE 62.
Header image reproduced from Wikipedia under Creative Commons.