Few streetwear brands have made such a mark on the international streetwear circuit as A Bathing Ape— or BAPE. From Kelis' 'Bossy' ("I told young stunna he should switch to BAPE") to Soulja Boy's more blatant 'Bapes' ("man I got me some Bathing Apes"), BAPE is a streetwear brand with a legacy that precedes it. Founded by Japan's Tomoaki Naga, better known as DJ, producer and mononymic fashion mogul NIGO, the brand's 1993 conception is recognised by many as the birth of streetwear—the pioneering foundation of a hype-led trend that would quickly take the international hip-hop and fashion scenes by storm. And despite NIGO's departure back in 2013 (the Japanese designer now heads UNIQLO's creative team) BAPE has continued to boom, boasting must-cop collabs with everyone from Adidas to A$AP Rocky. And the latest in the brand's cross-cultural collaborations comes in the form of Swiss timekeeping specialists, Swatch. 
The limited edition collection, which features five new watches, was unveiled under the bright lights of Tokyo's metropolis on Friday in an exclusive event which brought each timepiece to life in the context of the city that inspired it. Designed with world domination in mind, the new line of Swatch x BAPE watches takes five megacities as its starting point—beginning with the brand's respective hometowns, (Swatch in Bern and BAPE in Tokyo) and extending to London, Paris and NYC, culminating in a limited series that's set to get the whole world's attention. Transported to secret locations in camo-covered buses, attendees of the hotly anticipated collab launch were presented each of the watches against a bold backdrop that spoke to each design's geographic origins—from Pimms in an extravagant London museum to bold burlesque in a Parisian restaurant. 
Each watch fuses Swatch's Swiss timekeeping expertise with iconic camo print—the instant and immutable signature of BAPE.  Taking Swatch's BIG BOLD model as its starting point, each watch pays tribute to its respective city, in celebration of the diversity and dynamism of a well-connected world.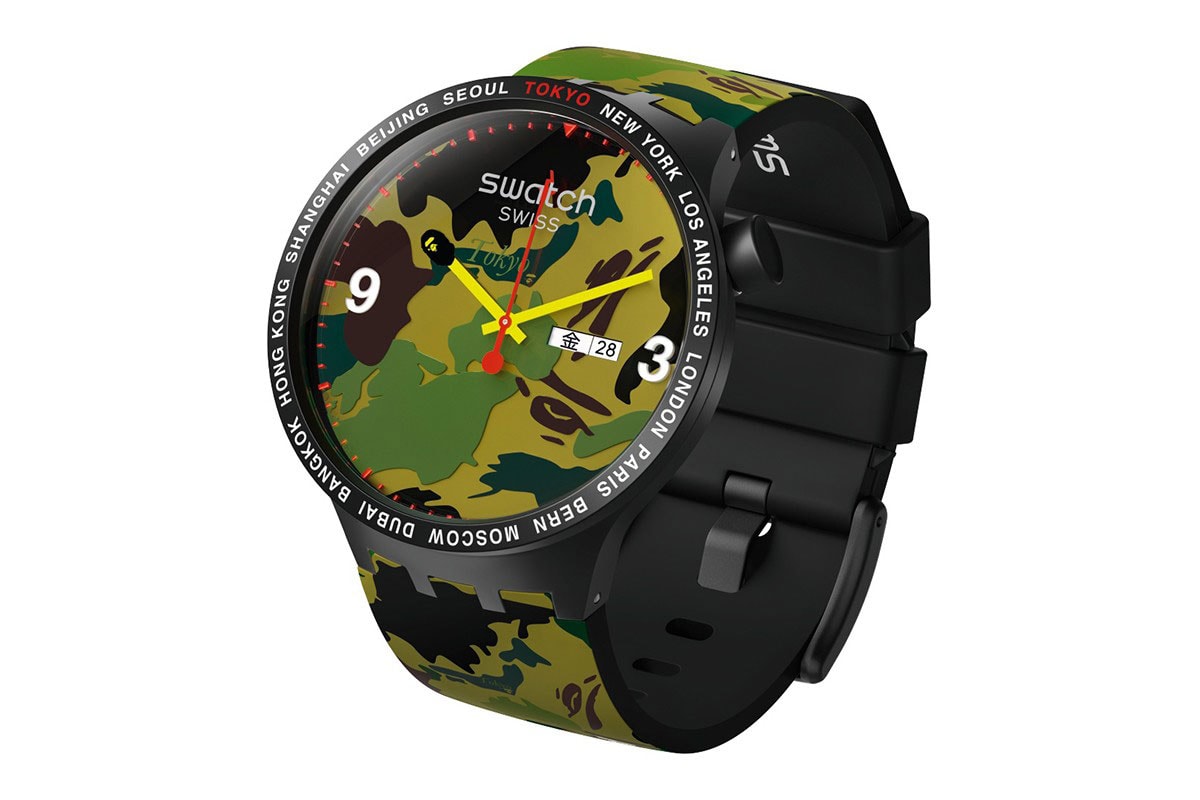 Each watch is limited to either 983 or 1993 pieces, harking back to the birth year of each brand. To cop the exclusive Swatch x BAPE collab, head here.