Today, Massive Attack's Mezzanine turns 21—the same day I, less remarkably, turn 25. My affinity for this album doesn't stem from our shared birth date, but it's prolificacy in my existence—the soundtrack to long car journeys, the contents of my Dad's iPod Classic, which would click as I traced the circle of its dial and scrolled through the album's disquieting track titles—'Dissolved Girl', 'Inertia Creeps'. Early in my teenage years it resurfaced, nostalgic, but also new—and it acted as my gateway into electronic music. But Mezzanine wasn't monumental only for me, it was an epic explosion of trip hop electronica that cemented Massive Attack's position among the masters.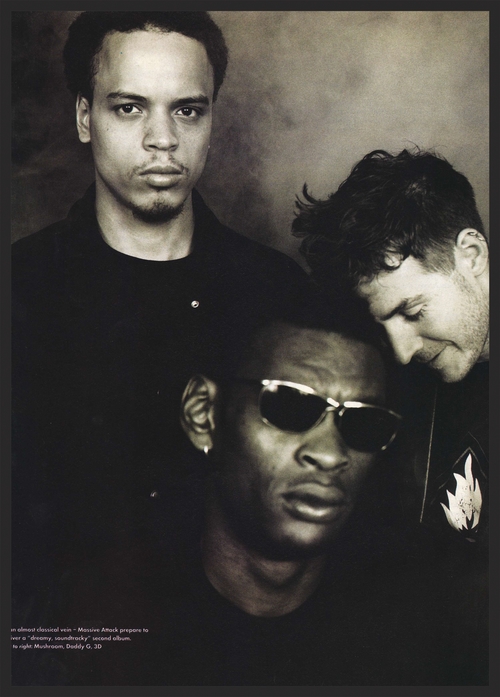 If you don't know the story of Massive Attack, you're not the only one. A cult band never caught up in the cult of celebrity, Massive Attack enjoy a largely faceless level of fame, pre-social media, nestled within their niche, celebrated for the tenacity, integrity and ingenuity they poured into their distinctive sound. "By doing it slowly and anonymously, we can actually enjoy it," the trio told Q Magazine back in 1991. Born out of Bristol's burgeoning music scene in the late '80s, the three-man band comprised graffiti artist-turned-rapper Robert Del Naja (known on-stage as 3D) and DJs Grantley Marshall (aka Daddy G) and Andrew Vowles (aka Mushroom). Experimenting with sample-heavy melodies and moody sprechgesang—vocal chants that oscillate between singing and spoken word—the band cultivated their genre-defining sound for 12 years before eventually being taken under the wing of Neneh Cherry in 1990, and signed to what later became Virgin Records. Their explosive debut Blue Lines, released a year later, took cues (as well as literal samples) from rock, soul, hip hop, reggae and dub to create dynamic electronica that continues to resist categoric definition. "What we were trying to do was create dance music for the head, rather than the feet," Daddy G told The Observer, and that's exactly what they did.
Mezzanine came six years later, and though it may have been Massive Attack's third album, it was the band's climax in more ways than one. Coming out of a time when tensions among the group were high, it not only marked the end of an era for the band—who were torn apart by Mushroom's departure and Daddy G's so-called 'sabbatical'—but it also pushed the limits of the band's already saturnine sound. With trippy dub beats layered under moody vocals and driving, melancholic melodies, Mezzanine is an album more magnificently dark than anything Massive Attack had done before.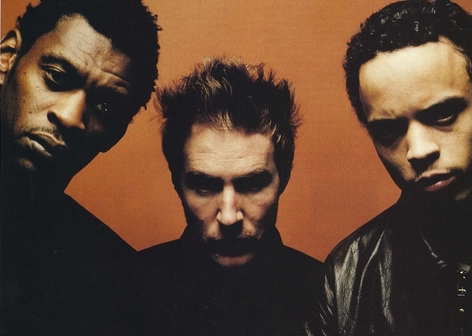 The album opens with 'Angel' and a distorted, brooding bassline that gives way to Horace Andy's vibrating vocals. Punctuated by jagged beats and the titillating reverb of percussion, Andy's louring lyricism—those eight lines that seem almost inconsequential when read—is haunting when heard. "You, are my angel," he chants, "come from way above, to bring me love." Spectacularly cinematic—scoring the searing incendio of Snatch's burning caravan scene among countless others—'Angel' is markedly Mezzanine's heaviest track, driven by that epic, unrelenting guitar crescendo that feels instantly monumental.
And darkness endures as the album continues. A sense of the sinister seeps, in one way or another, into each one of Mezzanine's eleven offerings, from the dubby grunge of 'Risingson' to the ominous edge of 'Inertia Creeps'—a track critic John Bush suggests "could well be the best production from the best team of producers the electronic world had ever seen." 'Man Next Door' might seem to signify Horace Andy's safe return to home soil, reconnecting with his reggae roots, but his mesmeric rendition of The Paragons' classic is dark-edged, even a little ominous. Even the most uplifting of the album's outpourings, the monumental 'Teardrop', is underpinned by a mournful melancholy as Elizabeth Fraser's longing, sensual projection of "fearless"ness breaks down into resigned desperation—"you're stumbling a little." 'Teardrop' is a song about grief, written following the tragic death of Frazer's ex-lover Jeff Buckley, and the rich iconography embedded in its lines—"black flowers blossom", "teardrops on the fire"—jars with poetic poignancy, once again proving the power of pithy vernacular that's become so emblematic of Massive Attack.
The lightest relief of the album comes in the form of 'Exchange', a chill-out track offering up jazz-infused lounge through its warping sample of Isaac Hayes' 'Our Day Will Come'. It's a stark, though not unwelcome, contrast to the rest of the album, that despite its wholly different vibe ceases to feel out of place. Such is the artistry of Mezzanine, and it's an artistry that doesn't end with its sound. From audio to aesthetic, it's an embodiment of brilliance. The album's artwork, a scarab beetle rendered in high contrast, photographed by Nick Knight and Tom Hingston, is a stark visual foreboding to its contents' darkness. The videography that accompanies the album was directed by the visionary Walter Stern—it's a conceptual effusion that results, most notably, in 'Teardrop', the unnerving, uncanny image of a foetus singing from the ephemeral safety of its mother's womb.
If one thing shines through all of Mezzanine's darkness, it's its pulsating power, and innovation. For all its augmented sampling, stirring vocals and drumming, driving bass, Mezzanine is an album that somehow manages to borrow without copying, paying homage to countless others, while still coming into its own. 21 years later, it's still as intense, impactful and seismically fresh as in 1998, and it's nothing short of a masterpiece.
Featured image: Vox Magazine (scan), 1998
Header image: Mezzanine album cover