Say what you want about Mercury in retrograde, but things seem to be cosmically aligning for Kelsey Lu. From touring with Sampha to collaborating with Florence and the Machine, the young cellist turned singer/songwriter/composer has been subject of a lot of right-place-right-time opportunities of late, none of which come undeserved. When I sit down with Lu, she's just announced her debut album Blood, the same day as the supermoon. The day of its actual release coincides with another rare lunar spectacle, the 'pink' full moon. "I swear I didn't know," the LA-based artist assures, "these otherworldly coincidences just keep happening." Following her explosive single 'Due West'—an upbeat alt-R&B ballad infused with Lu's haunting cello and partly produced—I find out—by Skrillex (more on that later) Blood is set for release on 19th April, just one day before Taurus season takes hold, and the May-born musician is sure to be in her element.
Three years in the making and as assertive as it is enchanting, it's clear that Lu has poured everything she has into her full-length debut—"blood, sweat, tears, cum," she laughs. "It's been a lot of self-reflection." Her first EP, Church, recorded all in one take live in a Brooklyn church, is an honest introspection, soulful and sombre, but this offering is decidedly more upbeat. "There's a lot more lightness and fun to be had in Blood," Lu explains, "and it's been a lot more collaborative." Its making birthed the fruitful, yet unlikely partnership between Lu and EDM mogul Skrillex that's been blossoming ever since the two crossed paths at a festival two years ago. "I was performing," Lu explains, "and he was watching in the crowd. Afterwards my friends were like 'yo, Skrillex was cryyying dude'." It wasn't long before the two met for tea (an image I still can't fully conceive) and proceeded to collaborate on the album's first single. The result of Lu's emotional outpouring and Skrillex's fine-tuned tinkering is the mesmeric 'Due West', a romantic yearning for California, where most of the album was recorded. "When I showed it to him, I wasn't totally happy with it," Lu explains. "I could tell something was missing, and he could feel it too." Their collaboration from that point was something of a given. "It happened really organically," she says. "I love how random it is."
In addition to making the bedraggled lord of emo EDM cry, Lu's accolades are abundant. She's toured with King Krule and laid down her serene stringwork for everyone from Kelela to Dev Hynes to undisputed queen of new wave R&B, Solange, but it's all been part of a long process to find her own sound. "There were a lot of phases," she tells me. "A LOT." With a portraitist and courtroom artist for a father and a graphic designer as a mother, it seems Lu's creative instinct is something that's in her blood, but it hasn't meant that grappling with her own musical identity hasn't been difficult. The now-27-year-old first picked up a violin aged five, and, after a brief flirtation with the piano, settled on the cello and never really looked back. "I remember going to symphonies when I was young and being infatuated," she says. "That kind of all-encompassing physical experience you get by wrapping yourself around the instrument was just really intriguing to me. I really wanted to be a dancer, and when I would watch the cellists playing, they'd be swaying with it and that's how it felt—like dancing."
But when Lu began studying classical music at college, she quickly became disillusioned by the elitism it propagated. "You just get taught the same white composers, the same masters," she explains, "—it's triggering. I felt like I was being fit into a box and that's not how I wanted to express myself." Disenchanted with the path she'd carved out for herself, Lu dropped out of school to pursue other avenues. "I started bartending," she explains. "I worked at a restaurant. I met people"—people who included hip-hop artists, rappers and avant-garde experimentalists who helped Lu forge the seasoned sound she's blessed us with in Blood. It was a journey that saw the birth and subsequent death of the artist's formative phases, including bands Afrobatics and Black Ivy—which saw Lu playing cello over drum & bass beats, accompanied by Jesus the DJ and Renaissance the rapper (not kidding). "It was tiiiiight," she laughs, "but I hope you can't find it anywhere."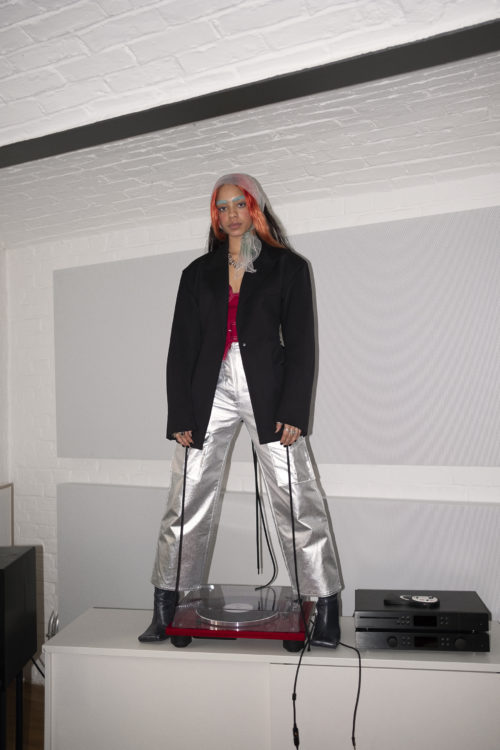 Even on first listen, the poetic lyricism of Blood that's laid bare in goosebump-inducing tracks like 'Why Knock For You' and 'Too Much' makes it clear Kelsey Lu is a natural born singer, but remarkably, her voice didn't materialise until recently. "I was a closeted singer," she admits, at least up until the high school talent show, where she belted 'At Last' by Etta James (her vocal idol)—much to her parent's surprise. It wasn't until years later, at an after-party for a non-profit music project she was part of, that Lu's friends became acquainted with her talent. "It was the first time I took ecstasy," she laughs, "and I literally just couldn't hold it in anymore, I just burst." Outing herself as a singer was undoubtedly a turning point in Lu's musical journey—"all of a sudden everyone was like 'we gotta get you on this', 'can you come and do this', it was crazy."
And since then, amidst ample features and collaborations, Lu's slowly but surely taken the reigns of her own ride, curating her own distinct output that transcends the boundaries of just audio. "I love cinematography," she explains. "The songs are very dense symbolically, so then it becomes about dissecting it and translating into something that's a clear line of visual for the viewer." Mastering a powerful aesthetic that's demonstrated through the romantic transience of 'Due West' and 'Shades of Blue', Lu's keen to take creative control in every aspect of her art. She's even scheming about how to get a good backdrop on her forthcoming COLORS show, which she's in Berlin to record. "I want dark red!" she says. She's figured the way to do that is to wear all black, "fingers crossed." After our meeting, I go home and watch 'Due West' for what must be at least the 50th time. It's approachable complexity is still captivating—I'm still absolutely transfixed. It's the sure sign of a powerful artist, one able to command an audience and take them willingly captive. Church may have made a splash, but Blood is thicker than water. 
Kelsey Lu's debut album Blood is out on Friday 19th April.
Photography RYAN MEYER