In times like these, it's no coincidence that we collectively long for for the past. In a world that becomes increasingly dizzying by the minute, nostalgia provides comfort—and what better comfort is there than wearable nostalgia? Such is the case with the new Levi's® Engineered Jeans™, which was first released in 1999 and is now back with full force. Having just been re-introduced with an impressive installation at Florence's famed fashion fair Pitti Uomo 95—think a gigantic projection of Levi's® design story inside the glass vault of the Tempedarium—the Levi's® Engineered Jeans™ is now set for conquering the rest of the fashion world via its official release on February 7th. Next stop: Vienna, where INDIE and Levi's® will be celebrating the all-time staple's return for Spring/Summer 2019 with an exclusive event on the February 8th—and we've asked four of our favourite Viennese creatives to join in.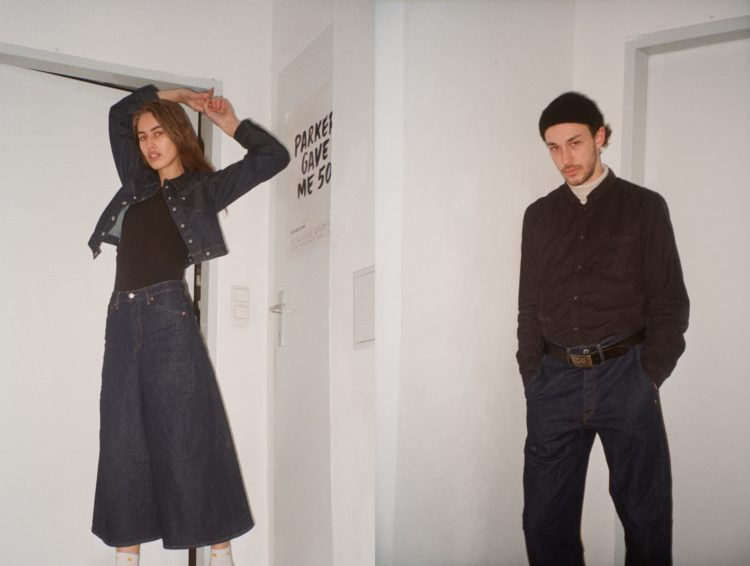 By Anna Francesca
As with any piece so essential to our common understanding of carefree dressing and childhood bliss, there are a million stories orbiting the Levi's® Engineered Jeans™. So, in light of our release event in Vienna, model and photographer Anna Francesca, casting and scouting agency Casting Büro Wien, musician Wandl, and DJ Nicolas Endlicher aka Herrenscheide from infamous Berlin party collective Herrensauna have created entirely new stories to add to this ever-growing collection.
With Levi's® being such an integral part of subcultural styles spanning a good 50 years, Anna Francesca chose to turn to her friends to shoot them in the Levi's® Engineered Jeans™, underlining the piece's versatility and comfort. In her signature analogue shots she candidly captures the carefree attitude and spontaneous atmosphere weaving through both the garment and the era it is so connected to—while infusing her shots with the distinct currentness making the re-release so stand-out. Based on the "engineering concept" behind the original 1999 jeans, the production of the updated version is no less forward-thinking: A 3D knit technology is sewing the fabric as the garment is constructed, four-way stretch fabrication enhancing the freedom of movement the piece provides.
This feature is also strikingly present in the video Casting Büro Wien created for our release event. In true '90s go-see-spirit, raw and spontaneous, they filmed some of Vienna's most stand-out faces—seamlessly marrying past and present, nostalgia and a nod towards the future. It's a concept that's integral to the whole collection, which also includes the Levi's® Engineered Knit™—a piece that is just as innovative as the Levi's® Engineered Jeans™ when it comes to production. As it is constructed by the same 3D knit technology, the total number of seams can be reduced, thus saving fabric and weave time.
It's pretty clear that for every story the Levi's® Engineered Jeans™ already is part of, there are numerous still to be written, worn and discovered. So stay tuned for our exclusive release event in Vienna on February 8th and the stories of our last two collaborators—Wandl and Nicolas Endlicher—that are still to come.
Header Image by Anna Francesca