Bags are a man's new best friend—and why shouldn't they be?! From harness bumbags and over the shoulder pouches, to iridescent duffle-bags and state of the art clutches, more and more men these days are donning the ergonomic and stylish accessory. Thinking that bags are solely for women is a huge misconception—gender is a social construct, even if the fashion schedule is still yet to accept it. Thanks to '90s streetwear and hip-hop style, the past couple of decades have seen astonishing growth in the menswear fashion industry, with designers adapting their attitudes to cater for the flourishing demand of this hot and sought after new trend. With hundreds of high fashion brands and sportswear companies recreating the man-bag in all shapes, sizes and colours, it's no surprise that their practicality and gender-smashing existence has rocketed them to the peaks of success. Willed into fruition by some of the pioneers of the current fashion world, we now present you with some of the most show-stopping, ridiculous and eccentric man-bags around.
For the big spender…
Balenciaga never fail to wow and shock the menswear market. Their latest endeavour is a €1195 leather tote shopping bag—and why would you enter a supermarket without it?! Stylish yet completely impractical, this bag is a nod towards the ridiculous appropriation we see in the fashion industry when it comes to replicating everyday accessories and garments from suburban aesthetic.
For the fashion forward, yet utterly impractical…
Ever heading out and in need of something to squeeze your bare minimals (like a phone and money) into? Well Versace's recent hybrid between a cross body bag and a flight bag has got you covered. With its polished quilt exterior and blatant utilitarian appeal, this man-bag suits pretty much every occasion—whilst adding a slight dapper twist.
For the bold…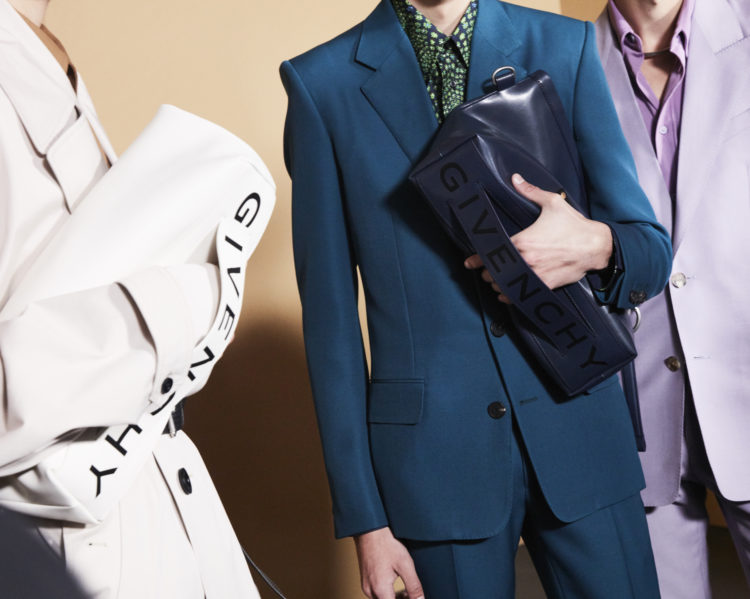 Givenchy's SS19 campaign teased the fashion world with an array of new durable bags from their TAG Collection. Marrying sleek design, high functionality and a nostalgic paperboy aesthetic, these accessories are a bold and iconic statement against stigmas surrounding man-bags and their appearance. The TAG Collection is now available online here.
For the dad…
It's not always rucksacks, briefcases and over the shoulder messenger bags for men these days—and Fendi are here to prove it! In its latest in menswear accessories comes this strap-covered and pocket adorned handbag. Rather than getting guys to stuff their belongings in their pockets, Fendi offer a slick solution that emanates a confident and fashion-conscious masculinity.
For the show-off…
If you want to make a statement, then this is the perfect man-bag for you. Louis Vuitton's FW19 collection which took to the runway earlier this year showcased some of Virgil Abloh's eccentric and pre-'00s urban style. Combining functionality and vibrant, trippy neon colours, this Steamer bag is bound to become your new everyday accessory, finished with the non-conforming designers' infamous chain detail.
For the diva…
Samuel Ross' A-COLD-WALL* steams in industrial swag and sleek asymmetric design, but also speaks to a curated form of British streetwear. His metallic sliver clutch—almost in the shape of a pencil case— resonates with the traditional working class aesthetic of uniforms and manufactured material, but with a futuristic twist. Score this clutch to join Ross whilst he elevates and breaks boundaries within the developing fashion world.
For the fierce… 
Reminiscent of your grandma's purse—but entirely in a good way—this Acne over the shoulder man-bag oozes with smart vintage flair. Boasting a strong and angular outer aesthetic along with a thick strap, this durable bag from the Swedish fashion-house is the perfect accessory for any man wanting to add a kick to his step.