"I always say that drag is of the place. Everywhere you go, it's always different." This sentiment, spoken by pioneering queen of Berlin drag—Pansy—in this city, couldn't be more true. Be it the progressive attitude that drives the entire scene, or the rough-and-ready, unpolished appeal of its most notorious queens—proudly parading their chest hair, beard stubble, stick 'n' poke tats and DIY glad rags made from local sex-shop latex—if Berlin's drag identity fulfils one adage it's that the apple doesn't fall too far from the tree. "It's just really fucking special," Pansy surmises. "Berlin just has a strong queer community anyway—we have all-female DJ collectives, there's all kinds of stuff like that going on. It's just another element of it. It fits."
Hailing from small-town USA (South Carolina suburbia to be more precise) Pansy moved to Berlin six years ago, by way of California. "My first experience of drag was in San Francisco," she remembers. "I was about 20 years old. I loved it, it was kind of weird and fucked up, but to me it didn't do enough." It may have been political, but for Pansy, it wasn't utilising its potential for broader social justice. "I feel like sometimes it's just such a missed opportunity," she laments. "You have this platform—you might as well use it for something good instead of just a party." Pansy desperately longed for the kind of self-reflective mentality that was lacking from the San Fran drag scene. "It's just not enough to say 'we're here, we're queer, get used to it'" she asserts. "You have to say 'we're here, we're queer, but there are members of our community who have had inordinate amounts of privilege ahead of others, and it's our job to make space for everyone.'" It's this premise that sparked the desire to cultivate her own spaces in Berlin, and since, her contribution to the drag scene has set a precedent for others to follow.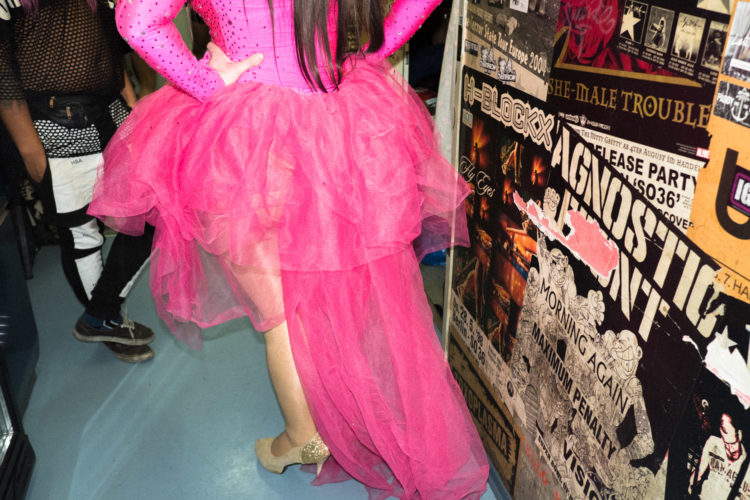 Through the conception of regular events like Pansy's House of Presents at infamous karaoke spot Monster Ronson's, and Judy LaDivina's Dragoholic at queer watering-hole SilverFuture, Pansy and her fellow Berlin queens have not only carved out a space for queer culture to thrive, but also built a community which not only accepts, but embraces difference. From femme and female-led spaces to non-binary- and PoC-driven collectives, Berlin's drag scene is a place where inclusivity and understanding is sacrosanct—an ethos as unflinching as a face full of baked contour. "I want to include people who have either historically or visually been left out of queer or gay representation," Pansy explains. "So the most important thing for me is that trans and non-binary people are in the front. But it also has to be a space to work through all our issues." "We only woke up yesterday," she explains. "Everyone's trying to figure out their shit—I want it to be a space where people are able to do that. I want it to be a space where people feel themselves, and where all those weird disparate elements of the LGBTQIA spectrum are able to come together."
It's this fervent drive for social justice that unites all the disparate houses, queens and events born in Berlin's burgeoning drag scene, and sets the city's subculture apart from elsewhere. With Ru Paul as the undisputed poster child of drag, the damaging rhetoric his show promotes—from misogyny to transphobia to exclusionary prejudice—has a profound trickle-down effect. "That is the mainstream," explains gender non-conforming queen Godx Noirphiles, "and that logic permeates the drag culture everywhere." Godx—mother of The House of Living Colors, a home to queer and trans people of colour, and winner of the second annual Miss Kotti pageant—is living proof of the diversity and inclusivity the Berlin drag scene nurtures. "I'm viewed as a woman in everyday life, and so people get very surprised when I tell them I do drag," they explain. "They assume I do drag king, but it's just an exaggeration of my already non-binary self. Being in Berlin, it's nice that this is something that people talk about in a very inclusive way."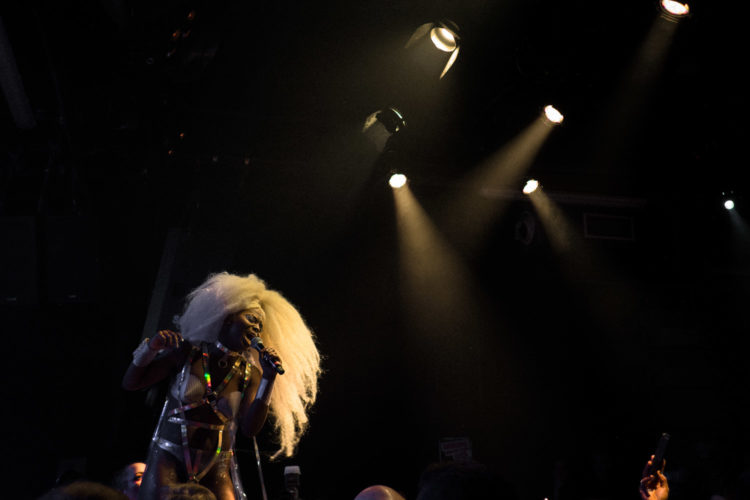 Godx's crowning victory at Miss Kotti last November is emblematic of the progressive drag scene the city is spearheading. The concept of safe spaces isn't a foreign one in Berlin, owing to the same queer-driven party scene that birthed Berghain, and the drag scene is no different. "Cis white gay men dominate queer nightlife," Pansy explains, "and while everyone deserves their space, sometimes they forget just how much space they take up and how much privilege they have within the LGBTQIA spectrum. It's really important for my spaces to be a place where other bodies are put first." There's a common saying in German, Der Fisch stinkt immer vom Kopf that literally translates as: "the fish rots from the head." It means bad leadership is the root cause of an organisation's failure, but also implies that good leadership makes for prosperity. It's a conclusion proved case-in-point by the attitudes of dominant drag pioneers like Pansy, whose undeviating ethics cultivate welcoming safe spaces, that allow their communities to flourish within them.
And these safe spaces are not created by exclusionary means—there are no Sven-level severe bouncers refusing entry to those who don't look the part. It's a process that's necessary in an institution as legendary, and 'sacred' as Berghain, but Berlin's drag spaces operate under the ethos of openness, acceptance and, above all, education. "We are a collection of immigrants, of refugees and German-born citizens as well," Pansy shouts proudly to Miss Kotti's sold-out crowd at Kreuzberg's SO36. "The spaces we create are being made through freedom of movement, through tolerance, through openness and understanding and a love of difference." It's evidenced through the diverse audience that lined up for hours in the cold just to be in attendance—many hetero cis-men and -women included, and an overwhelming number of female-identifying attendees when compared to American drag shows. "To me, that's down to the intentions you put into the space," Pansy explains. "You have to let people know that they're welcome so they feel comfortable, and you have to say 'this is a space for you, do what you will,' but you also have to say 'make room'."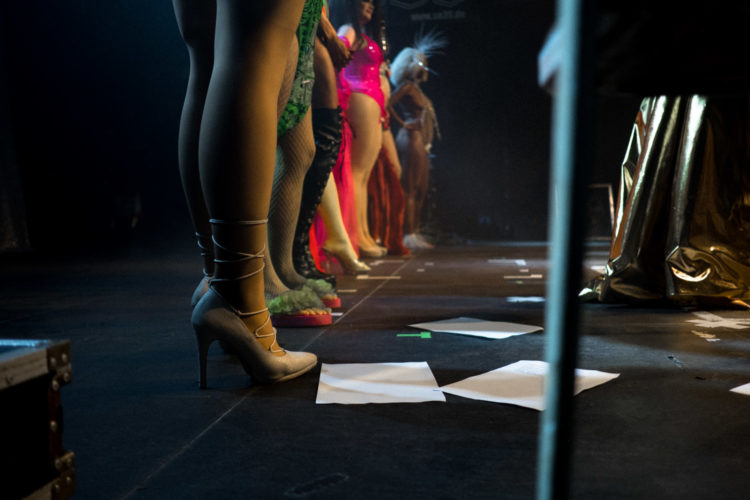 Drag has a well-known history of being bitchy and catty—a tradition that derives from the misogynist assumption that these are typically 'feminine' traits to be emphasised through queen personas. Drag's contribution (or lack thereof) to feminism is a hotly debated topic, often shunned for caricaturing or making a mockery of the tired female tropes enforced and upheld by the patriarchy, but Berlin's drag scene fights against this. By opening up its spaces to female-identifying women and non-binary people, the city's queens not only celebrate their female allies, but recognise that to have an ally, you have to be one. Of course there's an element of satire and shade thrown for the sole purpose of entertainment value, but spaces like Pansy's are overwhelmingly celebratory, and a clear expression of solidarity—both between 'rival' queens and the entire communities they attract—embodying an ardently feminist spirit that seems to be truly unrivalled elsewhere. Because of this, the energy at such shows is infectious, and that's how it should be. "There's nothing better in life for me than going to a drag show," Pansy explains. "It's just fucking funny. It's uplifting—it's joyous." For Pansy, drag shows were a salvation, offering her a way to be social without being crippled by social anxiety, and now, along with Berlin's trailblazing queens, she's harnessing drag's revolutionary and political potential, and offering that same salvation to all who seek it out.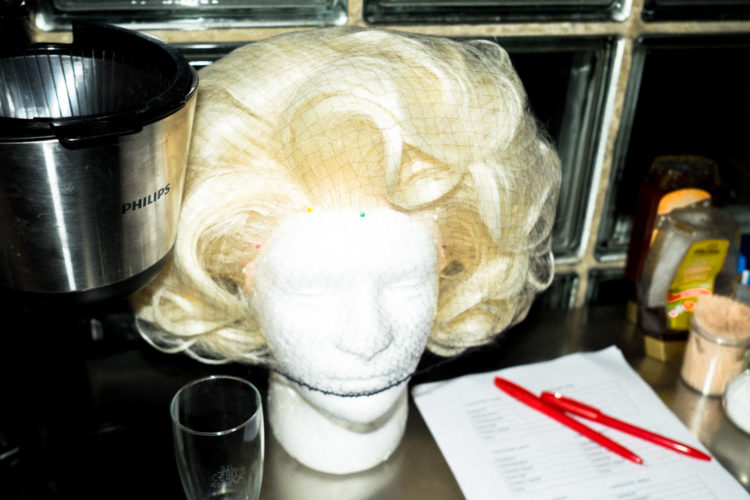 Photography by Ryan Meyer