With 2019 upon us, INDIE looks back at the influential teen films about to exit teendom and turn 20, and considers the unlikely yet enduring appeal of such warped worlds
Whether it be romantic, illicit, unrequited or somewhere in between, love is the irrefutable bond of 1999's seminal coming-of-age repertoire. But what — aside from this universally vague theme, as well as their production date — do they have in common, and how did we pre-teens manage to relate to all their heavy shit? Echoing the old adages of heavily stereotyped locker-room/lunch-hall/corridor politics that lingered in cinema for decades before — American Graffiti (1973), Grease (1978), Heathers (1988), The Craft (1996) and even The Faculty (1998) — the sinister yet saccharine dramedies of the '90s came flooding into European cinemas faster than we were able to apply our 99p lip gloss. The popularity of such work could owe to their alienness — that such linear, caricature-laden modes were at odds with Euro or Brit experiences and therefore compelling to such audiences. But in all their dark, ridiculous splendour, they sure were attractive and two decades later, still are. So what did these teen flicks teach us about the world, and how did they shape our cultural attitudes?
Cruel Intentions and The Virgin Suicides: dealing with death
Back in '99, even death was cast in rose-tinted melodrama. It's The Virgin Suicides from start to finish, and the ridiculous fashion of Sebastian's funeral in Cruel Intentions: can we ever listen to The Verve without replaying a tragic kopfkino? Though most of us attending convent schools which required pleated uniforms, striped scarves and boaters, were safely free of the cocaine-filled crucifix pendant exhibited by Sarah Michelle Gellar: model student slash promiscuous stepsibling, these two films, sexy and tear-jerking in equal measure, schooled us pre-teens (albeit in an absolutely unorthodox and arguably unhelpful way) on the ramifications of growing up.
American Pie and American Beauty: awakenings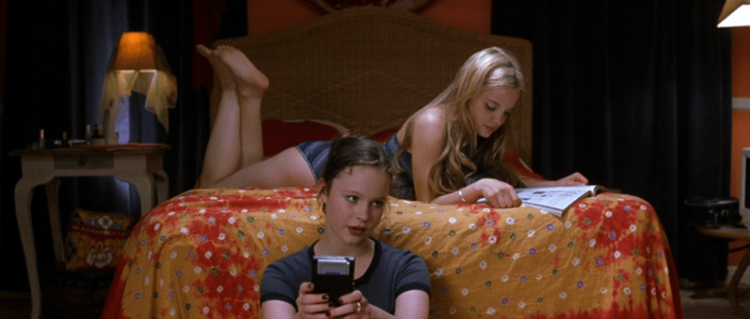 American Beauty (1999) dir. by Sam Mendes, DreamWorks
Kevin Spacey's mid-life crisis was an alien concept to kids of the '90s. The opening scene, depicting sad self-love in the shower, may have been more relatable. Meanwhile, the perversions and resulting sticky messes of Stifler and co seemed more in tune with the terrible years of 15-18 that would follow.  It could be that these days, far and away from those angsty teenage years, we relate more to 'that freak in American Beauty'; what's so weird about appreciating the majesty of a floating plastic bag for a few minutes? This was also an era where 'mindfulness' was not part of the teen vernacular — yoga wasn't yet a "thing". Perhaps we related so hard to these teen queen nerds, witches, bitches and jocks because we were really seeing them — rather than splitting their screen time with a smartphone in our hands. Did this lack of distraction enable us to get a fuller picture beyond the treachery of their haphazard lives and cruel misgivings? Are we over-thinking about it? Probably, but isn't that what the teenage mindset is all about?
Never Been Kissed and She's All That: transformations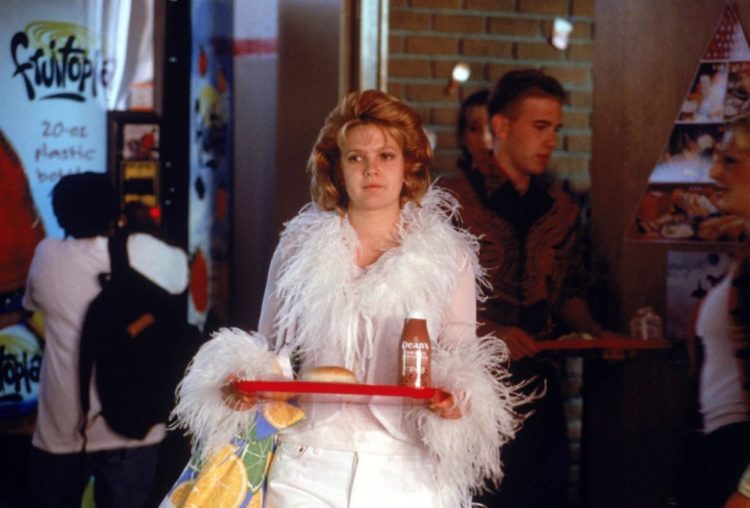 Never Been Kissed (1999) dir. by Raja Gosnell, 20th Century Fox
At the core of these two teen dream narratives are morals that followed strict codes of conduct: be true to oneself (even if that means transforming into a much more glamorous version of you) and date the good guy (these films come spoiler and warning free that actually, you can't quite categorise people into good and bad camps in adult life). Truthful in part, but overly romanticised in others, the transforming movie gave us ridiculously exaggerated versions of our reality and allowed us to grapple with our more banal but seemingly life dependent dilemmas. Girly sleepovers were the norm, but noticeably absent were the long flowing white dresses and record players. Cliques were absolutely a thing: there were designated tables in the dining hall according to social group, but no one was ever as despicably zoo-ish or alienating as the likes of those American teens in all our favourite films of 1999. We can't speak for everyone but we always treated apple pies with respect. 
Detroit Rock City and Varsity Blues: something for the boys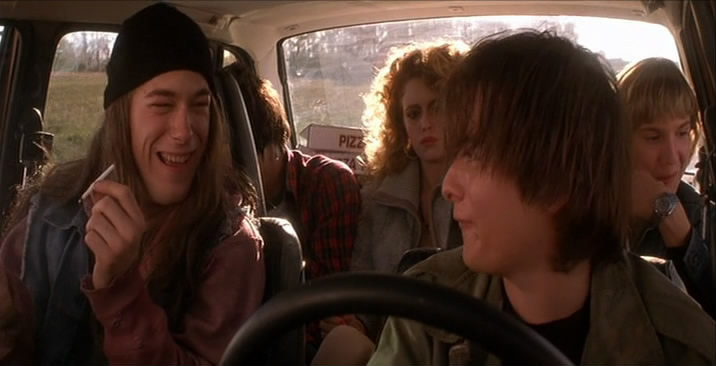 Detroit Rock City (1999) dir. by Adam Rifkin, New Line Cinema
The finest thing about watching Detroit Rock City for the first time was the enlightenment that your first concert would bring to your tiny, moshing body, and the lengths it took to get to said concert. The thrill and thrash of bodies and music is, we imagine, akin to the pleasure of sport exercised by the all-American football player. There was a hot minute where we swooned over such 'talent' but soon realised we needed more musicians in our lives. Doubtless, these films' protagonists were universally aspirational to budding rockstars and quarterbacks the world over, and no small hometown was an exception. (Moreover, it was a fine time to see James Van Der Beek break out of his horrific Dawson confines.)
10 Things I Hate About You: the ultimate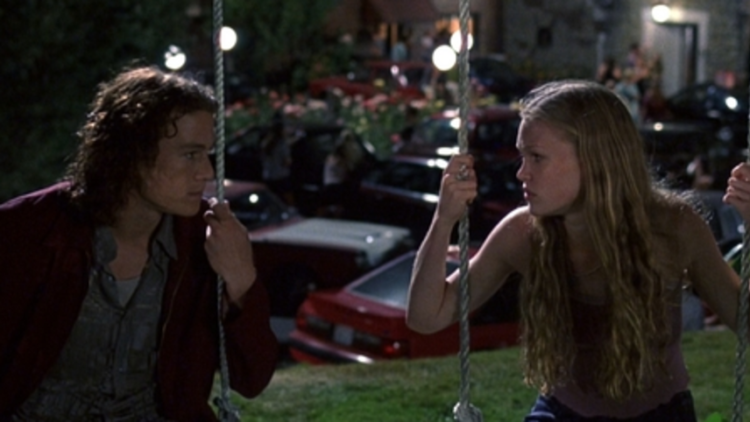 10 Things I Hate About You (1999) dir. by Gil Junger, Buena Vista Pictures
"I hate it when you make me laugh. Even worse when you make me cry." Pass our sad younger selves the tissues — we relate. Such was the untarnished splendour of sweet post-pubescent youth that we had no other cultural reference besides school-learned Shakespeare (on which this film was based) to the actual struggles of romantic relationships. Heath Ledger and Julia Stiles' older, more jaded and sardonic characters posed as our future selves, wrung out from three years of playground dating and ill-advised clinches, all the whilst hypnotising us via Stiles' eventual relenting that we would fall again and again and again until the day we die and simply just don't get up again. 
In 2019, we're still pawns like putty in the hands of the directors and stars that made bank out of our teenage dreams. Cinema is a mode of extremes that the audience has responded to well since the dawn of the moving picture, and from the safety of our sofa (or 1999 sleeping bag), we're able to live out our innermost demons without actually setting fire to the whole school, destroying lives, committing murder etc. We're able to do all this without having a life-changing cosmetic/fashion makeover. For one night, we can be Kirsten Dunst and we can date Josh Hartnett without being left on the baseball field de-flowered and alone. With the car crash of feelings and poor decision-making that came hand in hand with the teenage experience came this vat of timeless cinema that would be there to reassure us that the car crash would continue into our twenties and probably into old age. Things might be less locker room (here's not looking at your, Trump), but the saga of life continues, and we have our favourite teen heroes to help us make sense of it all: yesterday, today, and tomorrow.
Header image: American Beauty (still)