If Kim Petras' meteoric rise to fame proves one thing, it's that bubblegum pop is back with a vengeance. Taking preconceived notions of German pop, tainted by the tragedies of Eurovision, and turning it on its head, Petras is taking the world by storm, one sickly sweet hit at a time. With a debut album set for release later this year, and a string of so-called 'bops' already under her (probably Gucci) belt, Petras is proving the power of pure, unadulterated pop.
Petra's musical debut came in the form of I Don't Want It At All, the video for which sees Petras as a bleached blonde Barbie lookalike demanding trips to the Hamptons, designer clothes, diamonds and "someone else to buy 'em". It's Simple Life era Paris Hilton-esque brattery that harks back to a time of '00s pop princesses — the video even opens with an image of Petras in front of a 'Paris' shrine. If you think it's shallow, it's because it is, and Petras wouldn't hate you for saying so. Despite the politicised persona the media readily thrusts upon her, the pop sensation has made a conscious effort to shirk any sort of political agenda — a decision that's been met with both bravos and backlash.
Rewind to 2008, when Petras first hit headlines for becoming the youngest person ever to undergo gender transitioning surgery. Merely 16 at the time, Petras proved, in a way that demanded the world's attention, the power of owning your own identity, well before the adage "live your truth" became a daily Instagram utterance. Shunning those who branded her sound "too pop" and "too American", Petras uprooted from Germany to Hollywood, and channelled her new-found self-confidence into a burgeoning music career. And her unceasing accolades — from collaborating with Charlie XCX to reaching 4.5 million YouTube views on her smash hit Heart to Break — would read as a forceful "Fuck You" to the haters, if, that is, Petras was one to give this type of negativity any such spotlight.
But considering how publicly Petras initially shared her trans experience, and bravely battled criticism, the now 26-year-old singer-songwriter actively attempts to distance herself from the trans community. It's a decision which has divided her fans, including trans writer KC Clements, who writes in an article for Pitchfork, "I also feel sad and conflicted about the ways in which Petras has distanced herself from the trans community." Despite her efforts, Petras has struggled to divorce herself from the "trans" label she's constantly branded as by the media. On the one hand, it's of course easy to see how it must be frustrating for Petras to have her musical talent overlooked in favour of identity politics — perhaps it's something to do with pop as a genre — an assumption that catchy lyrics and ear-worming melodies aren't serious, and there's therefore a need for such a popstar to redeem themselves on a personal level. But there's a greater issue at stake. Whether she likes it or not, Petras has become a spokesperson for the trans community, and she's in a position where she can help, but also seriously hurt its cause.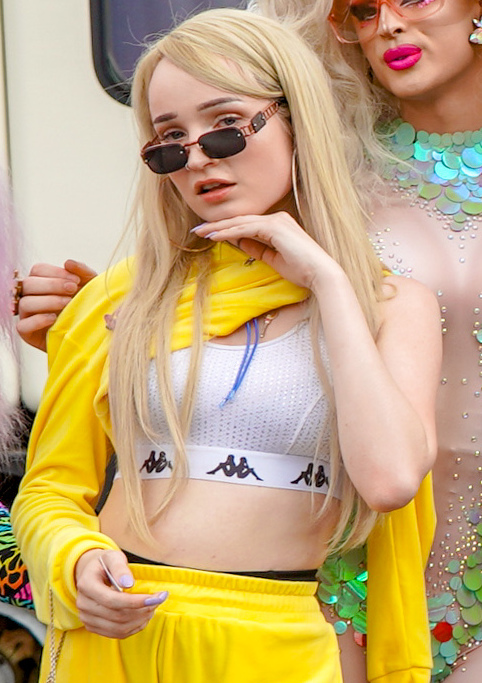 Photo by Ted Eytan via Wikicommons
Rather than using her position to raise awareness on the needs and behalves of the trans community, Petras prefers to stay quiet. But the less she speaks, the more it seems to influence her role model status.  And, what's more, Petras' aim to be apolitical seems incongruous with so much of her behaviour. She's repeatedly spoken about how much she "hated her life" when she was a teenager, being bullied by her classmates and suffering suicidal thoughts, but despite this, she's unwilling to be co-opted as a success story or glimmer of hope for others, telling the New York Times, "I don't care about being the first transgender teen idol at all." That, and she's been branded a rape apologist and victim shamer for her comments defending her decision to work with producer Dr. Luke, who is accused of sexually and emotionally assaulting Kesha. Her fans, consequently, face a dilemma in that, by supporting Kim Petras, they implicitly end up also supporting an alleged abuser financially. It's an issue that's also brought Troye Sivan under fire for enlisting the so-called rape apologist as the support act for his tour. For an apolitical popstar singing about boys and shiny things, Petras has certainly sparked a whirlwind of debate. 
But, if Petras is doing one thing right, it's making sweet-as-candy hits that land her firmly in the mainstream. It may sound like it's not enough, all things considered, but visibility is valuable. And it seems Petras is part of a trend proving the subcultural power of pop music — opening up opportunities to embolden and empower marginalised communities by giving them mainstream relevance. Whether she wants to be a role model or not, Petras is one. And whether she's an active spokesperson for her community or not, as long as she's successful, she—along with artists like Sivan and Sophie—is steadily creating visibility for the LGBTQ+ community in pop culture. 
Above all else, Petras is a purveyor of unabashed pop music, filled with feel-good melodies and catchy lyrics, and that makes her an icon not only for the LGBTQ+ community but for every lover of pop music. And it's precisely by doing nothing particularly revolutionary that she's become such a tangible idol. She is, agree or disagree, proving that trans identity doesn't have to define her—or anyone else, and that (while not without backlash) she can stick to the status quo and make it as just a popstar. Love her or hate her, Petras is becoming a serious artist precisely by not taking herself too seriously.
Header image: Kim Petras Heart to Break (still)