It's the year 2019 and queer culture has—finally—hit the mainstream. While LFW Men's might still have David Beckham as its chiselled ambassador, anyone who's anyone knows the real hype surrounds the young creatives with a non-binary vision of the future. Gone are the menswear designers obsessed with masculinity, tailoring and heritage. In their place are Art School, Charles Jeffery Loverboy, Cottweiller and Chema Diaz, each with their own unique take on how to freely express yourself without limits, regardless of gender or sexual orientation. This progressive celebration sets London apart as an inclusive community challenging a world filled with division and hate, to loosen up and enjoy the ride.
ART SCHOOL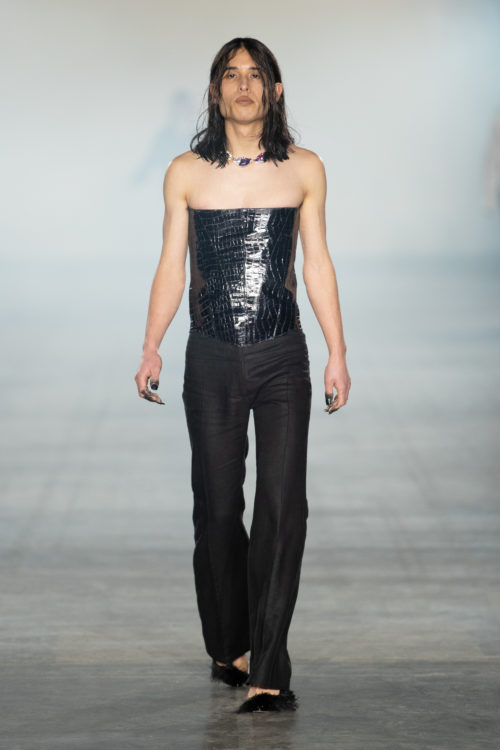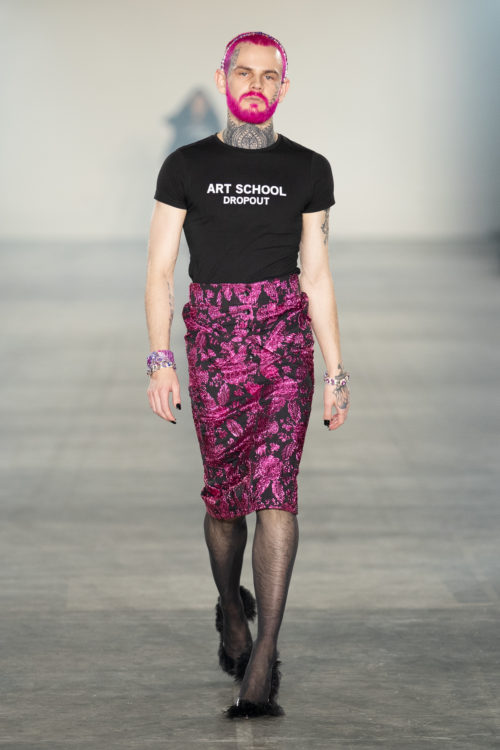 Photography by Chris Yates, courtesy of Art School
Art School kicked of LFW in operatic style. Luxurious black silks adorned with huge gold sequins were worn by the queer fashion label's eclectic cast of non-binary models, like Saint Ann, Franceca Martin and Lucas Tate, as well as reality TV star Dawn Ward, who was transformed from her usual icy glamour look in tribute to trans women.
"This collection represents a whole community that has been previously misunderstood and marginalised," said Eden Loweth, who has worked each season with creative partner Tom Barratt to perfect signature pieces like the Dagger Dress, a decadent pink number, cut on the bias, which allows the garment to stretch, curve and drape naturally on any body. Sculptural hair pieces by Shiori Takahashi, were created using lost property from queer safe spaces across London, like Vogue Fabrics, while models vogued in feathery acid pink stiletto heels. Art School is clearly sticking a middle finger up to the beige oversized tees typical of gender-neutral clothing. It's about going out looking fierce as fuck.
CHEMA DIAZ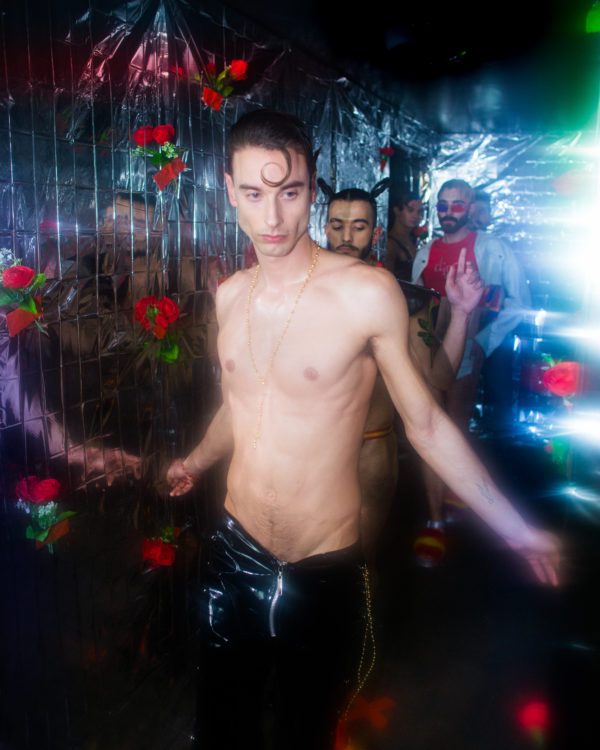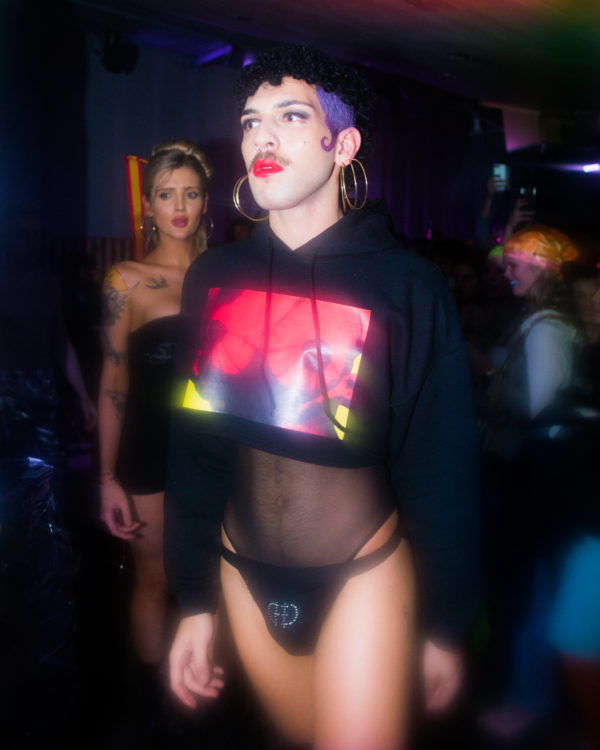 Photography by Ben Cole, courtesy of Chema Diaz
Chema Diaz's debut catwalk collection is a sexy cyber Latin vision of the future. Drawing on his experiences and struggles as a young gay migrant to London, Diaz subverted Spanish traditions and symbols, like bullfighting, flamenco the national flag, which have been appropriated by the countries racist, homophobic and transphobic conservative party.
"I want to reappropriate these symbols and give them a new meaning through a queer and erotic perspective," says Diaz, who paid tribute to his beloved Spanish icons, like queer punk drag artist Perez Ocana, transgender vedette Cristina Ortiz Rodrígues "La Veneno", and transexual artist and politician Manuela Trasobares.
The result was Bandido (bandit), a runway show and rave featuring  27 iconic looks and performances by artists like GFOTY, Danny L Harle and Ray Noir. Slogans like 'Fuck me I'm an Immigrant', 'Horny' and 'Poison' were embellished in rhinestone into one-off tees. PVC attire bore the national red and yellow colours of Spain. Thongs and BDSM chaps showed off premium Latin butt. "We are a new generation of Spanish talent reshaping the image of Spain worldwide," says Diaz, "helping our youth embrace our own culture for the first time."
COTTWEILER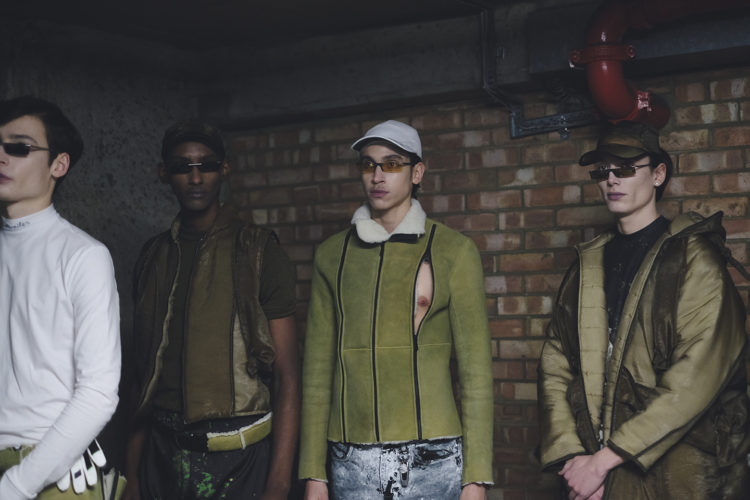 Photography by Michelle Marshall
Taking place at level -12 in a brutalist underground carpark, the Cottweiller show was an ode to the lost art of cruising, where gay men solicit sex in semi-public indoor spaces like parks or toilets. Designers Ben Cottrell and Matthew Dainty loaded their collection with references to cruising. Flies were undone, dog leashes were worn, small hankies were suspended from belts, caps bore Mercedes logos; all codes the designers believe are fast being lost as apps like Grindr eliminate the need for face-to-face human interaction and queer signalling.
"All these things that mean something have been lost through social media and using apps," said Dainty, who grew up oblivious to the fact he lived next to one of the biggest cruising grounds in Europe. Two temporary urinals, spouting like fountains, took centre stage at the show, playfully contrasting queer cruisers with British lads lagered up on a night needing a piss, as well as a cast of other masculine stereotypes.
Cottweiler, already known for its obsessive reimagining of tech-driven performance wear, took its deconstruction of masculinity even further with golfing dads and boy racer characters, creating the most layered and rewarding Cottweiler show to date.
Header image: Ben Cole, courtesy of Chema Diaz.