Since the birth of their brand in 1999, the team behind KRAKATAU have never revealed their faces. "We do not consider it necessary to focus on individual figures," they explain in an email. "Being focused on the frontman is quite common in pop culture, but we are outsiders, and we make clothes for outsiders. We act like a community of underground artists or an avant-garde theatrical group, where everyone wears the same dark clothes and hides their faces. We perceive our clothes as a piece of industrial art."
Even with faces obscured, the above statement makes one thing clear: KRAKATAU take themselves, and what they do, incredibly seriously. The byline for the utilitarian brand's Autumn/ Winter collection, titled DAMAGE SUPPRESSOR, reads "surviving in harsh conditions caused by climate change." Its team refer to the brand as a "movement" and its wearers "people who survive in harsh conditions of the metropolis." What becomes evident very quickly is that KRAKATAU is not a brand known for sugarcoating—it's mission is survival.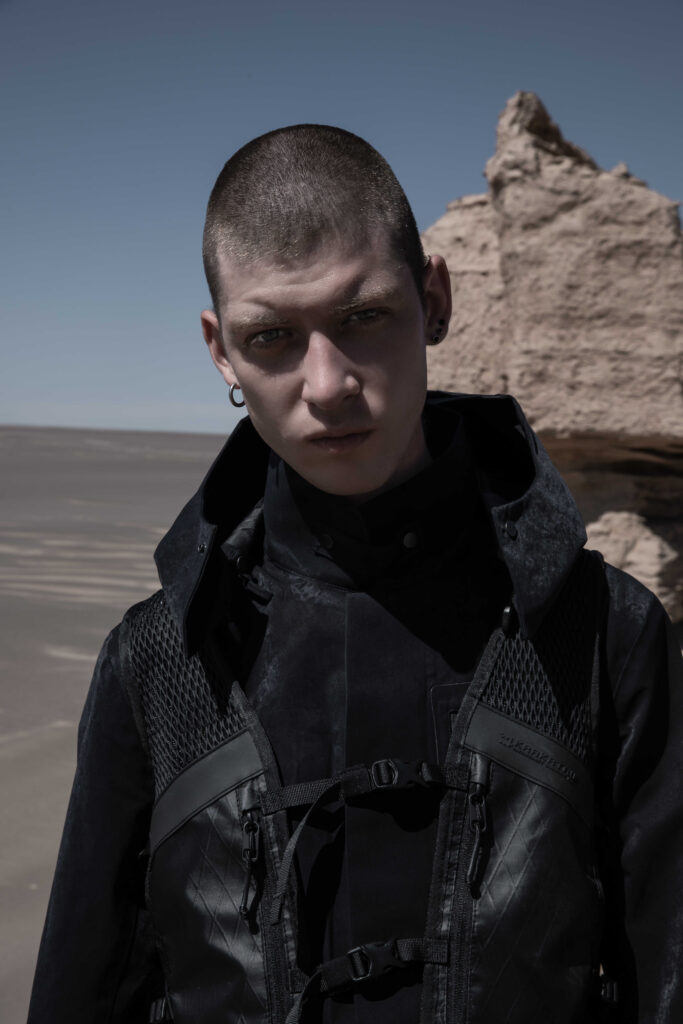 The brand boasts more than a two decade-long history of building and developing advanced outerwear that protects against the elements. Its AW22/23 collection is sustainability-focussed performance-wear at its peak takes its inspiration from the tardigrade, a microscopic phylum creature, which can withstand extreme weather conditions. The result is a collection of mountaineering-grade coats and jackets that can withstand temperatures of down to -30 degrees, and are waterproofed in accordance with Japanese standards with environmentally-friendly, PFC-free material, even down to their seams.
KRAKATAU launched the collection in Berlin with a night of experimental art, conceived by creative studio toi toi toi, and music by DJ Raven—whose sound and style encapsulates the forward-thinking ethos of the KRAKATAU community.
Paid partnership with KRAKATAU.
Event images Nailya Bikmurzina