With its heuristic panels and retrospectives, the facelifted Rome Film Festival was the reflective end of season event that cinema needed
Following a two year hiatus and board re-jig, Venice's baby brother returned to the Eternal City and Italian capital this Indian summer-like 'Ottobrata Romana', proudly presenting a whole new team including artistic director Paola Malanga and jury head Maryjane Satrapi (the Iranian visionary behind Persepolis). Amid screenings for prison inmates and public masterclasses from global auteur, stories of entrapped isolation, existential anguish, abandonment and dysfunction took over silver screens from the former olympic village and Villa Borghese to outskirts book shops and aforementioned prisons.
Cinema's iconised looking glass is so often shrouded in glamour and celebrity, and whilst Rome's red carpets had their smattering of A-list and national ritz, Rome's programme looked to our undersung power figures, exhuming a different and more transformative reimagining of what star power looks like. A dancer left mute cannot escape, but her body paints pictures for her sisters. A claustrophobic band of brothers save kites falling from the toxic, war-torn skies above them.

Through visceral and often difficult narratives, this year's selection gave leverage to stories of the lost and disenchanted, broken, wild, dreamer-doers.
La ragazza ha volato (dir. Wilma Labate)
Strands such as 'Bewitched By The Big Screen' explored the banalities and pains of life that can be revived through cinema and given the platform they deserve. In a world inundated with bad news and doom-scrolling as an international sport, it's easy to forget how impacting the shared experience of films in a theatre can be, how political the cinema of Italy has always been and how content creation is so wide-spanning.
A special double feature of a particular festival strand was affecting; its very succinct theme titled 'Men's violence against women' and the former was co-introduced by Labate and the president of the Casa Internazionale delle Donne, Maura Cossutta, and gynecologist and president of the 'Vita di Donna' association. The latter explored online trolling, introduced by numerous female-identifying Youtubers, journalists and the former Democratic congresswoman in the House of Representatives Kiah Morris. Noomi Rapace, somewhat of a curious recipient of a lifetime achievement award, dedicated her win to Iranian women in tears, whilst the special jury prize was handed to Carmen Jaquier for the moving and sensuous Thunder.
Jeong-Sun (dir. Jeong Ji-Hye)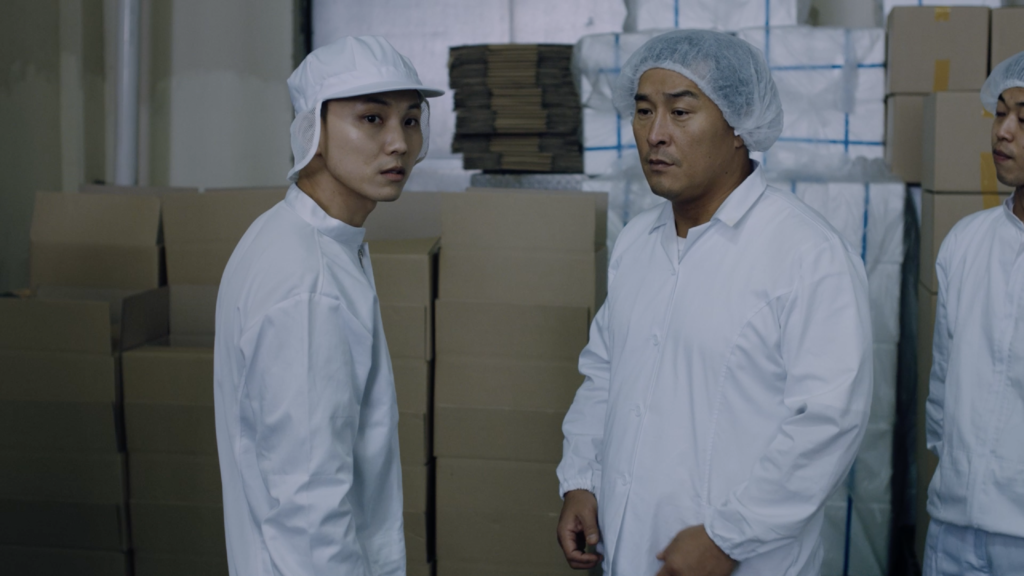 Still courtesy Rome Film Fest
An ode to/from the Michel Antonioni muse and star, the Monica Vitti award for best actress was awarded to the fabulous Kim Kum-Soon for her startling performance as Jeong-Sun. A leaked nudie vid tarnishes a cheery, low-key Korean factory worker's chill existence. With a pace and delivery that feels very like a Aki Kaurismaki work, the story's punch of this woman being slutshamed at middle age comes with her convincing humiliation process as swiftly as the police drop her case ad insult her womanhood in one fell blow: 'Usually it's younger girls and the video is less difficult to stop getting around, it should be over soon.' The purveyor/s to blame are as limited and frightened in their reality as our heroine, consumed by fear and loathing as it saps away at their routine factory souls.
Houria (dir. Mounia Meddour)
A resounding highlight was the Italian premiere of Algerian indie drama Houria, starring rising French-Algerian star and Chanel muse Lyna Khoudri (The French Dispatch). A young and beautiful dancer whose already limited freedom as an Arab woman in the non-free world is snatched when she's attacked by an angry young man and left so smashed emotionally to the point of muteness.
For every one of him, there's no doubt eleven others, and Ali's idea of justice is the silencing of the female spirit. She fatefully encounters him at a late night ram fight where she's winning countless bets to buy a car for a widowed mother—and is rendered a threat so repulsive that his only recourse is to leave her obliquely broken, a shadow, a ghost. 'I'm dead inside' she communicates to her best friend soon after the attack. Whilst Houria goes on to rehabilitate and express once more through dance and newfound purpose, her best friend isn't so lucky. With eyes full of hope as they change beds as chambermaids (recalling my own teen job in a hotel, dreaming of leaving my small town, which was within reach for me unlike these women), her friend beams of her future smuggler 'he has a state of the art zodiac!' Dreaming of a life in Spain, they take her on a moonlit lifeboat one night whilst Houria watches on crying, having begged her silently to stay.
Days later, Houria is identifying her best friend's washed up dreamless body in the morgue. Houria's mother, to add extra injury to the state of things, has been afraid to drive since her husband was shamed and shot at the side of the road in front of her by officials who defiled him for being driven by a woman.
At the beginning of the film, Houria is goofing around with her dance classmates and some local boys in the street. A flight passes: 'looks like Algeria Air' – the youths knowing they likely will never fly on one of these planes. The next day, I'm walking around central Rome. I see an office for Algerian Airlines. On the wall, a sign for wanderthirsty tourists scrawled in turquoise blue, no less: FOUNTAIN TREVI THIS WAY. At the fountain, which I pass by often during my time in the city, people perfect their pose and throw coins backwards into the park here river water, making wishes. At a Villa Borghese sunset screening of Sidney Lumet's legal drama The Verdict, Charlotte Rampling is approached in a bar by Paul Newman and asked if she would like a drink. Í'd like an apartment,' she replies with the utmost Rampling droll. Isabelle Huppert is part of an ensemble Euro arthouse cast in Caravaggio's Shadow, where she admires and secures the philandering painter's safety without sacrificing her own: the Italian capital glows in light and dark.
All That Breathes (dir. Shaunak Sen)
Warthogs cross the night river, rats burrow in street trash. A toad leaps under the moonlight, and it all feels very Night of the Hunter. In All That Breathes, a scripted documentary, a likeable New Delhi family avert their existential ennui of danger—the dirty water, squalid streets and talk of impending war—by rehabilitating injured kites, which they first discovered as teenage bodybuilding enthusiasts playing with toy kites. Having learnt the way muscles and tendons work, the savvy and resourceful brothers' dingy basement is their surgery, ill-equipped as it is, they grapple against increasing broken birds (who themselves start using discarded cigarette butts as parasite repellent) and applying for grants. For one of them, studying in the US is a great dream; for another more sensitive brother, he can just about see past the glasses which are one day snatched by a healed bird. Íf I played dead, he ponders aloud one day, would the kites eat me?'
Bluntly, his brother responds: 'nature is cruel and humans are just pieces of meat. And Delhi is a gaping wound.' Elsewhere, political unrest is swirling as muslims are repeatedly rejected asylum in India. There's talk of nuclear war from the east. Tension between the family mounts but the sagest explains: Óur fights are because of what's happening in the sky, just a symptom of something much bigger.' The men attribute their outlook to their late mother's stories of fables and symbols, saints and vultures. 'Trees were supernatural for her.
The brothers display extraordinary faith and heartwarming, peacemaking reserve in spite of their hostile environment and uncertain future: 'even when my wife picks a fight, I start singing to avoid it.' Things get better, then worse, then better and so on. Funding enables a larger hospital whilst violence in New Delhi rages. People watch TV in the dark, fires blaze, we see an ominous yet playful horse and cart lit in bright rainbow neons led by a man in a regal red suit.
Aftersun (dir. Charlotte Wells)
For any kid of the working middle class '90s ilk, Aftersun cannot disappoint. Frankie Corio plays an 11 year old girl navigating her way through introspective and curious late childhood at a brilliantly naff Turkish family holiday resort. Played in turn hilariously and shadowy by Paul Mescal, her father is doing the same as he enters his 30s. She toys with a new camcorder, often turning the lens on her up-and-down father, who can be one minute sparking adventures or practising tai chi, at others sobbing silently about his own lost childhood. One night he becomes entirely neglectful of his daughter, and things unravel – but the nostalgia laden soundtrack of Catatonia, Chumbawamba, Aqua and Deacon Blue makes it a sorrowful but also fun watch. For children with single fathers who took them on an almost identikit holiday with the same soundtrack, it exposes the fragility of this precious moment in their rare time spent together; fragmented with elements both genuine and forged as two unlikely characters share rooms and meals day in day out.
The Hotel (dir. Wang Xiaoshuai)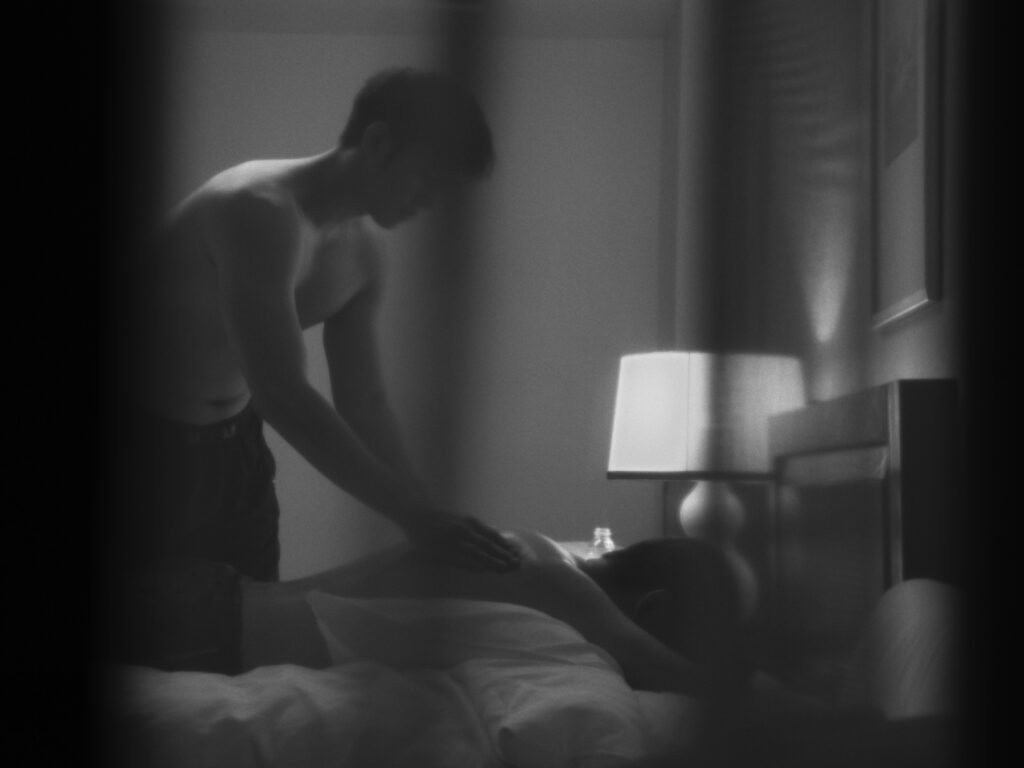 Still courtesy Rome Film Fest
Elsewhere, a slick black and white pandemic chamber drama introduces a host of Chinese guests at a luxury Thai hotel live out the early days of February 2020. A coquettish young woman flirts with a professor, whose wife bemoans his flirting back. 'You don't care about the colour of my underwear anymore'- our senses muted and clock freezing like lockdown could do, we can't see the colour, either. With a stagey set up that feels part Ibsen, part Haneke, the temptations and vexes of these so-called strangers end in nothing less than shock and horror.
At some point, I check out a new Western starring Nicholas Cage, because well, when in Rome. And I have to leave halfway in, so Cagey is the performance. Other must-catches included Firas Khoury's Alam, Pavel Giroud's El Caso Padilla, Fabrizio Ferraro's I Morti Rimango Con La Bocca Aperta, and Ady Walters' hardhitting Ukraine-set Shttl. French heartthrob of sorts Louis Garrel showed up all over Rome with his typically fruity dramas and romcoms (Caravaggio's Shadow, a fun little romp detailing the orgies and other successes of the painter until his untimely execution and 'lÍnnocent, a super French laugh-a-quarter romcom). Everything I Know About Love's Emma Appleton dazzles as gregarious, androgynous, red-wine loving music lover in 'found footage' sci-fi romp Lola (Andrew Legge), which sees two wartime sisters using their invented time machine to change the course of history. The film, made by a clearly massive Bowie fan, features numerous Bowie gags including the horror of one of the sisters erasing Bowie from history, much to her devoted sister's chagrin.
The Sheltering Sky (dir. Bernardo Bertolucci)
This undersung Bertolucci (The Dreamers, Last Tango in Paris, The Spider's Stratagem) classic is sailed by few as a total masterpiece—among them Luca Guadagnino (Call Me By Your Name, A Bigger Splash, Bones and All) who chose to introduce the film one balmy night at the kitschy Ferrero Cinema Adriano. One can easily link the dots of where the flamboyant new auteur of queer love, strange love, contained love and the idea of the fetishised exotic gets his inspiration.
As for Italian-American co-productions —the best often massively histrionic and OTT —never have you witnessed more melodramatic sex or death scenes than in 1990's Paul Bowles novel-adapted The Sheltering Sky, set to the tune of the fabulous Ryūichi Sakamoto against the backdrop of the Sahara Desert. Post WWII, some hapless white romantics think they can solve all their problems by travelling through Northern Africa. Spoiler: they can't.
A smidgen into their pathetic adventures , which any tourist can all too truly relate to as much as they deny, John Malkovich's Port, sitting on a tiny fold out bed in a riad having just discovered his passport has been stolen, screams at his wife Kit (Debra Winger) 'oh WHAT A BORE' at the top of his lungs before recomposing a calm and nonchalant facial expression. As they enter indigenous territory and fast regret their unenlightened cravings for newness, or for just more (uncertain of what that is, they lowkey despise each other, they hate the flies, they hate the food), Bertolucci's eye casts only respect and time for those whose bright, resourceful, chaotic territory they have invaded; and judgement of the fools in expensive linens who couldn't satiate themselves with themselves. Things spiral and Port dies a very Hollywood death whilst Kit joins a desert caravan and eventually a harem. These people may be bores, but are anything but to watch.
Making time to catch some more Italian-made oldies, I caught a screening of Damiano Damiani's 1962 classic Arturo's Island one blistering afternoon and was shook by this 60s depiction of a lonely Catholic boy's experience of thwarted first love, which eventually and unexpectedly for its time, evolved into a melodrama explaining his apparently gay father's frustrations and absence. A stunningly well-paced and gorgeously shot meditation on queer existence against stifling religious adversity of the time and place, Arturo and his father gaze upon to the towering nearly prison that looms over them.