In a career spanning over three decades, NENEH CHERRY has mastered the high wire act between celebrity and overexposure. Here, she tells Chanté Joseph about navigating motherhood, the media, and music—from Top of the Pops to TikTok algorithms.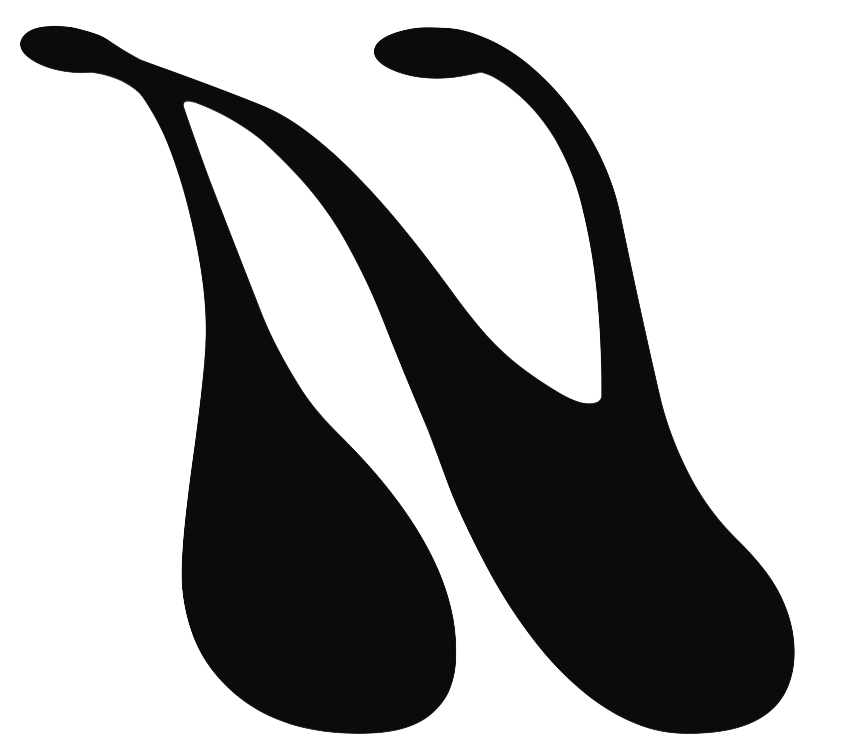 When I hear the opening bars of her chart-topping 1988 single 'Buffalo Stance', the image that springs to my mind is of a 25-year-old Neneh Cherry bouncing around the Top of the Pops stage seven months pregnant. "Some tabloids had a doctor making up quotes about how dangerous it was for me to dance like that, and I was just like, 'yeah, whatever,' she tells me three decades later.
Cherry's nonchalant fingers-up to the industry's status quo has defined her career in music ever since.
For young women who dream of becoming artists, motherhood is often presented as a death sentence, but Cherry was always confident that family wouldn't be her funeral. Her own mother, who was still completing her design studies when Cherry was born, used to bring her to school in a basket and put her under the desk. "In order to do what she wanted creatively, she had to find a way of making family work." As the daughter of artist Monika (Moki) Karlsson and percussionist Ahmadu Jah, and stepdaughter to Jazz musician Don Cherry, Cherry's own childhood was eclectic. She flitted between Sweden where she was born, and New York where she first started clubbing at age 13.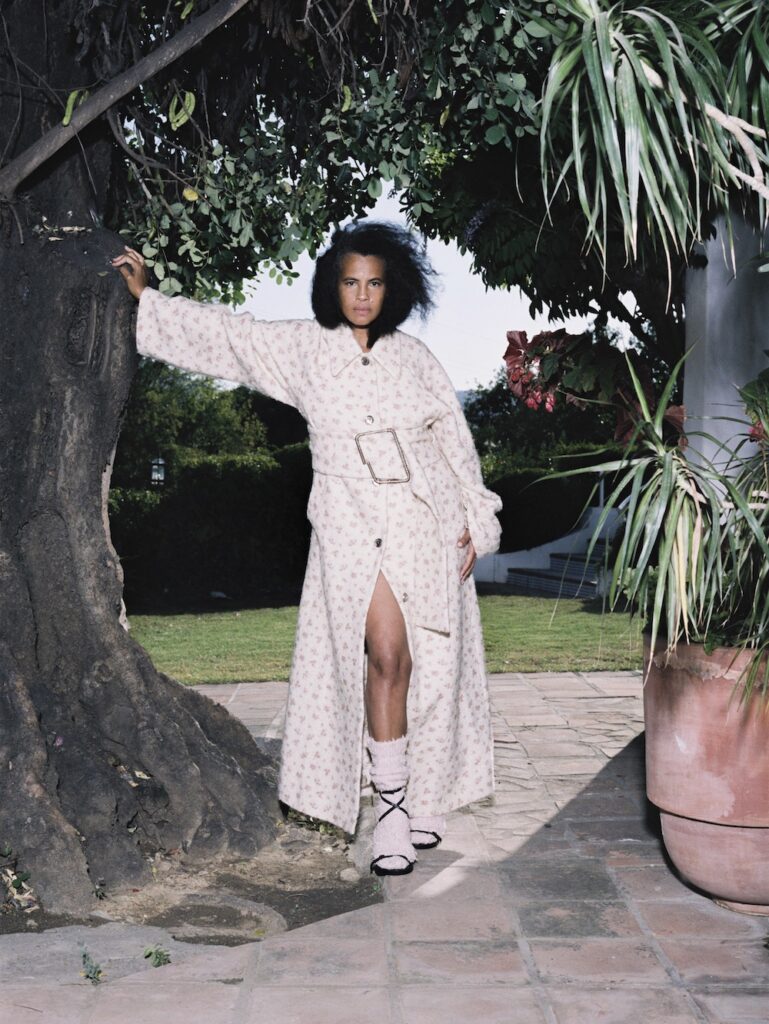 Neneh Cherry in ACNE STUDIOS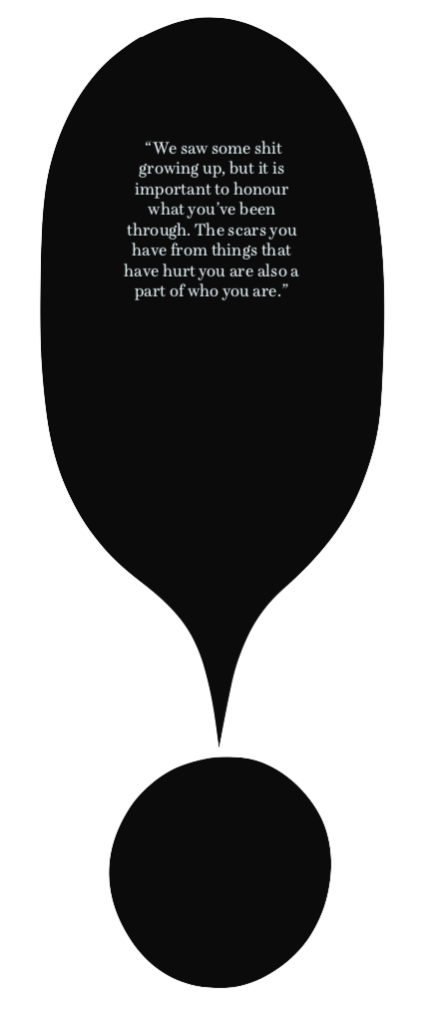 For our interview, Cherry speaks to me from the "funny little storage room thing" that she uses as a make-shift office in her house in Spain. There are ladders on the wall and supplies all over, but it's a chaos she is comfortable in. She radiates warmth and compassion as we exchange stories of her life. "What am I doing with my days?" she repeats back to me. "It's quite weird. I'm here with my husband, and it's just the two of us while everyone else is in London. It's really different; I'm used to having a house full of people, shit going on around me and music playing, but it's also time to be quiet." Cherry's life has been filled with noise and movement, so it's no surprise that this "quiet" is something she feels she needs. "I travelled a lot because my parents were touring, and we were part of what they were doing. My mother sometimes used to say, 'maybe I shouldn't have put you kids through that.' My brother and I would reply, 'well then we wouldn't be the people we are today.'"
Cherry embodies a fearlessness, openness and courage that comes with experiencing far more than the average person, though growing up as mixed-race children came with its challenges. "I remember me and my mother going with my little brother into a dairy to buy some cheese and milk in Belgium, and the woman took her broom and swept us out of the door," she shares, almost still in disbelief. "We saw some shit growing up, but it is important to honour what you've been through. The scars you have from things that have hurt you are also a part of who you are." Despite the racism in Sweden, life in New York was different. Cherry felt seen. "I'm so thankful we had that mixture because I needed it. I could disappear into a sea of faces that were lighter than me, darker than me, similar colours to me. Even like getting things for my hair, music, radio, friends and not being so alone," she reminisces.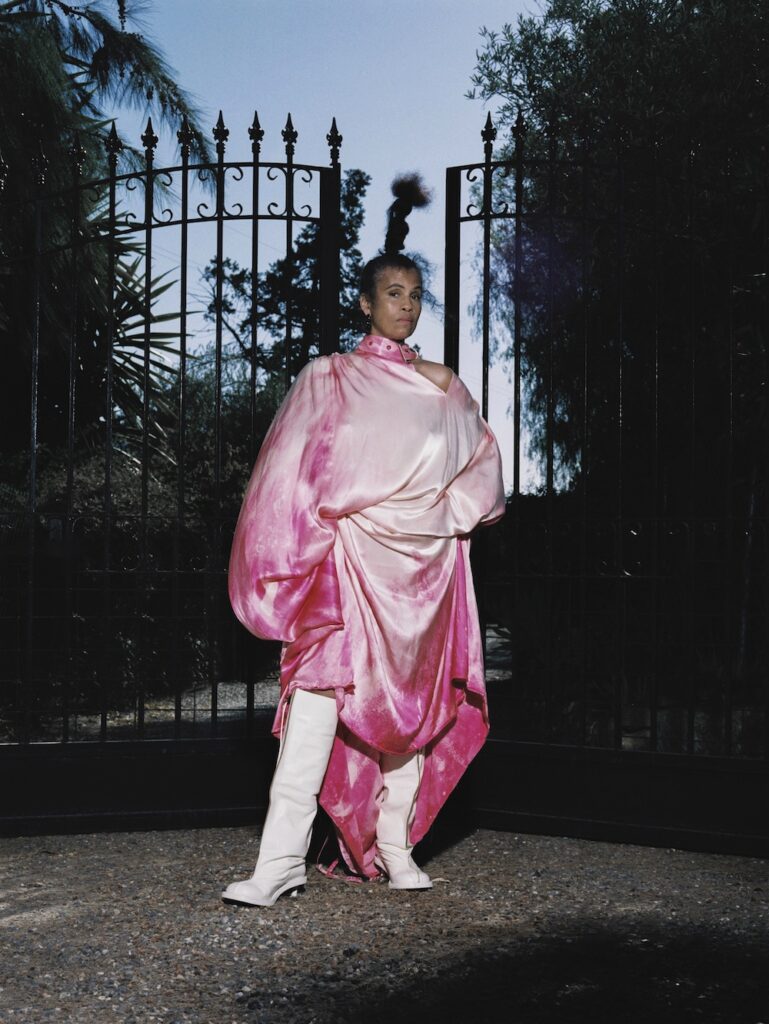 Neneh Cherry in ACNE STUDIOS
It was on a trip to Sierra Leone with her father when she was 15 that she realised motherhood would be vital to her, and she was prepared to work hard for it. She was drawn to the women's community and how they operated while caring for their children. "When I put my feet on the ground there, I felt at home," she says. "I was in awe of the female strength. You'd see kids on their mothers' back going everywhere and doing everything with them."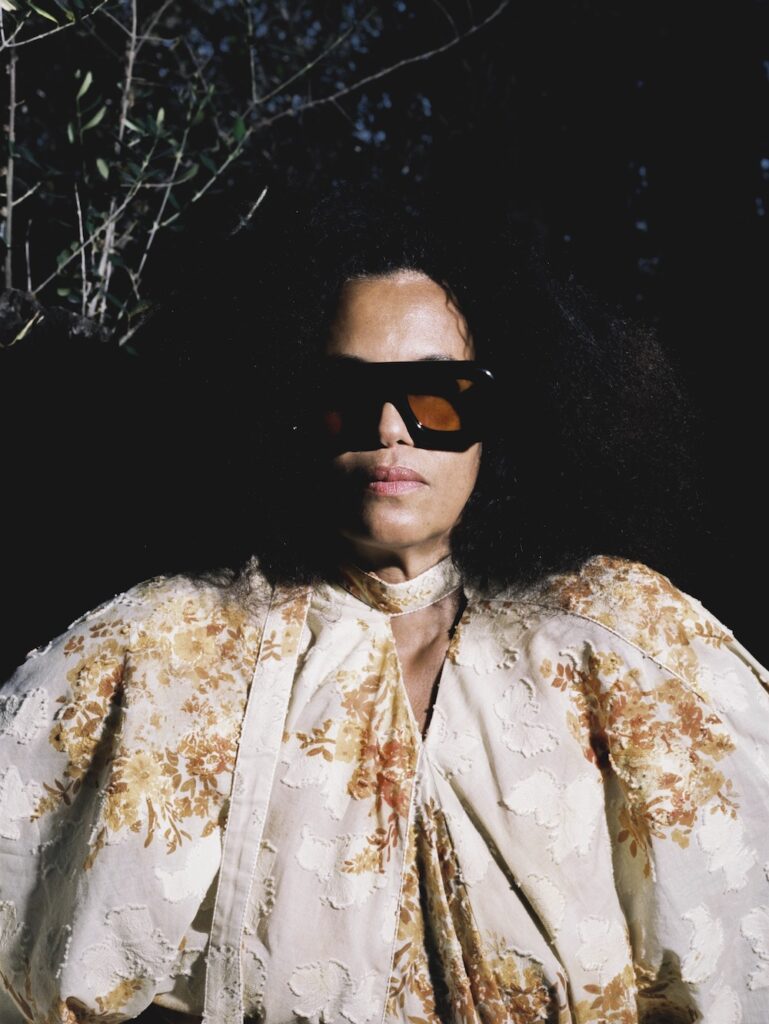 Neneh Cherry in ACNE STUDIOS
That same year, she made her way to London—alone—to pursue music. During the '80s, Cherry absorbed herself in the post-punk scene, living in a Battersea squat with her soon-to-be best friend, the late Ari Up, then frontwoman of the much-loved all-women band The Slits. Cherry ventured through the sounds of the capital via the bands she played for. From The Cherries to The Slits and Rip, Rig + Panic, her own sonic identity was moulded by London's underground scene. It wasn't until 1982 that Cherry embarked on her journey as a solo artist, but even she would question how 'solo' she truly was. "Collaborations go from the sound through to the visuals; what would I be without all the others, the other bloods?" she jokes.
At 25, Cherry released Raw Like Sushi—her critically acclaimed 1989 album known for the decade-merging hip- hop track 'Buffalo Stance'. "Who's that gigolo on the street / With his hands in his pockets and his crocodile feet" Cherry raps in a punchy and confrontational tone. The song tells the story of a sorry gigolo trying to swoon a woman with his money alone. "No money man could win my love / It's sweetness that I'm thinking of." The song contributed to an era of unapologetic women in hip-hop. It is also representative of Cherry's general attitude towards the oppressive structures that keep women like her down. "Sometimes I feel like I could have been more outspoken," Cherry admits. "It is a matter of life and death; you have the choice to almost kind of sell-out or use the space creatively to deliver messages, inspire thought or give other people ideas." While her music has always been about protest and social commentary, her first explicitly-political release was also her first as a solo artist: the 1982 single 'Stop The War' about the conflict in the Falklands. She also tackled social wars in songs like the aforementioned 'Buffalo Stance' and never shied away from tongue-in-cheek, gut-punch songs like 'Manchild' (1989) that spoke to the infantilisation of men and the need for them to truly grow up.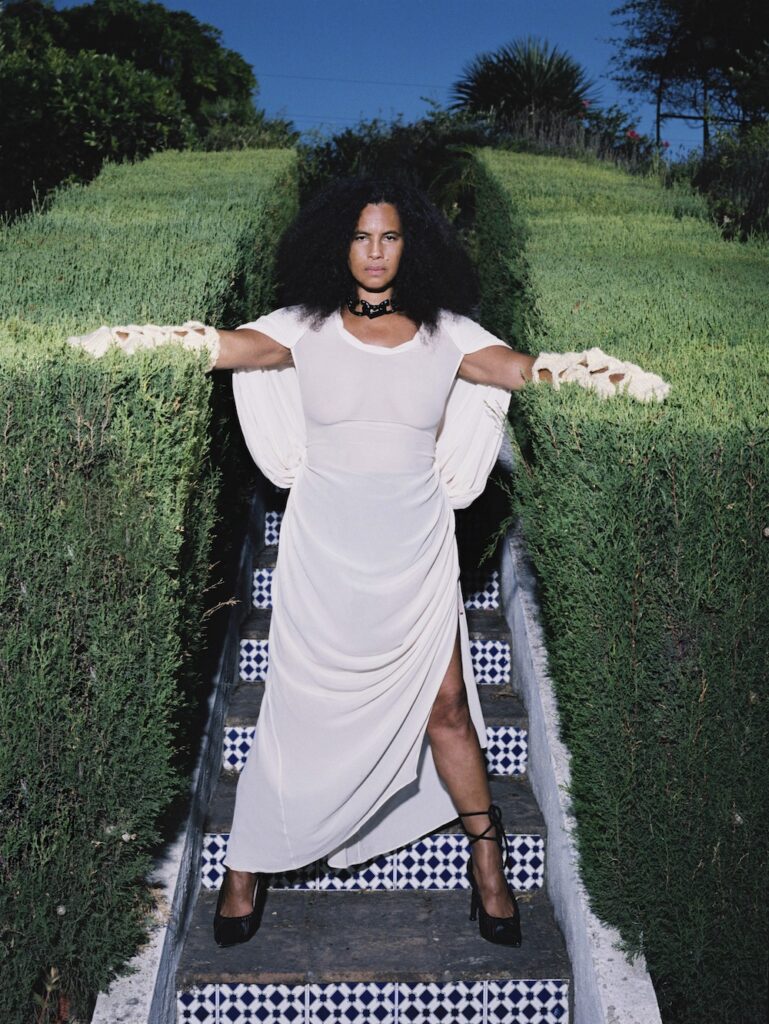 Neneh Cherry in ACNE STUDIOS
Her fifth album Broken Politics went deeper still. From issues of abortion to conspiracy theories, Cherry used her voice to give life to a vision of what the world should and should not look like. On the jumpy and deconstructed track 'Shot Gun Shack', Cherry addresses gun violence and inhumane killing, as she sings in a nursery rhyme melody: "Pick up a gun, you know you gonna use it / Know that gun, it's gonna get loaded / Say my name before you pull it / Too late, you know, just took that bullet."
Cherry's music and style have been an amalgamation of her chosen family; she was styled by late creative genius Judy Blame whose eccentric jewellery made him a punk fashion pioneer in the '80s. His fashion was loud and proud. From dildo necklaces to haute jewellery designed from scrap metal found on the edge of the Thames, Blame's is a name British fashion will never forget. He was the brains behind looks for Boy George, Kylie Minogue and Björk. Cherry's refusal to exist within the confines of any one genre has seen her create music moments with everyone from Norwegian Jazz trip The Thing, to Gorillaz and Sengalese singer-turned-politician Youssou N'Dour, a partnership which resulted in the Grammy-nominated single '7 Seconds'.
One of her biggest collaborators is her husband Cameron McVey, a behemoth in the British music industry, best known for co-producing Massive Attack's 1991 album Blue Lines, as well as producing the Sugababes hit album One Touch. "We have this thing, Cameron and I, where I'll write some lyrics, and he'll mishear them, and what he mishears is better than what I had."
Neneh Cherry in ACNE STUDIOS
Together, they worked on Raw Like Sushi, wrote the Blank Project album, and started the band cirKus, which featured their daughter Tyson McVey. During her early music career, she recalls, "my husband was always with me, Judy Blame was styling and we were a family. Even if I was in a hotel room, we would get the slippers on and be normal. This is why when I come home, I want to see my people, cook and just go down to Sainsbury's and push the trolley!"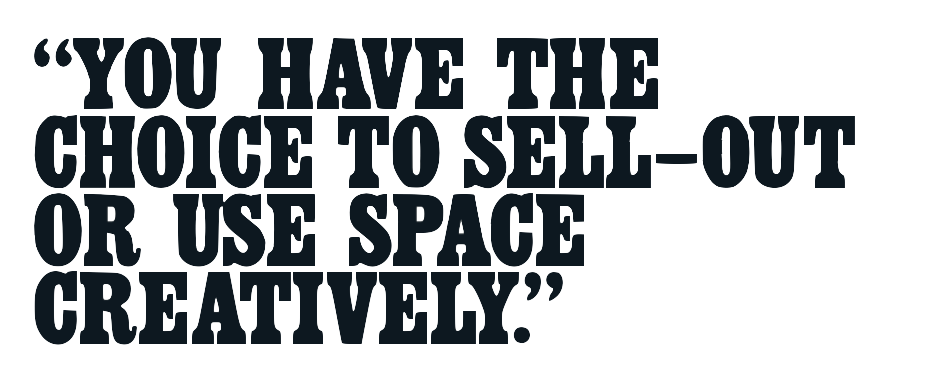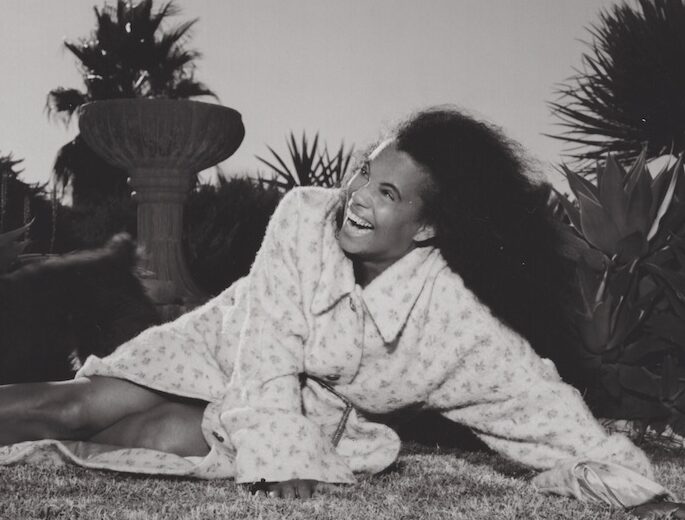 Neneh Cherry in ACNE STUDIOS
In retrospect, Cherry gives off the impression of always being at the right place at the right time, mastering the high wire act between celebrity and overexposure. She has always been aware of the media's role in creating and shaping your career as an artist. "Getting The Face was everything," she tells me of her 1992 cover story shot by Jean-Baptiste Mondino. "It was the biggest thing, other than going on Top of the Pops. If you were on Top of the Pops, that was it, you would be breaking records."
But the invasive nature of fame takes its toll, and it can be hard to create under such circumstances. "If you've been three days somewhere doing maybe 15 interviews a day, it does something weird to your soul. It's not really natural having your picture taken all day, know what I mean?" Famously, Cherry gave her 1990 Best International Artist Brit Award to Blame, who melted it down to make necklaces—a stunt against the media that has at times been hostile to her. "Someone from News of the World once wrote that I like having sex with animals," Cherry tells me before bursting into a fit of infectious laughter.
In 1996, Cherry took an 18-year hiatus. "I had a huge gap where I didn't put out any solo records. I think inside of all of that,I never really sat down and said I retired because I didn't want to have a fucking comeback—I hate that word," she says."There was something in my DNA that wasn't made for the treadmill and churning things out," she continues.
She returned in 2014 with the solo album Blank Project just after her 50th birthday.It struck a decidedly mature and sombre tone, inspired by the death of her mother, moving effortlessly from punk to jazz. (The Telegraph compared it to Gil Scott-Heron, no less.) It initiated a middle period for an artist who would not be defined by the glamour of youth, but knew how to age gracefully in public.
Neneh Cherry in ACNE STUDIOS
As Cherry creates in this new digital age, she worries not about the TikTok-inclined algorithmic nature of music. "One of the three aces of getting a bit older is that I'm loving a lot of music being made, but I also feel that I don't have to follow the trends anymore. I'm becoming a classic old car, know what I mean?" she explains. "It's not that I don't give a shit, because I do, but I'm in a place where I feel like I've done enough and I don't have to ride the waves, maybe just be influenced by them." This attitude has carried her and allowed her to maintain a devoted fan base, but she's also aware of how different the industry is now. Watching her pop-star daughter, Mabel, navigate new terrain has given her an entirely new look at today's music business. "I came from an era of music where you go to a record company, and you talk about ten albums. Now, if you have three singles that don't work, you might get dropped."
Though the pandemic and continuous lockdowns have thrown a curveball at everyone, Cherry continues to appreciate the preciousness of time. "I'm using the time I have on this planet wisely because it's precious, and I want to keep investing in the things I care about. You can't be happy every fucking day, but you can try for the good things." Looking forward, Cherry references a "long song that's gonna have no music, that will be out at some point."It's her cryptic way of saying she's writing a memoir—ready to tell her story at length for the first time and introduce herself to a new generation
For an artist like Neneh Cherry, there is no end in sight. Age and time are not factors that prevent her from pushing her bold ideas into the world. "When I was in my early 20s, I used to try and imagine what I might be doing when I'm 60," she says. "I was just talking to my daughter Naima today about MarshallAllen, the bandleader of the Sun Ra Orchestra. He's 97, he's still doing gigs. I'm like 'wow, bring it.' I'm ready."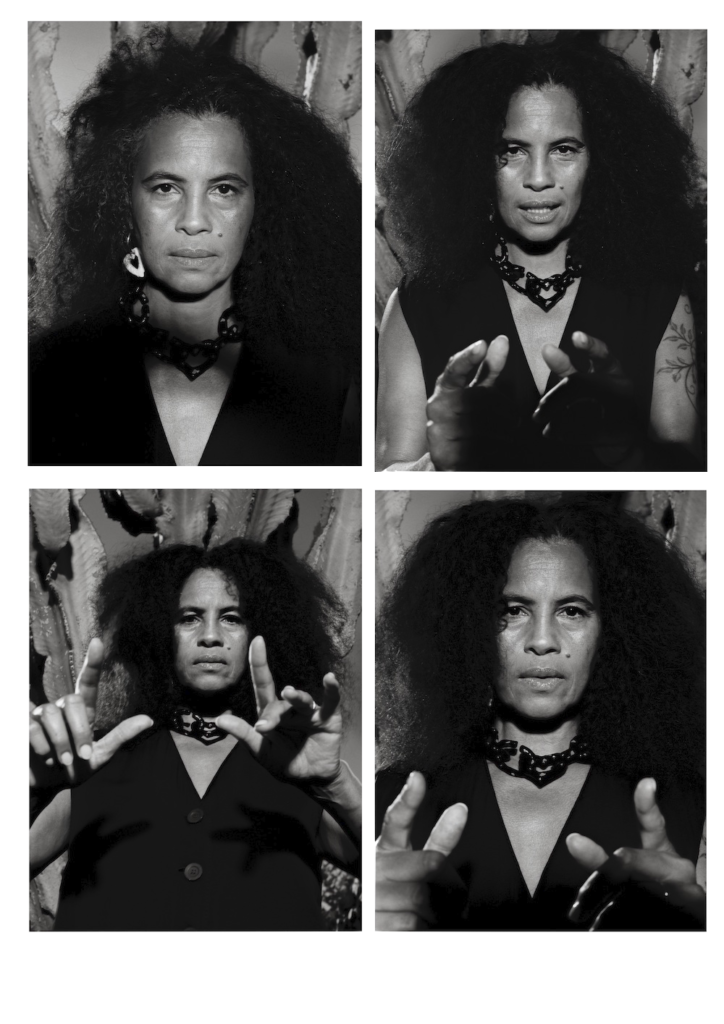 Talent NENEH CHERRY
Fashion ACNE STUDIOS
Photography IÑIGO AWEWAVE at INTRUSION
Styling RACHAEL RODGERS
Hair and Make-up ITZIAR NZANG at THEM
Executive Producer PIA AHLERT
Production SERVICES UNITED
Photography Assistant PABLO LEONO