When the rest of their friends were dressing up as cats and princesses, Giulia and Camilla Venturini were scrawling "FUCK OFF" onto their pants with permanent markers. Much to their mother's initial dismay, the twin sisters behind Milan-based brand Medea have always felt different. Thankfully for us, whatever wavelength they're on is the same one.
There's fashion that declares and fashion that eludes. The Medea Sisters Prima bag is the latter. An instant 'It-bag' seen on the likes of Dev Hynes, Rihanna, and Petra Collins, the unassuming accessory is designed to look like a paper shopping bag, which you wouldn't know is made of matte calfskin leather unless you looked really close.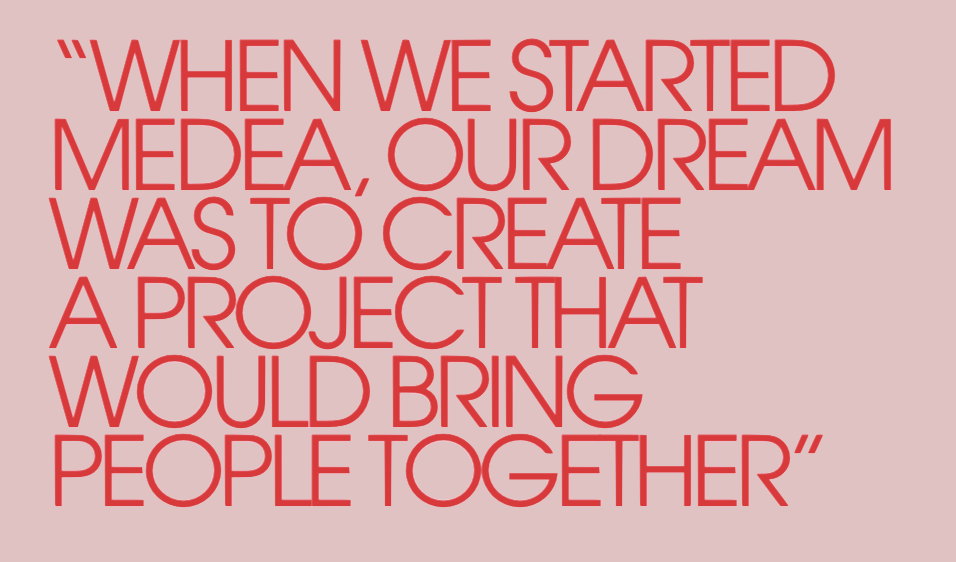 Its makers are Milan-based twin sisters Giulia and Camilla Venturini—creative directors, really, more than designers. The duo describe Medea as a "project" rather than a label, and have used it since day one as a way to collaborate with the artists they admire—from i-D's Creative Director Bunny Kinney, who captured witched-up versions of the Venturinis (complete with hooked prosthetic noses) for the brand's SS19 campaign, to Nan Goldin, Kiko Kostadinov and Judith Bernstein, who have each designed exclusive iterations of Medea's signature bag.
Borrowing a name from Piero Paolo Pasolini's 1969 film, and a design approach ("strong but feminine") from German actress Hanna Schygulla, Medea is a manifestation of the Venturini's eclectic moodboard and their unique creative vision. To talk twins, grins and Insta tactics, the Venturinis met up with the visionaries behind TOILETPAPER—founders photographer Pierpaolo Ferrari, and artist and fashion impresario Maurizio Cattelan.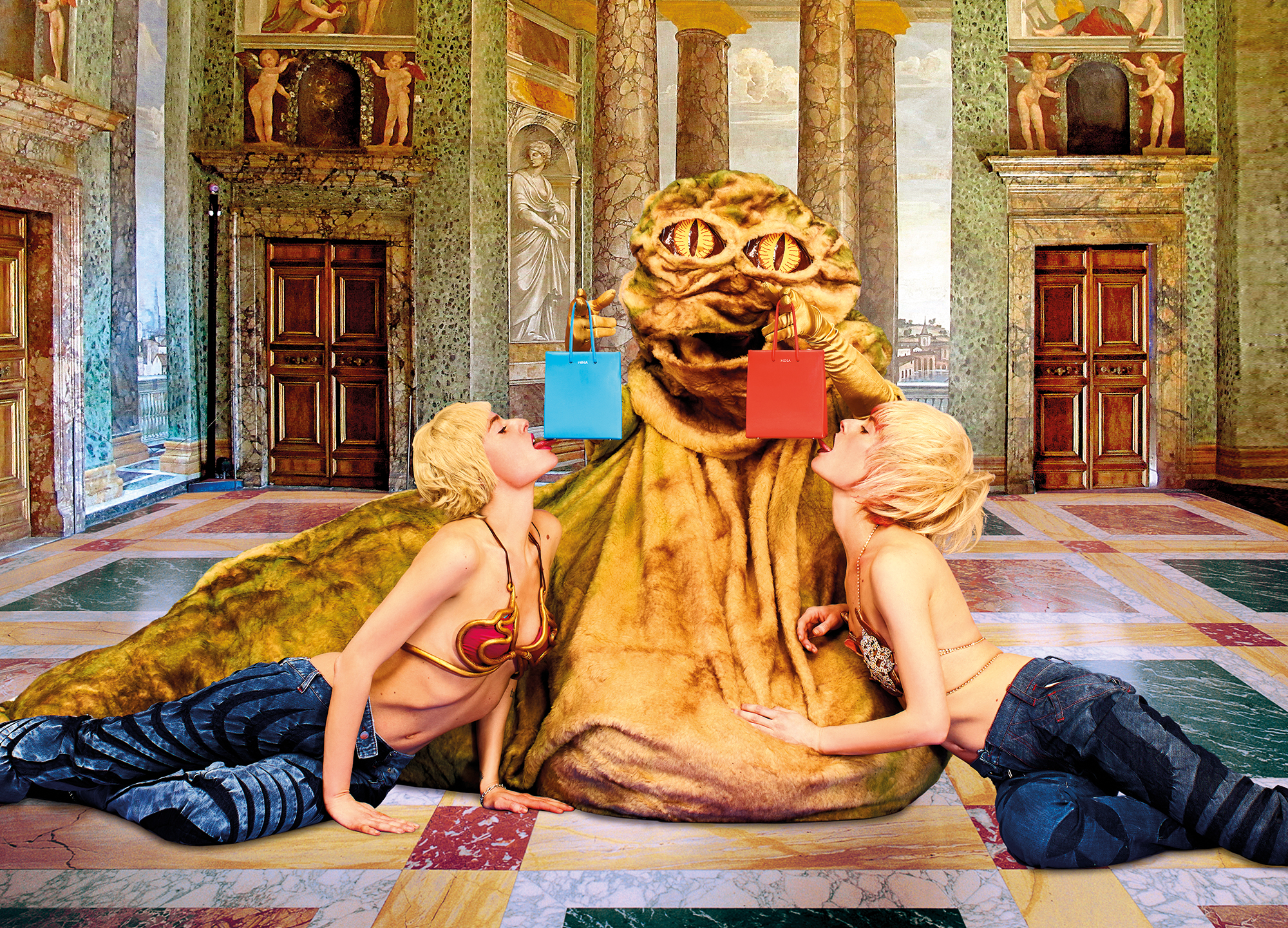 TOILETPAPER: When you launched your brand Medea Sisters, we were really surprised that you opted for 'sisters' instead of 'twins'. What was the reason for this decision?
MEDEA: When we started Medea, our dream was to create a project that would bring people together and we felt like 'sisters' was the right word for this purpose.
TOILETPAPER: From your experience, what would God be like if he had a twin?
MEDEA: Aren't we all brothers and sisters of God?
TOILETPAPER: What do you have in common with the mythological character of Medea?
MEDEA: Medea is a tribute to the homonymous Pasolini film starring Maria Callas. We were subjected to cinema at a very young age and our mother—the woman we most look up to—embodies some of the characteristics of these famous women we are inspired by: hard working, dramatic, understanding, uncontrollable and passionate.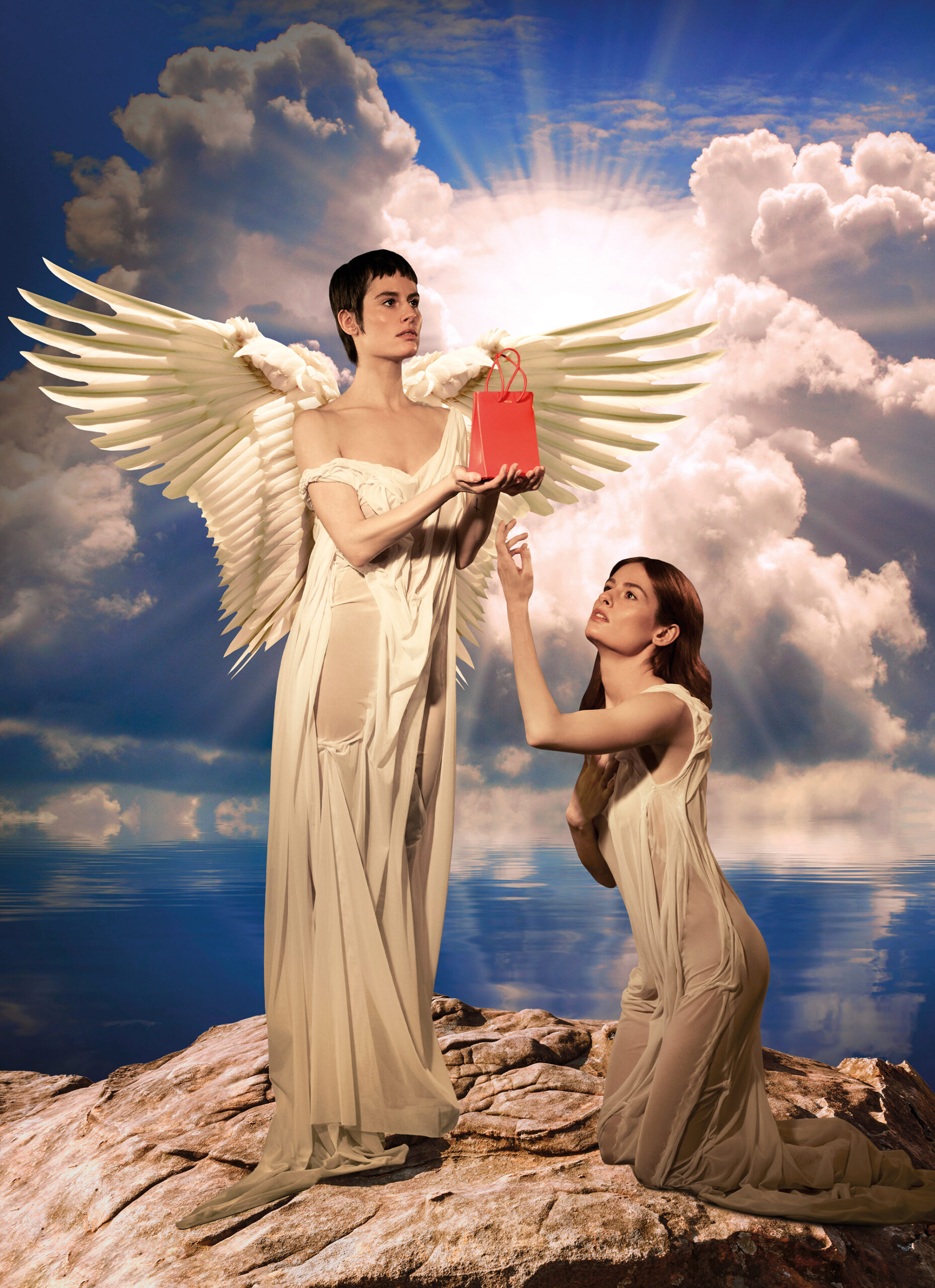 TOILETPAPER: Medea is the Hermès of the future, what makes them so irresistible?
MEDEA: Medea is the new Hermès! Jokes aside, we are inspired by the Maison in trying to create iconic, timeless and high quality bags.
TOILETPAPER: We know Hanna Schygulla as Maria Braun and Karin Thimm—when will we see her on a film set directed by you to celebrate the bag inspired by her?
MEDEA: You read our minds—we are working on a Medea musical. We just did an open casting call on Instagram, and the reaction was big. We're not sure the call reached Hanna Schygulla, but since you mentioned it, we must find her and ask her!
TOILETPAPER: Muses, trendsetters, models and now designers, what other surprises are you preparing for us? Where will we find you in five years?
MEDEA: Not sure where, but for sure together. How about Medea Records?
TOILETPAPER: Your Instagram account is super trendy. What are the ingredients for a successful profile? How important is the product and how important is the network?
MEDEA: We still don't have a strategist for Instagram. We are very casual about the content we share and we don't follow any of the rules to increase engagement. We created strong imagery around the brand, and if you are interested or like it, just follow us. Fashion is not our main interest—the result is what makes us different. We are happy to say that our network is really amazing people and we work hard to create bags that they would love and wear.
TOILETPAPER: In ancient times, bags were carried by servants or animals, but with the growth of female emancipation at the beginning of the last century, it has become a symbol of independence, social status and self-affirmation. How can we describe the Medea woman?
MEDEA: Since we started the brand, we have collaborated with creatives who perfectly embody the values of the Medea woman. That said, when we create our designs, we don't like to think about our customer in terms of gender or age group. Medea is for anyone that feels ready to be a part of our journey.
TOILETPAPER: Who has the best smile?
MEDEA: Ask the bum!
Photography MAURIZIO CATTELAN and PIERPAOLO FERRARI of TOILETPAPER
Photo Execution ALBERTO ZANETTI
Digital Technician SILVANO BANFI
Art Direction ANTONIO COLOMBONI
Stylist ELISA ZACCANTI
Talents CAMILLA and GIULIA VENTURINI at MEDEA
Props MICHELA NATELLA
Hair and Make-up GINEVRA PIERIN
Production STEFANIA BILIATO
Post Production ANNA TALLONE
Styling Assistant BIANCA LUINI