Aaron Rose Philip isn't sure if she's just humble, but when asked about her goal, she replies coyly, "I just wanted people to have jobs." As a Black, trans woman born with cerebral palsy, who immigrated from Antigua to the Bronx at the age of three and faced homelessness in her youth, Philip understands the value of work. She learned quickly that when you're not cis, white, and rich, it can be hard to get into a wealth-driven creative industry. Nevertheless, Philip fell in love with fashion early on, but also reckoned with the way it excluded people like her.
It was a shoot captured by her friend Jasmine Weber back in 2017 that first put Philip 'on the map'. The photos, featuring a bleach-blonde, dewy-glowed Philip wearing track pants and her now-signature septum ring, went viral, garnering over 20,000 retweets and nearly 90,000 likes on Twitter. Her voice was as pointed then as it is now: "when I get scouted/discovered by a modeling agency it's OVER for y'all!" she wrote.
To some, the 20-year-old model might feel like an overnight success. Scarcely a year later, following profiles in PAPER magazine and Refinery29, alongside a collaboration with H&M, Philip had manifested her prophecy, becoming the first disabled, Black, trans model to sign with Elite Model Management—or any major agency, for that matter. By 2019, she had made her runway debut for Willie Norris and had been interviewed by Naomi Campbell. But Philip saw herself in fashion long before the world did.
Her confidence paid off. In 2021, Philip has already animorphed for Collina Strada's eccentric AW21 show and been booked by Burberry. With unshakeable hope and sheer tenacity, Philip is changing the status quo with her mere presence. Every job she lands sets a precedent for the future of fashion—a future where modelling is about so much more than walking the runway.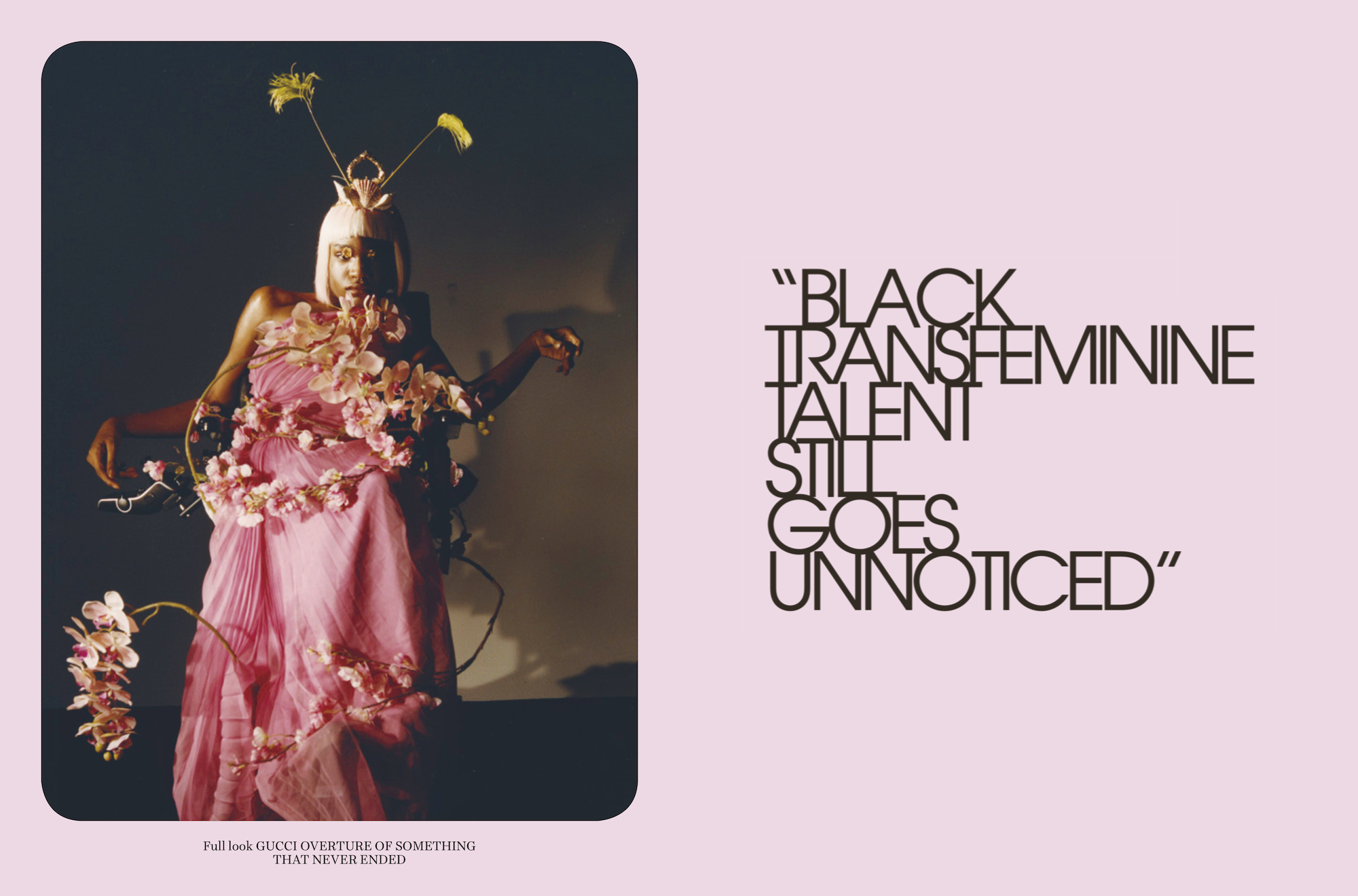 YOU WENT FROM COORDINATING YOUR OWN DIY SHOOTS TO BEING A HIGH FASHION MODEL. HOW WOULD YOU DESCRIBE YOUR JOURNEY?
When I was 17, I took it upon myself to venture into fashion. For a long time, I'd had an interest in it—I'd always read Vogue and magazines. I've always loved the nature of fashion—how transformative it is, and how representative it is of life and the times. But I couldn't help but notice that I never saw anyone like myself; I had never seen anyone in a wheelchair in Vogue magazine. The presence of disabled bodies was, simply, nowhere to be found.
I thought perhaps I could take it upon myself to do some of that work. I'd never thought of myself even as pretty at the time, but I loved fashion so much that I was willing to put myself into this as a model to add some sort of tangible representation. I DIY'd it. Honestly, when I look back, I don't know how I had it in me to do what I did. It was so intense. I was a hard-hitting kid. I didn't even know where to start in trying to gain attention and an audience, and I didn't know what I was doing, but immediately I was like, social media has always been my way of connecting with people, so why not start from there?
I got myself into this mindset where I was like, I'm about to use myself as a kind of firestarter. I knew what I was in for. And I did it.
WHAT HAVE BEEN SOME HIGHS AND LOWS ALONG THE WAY? 
When that tweet blew up, I remember being young and just really soaking it all up. The retail clients garnered from the viral photo shoot weren't high fashion, which was what I was aspiring to, but I'm grateful for the retail jobs I was getting for the time. Before I knew it, the jobs started elevating; the press started elevating; I was an unsigned model getting regular coverage.
I was so young and it was incredible, but it was a gateway to a lot of harassment and bullying from different audiences. I knew what I was in for, but I also didn't know what I was in for. There were moments where the online violence got kind of intense. It would elevate into very real parts of my life. There were instances where harassment had escalated from Twitter into my mum's email.
I was getting into Elite Model Management during that time so there were a lot of eyes on me, and it was really escalating. There were only a few Black trans models doing work back then. So, I realised what I was doing would make people talk. There weren't many of us. It can be positive and negative.
My very sweet friend Hunter Schafer, a former Elite model, had introduced me to her agent. When we met in 2018, the first thing they said was that they'd never seen anyone like me before—their eyes like, lit up. It was my first time even having meetings with a high fashion agency. At the time, I didn't think anything of the meeting. I didn't know how far it was going to get. Before I knew it, that autumn, my agents had emailed me and confirmed me for signing at Elite.
HOW DID THAT FEEL?
The day I was signed, I was sobbing in my room. It was this really tender part of my life. My logic was then, and still is, that I want people to have jobs. I don't understand why it's difficult for people to have jobs in a field they love because of discrimination or because people don't see their worth. And it got this far. The moment I was signed by Elite was fun, it was amazing, it was beautiful. Yeah, those times were really beautiful. It's been a journey of gratitude for sure.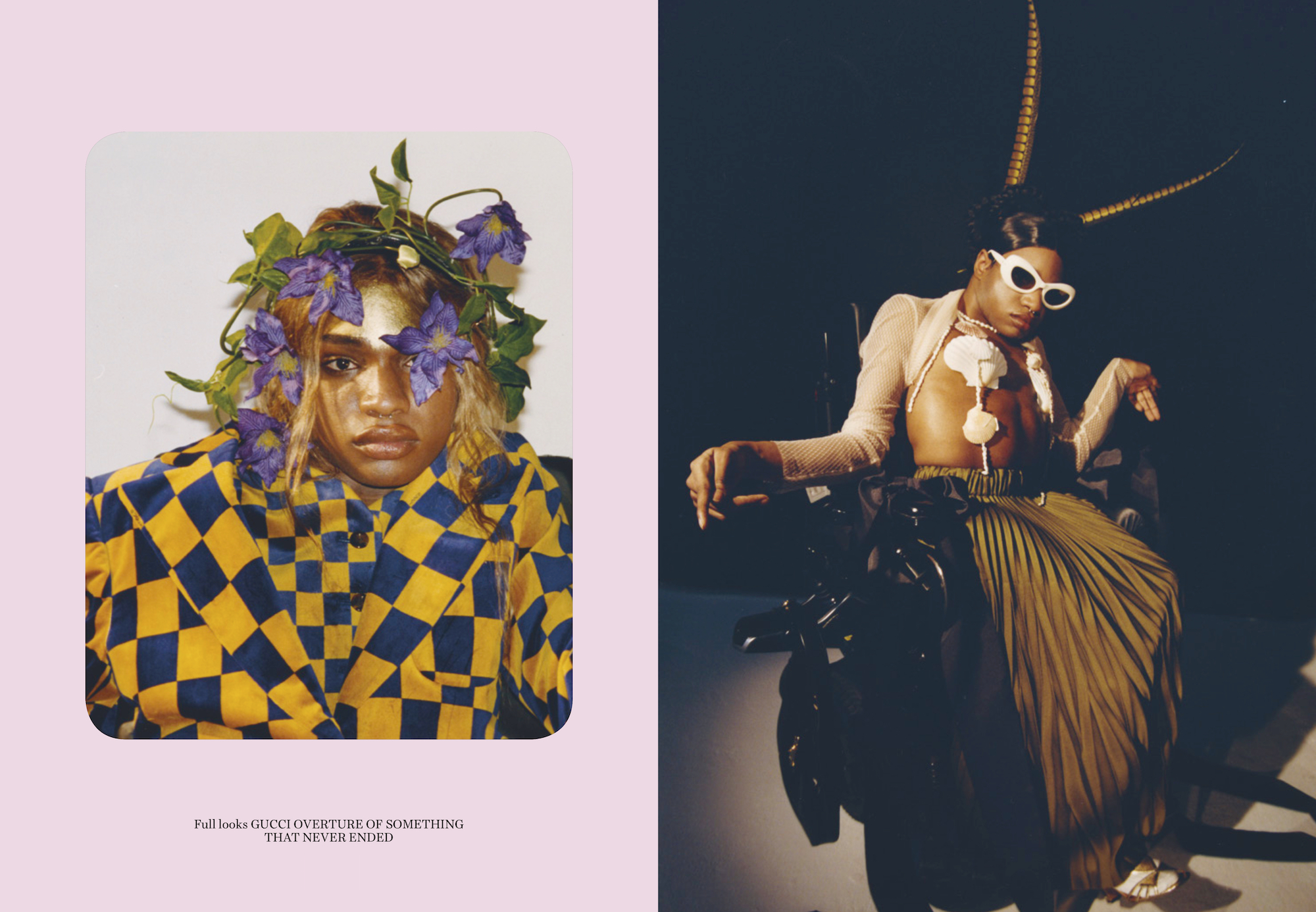 YOU'VE BEEN CALLED A 'TRAILBLAZER'. HOW DO YOU FEEL ABOUT THAT KIND OF ACCOLADE?
I still go back and forth with myself about it. The praise I get sometimes, the love people have for me, and the work I do is so big and beautiful. It's all-consuming. It's incredible. I'm seen as this hero, this revolutionary, but like I said, I just wanted people to have jobs. I'd read magazines and wonder why I didn't see any models with wheelchairs. And then, when I happen to be the person who raises those questions and makes an effort to challenge that, it's actually revolutionary. And these aren't things I'd thought about until it happened. I'm just a girl from the Bronx and from the islands who wanted people to have jobs in fashion even if they don't happen to be white, cis, and Euro-centric. That's all it was.
And now I'm all these beautiful things because of it.
WHAT IS IT ABOUT HIGH FASHION THAT YOU FIND COMPELLING? WHY IS IT WORTH IT TO YOU TO DO THE WORK IT TAKES TO BREAK DOWN THESE BARRIERS? 
High fashion is what I used to live and breathe. I was one of the Tumblr kids reblogging high fashion photos on the timeline. High fashion provides escapism. It's so inspiring to look at visually and to get lost in. To get lost in the garment, or the feel of a runway show. There's not a feeling like it. I found community in that.
I couldn't help but notice how close-minded the imagery was, which is so contradictory to the community that's built around a love of high fashion—predominantly queer kids of colour. That juxtaposition didn't make sense to me. There had to be a way to push those worlds together.
I took a look at myself and realised there's nothing wrong with me because I'm in my wheelchair—why don't I see myself anywhere? How can we change that? How can we change it for other people? I know I'm not the only one who feels like that.
OF COURSE, THERE WAS QUITE THE SO-CALLED RECKONING IN THE FASHION AND MEDIA SPACE THIS PAST SUMMER. HOW WOULD YOU DESCRIBE THE CURRENT LANDSCAPE OF DIVERSITY AND INCLUSION EFFORTS IN FASHION?
There's a lot of work to be done, but I want to acknowledge the work that's been done. It's interesting to see not only fashion open its doors to Black creatives and Black minds, but to see everything unfold. It kind of all blossomed. I still see it happening today. I've seen so much Black talent come into fruition because of the change in conversation that happened last year. Real progress has been made.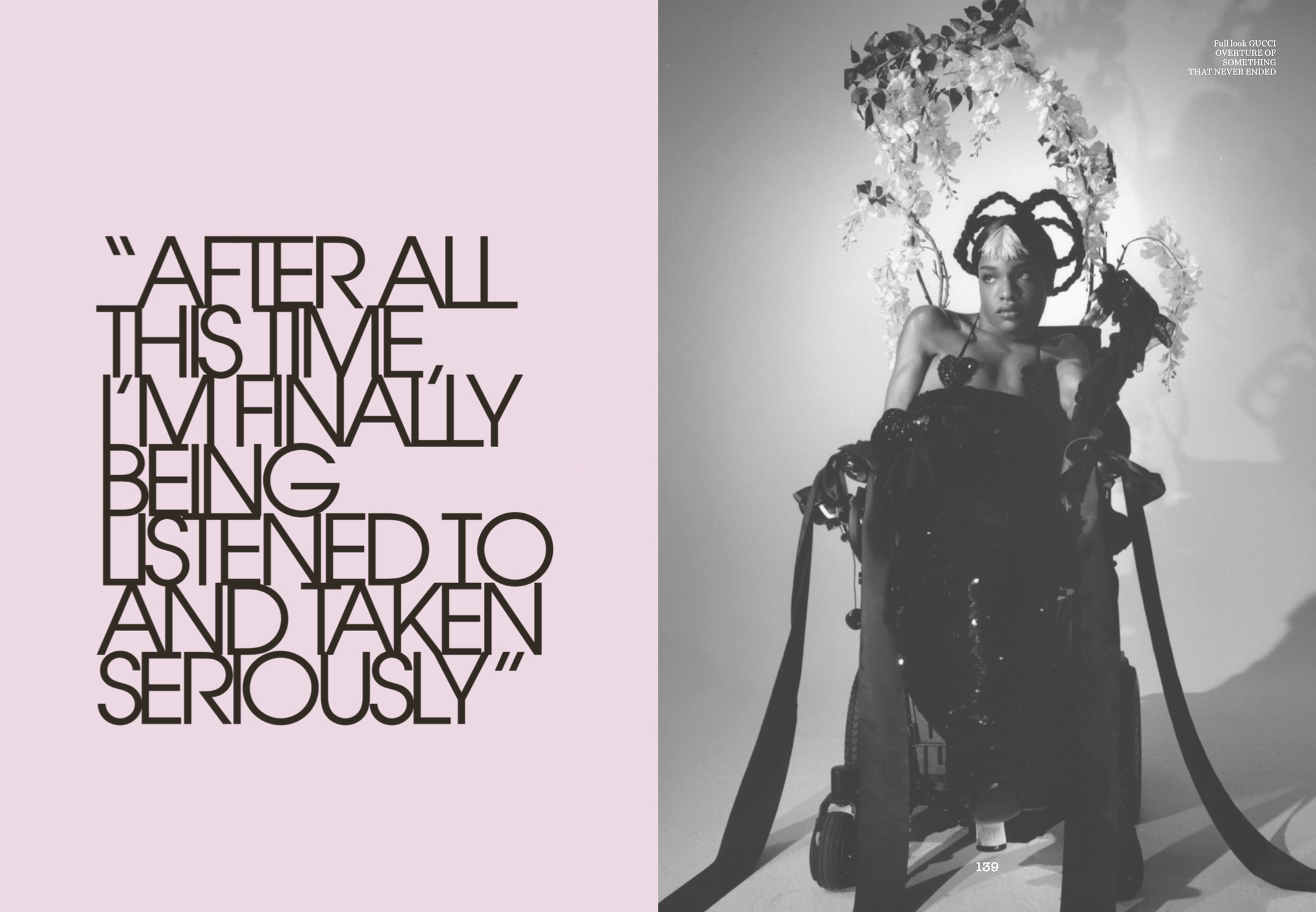 HOW CAN FASHION LEADERS AND ICONS SUCH AS YOUR-SELF PAVE THE WAY FOR TANGIBLE CHANGES THAT UPLIFT MARGINALISED PEOPLE?
The fact is that there really isn't enough Black trans representation in fashion, especially Black trans women. Black transfeminine talent still goes unnoticed. I don't see Black trans female talent being nurtured or put into the space they deserve. There's not enough disabled representation. I want to see a disabled person on the cover of Vogue. I can't wait. Disability is such an important thing that's so rarely—painfully so—discussed in fashion.
YOU'VE TWEETED ABOUT THE VALUE OF MUTUAL AID, AND YOUR LINKTREE IS FILLED WITH DOZENS OF LINKS THAT DRAW ATTENTION TO ONGOING FUNDRAISERS. WHY IS IT SO IMPORTANT TO GIVE DIRECTLY? 
You really gotta be about the action if you're going to do it. If there's a real way to tangibly help the things we talk about, let's do it, in real life. Mutual aid has become a part of my life; I've integrated it. Personally, I'm very open about my life: I was homeless, I was hospitalised, I've seen it all. People go through real struggles and no one should turn a blind eye to that. There are so many ways to assist and show solidarity for people. It's so easy to help people, especially on the big 2021 internet. Why not do it?
WHAT DOES A MORE INCLUSIVE FASHION INDUSTRY LOOK LIKE?
We have to go into the nitty-gritty of the foundation of fashion. We have to put the people in that should be there. Let them be there. That's why it's so important to have disabled talent behind set, on set, behind the camera, modelling in front of the camera. Black people producing photo shoots and making sure things go well for the Black models on set. There's a necessity to all of this.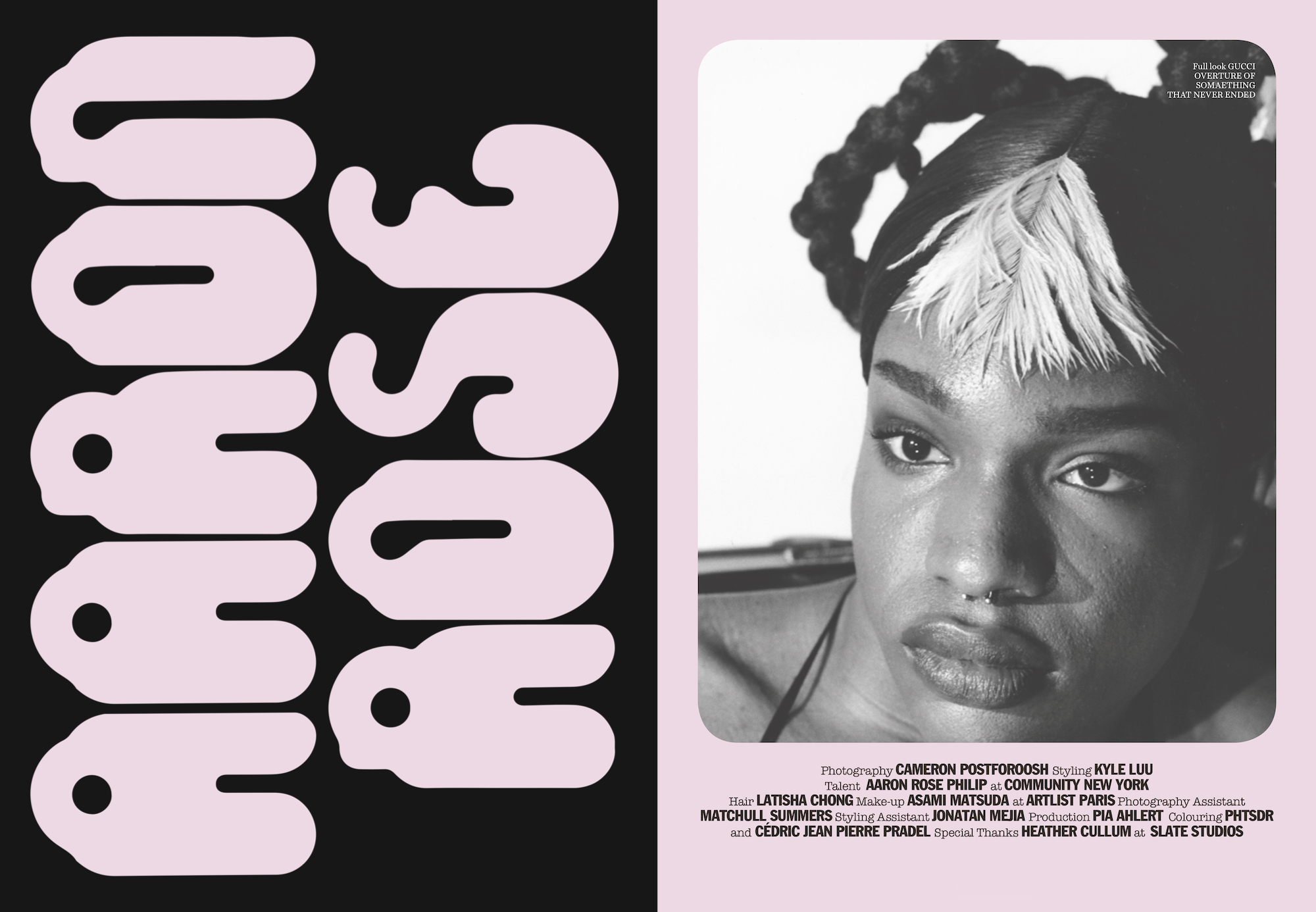 HOW WOULD YOU DESCRIBE YOUR STYLE? WHAT'S ONE LOOK YOU REACH FOR TIME AND TIME AGAIN? 
My style is so all over the place. It's like confetti at this point. I used to think I was goth, but now I go from goth to fairy to art princess to disco vixen to siren. I just feel myself depending on the day. I'm a canvas at this point. I'm a sponge.
WHAT IS ONE THING THAT KEEPS YOU GOING?
I'm motivated by my incredible support system. I'm blessed to have my best friends and my family. After all this time, I'm finally being listened to and taken seriously. That's something I had not felt for a long time in my career. I felt like people weren't understanding the type of individual I am. When I started speaking up about the inequities that me and other people were facing in fashion last year, people finally started paying attention. That's all I've ever wanted—for people to understand me and my ability and worth as a model.
*This interview has been edited for length and clarity.