If it seems significant that Academy Award-winning director Steve McQueen has decided to air his latest work on the BBC, that's because it is. It's a year where Bond has been relentlessly plugged and then withdrawn from hard-hit cinemas, as if we still care; where Disney has stirred a Mulan syrup shot into our Disney Plus Frappuccino at a bolt-on price even the Premier League would struggle to justify. In stark contrast, McQueen has gifted Small Axe—five different films unapologetically exploring Black history in Britain—to good old terrestrial TV, because, quite clearly, he deems it a public service to education. Hardly surprising, though, from a man who spent an entire year photographing every seven-year-old child in London for the Tate Britain.
It's no overstatement to say that in the shadow of monumental events in America this summer, Britain struggled to reconcile its relative position to its neighbour regarding race. A lot of hand-washing occurred to the uncomfortable tune of "well at least we aren't like them", an argument that, in light of the result of the US Presidential Election, is burdened with ever-increasing irony.
But as the saying goes, everything's weirder in America. Your brain might fall out of your ear every time you walk past M&M's World in Leicester Square, but have you seen the Bass Pro Fishing Shop in Memphis, Tennessee, otherwise known as the 10th tallest pyramid in the world? It's all too easy to watch the footage of the armed St. Louis couple barefoot and pointing guns at peaceful protestors and write it off as peak American lunacy. It may be an extreme example, but it is this regular absurdity that provides vindication to those on this side of the Atlantic that just want to say "it could be worse".
In part, McQueen's new series for BBC One feels like a response to that reductionist absolution, telling stories of struggles against racial injustice here on our doorstep. But also it comes from a desire for McQueen to provide on-screen representation for his own lived experiences. London born and of Grenadian and Trinidadian descent, McQueen recognises a gap in cinema telling a complete 'narrative of British history', particularly a reflection of his own normal family life growing up.
The first episode of Small Axe tells the story of the Mangrove Nine, a group of Black British activists charged with incitement to riot following peaceful protests against the routine police harassment of local Caribbean restaurant The Mangrove. Shaun Parkes is enthralling as restaurant owner Frank Crichlow, with a broad, rich performance of a man torn between keeping his head down and fighting for justice.
Deservedly receiving the heft of the plaudits are Letitia Wright as British Black Panther party leader Altheia Jones-LeCointe, and Malachi Kirby as broadcaster and writer Darcus Howe, both of whom deliver passionately earnest and direct portrayals. Rochenda Sandall provides an ardent vigour as Barbara Beese, Sam Spruell curdles with his saline depiction of the despicable antagonist PC Frank Pulley.  It's no secret that McQueen is a master of excavating raw and real emotion from the actors he works with—usually one or two characters are his focus—but in Mangrove he presents a whole array of talent in vehement unison.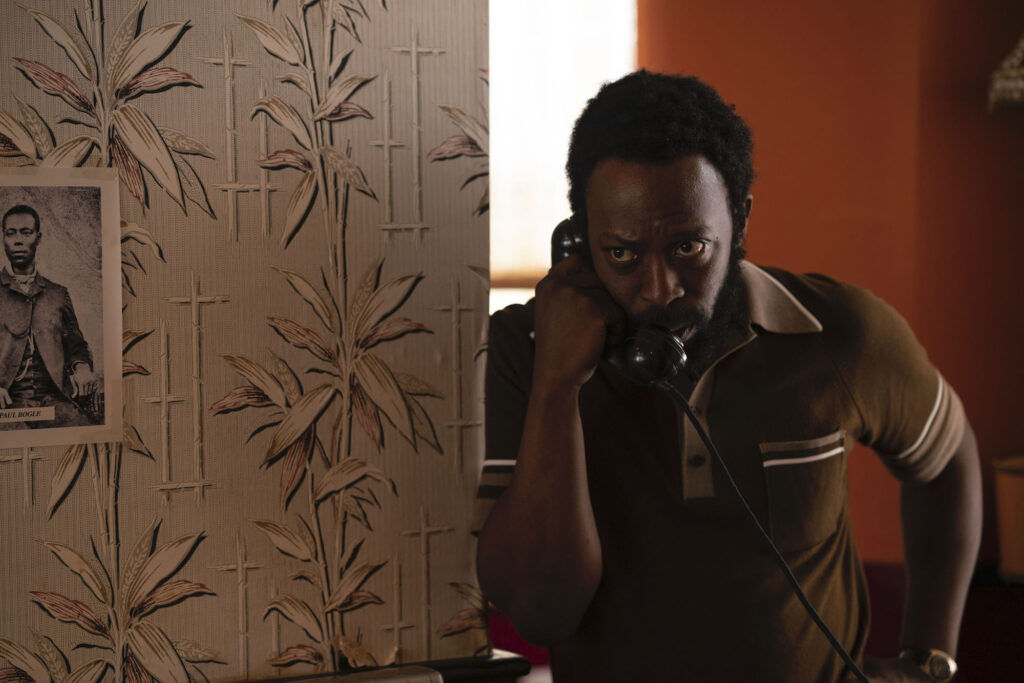 As is also compulsory for McQueen, the sound design in Mangrove is on point. Toots and the Maytals blast through the streets of West London, intermittently engulfed by profoundly queasy strings like jet engines; naturally, McQueen has recruited the greatest film composer of the last decade in Mica Levi. In his previous films, intensely physical scenes are buttressed by sound effects of such magnitude that empathy is demanded of the audience—the whip to Lupita Nyong'o's back 12 Years a Slave, anything that so much as brushes against Michael Fassbender's protruding skeleton in Hunger. Mangrove gives the same tactile punch to more implicit moments, such as the thumping of the courtroom door, or the endless rocking of a dropped colander.
When asked if, in relation to the international police brutality that has been brought to the forefront this year, anything had changed from the period of the injustices highlighted in Small Axe, McQueen was quick to pull focus to the joys of the series. It is to its detriment that the political force of Mangrove demands precedence in articles on it, and not the scene of an early Notting Hill Carnival, with the unbridled joy of dance, drink, and steelpans. McQueen promises that episode two, Lovers Rock (Sunday, BBC One, 21:00), is pretty much one big party showing two people falling in love.
Back in March, one could not move for collective resignation of a need to be educated, especially amongst people like myself—a white man. And now, there can be no excuses—when one of the greatest living directors is turning out some of his best ever work highlighting vital Black British histories for free on the BBC. This is cinema of the highest calibre, available to the widest possible audience, and there are four more still to come.
Images courtesy of BBC Studios. BBC Studios is distributing this series internationally and is actively speaking with broadcasters in Germany about Small Axe, but is not able to confirm a broadcaster at the stage.