What's in a name? For the garment commonly known as a 'wife beater': connotation. The A-shirt, tank top, call it what you will, has become a symbol of masochism—splattered with chain oil, ripped to near shreds on a young Marlon Brando—and of toxic masculinity, worn by, well, the kind of guy who beats his wife. If there was ever a wardrobe staple that needed to shake its past, it's the tank, and 27-year-old New Yorker Kingsley Gbadegesin is one designer out to rewrite its narrative. 
Born to serve the the Black, Queer, Femme and Trans community, K.NGSLEY is the brand taking tank toxicity and making it queer. Launching this week with a collection of sleeveless tees tailored to the Butch Queen in all of us, Gbadegesin's latest venture is an empowerment project inspired by the energy of New York club culture and the community spirit of activism, and the brand's first campaign is a love letter to Femme and Trans people.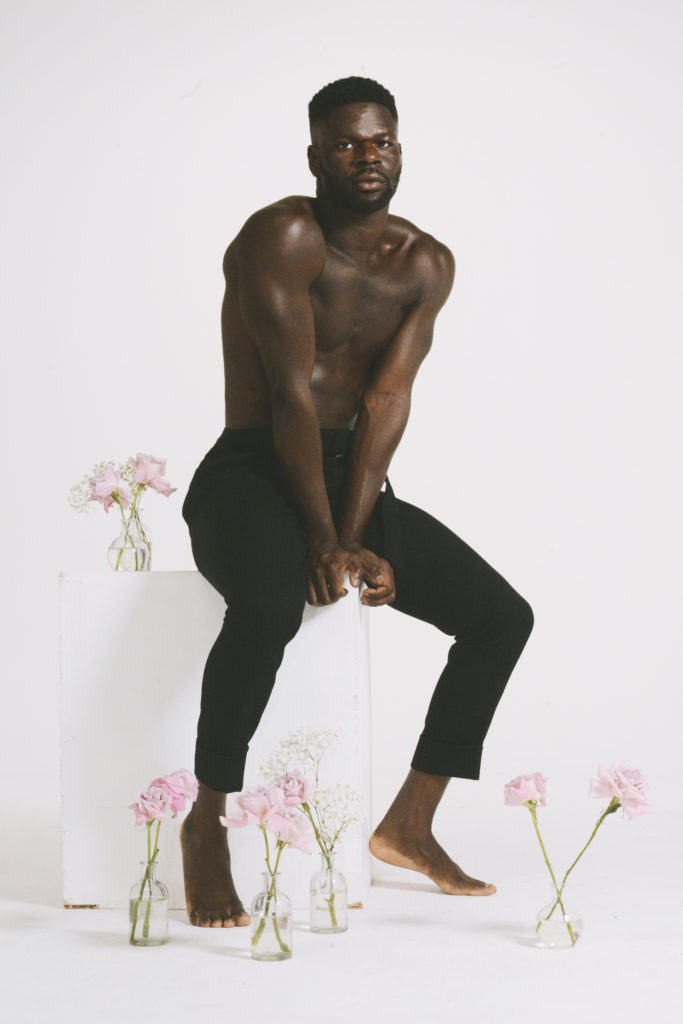 A kind of continuation of the work he does daily with On The Ground—a grassroots organisation providing support for the Black and queer community—Gbadegesin's celebratory images, and designs, aim to empower, uplift, and normalise all kinds of queer bodies. "This is more than just clothing," he explains. "This is a movement—and Trans and Femme people are finally being put at the centre of it all." 
"The work of justice is the work of building a world in which unbounded beauty and strength can be unleashed freely, out loud, in public, with only pride and without fear that who someone is will determine their fate," he adds. "There is a future within our reach in which the violence, the killing, the lynching of our sisters is forever behind us as a stain on history and is no longer a determiner of any person's future. A future in which straight, masculine, cis presenting men can love Femme or Trans people without fear of what others will say, without perceived threat to their masculinity, without guilt or fear of what it might mean is living within themselves."
In light of the collection's launch, Gbadegesin talked to INDIE about his homage to queer culture and being at the helm of his own brand.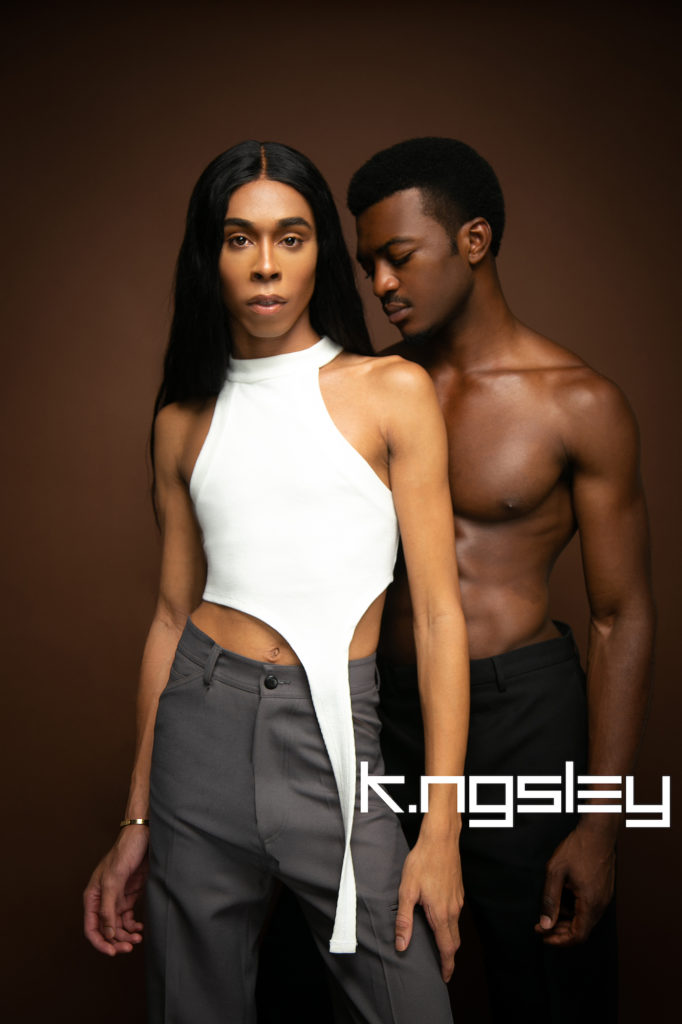 You

'

re obviously very engaged in activist, empowerment and community-building work for Black, Queer, Femme, and Trans communities—do you see K.NGLSEY as an extension of that? 
Absolutely, K.NGSLEY was born out of that spirit—out of the vibrancy of the Black community, the hope of the movement to build the better future Black, Femme, Trans, and Queer people deserve. Listen, every generation of queer people, especially Black queers and people of colour, are challenged with redefining the meaning of our bodies—redefined as free from the literal chains of slavery, as leaders on the front lines of civil rights movements, and today, we need to break out from under the knees of police and the crippling toxic masculinity that expects Black boys and men to act, walk, talk, and express ourselves in predetermined ways. K.NGSLEY aims to challenge all of that and not only put out cuntfits for the girls, by the girls, but at the same time we'll be using profits in a sustainable business model to redistribute funds into the communities and groups on the ground that need support and that continue to fight for the change we so desperately need.
How has the spirit of New York

'

s club scene inspired the K.NGSLEY output?
If you go to a club or to a ball, you see the vibrancy of our community, you feel the spirit of joy on the dance floor and the freedom to let the Butch Queen in all of us loose. I want to harness that energy—that hope—into the brand, into the clothing, and empower people to literally redefine their own bodies. To frame and give power to our beauty, our femininity, our queerness, our magic. For so long Black, Queer people have influenced the heart of American culture while being pushed to the margins of it. I see this brand as a lightning rod, putting us at the centre of our own narrative, the way it should have always been. To exist and express and dress authentically—as queer and butch or as femme as you want—is a protest. To exist as exactly who you are is a protest. And that's what we're aiming to empower people to do. That's the work of liberation, isn't it?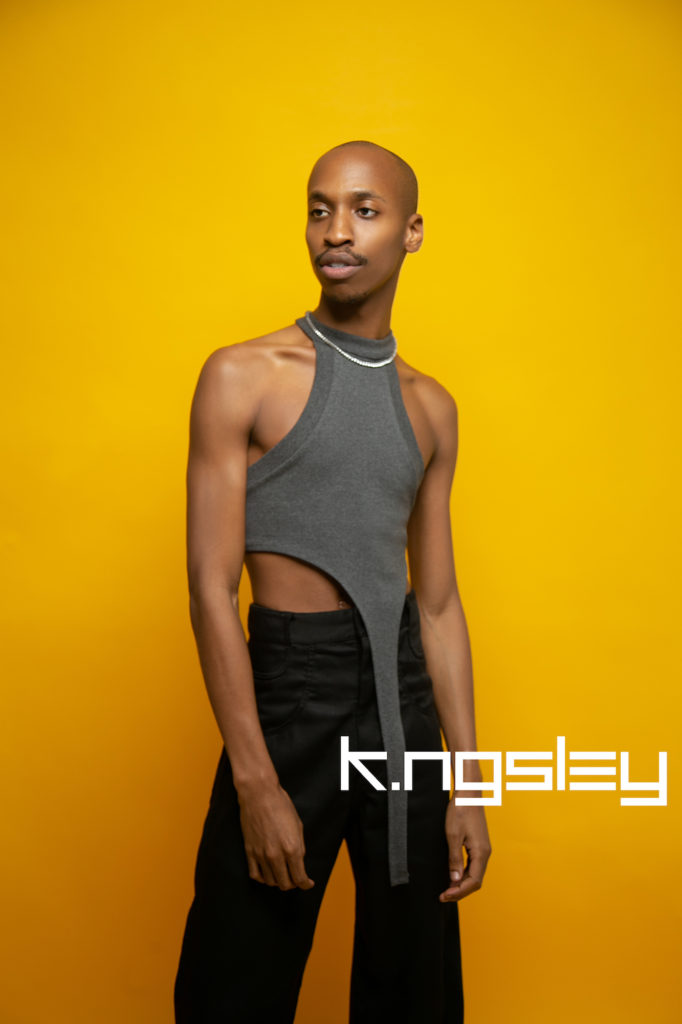 Why the tank top?
Whether we realise it or not, tanks are symbols in our community, especially of masculinity in some sense. I want to queer that, and this line is for everybody—fat, muscular, thin as hell, or anywhere in between. But they have a certain flare. We've taken that symbol and turned it on its head. We've tried to redefine that too. The angles and shapes take them to new places across the spectrum of gender, and you can butch them up or fem them up in ways the classic tank can't, technically and symbolically. We all want to be free from the social constraints of gender, sexuality, and "ideal" body type, and we've quite literally tried to reshape the symbol of the tank for us all.
How has it been to build and launch the brand amidst a global pandemic?
It has been difficult, but we've all seen the energy and passion and anger in the streets and on social media about the state of America and our communities. I've funnelled all of that energy into this—and believe me, like everyone else I'm just as tired of the bullshit. I believe you can't just break down systems and tackle challenges, you also have to build something better, something worthy of our community. That's what I was inspired to do, and it has carried me through. I've had incredible support from people from my past job at Versace (Stacie and Alla – I LOVE YOU), friends (Sam) from different industries, activists (Romain, Shadow, and Paris), and others along the way. It's ultimately the product of community, as it should be.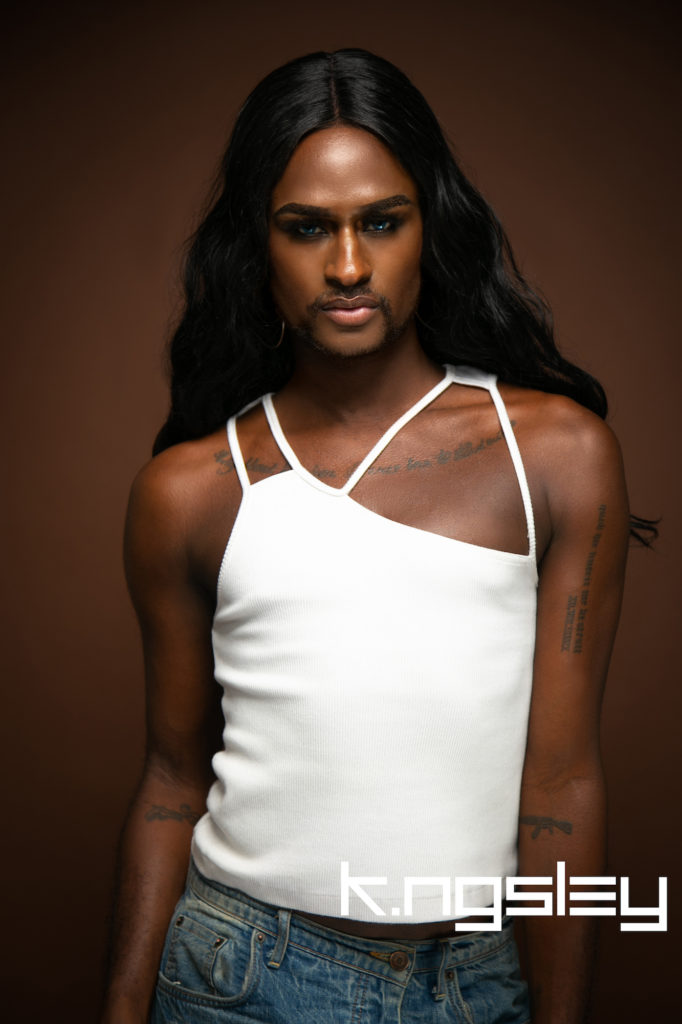 Which piece has induced the most gag-worthy response so far!?
That would be the FIST tank (named after the party FIST, which stands for Fun Is Still Transgressive.) All the tanks are named after an "event" in my life. You know, I actually made this piece a long time ago before going to Basement, a club in Queens where you'll find all the BK girls. I cut up and refashioned a basic tank I had, not knowing I was going to get the response I was going to get but arrived at the party, and people I didn't even know kept stopping me in the club asking where I got it. That planted the seed for all of this.
What aspect of the launch are you most excited and apprehensive about?
It's nerve-wracking to put something out into the world that you've poured your heart and soul and history into. But I'm most excited about people wearing the garments and hopefully seeing themselves in their truest form—Queer, Femme, Non-binary, and more. That's what this is for—us! Our bodies are worthy of this kind of intention. And of course, I am excited about the difference we'll be able to make in communities. It's no secret that people across our community are struggling deeply right now. To create something for our community while building community and supporting the very real changes we need on the ground right now is exactly what I'm hoping to do, and it gives me hope as well. The future is Black, Queer, and Femme as hell. I want to do my part to help us get there.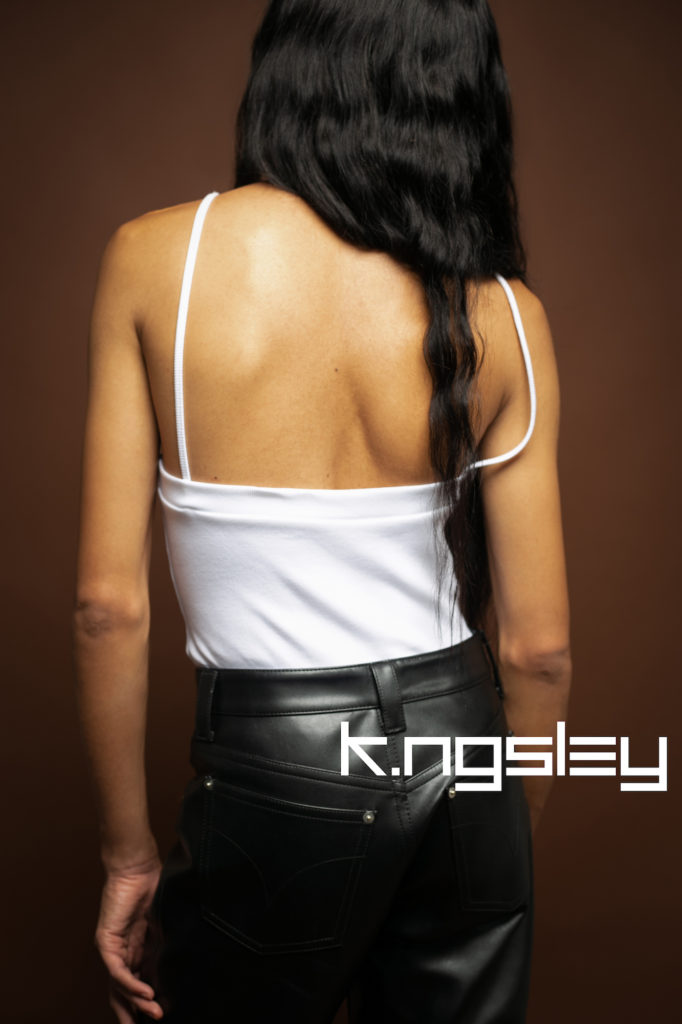 K.NGSLEY Collection 0: BQ Essentials launches today and is available for pre-order.
Photography RICHIE TALBOY and XAVIER DUAH