When asked about the legacy she wants to leave behind, Kicki Yang Zhang's answer is as down to earth and endearing as she is. "I know it's cliché," she says, "but I want to somehow have a positive impact—to make the world a nicer place for my future kids."
But for the 24-year-old artist, model, make-up guru and self-professed "third culture kid", the word 'legacy' has always had a multitude of meanings. Born in China and raised—for the most part—in Germany, Zhang's cultural heritage plays a central role in her artistic expression. Discovering make-up in her early teens with the dawn of YouTube beauty tutorials, Zhang noticed an absence of people who looked like her, and struggled to find eye make-up that was suited to her hooded lids. She started experimenting herself, starting small, but growing quickly—now sharing her multifarious make-up looks—inspired by everything from Chinese guóhuà paintings to politics—to her 324k Instagram followers. 
This month, Zhang is kicking off her part of Reebok's Classic Leather Legacy campaign, aiming to foster and further the work of young artists worldwide—those the pandemic has thwarted of their formative moments. Each participant was invited to write their own legacy, which in Zhang's case, consisted of a photo series including one of her unique make-up looks. To celebrate the campaign's launch, we caught up with Kicki Yang Zhang to talk art and aspiration.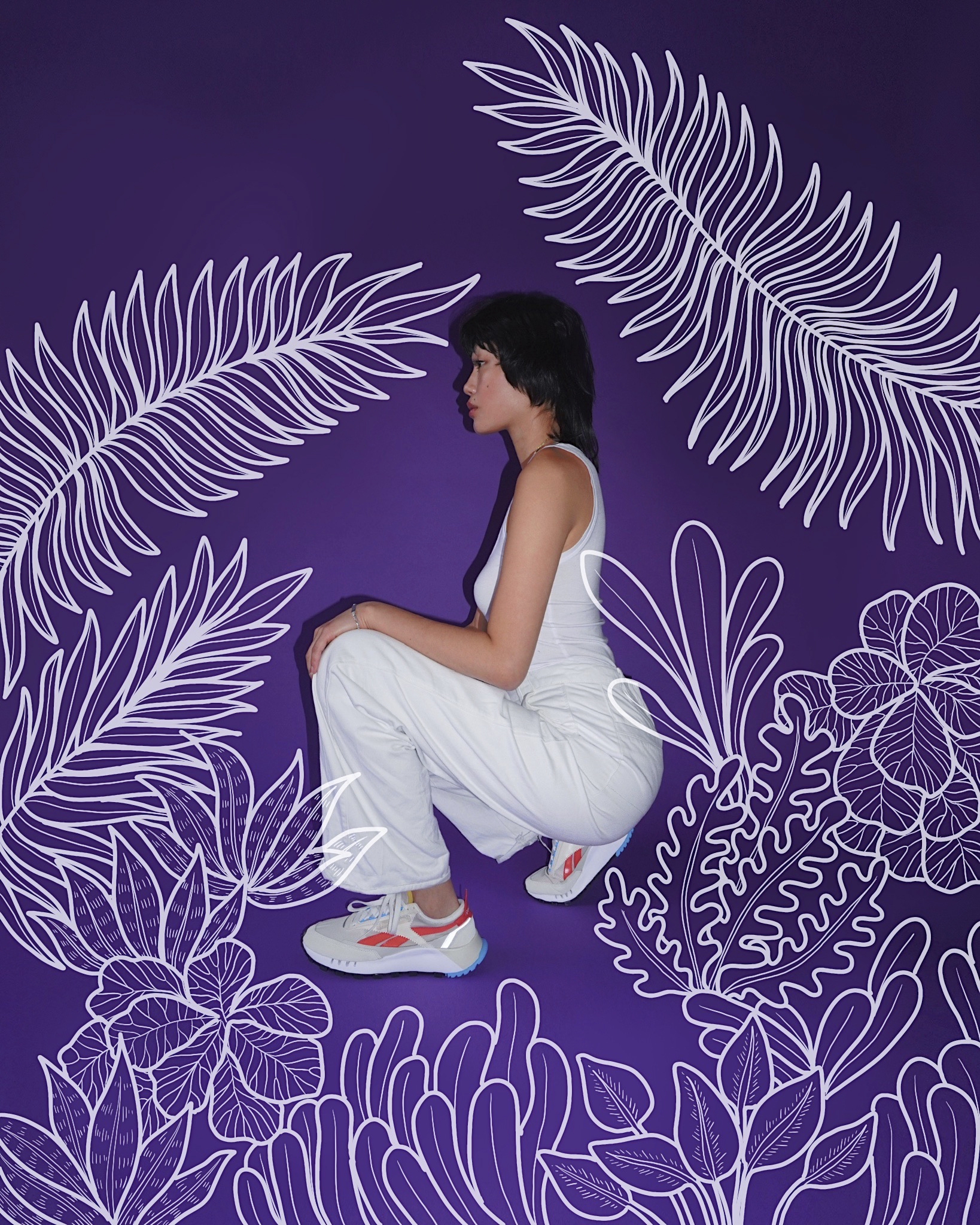 Aside from the obvious like nature (especially plants) and traveling it's mostly having conversations with different people. I'm surrounded by a lot of creative friends and sometimes the weird things they say spark an idea in my head. I love that. 
Do you come from an artistic family?
I think in the time and place my grandparents and parents grew up there was almost no chance you could make it if your profession was being an artist. My dad is a very pragmatic person, but I think my mom would have made a great artist. She does landscape painting as a hobby sometimes. Besides that, no one besides my cousin and me are doing artistic jobs. 
How was your experience of growing up in Germany as a "third culture" kid?
On one side, it was very confusing, because when I was living in China as a kid from 1-5 I didn't feel like I was different. When I came to Germany I felt immediately that people where looking at me differently and asking me questions I didn't understand at that time like "do you eat dog meat?". And now when I'm in China they can tell I didn't grow up there by the way I dress and style myself, even though I speak the language fluently without an accent. But nowadays it's a freeing feeling, because I got the chance to create my own culture and take the best out of both worlds. 
View this post on Instagram
What role did art play in your childhood?
Since I was bullied very badly in school, and I didn't want to talk about anyone with it, art was the only outlet that I had. It definitely helped me through a lot and I might be broken today with out it. 
How did you first get into beauty?
I think it was when YouTube started. I started to watch beauty tutorials on the platform and was really fascinated by it. But 99% of the gurus back then were Caucasian or maybe asian with hooded eyes, no monolid sister in sight. The tutorials I was seeing didn't really work on me, so I had to start to experiment myself. 
In what ways does Instagram help, but also hinder you?
I think social media in general is a great place to find like minded people like you. The followers you attract are a mirror of yourself as a person—or at least how you present yourself. It definitely pushed me when I realised that a lot of (Asian) third culture kids are following me and I can help them in some kind of way. I don't feel like it hinders me. I don't only do the things where I know it gets a lot of likes, I do the things I want to do. And if it's not getting "enough" likes, so be it. 
Is fashion important to you? 
For me fashion has always been an awesome way to express myself and the mood I have each day. It's a part of my personality. 
View this post on Instagram
Tell us about your collaboration with Reebok…
When Reebok approached me I really liked the concept of bringing past, present and future into one campaign. And I really loved how my creative freedom was given in creating the content. I have been doing a lot of reading in quarantine and I was inspired by 
the anthropology books I was reading, to create an "evolution", and walking up straight into the future. 
Aside from art, what are 3 things that are nostalgic for you?
My mum's dumplings, plants, and piano music by Chopin. 
What are you working on at the moment?
I'm working on more printed works. I love the online world but it some senses I'm old-school and I think there is nothing more beautiful than having an actual, physical piece of your art that you can hold in your hands.