As Ottolinger turns five, the Swiss design duo behind the previously LVMH Prize-nominated brand talk Chinese sci-fi, change and their choice to stay self-funded.
When I meet designers Christa Bösch and Cosima Gadient at their modest studio in Moabit, I'm early. "Normally everyone's late!" they apologise. It's probably because most people have to take three different modes of transport in order to reach their quiet corner of Berlin's north-western neighbourhood, which feels a thousand miles away from the graffiti-coated chaos of their old Kreuzberg studio, and is a thousand miles away from Paris, where Ottolinger's design duo now show twice a year.
Our meeting takes place in November, when the pair are in the final stages of realising their SS20 collection—presented in September and now being produced for the stores—and the starting phase of conceiving AW20. The mood board is yet to materialise ("I wanted to print it out, but you were early!" Gadient jokes), but if the designers' spring/summer offerings are anything to go by, the Ottolinger state of mind is expanding. Inspired by Chinese sci-fi author Hao Jingfang, the adventurous collection marked the brand's first foray into wearable accessories—intricate handcrafted jewellery drenched in dripping rubber—and established one design principle the pair are adamantly holding on to: Refinement. "In past collections, we've made dresses that have been really complicated to put on," Bösch explains, and she's not kidding—garments have previously been accompanied by instructions on how to tie them. But now the duo are keen to make their ready-to-wear more ready to wear (even if it means reverting to more conventional methods of fastening and unfastening).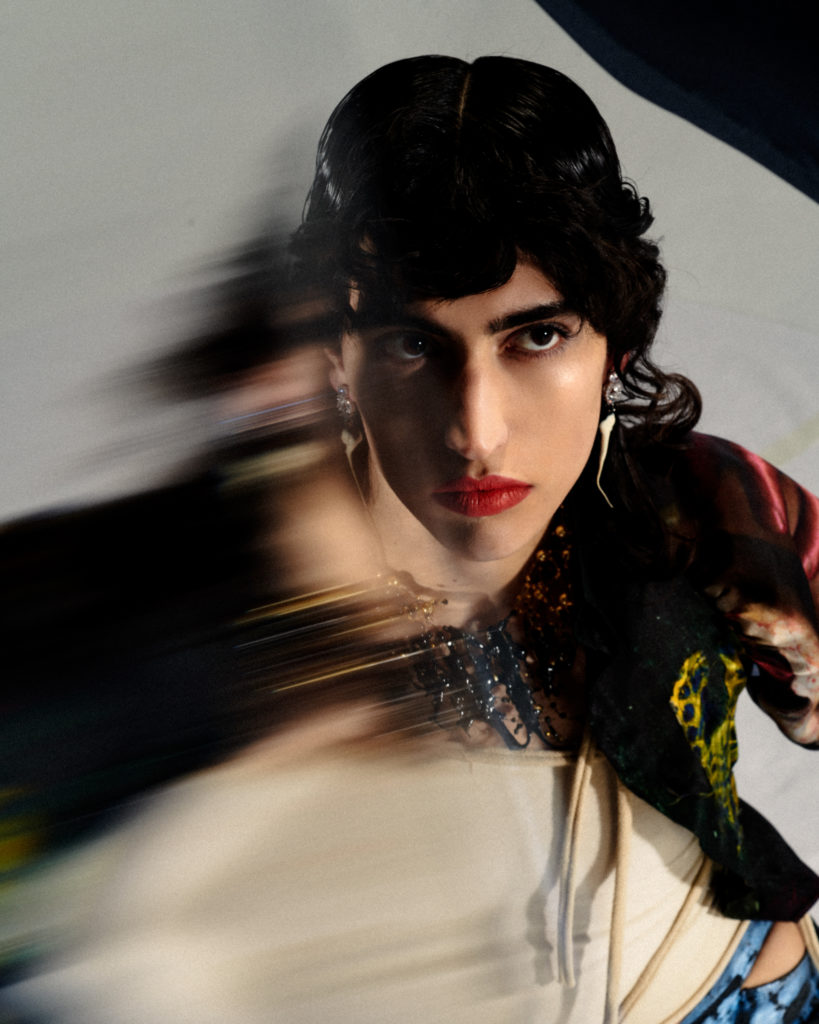 Unlike the brand's growing reputation (with an international stockist count that sits "somewhere between 30 and 40") the Ottolinger studio space, I find out, is fairly small. It's littered with the duo's destructive designs—cut-offs of acid-washed fabrics, knotted knitwear samples, and CBD-infused lipsticks from their recent collaboration with KannaSwiss—and it's not without its quirks; the bathroom door has to be kicked open with force. But it's home, at least for now, to Ottolinger's intimate yet growing team. "We actually want to move," Gadient explains, "but looking for a new space is something that always gets pushed to the bottom of our to-do list." "It's too small," Bösch adds, "and a bit annoyingly far. At first, it was nice to be in a space far from home, but sometimes it gets to the end of the day and even the prospect of leaving is daunting." But despite outgrowing their four walls, the duo remain unjaded about their Berlin base. "Sometimes we miss the mountains," says Gadient, "and after three weeks of passing by Kottbusser Tor, I'm really ready to see somewhere else. But we travel so much that it's actually a nice place to come back to."
"Being self-funded is something we're very proud of, because it comes with a lot of struggles… but it allows us the freedom to do what we want with the brand."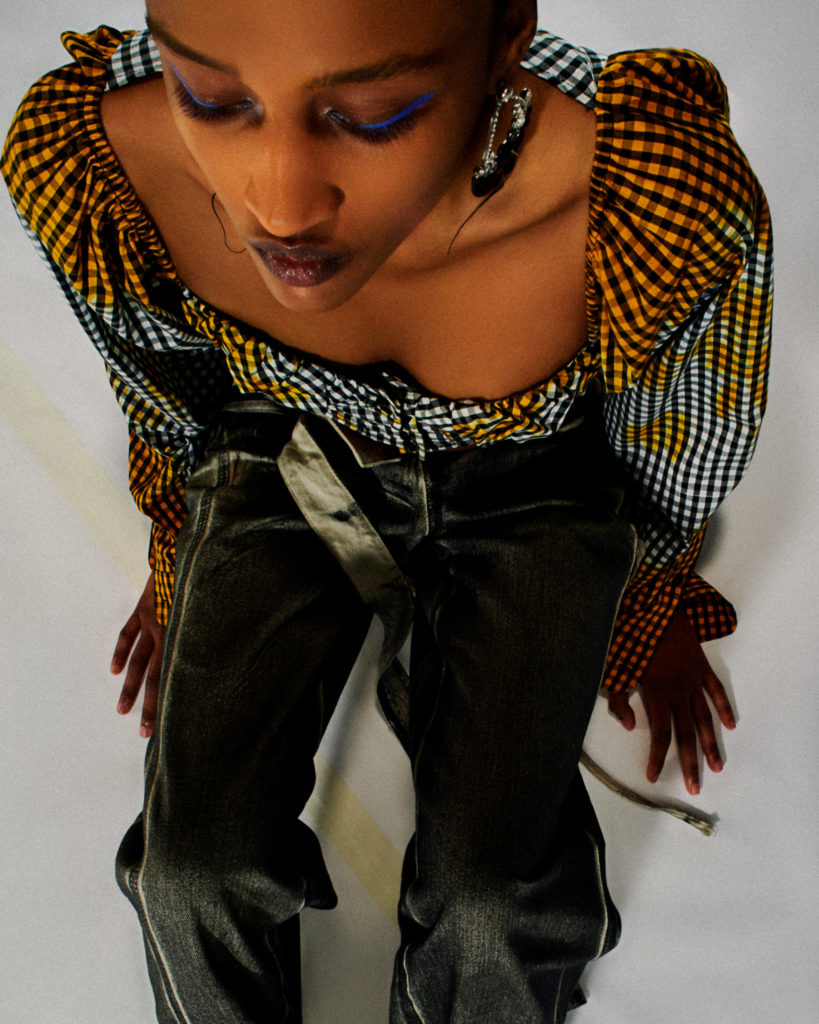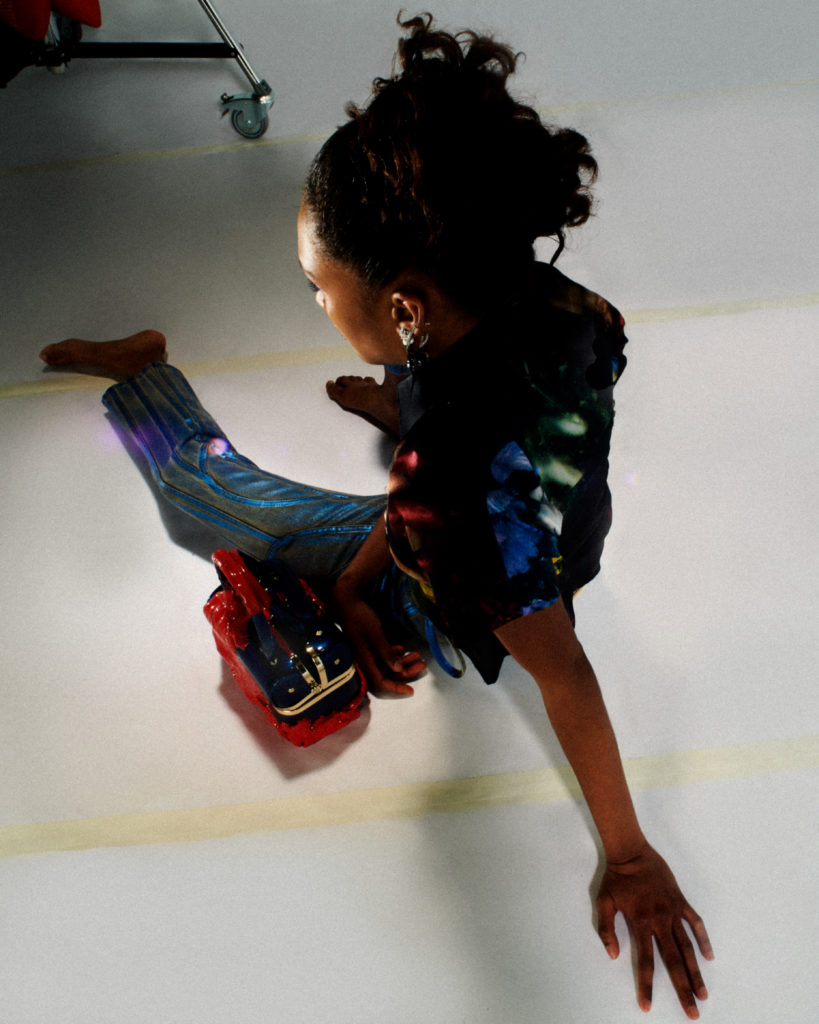 It may be a Berlin brand by location, but Ottolinger's roots, much like those of its founders, are Swiss. The pair met during their studies at the FHNW Academy of Art and Design in Basel, after Bösch decided to abandon her law degree and switch to fashion. "We bonded over our love of sci-fi," Bösch explains. The duo founded Ottolinger in 2015, and scarcely a year after, MADE Fashion invited the young label to show at New York Fashion Week as part of an exchange initiative for German brands. The duo's destructive designs quickly caused a stir among fashion's cognoscenti, exhibiting symptoms of pyromania and agitation with bleach-treated garments and singed fabrics aplenty. The scorching, torching, ripping, and shredding is something that's carried the brand ever since, but that does not—both designers assure me—stem from any rebellious teenage angst. DIY, though, is something that has resonated with the duo since childhood. Gadient grew up in what she describes as a "very creative family" and learnt to sew at a young age. Bösch's upbringing was about as far removed from fashion as it gets, growing up on a farm in the Swiss countryside. "I just always liked clothes, and taking them apart," she explains. "It wasn't really about fashion then but more about having fun. My brothers did it with tractors, and I did it with clothes."
"Reading just allows you to imagine this world in your head. Then we try to translate that to clothing."
Since 2017, Bösch and Gadient have exhibited in Paris, bringing their brand closer to home "for ease, more than anything" but also the obvious clout that comes with it. Their success shows no signs of slowing, earning A-list attention from Beyoncé, Kanye West, and Charli XCX, to name but three, and remaining completely self-funded, an aspect of the brand's identity the duo are adamant to uphold. Despite founding Ottolinger in a leap of blind faith when it came to business, Gadient and Bösch have managed to run their label without any outside affiliation. "It's something we're very proud of, because it comes with a lot of struggles—because it would be easier otherwise—but it allows us the freedom to do what we want with the brand. We are kind of restricted by how everything in this industry works, but other than that, we'd like to keep our freedom."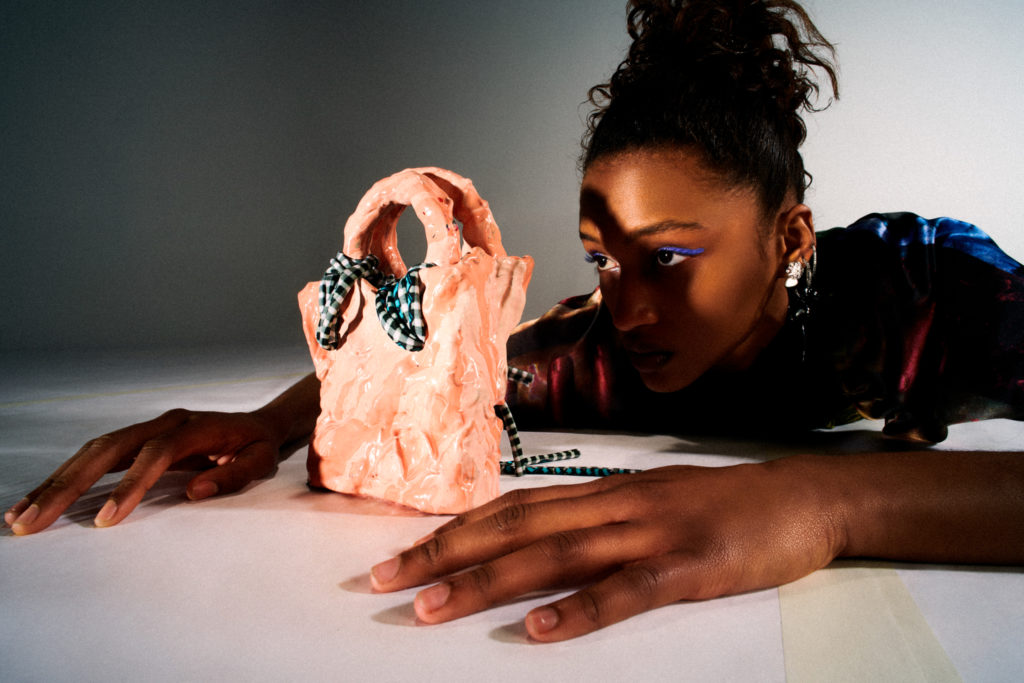 And as the brand gets older, it seems they're also more or less managing to free themselves of the 'club culture' associations that have often been thrust uninventively upon Ottolinger due to its geographical location. "This 'raving' question comes up all the time," Gadient explains, "and it's not really part of our world. We go out, but it's not like we get inspired by club culture; it's not something that we would contextualise in our work." Perhaps it's more apt to assume that the Berliners buying Ottolinger are more tied to club culture than the brand is, but in light of the label's glowing global reputation, it seems increasingly reductive—not to mention tired—to try to force its ties to techno. "I do think it's interesting though," Bösch admits, "because that's how people see Berlin. If we'd be in Switzerland, I wonder what they would ask us there, or in Paris—I guess each city raises its own questions."
"This 'raving' question comes up all the time because that's how people see Berlin. If we'd be in Switzerland, I wonder what they'd ask us there. I guess each city raises its own questions."
In actual fact, Ottolinger's design language owes much more to books than Berghain. For SS20, the duo drew from The New Year Train, Hao Jingfang's tale of time travel; the the two collections before were inspired by stories from sci-fi writers Liu Cixin and Ken Liu. "Reading just allows you to imagine this world in your head," Bösch explains. "Then we try to translate that to clothing." The result is an almost cinematic aesthetic that artfully blends fantasy with seductive reality. This season, it's playing out in a plethora of straps and ties (always) and a string of garments that could easily be costumes for otherworldly characters: Metallic splashed jeans, a lopsided bralette, and a molten-looking crop top made from deconstructed Nikes.
And it seeps beyond the brand's clothes and into every aspect of their essence too, as anyone who's been to one of their shows will surely tell you. Their casting, for one, is diverse, and genuinely interesting—an ongoing collaboration with casting director Julia Lange, whose list of clients also includes Y/Project, Jil Sander, and Mugler. The music too is much more than just an afterthought. "That very overall thinking about a collection was something that was always important in our school," Gadient explains. "The overall presentation, which includes the model, the shoes, the bag; it's never just about the garments we've designed."
With an LVMH Prize nomination, industry respect, and unceasing celebrity endorsements under its belt, many would say Ottolinger has 'made it,' but Bösch and Gadient are still hesitant to accept that accolade. "I don't think we ever feel like that," they admit. "We're still so young." Five years and going strong; if Ottolinger hasn't made it yet, we can't wait to see what happens when it does. But as the two continue to hone their visual identity, producing distinct dystopian collections from their humble home in the German capital, Ottolinger is proving it possible to be a Berlin brand with a truly international appeal that, at times, is out of this world.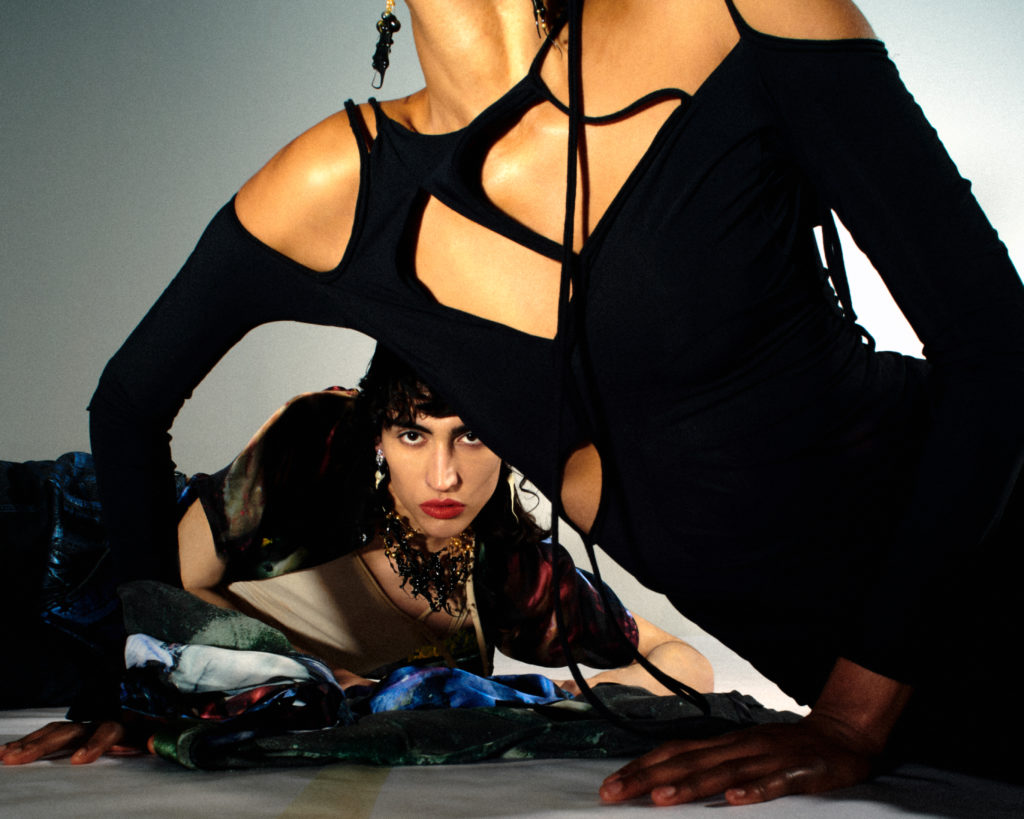 All looks OTTOLINGER SS20
Photography NICKOLAS LORIEUX at THE ART BOARD
Styling SERENA POMPEI at MAAR COLLECTIVE
Hair YULIA PANTIUKHINA
Make-up SACHA GIRAUDEAU
Model JANE and CORALIE at CITY MODELS
Casting MIRO RAYNOV
Art Direction TOBECONFIRMED.STUDIO